We love the ease and simplicity of one-pan meals. I guess this isn't totally a one pan meal since we added spaghetti squash on the side but you get the idea. One pan meals are great during the week when you are busy and don't feel like cooking but still want to eat something that tastes like you put some effort into it. The meal prep on this one is easy and because you're using only one pan the clean up is a breeze.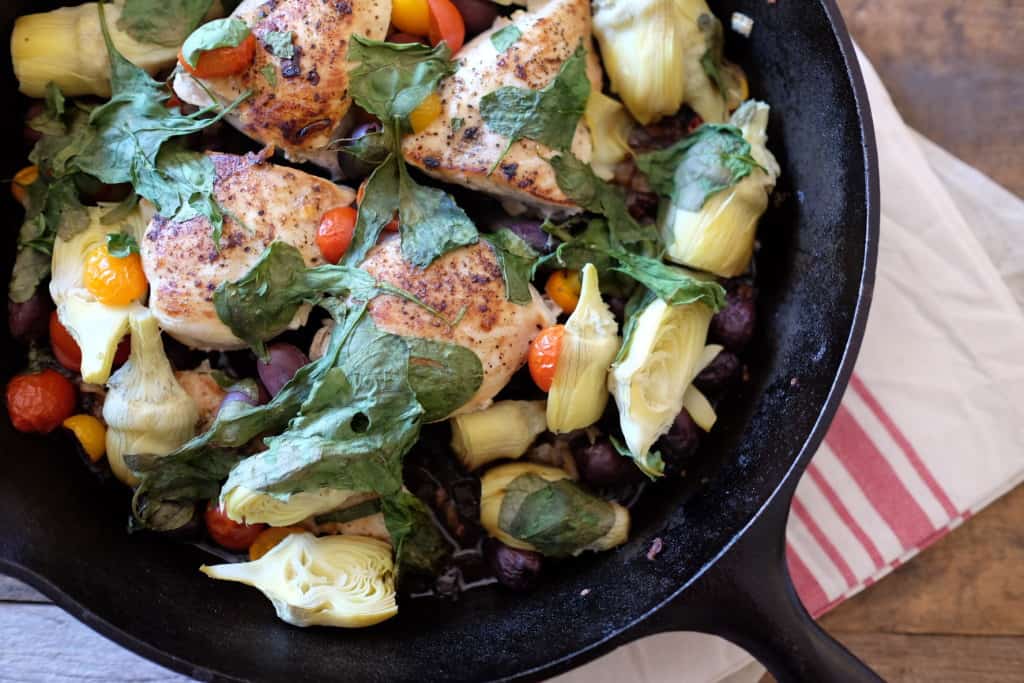 This recipe has tons of good Mediterranean flavor – onions, artichoke hearts, garlic, tomatoes, spinach and olives. You can't beat this for an easy weeknight meal that you can throw in a cast iron skillet and have ready in about 45 minutes. Just brown the chicken in the skillet and throw everything in together to cook in the oven.
---
One Pan Mediterranean Chicken Skillet
Ingredients
2

boneless skinless chicken breasts

1/2

yellow onion

- diced

1

14oz can artichoke hearts

- quartered or halved

3-4

cloves

of garlic

- minced

3/4

cup

kalamata olives

3/4

cup

grape or cherry tomatoes

2

cups

spinach

Salt and pepper

1

small spaghetti squash

(to have the squash ready by the time the chicken is ready you need a smaller squash)
Instructions
Preheat your oven to 400 degrees.

Cut the spaghetti squash in half and scoop out the seeds. Place the squash face-down on a baking pan and set aside while the oven heats up and you get the chicken going.

Next, heat a cast iron skillet (or other oven safe pan) over medium heat. Toss in the onions, artichoke hearts and garlic to heat up and soften. Cook, stirring occasionally, for 5-7 minutes until the onions start to soften up.

Scoop the items in the pan aside to make room for the chicken. Season the chicken with salt and pepper and it in the pan to brown on each side - about 5 minutes per side.

Add the tomatoes, kalamata olives and spinach and mix everything together.

Place your pan of Mediterranean chicken in the oven along with the spaghetti squash. Cook for about 25-30 minutes, depending on the size of your chicken breasts and squash. In case you didn't know, bigger = longer cooking time.

Remove the chicken and squash from the oven. Once the squash has cooled for a few minutes, scoop it out with a fork. Serve up your Mediterranean chicken with a side of spaghetti and cover everything with the cooked veggies from the pan. Yum.