This is a remake of a classic. Sometimes I do not like to remake my favorite foods from before going paleo because I know they just won't cut it. I'd rather remember mac and cheese in all its cheesy and gluten laden glory than try to make a cauliflower and cashew cream version. You see what I mean?! I didn't want to touch my mom's banana bread because it was hands down my favorite thing my mom used to make growing up. It was at its finest after it had been sitting on the counter for a couple days and the top started to get a little gooey. The piece in the very middle of the loaf was always my favorite. I would eagerly await until I arrived at the middle chunk. Ohhhh yum. Just thinking about it makes me hungry, so when I texted my mom to tell her I'd conquered paleo banana bread, I'm sure she was skeptical. Truthfully, I was a little scared to tell her, too. 
I'm happy to say our paleo banana bread easily lives up to the traditional favorite, especially the way the top cracks and gets a little gooey where the smashed banana is. The bread itself is moist (I really despise that word, but it is fitting) and the bites with the smashed banana stayed a little extra chunky are especially delightful.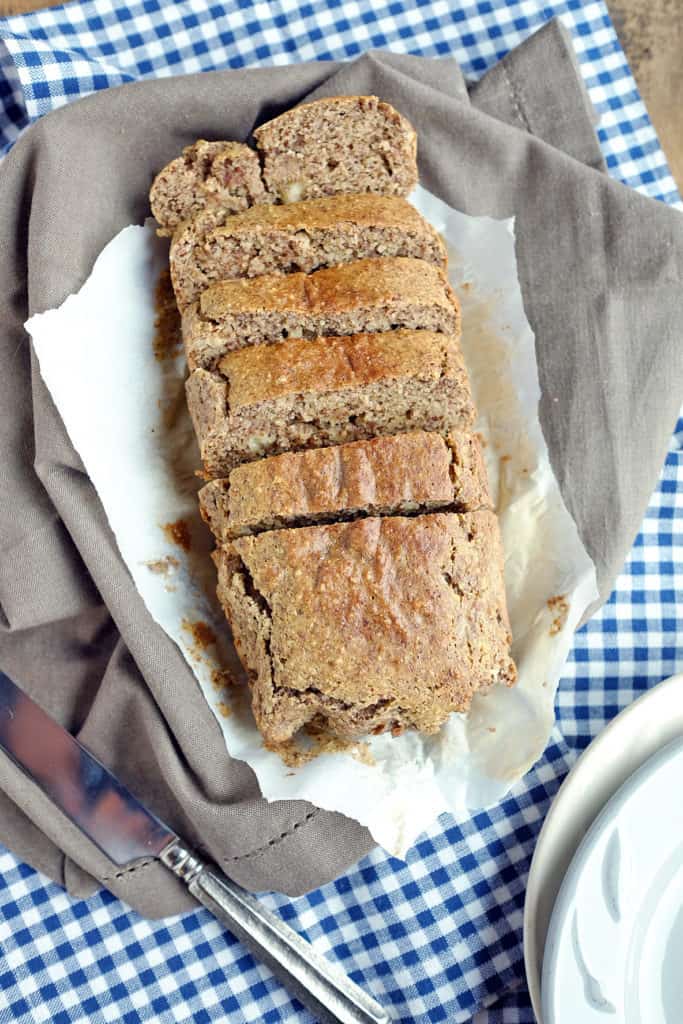 Just like I'd eagerly wait to arrive at the middle chunk of my mom's loaf, I anticipate the bites with the chunks of banana. Spread a little butter on your slice while it is still warm from the oven, take a bite, and you'll drift off into your happy place. It's divine and almost tastes sinful. The only thing that would make it better is sipping on a cup of joe while you enjoy each and every bite. You should probably try it with our peppermint mocha and our mexican mocha.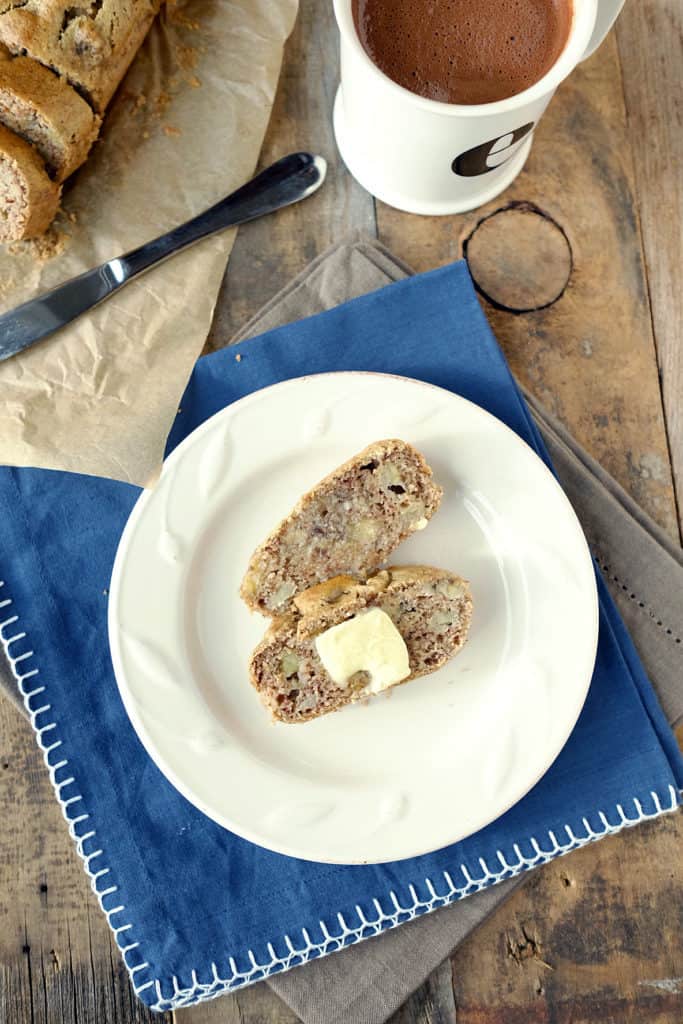 Savor each bite, and let us know how you like our paleo banana bread by leaving a comment below. Also, take a picture and tag it on Instagram @realsimplegood so we can check it out and enjoy it with you!
---
Paleo Banana Bread (Dairy-Free, GF + Refined Sugar Free)
Ingredients
2

eggs

1/4

cup

nut or coconut milk

(we've used both cashew and coconut milk because they are typically what is in the fridge)

1/4

cup

pure maple syrup

2

cups

almond flour

1/4

cup

tapioca flour

1/2

tsp

baking soda

pinch of salt

1

banana

- mashed but left a little chunky (I like to use a ziplock baggie so I can use my hands. It's quicker and less of a mess!)
Instructions
Preheat your oven to 350 degrees fahrenheit, and line a bread pan with parchment paper. (Note: We used a glass bread pan).

In a large mixing bowl, whisk your eggs.

Add your nut or coconut milk and maple syrup to the bowl and whisk until everything is smooth.

In a smaller mixing bowl, use a whisk to mix up the almond flour, tapioca flour, baking soda, and salt.

Slowly add the dry ingredients to your bowl with the wet ingredients. Whisk until a batter forms. It will be a little thicker than a muffin batter.

Fold your mashed banana into the batter.

Pour the batter into your parchment lined bread pan, and spread evenly in the pan.

Bake at 350 degrees for 30-35 minutes. Your home will be fragrant, the top of the loaf will start to brown and it will split a little too.

Remove your Paleo Banana Bread from the oven, and let it cool for a few minutes.

Slice and serve. We love it with a little butter on top! You can store your bread in an airtight container on the counter or in the fridge for about 5-7 days.