Find your next favorite Keto ground beef recipe in this amazing roundup! From recipes for soups, skillets and meatballs to stir-fry's and salads, we've rounded up the best of the best for you to enjoy!
Looking for more? Check out this roundup of more Amazing Keto Recipes.
Eating ground beef on the keto diet
Ground beef is a versatile protein that's perfect for the low-carb diet.
I'll admit, I could eat some version of ground beef for just about every meal.
But there's no reason for ground beef to be boring! You can create some of the most delicious meals with this tasty (and cheap) meat. Just browse through the list below and find some new favorites.
Need a visual? Watch the keto ground beef recipe web story.
And now, 20 delicious low carb ground beef recipes
Keto Stuffed Peppers – The Real Simple Good Life
Filled with perfectly seasoned ground beef, cauli rice, tomato and onion topped with gooey cheese. They are the best way to satisfy your taco cravings on the keto diet!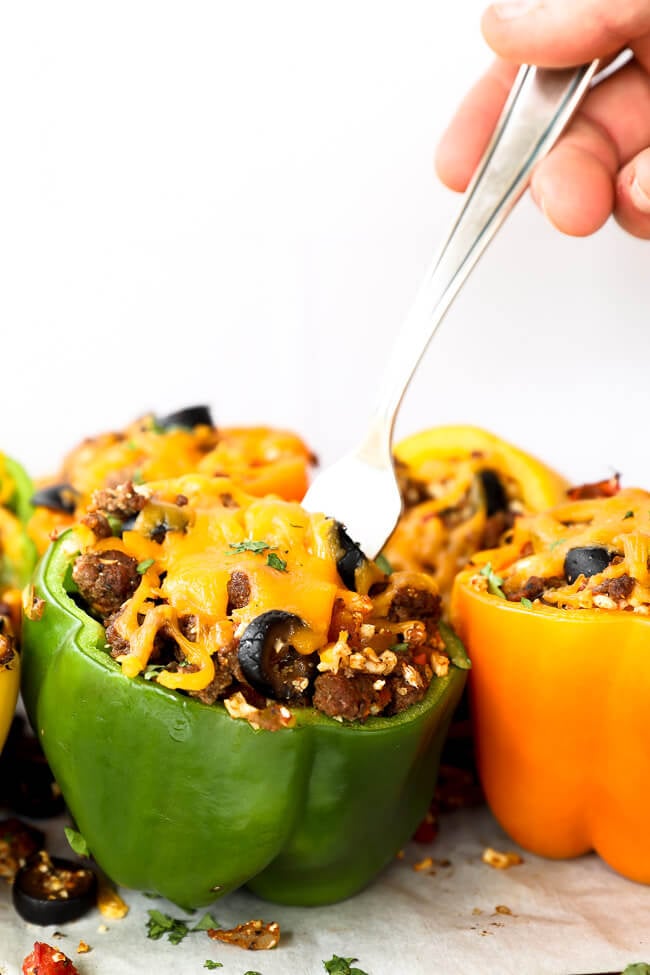 Stir Fry Ground Beef and Broccoli – The Healthy Consultant
Made in under 20 minutes, this recipe is packed with sweet sesame garlic flavor and is a much healthier version of the classic beef and broccoli takeout.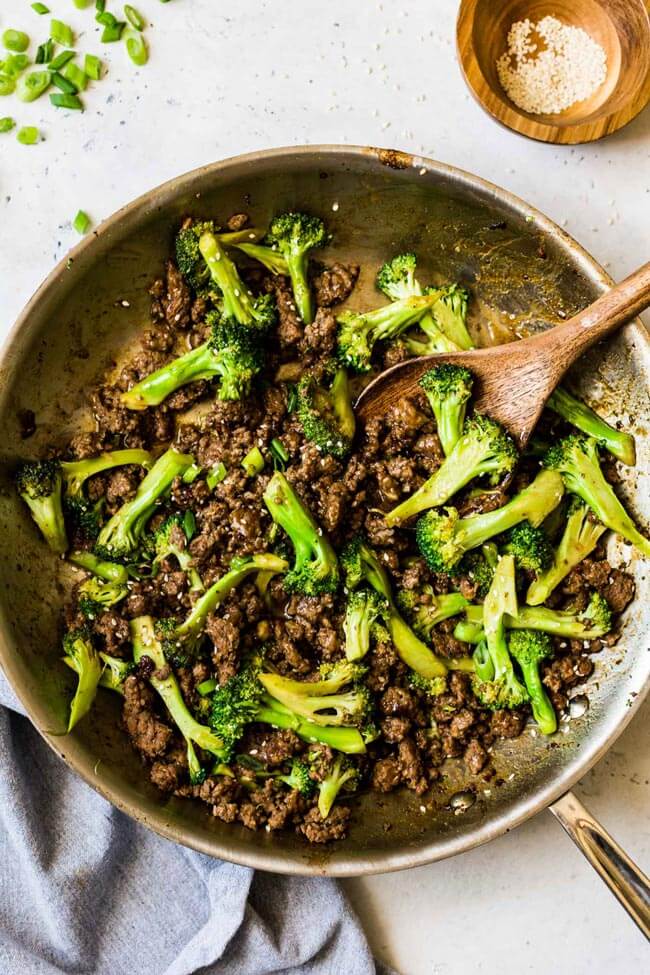 Hearty Hamburger Soup – Healthy Little Peach
This Hamburger Soup is the perfect balance of tangy and savory. A comforting soup that is filled with ground beef, green beans, onions, banana peppers and beef broth.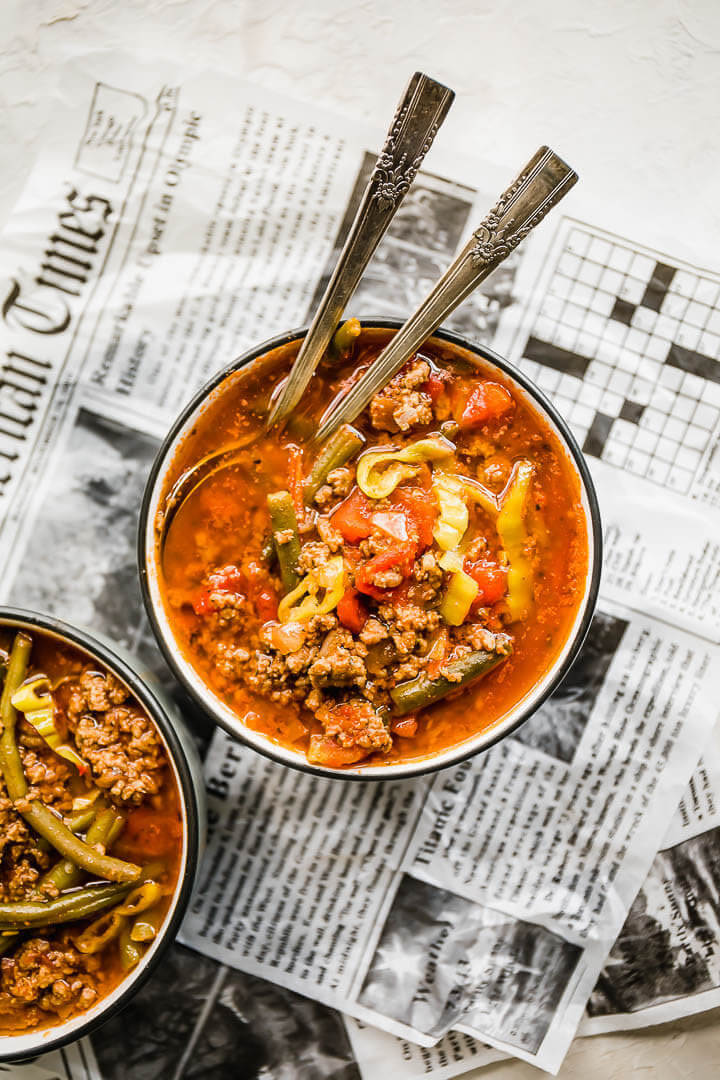 Keto Shepherd's Pie – Healthy Little Peach
A twist on the traditional cottage pie, this skillet is filled with a saucy meat and veggie mixture and topped with creamy cauliflower mash topping. Now this is healthy comfort food!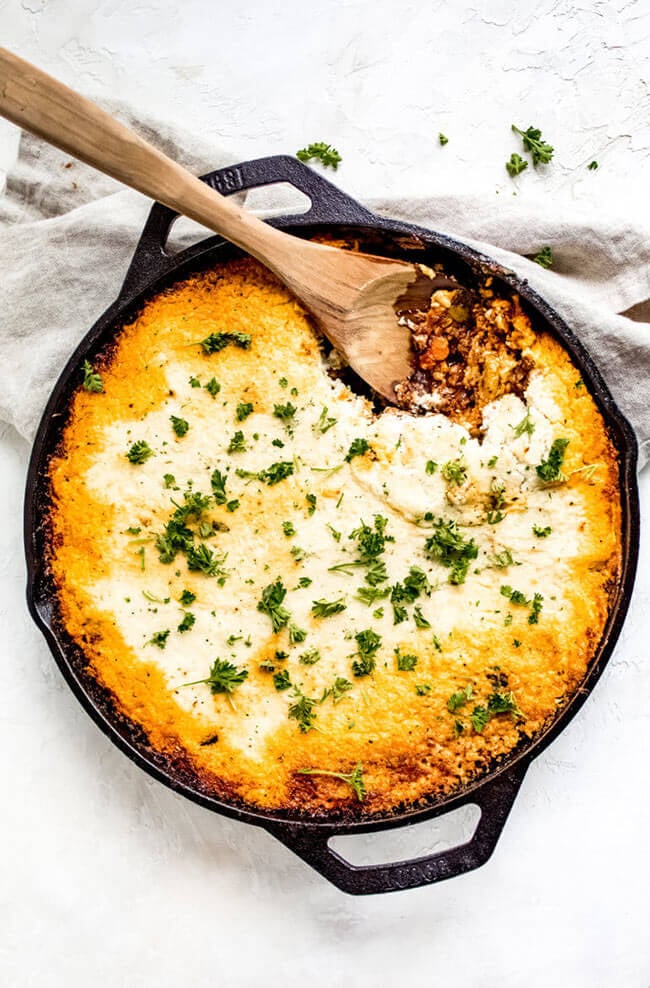 Ground Beef Burrito Bowl – Tastes Lovely
This is such a delicious, filling and simple recipe that you will love for dinner and for make ahead lunches all week long.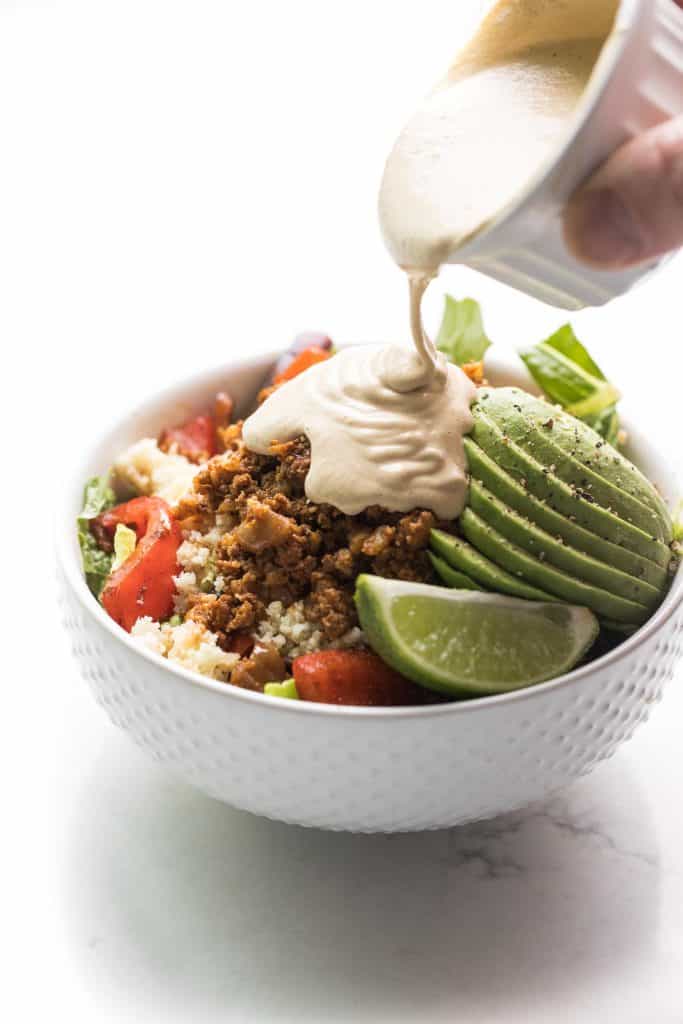 Keto Swedish Meatballs – Stylish Cravings
For this low carb recipe the meatballs use ground pork rinds. You'll love the thick and creamy sauce over the savory browned meatballs.
Ground Beef Stuffed Poblano Peppers – Low Carb Maven
Smoky stuffed poblano peppers with ground beef pack tons of zesty southwestern flavor into a low carb take on stuffed peppers.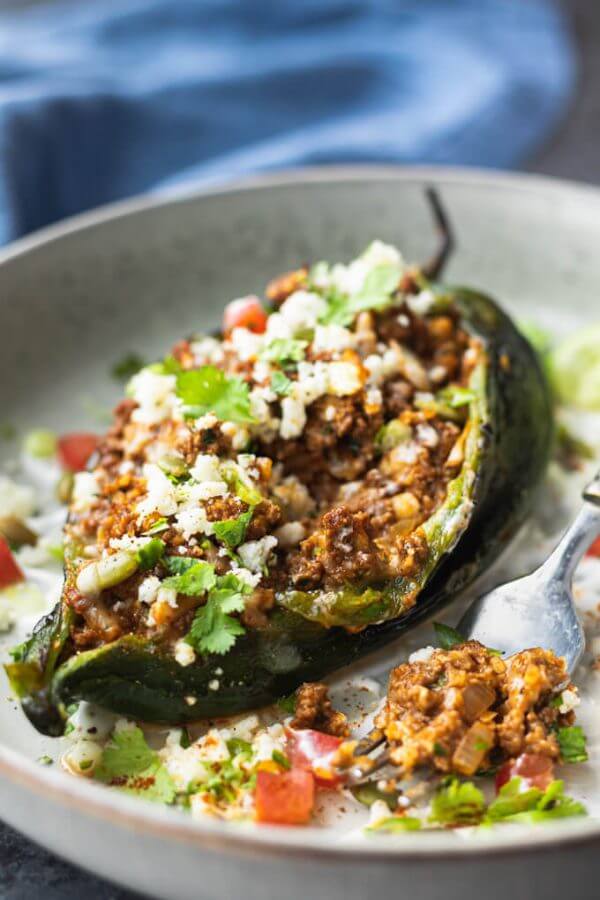 Keto Big Mac Salad – The Real Simple Good Life
Skip the bun and enjoy the flavors of your favorite cheeseburger in a salad that's ready in about 20 minutes!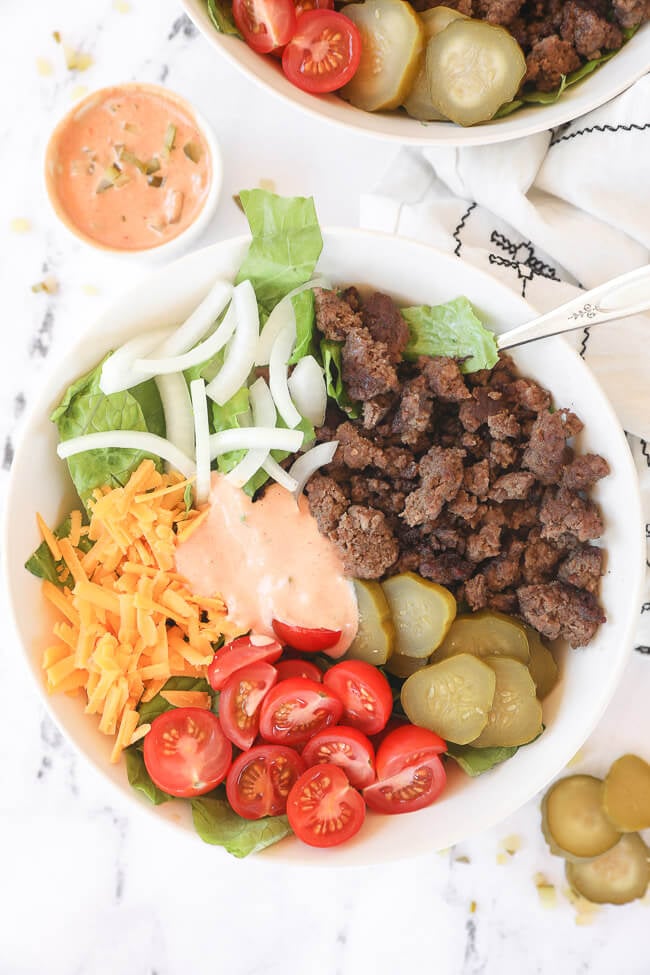 Ground Beef Stroganoff – Low Carb Maven
Creamy low carb beef stroganoff made with ground beef, mushrooms and onions, in a tasty sour cream sauce flavored with brandy, herbs, and spice.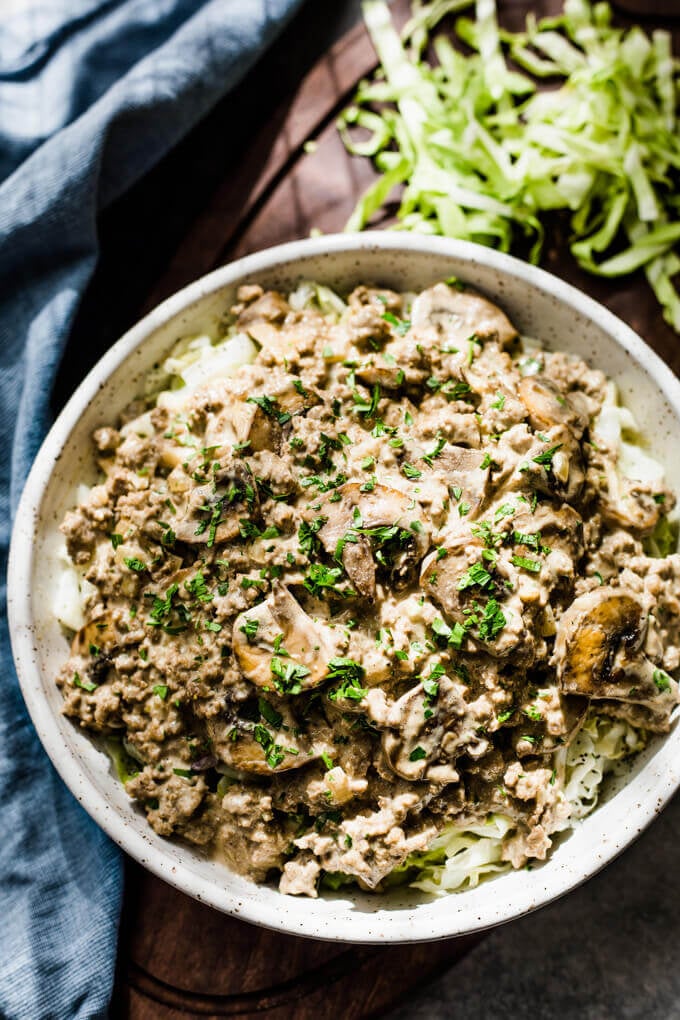 Mexican Keto Meatballs – Home Made Interest
These Mexican Keto Meatballs are a spicy, low carb appetizer made with ground beef, Mexican spices, jalapenos, and cheese. The perfect bite-size appetizer for parties!
Italian Ground Beef and Cauliflower Skillet – Delicious Little Bites
Chunks of cauliflower and ground beef are cooked in a creamy, tomato-based sauce, then topped with plenty of mozzarella cheese and fresh parsley. Yum!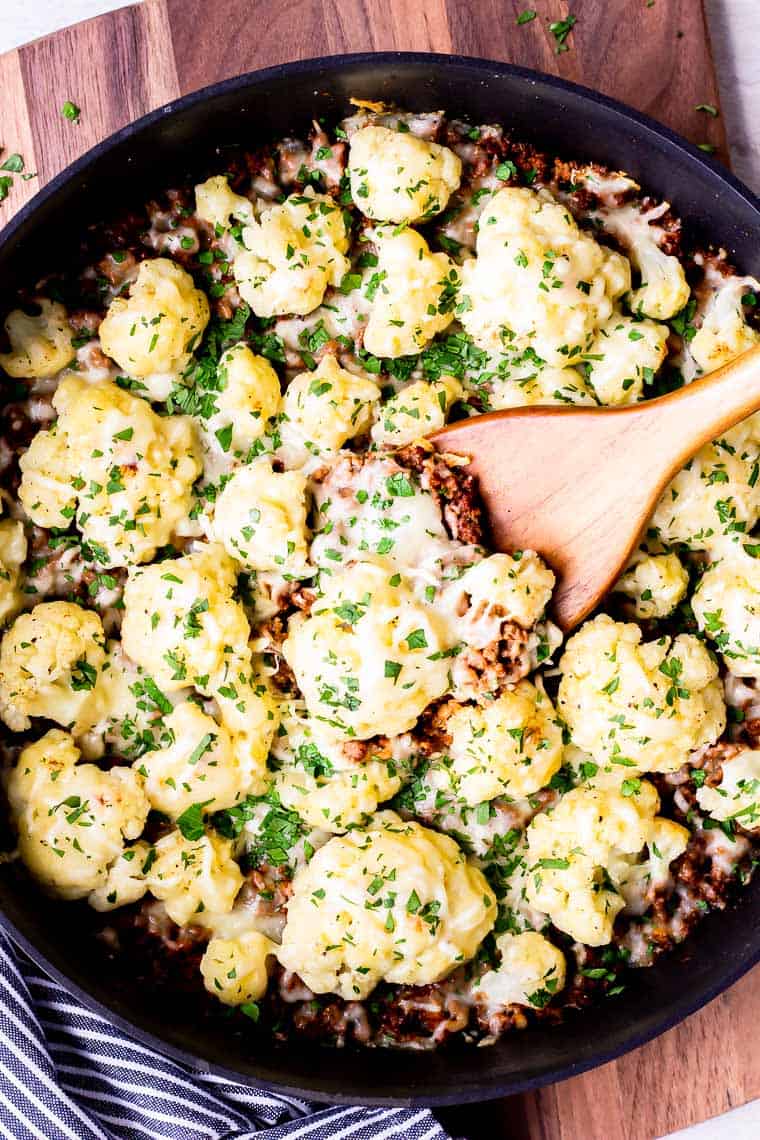 Keto Bacon Cheeseburger Soup – Low Carb with Jennifer
This soup tastes just like a cheeseburger and uses cream cheese and cheddar cheese to make it creamy, pickles for a tangy bite, and of course, bacon!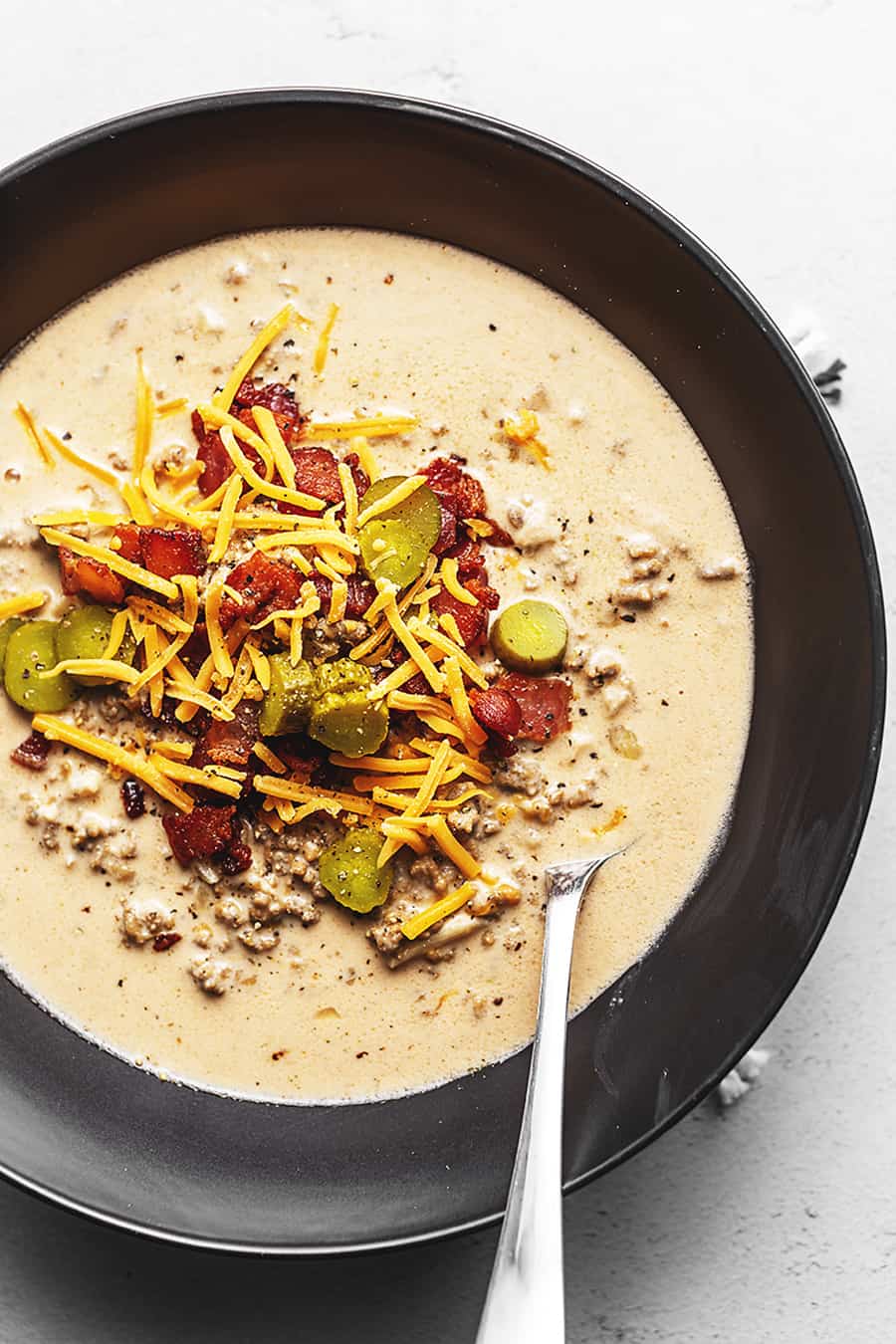 Keto Dirty Cauliflower Rice – Stylish Cravings
This entire recipe could be dinner in one pot! It's an easy keto skillet dinner idea that doesn't use any extra dishes and is packed with flavor.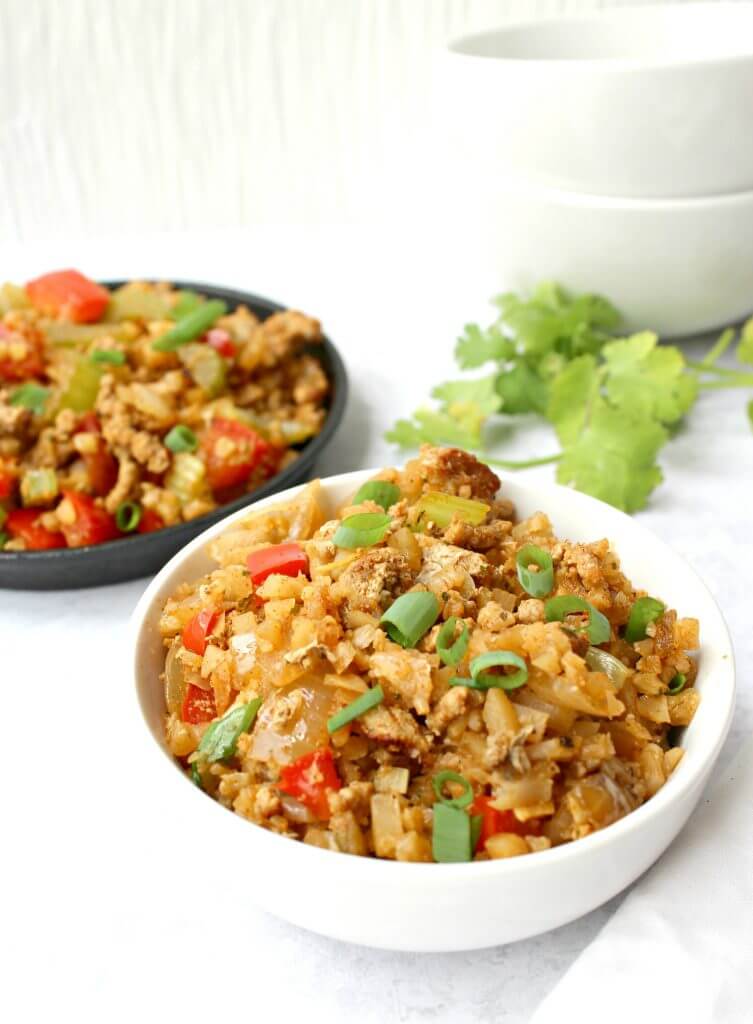 Keto Meat Lovers Pizza Casserole – Low Carb with Jennifer
This one skillet Keto pizza casserole recipe will not disappoint with its zesty italian sausage, ground beef and pepperoni! Who doesn't love a meat-lovers pizza?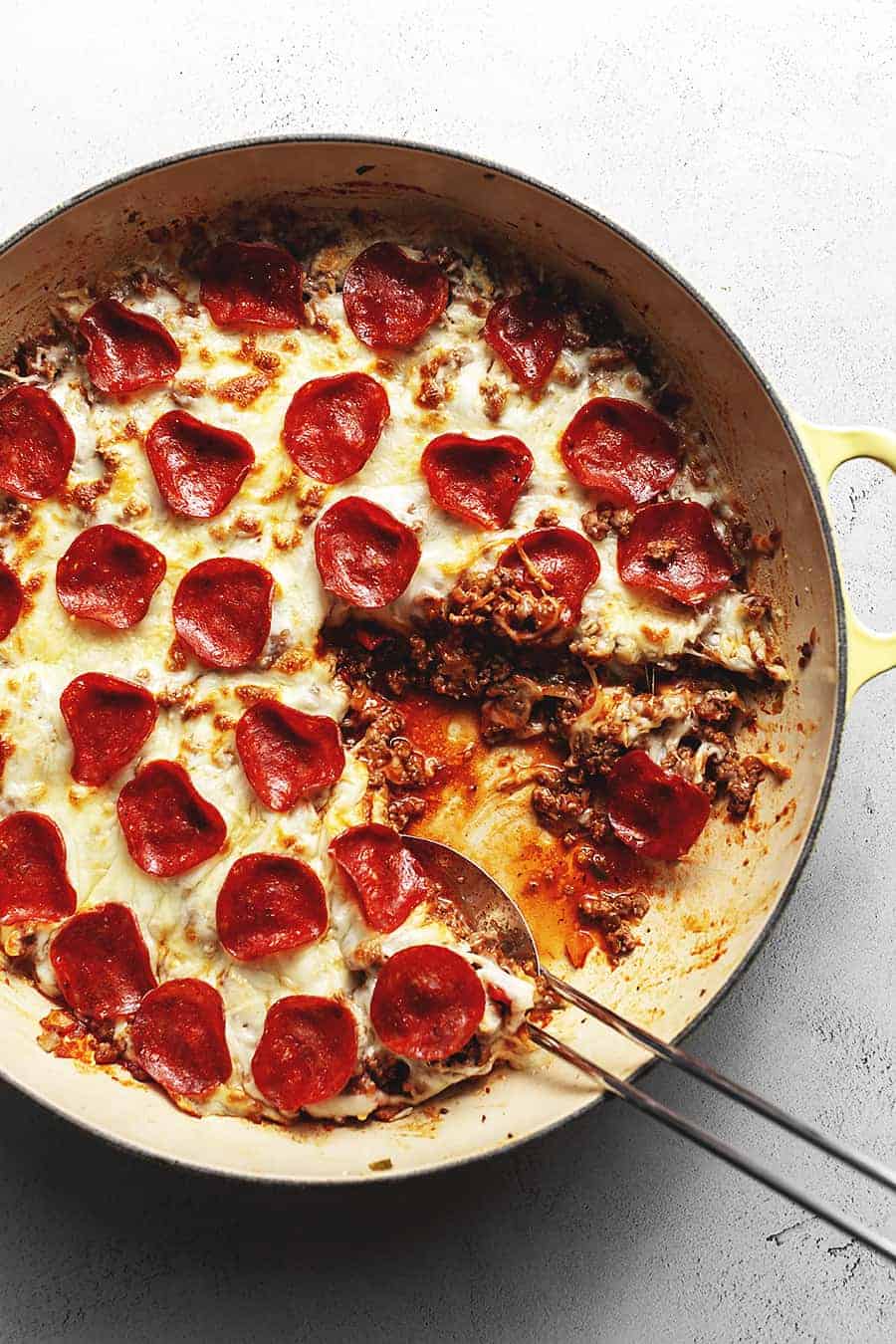 Philly Cheese Steak Casserole – That Low Carb Life
A lovely combo of ground beef, bell peppers, and cheese, all flavored up with onions and garlic. It's sure to become a go-to, low carb fave.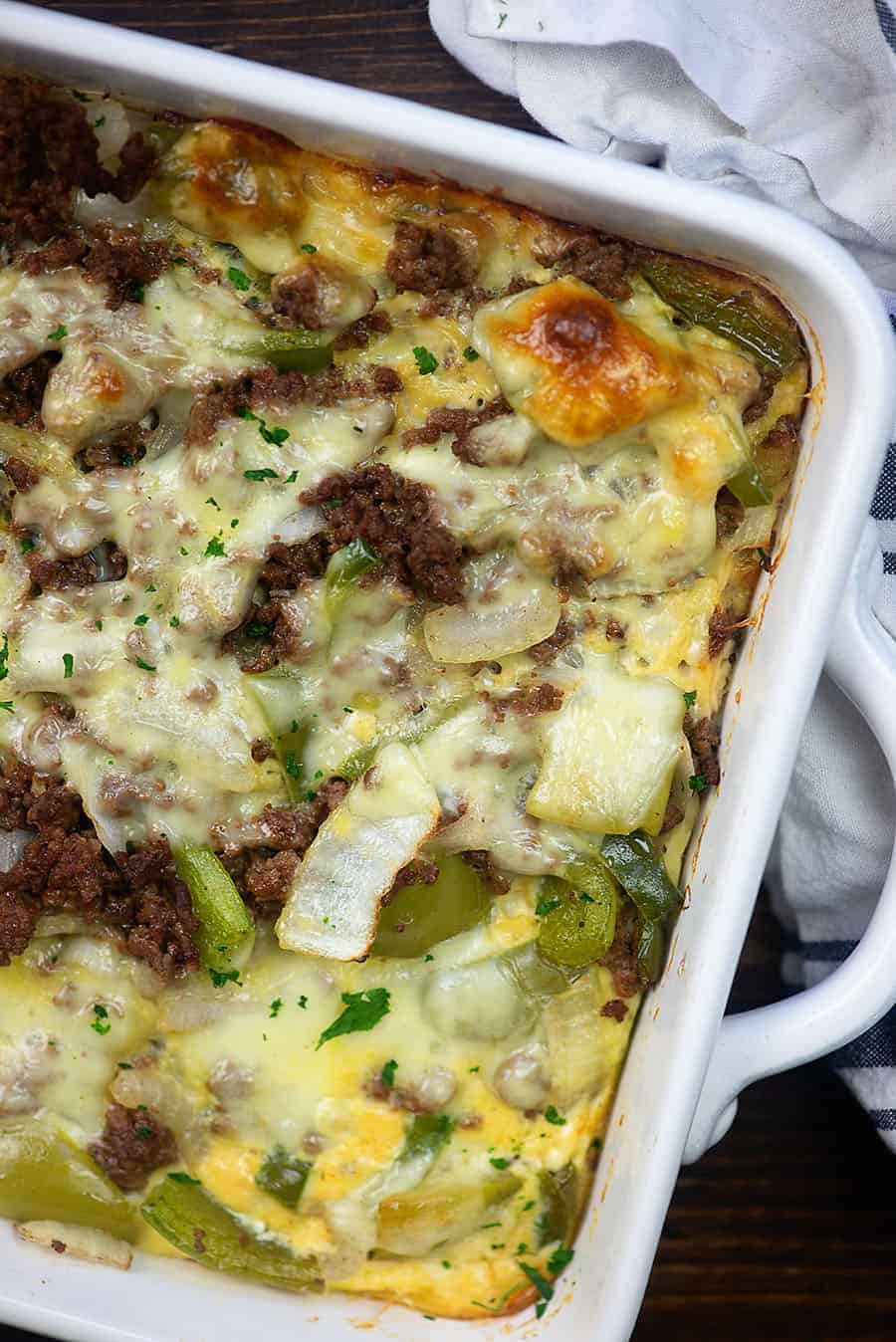 Keto Taco Salad – Kasey Trenum
This low carb salad is made with ground beef, keto-friendly veggies, cheese and is drizzled with a deliciously creamy taco dressing!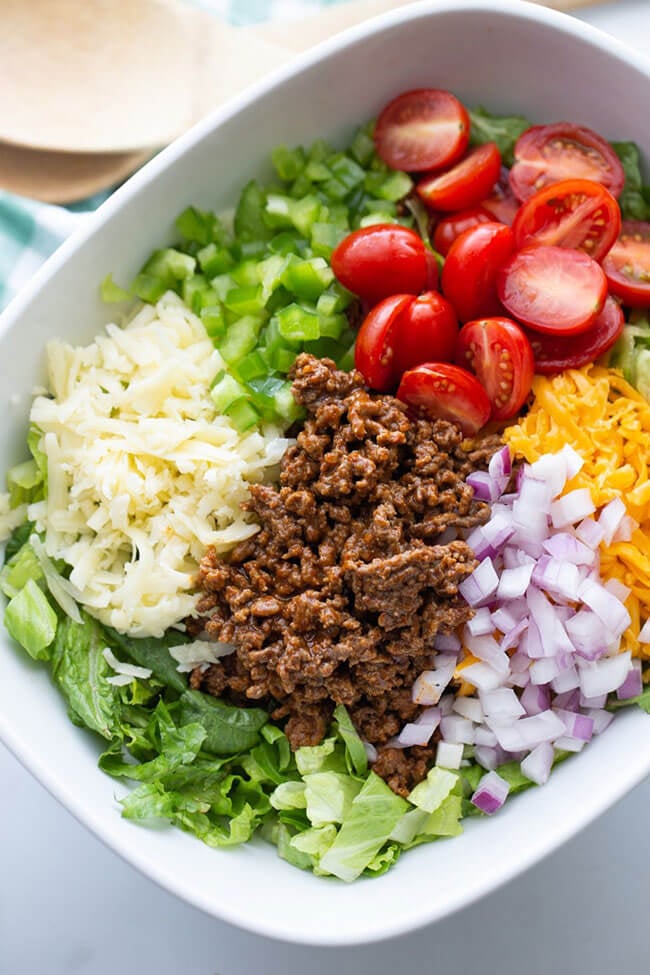 Keto Sloppy Joes – Cast Iron Keto
These Keto Sloppy Joes in the form of a skillet dinner is a great low-carb meal that's gluten-free and perfect for busy weeknights!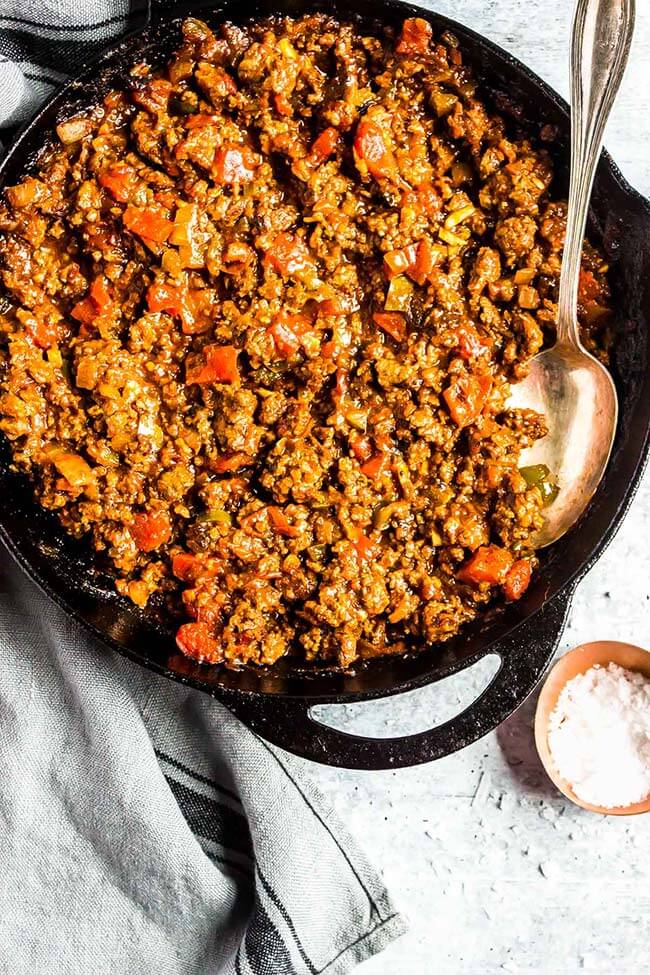 Keto Meatloaf Muffins – Forget Sugar
Ready in under an hour, these bite-sized cheesy muffins are perfect for meal prep and leftovers!
Cheeseburger Casserole Skillet – Cast Iron Keto
It's like a burger without the bun in a skillet! All of the flavors you love in a traditional cheeseburger are packed into this easy low carb dish.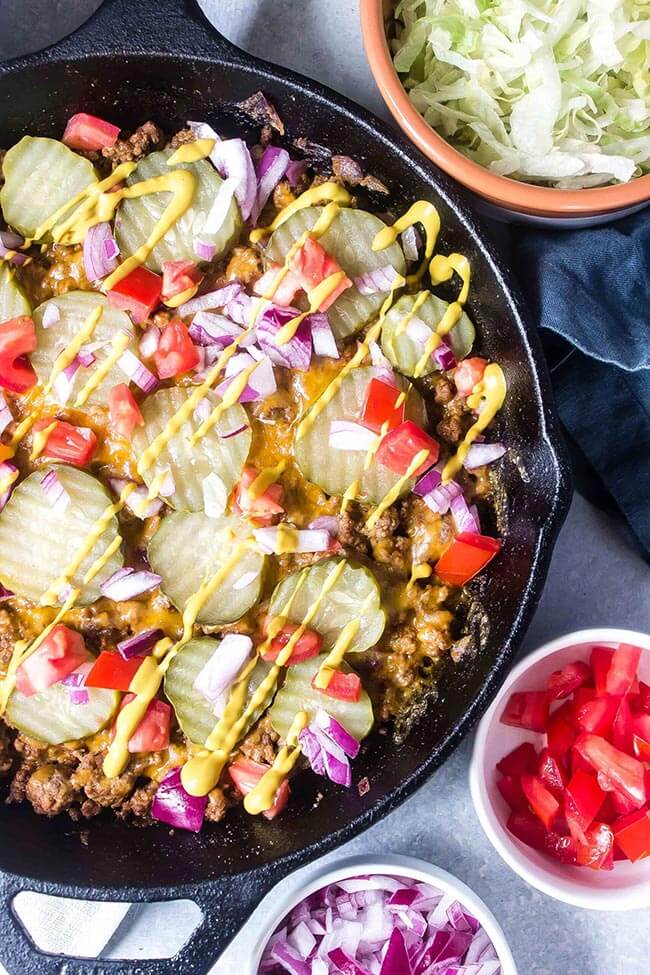 Low Carb Picadillo – Noshtastic
Similar to sloppy joes, but with a cuban twist. This version uses some additional flavors including olives, oregano, and cumin.
---
Like this Post?
SHARE IT NOW OR PIN IT FOR LATER!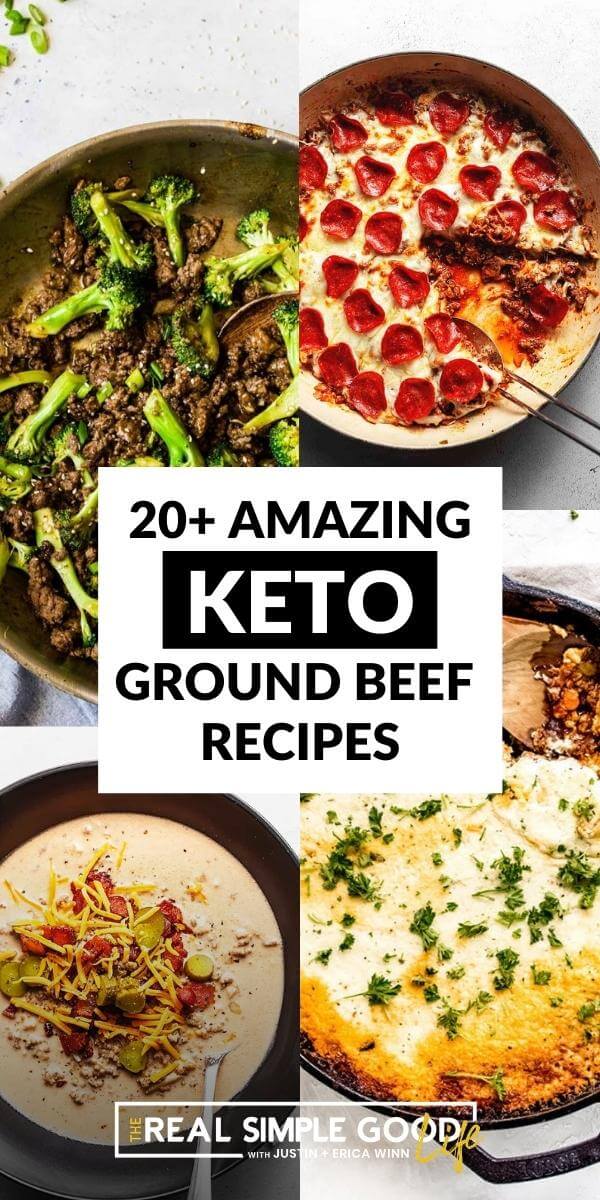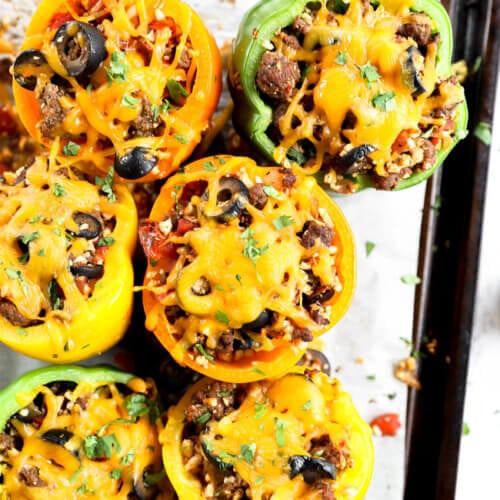 Get the Recipe:
20+ Keto Ground Beef Recipes: Keto Stuffed Peppers
These easy keto stuffed bell peppers are filled with perfectly seasoned ground beef, cauli rice, tomato and onion topped with gooey cheese. Plus, we have 20 other low carb ground beef recipes for you!
Ingredients
For the peppers:
1 lb (453.59 g) ground beef
1/2 (1/2 ) onion, diced
2 cups (320 g) cauliflower rice
1 can (1 can) fire roasted tomatoes, drained, (14.5 oz)
1 can (1 can ) sliced olives, (14.5 oz)
6 (6 ) bell peppers
1 cup (112 g) shredded cheese
For the keto taco seasoning
1.5 tsp (1.5 tsp) chili powder
1.5 tsp (1.5 tsp) cumin
1 tsp (1 tsp) paprika, (smoked or regular)
3/4 tsp (3/4 tsp) garlic powder
1/2 tsp (1/2 tsp) oregano
1/2 tsp (1/2 tsp) pepper
1/2 tsp (1/2 tsp) salt
1/4 tsp (1/4 tsp) onion powder
1/4 tsp (1/4 tsp) cayenne pepper, (optional, omit or adjust to fit desired spice level)
Optional toppings:
Avocado slices
Chopped cilantro
Hot sauce
Instructions
To make the keto taco seasoning, mix all of the seasonings together in a bowl or jar. Set aside.

Dice onion and gather the remaining ingredients.

Preheat oven to 400° Fahrenheit and line a baking sheet with parchment paper.

Heat a large skillet over medium heat. Once hot, add in the ground beef and onion, breaking up the ground beef into small chunks. Cook, stirring occasionally, until the beef is almost cooked through, about 6 minutes.

While the ground beef is cooking, prepare the bell peppers. Cut the tops of the bell peppers off and use your hands to carefully take out the seeds and membranes, leaving an empty "shell".

Once the beef is almost cooked through, add the taco seasoning. Stir well to mix and cook for 1-2 minutes.

Add the cauliflower rice, fire roasted tomatoes and olives to the meat mixture. Stir to mix and remove from heat.

Place the bell peppers on the baking sheet. Fill each bell pepper up with the taco meat mixture from the skillet. Top each bell pepper with some cheese.

Place in the oven to bake for 15 minutes, or until the bell peppers are cooked to your liking. Remove from the oven and serve.
Notes
Nutrition facts are per serving and an estimate provided for those following a Ketogenic or low-carb diet. Facts do not include optional toppings for this recipe. See our full nutrition information disclosure here. 
Calories: 419kcal, Carbohydrates: 18g, Protein: 21g, Fat: 30g, Saturated Fat: 10g, Fiber: 8g