The holidays are upon us, and there's nothing more fun than giving and spreading cheer to your loved ones! This year we decided to share some of our favorite things that would make excellent gifts, and we've got something for everyone (except kids because we don't have any yet and haven't quite mastered the art of kid gifts, but stay tuned for that in another year)! We've broken down our 2017 Holiday Gift Guide into several categories – For the Foodie, For Her, For Him and  Stocking Stuffers! We also have special discount codes for some of our stocking stuffer ideas so be sure to check out the end of the post! 
2017 Holiday Gift Guide
Welp…let's get right to it! Here is our 2017 Holiday Gift Guide! Many of the ideas are available on Amazon, which means you can get them in 48 hours with free shipping if you're a Prime member. Oh and there's one more gift idea – if you or someone you love isn't already an Amazon Prime member – GIFT THAT!
**Please note: this post does contain affiliate links, which means that if you purchase through our links we may earn a small commission. We only support, promote and share products and brands we truly love and use in our own home. That is our promise to you.**
---
Gifts For The Foodie
These are some of our most-used and appreciated kitchen gadgets, tools and cookbooks! We couldn't create a 2017 Holiday Gift Guide without our beloved kitchen favorites. If you haven't jumped on the Instant Pot train yet, this is the year! Get on it already and then also gift a cookbook like the one below for recipe inspiration to go with it! Click the links below the images.
---
---
Instant Pot | Spiralizer | Food Processor | Vitamix Blender | Cast Iron Skillet | Dutch Oven
Make It Paleo II | Paleo Cooking with your Instant Pot | Primal Cravings
A Deeper Dive Into Some Of Our Favorite Foodie Picks:
Vitamix Blender – At our house, this literally gets used every single day! Not even a joke. I blend my coffee or other warm beverage in the morning each and every day. Then, on top of that we use it for making sauces, marinades, whipped coconut cream, smoothies, banana nice cream, blender baking mixes, and the list goes on. I kind of wonder how I ever lived without one of these glorious kitchen machines.
Cast Iron Skillet – We loovveee cooking with our cast iron skillet, and really it gets better and better over time the more you use it and it becomes well seasoned. It's also an economical gift too. Take good care of a cast iron skillet and it will last you forever.
Instant Pot – So here's the deal…I passed on this one a couple of years ago and then it was ALL I thought about, so just do yourself the favor and get one this year! The Instant Pot is super versatile and you can seriously make such a wide variety of things in it – savory soups, pressure cooked meats, desserts, yogurt and so much more. And….if you're gifting an Instant Pot (or buying one for yourself) you might as well get the cookbook from Jennifer Robbins from Predominantly Paleo – Paleo Cooking with your Instant Pot – so you have plenty of recipe inspiration!
---
Gifts For Her
These are just some of my favorite picks for rad girl gifts as part of our 2017 Holiday Gift Guide! Basically make your lady feel a little pampered, and then get her all the cozy things! Click the links below the images.
---
---
Non-Toxic Beauty: Beautycounter + Primally Pure
MVMT Watch | Cozy Cardigan | Ugg Slippers | Plaid Scarf | The Magnolia Story
A Deeper Dive Into Erica's Favorite Picks:
---
Gifts For Him
These are ideas directly from the source! Justin hand-picked each of these gifts (and a couple of them I've gotten him in the past) for our 2017 Holiday Gift Guide! So, rest assured these are man approved and ready for gifting! Click the links below the images.
---
---
Henley Shirt | Slim Multipurpose Wallet | Outdoor/Camping Gear | Hoodie
Chukka Boots | Glerup Slippers
A Deeper Dive Into Justin's Favorite Picks:
---
Perfect Stocking Stuffers
I don't know about you guys, but the stocking stuffers have been my favorite part of Christmas for as long as I can remember! Something about the smaller, fun gifts is just the best! So, here are several ideas for filling up the stockings in our 2017 Holiday Gift Guide! And hopefully you aren't surprised that there are lots more for your foodie friends! 😉 Click the links below the images.
---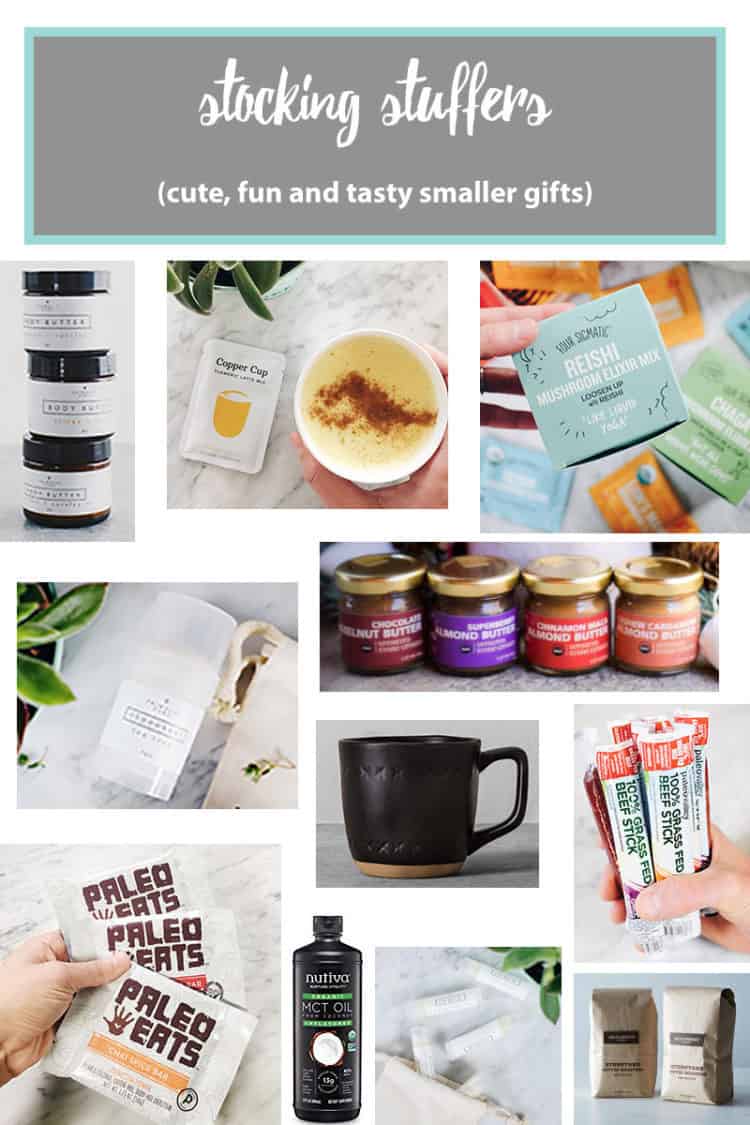 ---
Mini Sized Body Butters | Copper Cup Turmeric Latte Mix | Four Sigmatic Mushroom Elixirs
Primally Pure Non-Toxic Deodorant | Jem Organics Mini Nut Butter Jars
Stoneware Mug | Grass-Fed Beef Sticks | Paleo Eats Bars
MCT Oil | Lip Balm | Specialty Coffee
A Deeper Dive Into Our Favorite Stocking Stuffers:
---
Welp…that's it my friends! This is our 2017 Holiday Gift Guide. We hope you've found some inspired and fun, yet practical gift ideas to spread the holiday cheer to your loved ones (and maybe add a little cheer to your own life too)!