As you learned in our intro post to this series, toxins are all around us – the air we breathe, the water we drink, the products we use, the foods we eat…the list goes on and on. This post will teach you how to reduce toxins in your food. We've got six easy ways to reduce your exposure. Then, in a later post we'll address reducing toxins in the products you use in your home and on your skin. Lastly, we'll share simple lifestyle tips for helping your body to properly detox.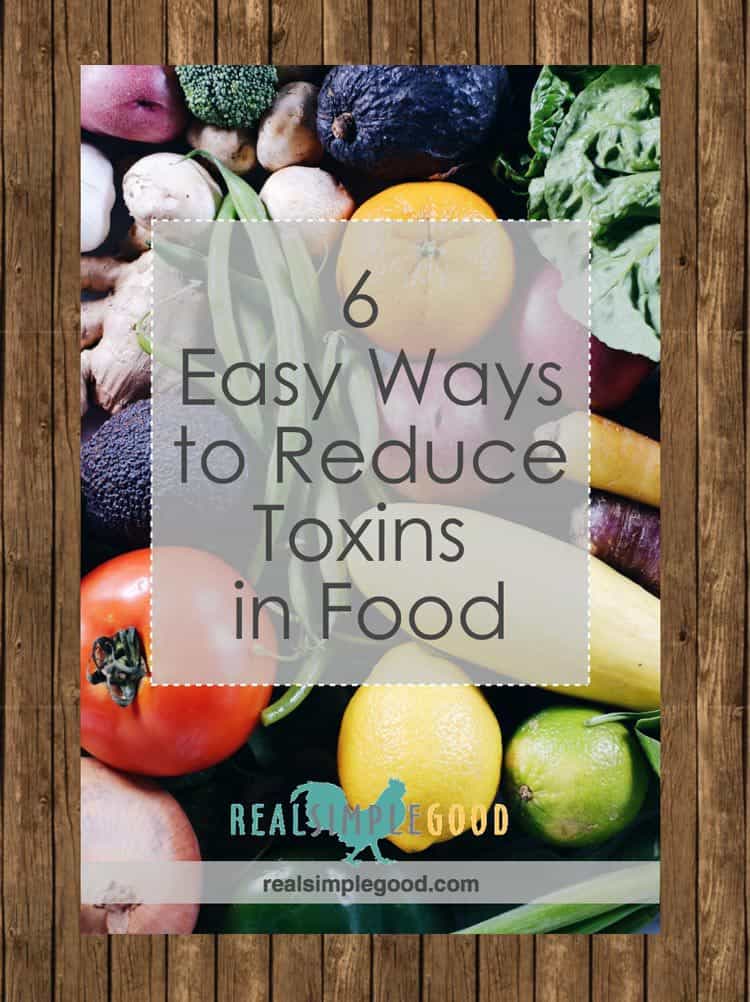 6 Easy Ways To Reduce Toxins In Your Food
Let's do this! Use these 6 tips to reduce toxins in your food. You can read more about each one below.
Eat real food
Choose organic when possible
Prioritize grass-fed, pasture-raised and wild caught
Shop at your local farmer's market
Ditch the canned goods
Drink filtered water
1. Eat Real Food
Eating real food means focusing on food that is in its natural state. Think about shopping around the perimeter of the grocery store, things like fresh produce (all the colorful fruits and veggies), eggs, nuts, meats and seafood. Essentially, you want to minimize the amount of processed foods you consume.
2. Choose Organic When Possible
Opting for organic as much as possible, and as your budget allows, helps reduce toxin build up in your body from pesticides, herbicides and GMO's (genetically modified organisms). Organic farming is also much more sustainable and earth-friendly. You can read more about this and GMO's in this post.
3. Prioritize Grass-Fed, Pasture-Raised And Wild Caught
Grass-fed and pasture raised animals are beneficial to your overall health because they are naturally leaner and contain higher levels of omega-3's, which are the good fats. Grass-fed meats also have higher levels of conjugated linoleic acid among other antioxidants, vitamins and minerals. Check out this post from Chris Kresser for more on this topic. He has a whole series of posts on grass-fed meat and its benefits.
Wild caught fish is the way to go for similar reasons as grass-fed meats. Wild caught fish is thought to contain higher levels of omega-3 fatty acids, lower levels of pesticides and aren't fed antibiotics or any other drugs. However, this topic is pretty widely debated. While we specifically focus on wild caught Alaskan salmon and also eat wild caught cod, we think adding fish to your diet (whether wild caught or farm raised) is a good idea!
4. Shop At Your Local Farmer's Market
Going to your local farmer's market to shop is a great way to ensure you know what you are eating, and you'll be getting the freshest food possible since it is coming from nearby. Fresher food is more nutrient dense, so shopping local is always a good idea. While you're shopping, you can talk with your local farmers and get an idea of the farming practices they employ. It is also fun to know the story about where your food comes from!
Photo credit: bendfarmersmarket.com
5. Ditch The Canned Goods 
The most worrisome toxin exposure with canned goods is BPA (or Bisphenol). Cans nowadays have a plastic lining in them, which is where the BPA comes from, and it leaches into the food contained in the can. We are not meant to ingest plastic, and it is a harmful toxin. It is safest to avoid canned goods altogether by opting for items stored in glass jars or just going with the fresh version of the fruit or veggie. This one can be challenging because things like canned tomatoes, for instance, are such an easy solution and used in many recipes, but do your best! We still consume some canned goods but have drastically decreased the amount and opted for the fresh versions in many cases.
6. Drink Filtered Water
Many contaminants can be found in tap water, including fluoride, heavy metals and endocrine disruptors, among other toxins. By drinking filtered water, not only will your water taste better, it will also be cleaner and better for you! Our favorite water filter is Clearly Filtered. It has pretty impressive rates of removal and you can learn more about their third-party test results here. We found a good deal on Amazon Prime for our water filter.
In summary, there are 6 easy ways to reduce toxins in your food.
Eat real food
Choose organic when possible
Prioritize grass-fed, pasture-raised and wild caught
Shop at your local farmer's market
Ditch the canned goods
Drink filtered water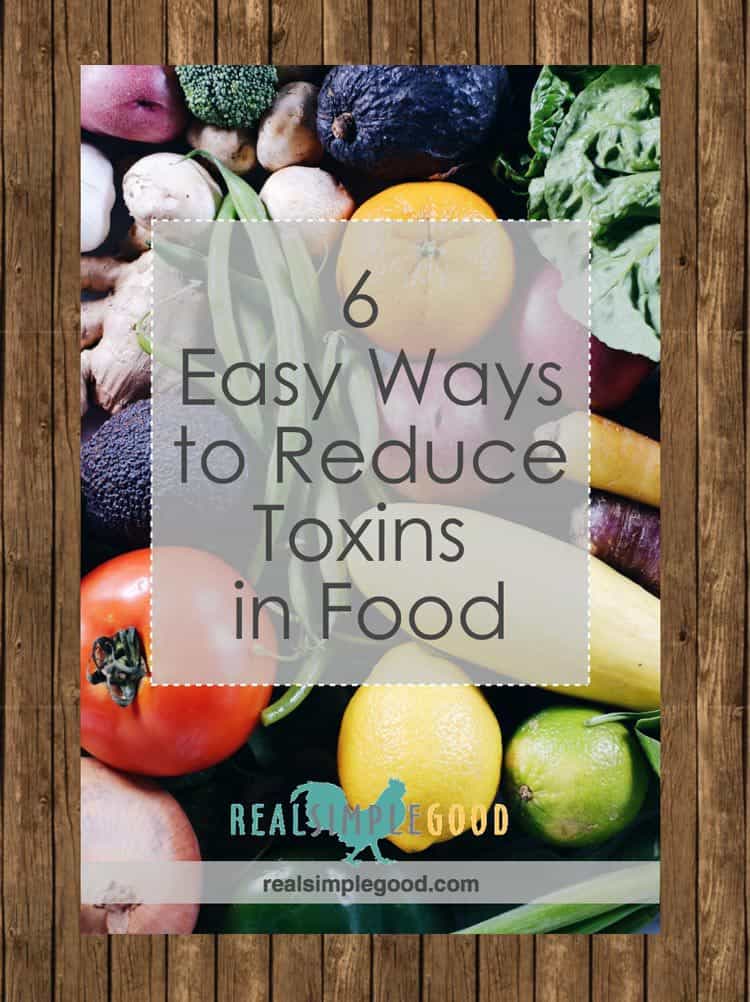 We hope you've found this helpful and look forward to sharing more about how to reduce toxins in your home in our next installment of this series. Then later, some practical ways to help your body properly detox.