Tossed with a simple homemade seasoning, these easy air fryer breakfast potatoes are a little crispy on the outside and soft and fluffy on the inside. The air fryer is definitely the best way to make quick and delicious breakfast potatoes!
How to Make Breakfast Potatoes in the Air Fryer
Here's how to make perfectly cooked potato bites for breakfast.
Wash and dry your potatoes (peeling is optional if you prefer peeled potatoes go for it).
Slice the potatoes into bite-sized cubes.
Mix up the simple seasoning.
Toss the potatoes with some oil and the seasoning.
Cook in the air fryer for 15-20 minutes at 400° Fahrenheit, until soft in the middle.
Want more? Check out all of our healthy breakfast recipes!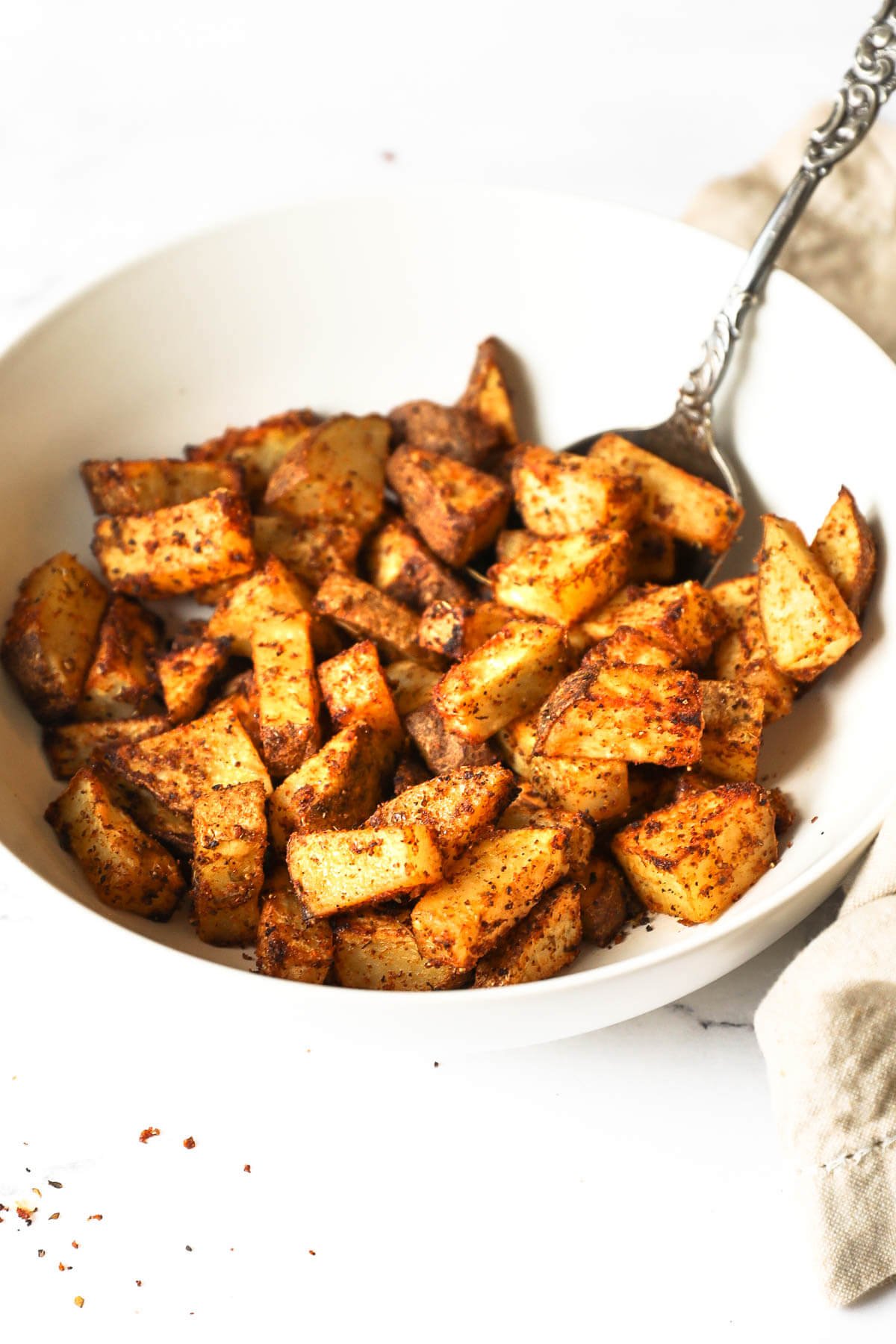 Notes for this Easy Air Fryer Breakfast Recipe
You don't have to peel or soak these potatoes to get an excellent result, just season them up and toss them in the air fryer.
Try not to overcrowd your air fryer. You want the potato pieces evenly spread out in a single layer. Cook in batches if needed.
Don't forget to shake/stir the potatoes halfway through, it's helps to cook them evenly and get all the sides a little crispy.
Loving your air fryer? Here are more easy and tasty air fryer recipes!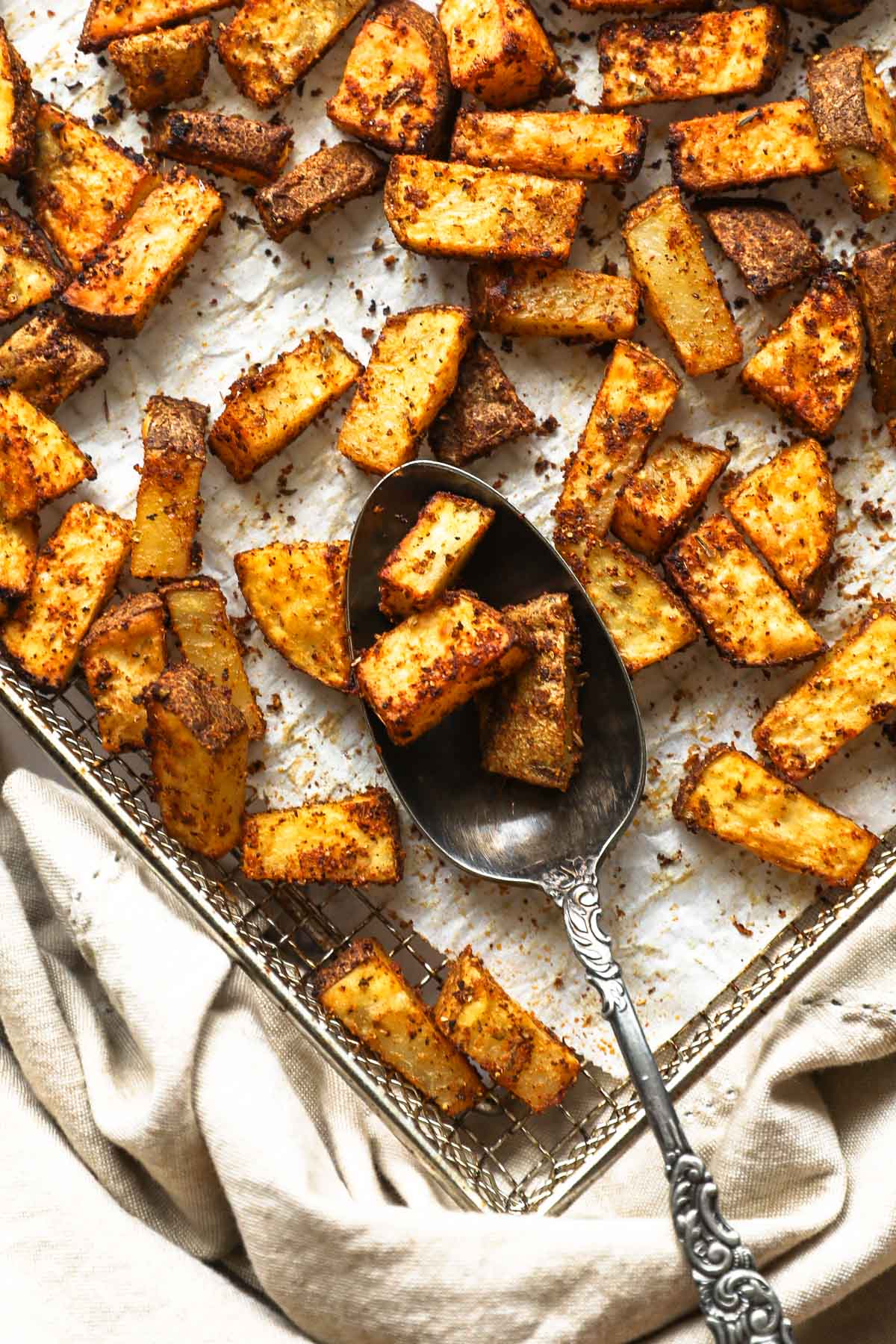 Make These Breakfast Potatoes Your Own
You can modify this recipe in many ways by adding some ingredients or changing up the seasoning.
Here are some ideas:
Add in some chopped onions and peppers, just cook them with the potatoes.
Switch up the seasoning to another favorite blend. Here are 10 easy DIY seasoning blends to choose from!
Add on some shredded cheese during the last few minutes of cooking for some cheesy breakfast potatoes.
Potatoes love sauce, so add on some hot sauce or a dollop of homemade chipotle aioli.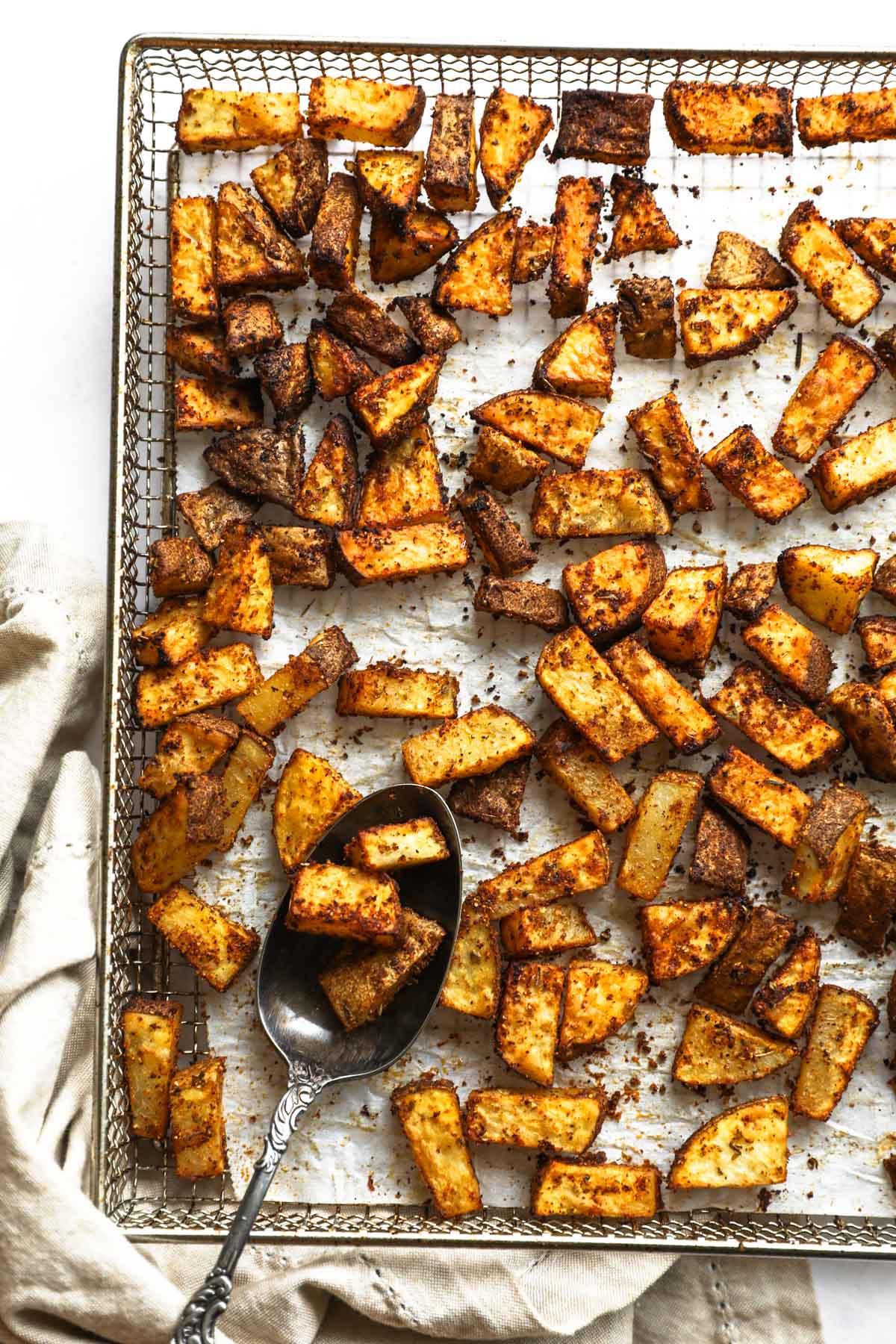 Recipes You Could Use These Potatoes In
If you are looking for a full breakfast, here are some options! Just replace the roasted or pan fried potatoes in any of these recipes with these air fried potatoes and dig in.
Your Turn To Try These Perfectly Breakfast Potatoes
Pop these potatoes in your air fryer and enjoy an amazing breakfast! I know you'll love this easy recipe that can be a base for any healthy breakfast you want.
If you try them, be sure to leave a rating and comment below and let us know how it goes. Also, take a pic to share on Instagram. Tag us @realsimplegood, we love to see what you're cooking!
---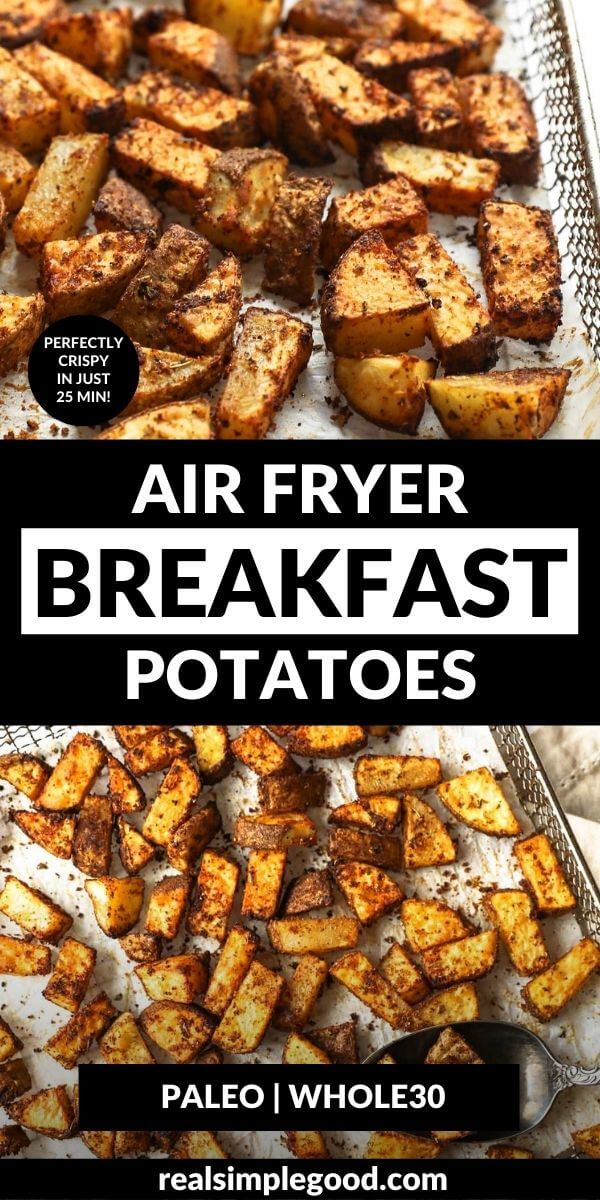 ---
Like this Recipe?
SHARE IT NOW OR PIN IT FOR LATER!
---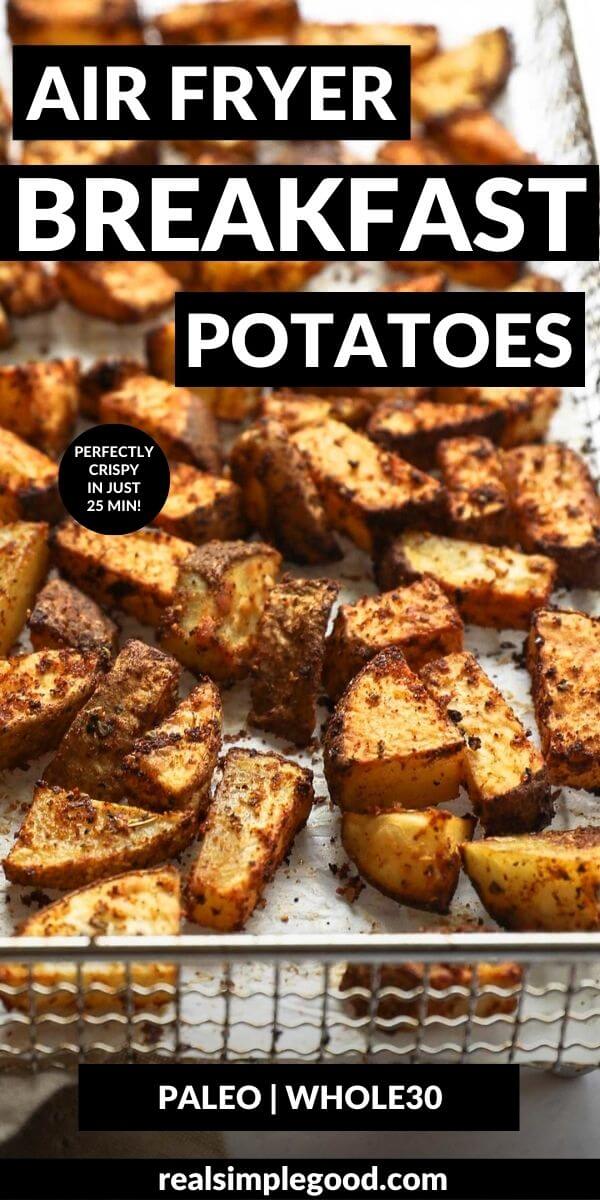 ---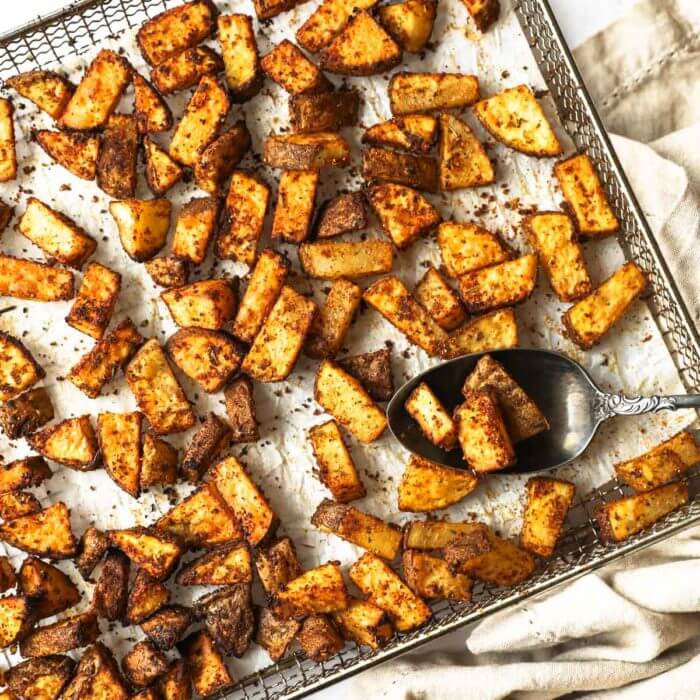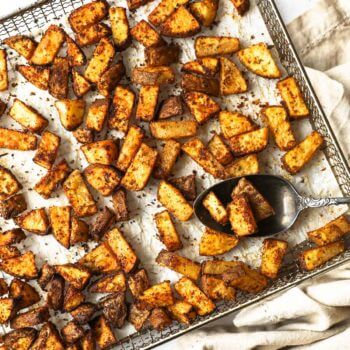 Get the Recipe:
Perfectly Seasoned Air Fryer Breakfast Potatoes
Easy air fryer breakfast potatoes tossed in the perfect seasoning, these potatoes are crispy, tender and absolutely delicious!
Ingredients
1 lb potatoes, cut into even sized cubes, (about 1 large or 2 small russet potatoes)
2 tbsp avocado oil, (or other oil of choice)
For the seasoning:
1 tsp chili powder
1 tsp cumin
1 tsp oregano
1/4 tsp garlic powder
1/4 tsp onion powder
1/4 tsp paprika
1/4 tsp sea salt
1/4 tsp pepper
Instructions
Mix together the seasoning ingredients in a small bowl or ramekin.

Wash and dry potatoes. Chop potatoes into small cubes and place them in a bowl.

Drizzle avocado oil over the potatoes and toss to coat. Sprinkle the seasoning mixture over the potatoes and toss again to coat evenly with the seasoning.

Preheat your air fryer to 400° Fahrenheit for a few minutes.

Spread the potatoes out evenly in your air fryer. Cook for 15-20 minutes, stopping to stir/shake them halfway through to ensure even cooking. Watch the potatoes carefully at the end of the cooking time to avoid overcooking them.

When the potatoes are easily pierced with a fork, remove from the air fryer and serve.