With amazing flavor from a homemade steak seasoning, this juicy air fryer flank steak is perfectly cooked in about 15 minutes! You'll love how quickly it cooks in the air fryer for an easy steak dinner.
How long to cook flank steak in the air fryer
Depending on the size and thickness of your steak, it will take around 10 minutes to cook in the air fryer at 400°. This is for a steak cooked to medium-rare.
Of course, if you prefer a steak that's more well done, you'll need to cook it longer. Also, if your steak is smaller or larger you can adjust the cooking time by 2-3 minutes (less or more) as needed.
If you like this recipe, be sure to check out our grilled coffee rubbed steak recipe and this fresh chimichurri sauce for flank or skirt steak.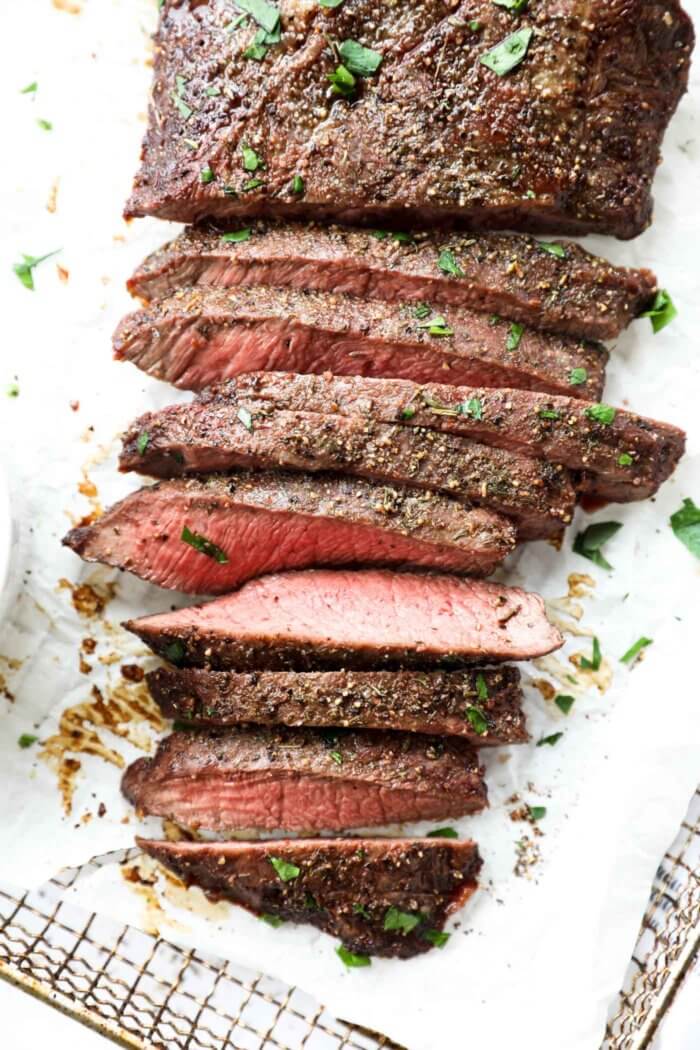 A simple homemade steak seasoning
I always prefer to make my own seasoning mixes, because most of the time pre-packaged mixes have fillers and preservatives in them. This simple homemade blend tastes like Montreal steak seasoning and it's made with only a handful of seasonings in 2 minutes flat!
And if you are looking to make more seasoning blends at home, check out this post with 10 easy DIY spice blends.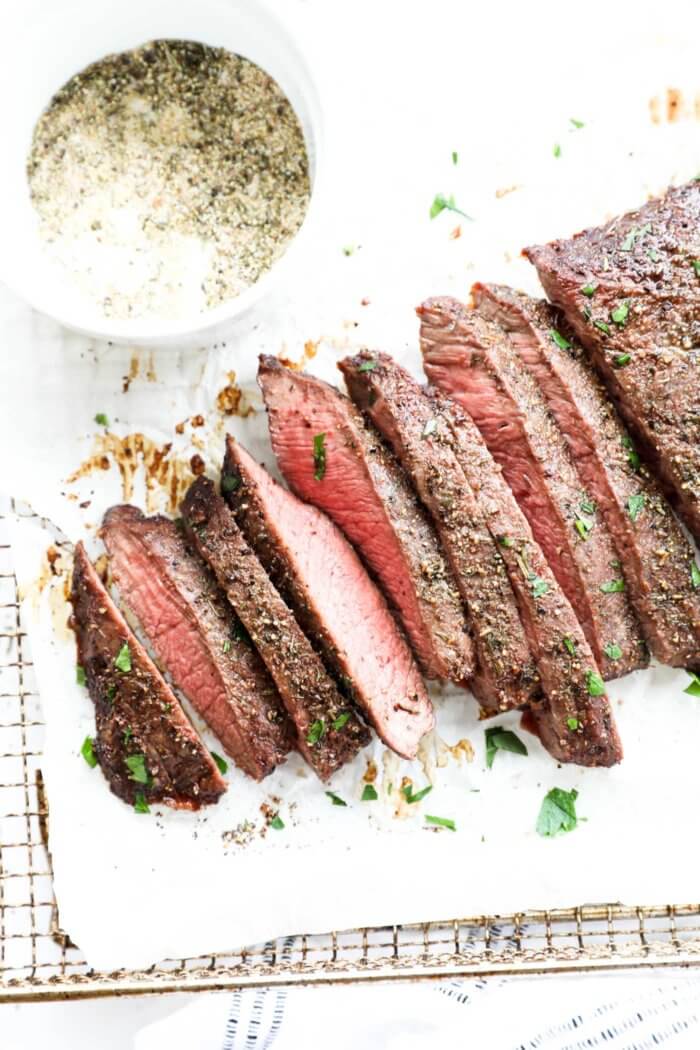 A dry rub vs. marinade
Some people insist that you need to marinate a flank steak, but I don't agree. All you need is the right seasoning and cooking technique and you'll get a tender, juicy steak every time.
Tips
Be sure to watch the steak carefully at the end of the cooking time and remove it just as it's cooked to your liking.
Overcooked flank steak can be tough so I like it cooked medium rare.
Let the steak rest for at least 5 minutes before slicing. If you cut into it right away, you'll lose all of the juices.
Slice the flank steak into strips against the grain for the most tender bites.
Of course, if you want to marinate your flank steak we have a recipe for that! Check out this easy homemade steak marinade recipe.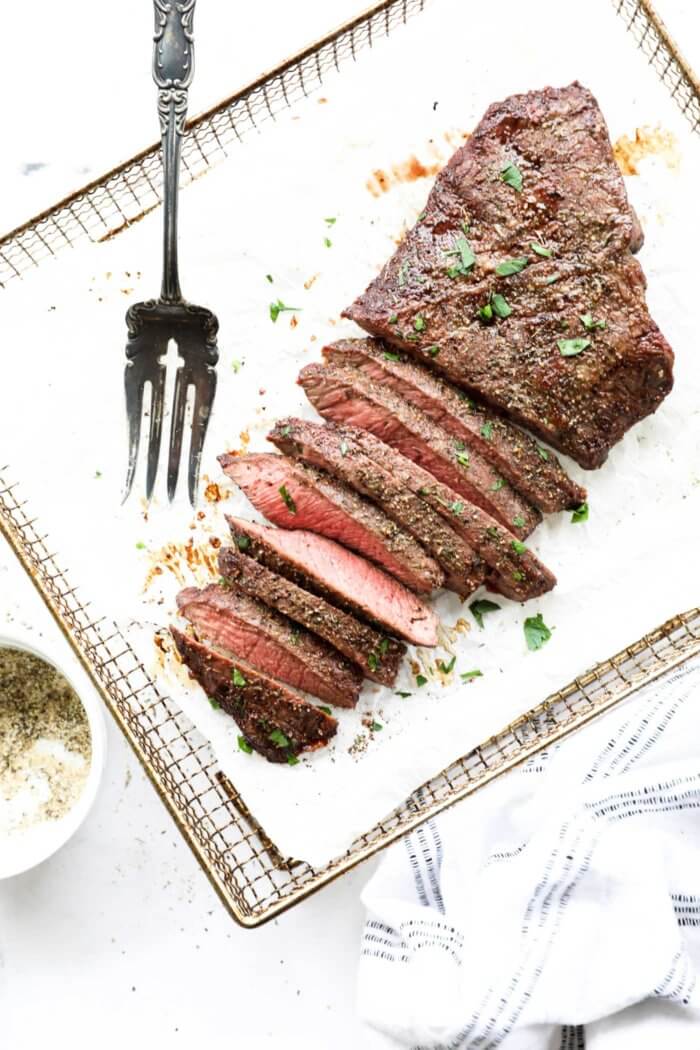 Recommended sides for this flank steak
Your turn to try this easy air fryer flank steak
Heat up your air fryer and cook up this juicy flank steak soon! You'll be amazed by the flavor from the simple steak seasoning and how easy it is to get perfectly cooked steak in the air fryer.
If you try this recipe, make sure to leave a rating and review below. Also, snap a photo or video to share on Instagram. Tag us @realsimplegood so we can check it out. We love to see what you're cooking!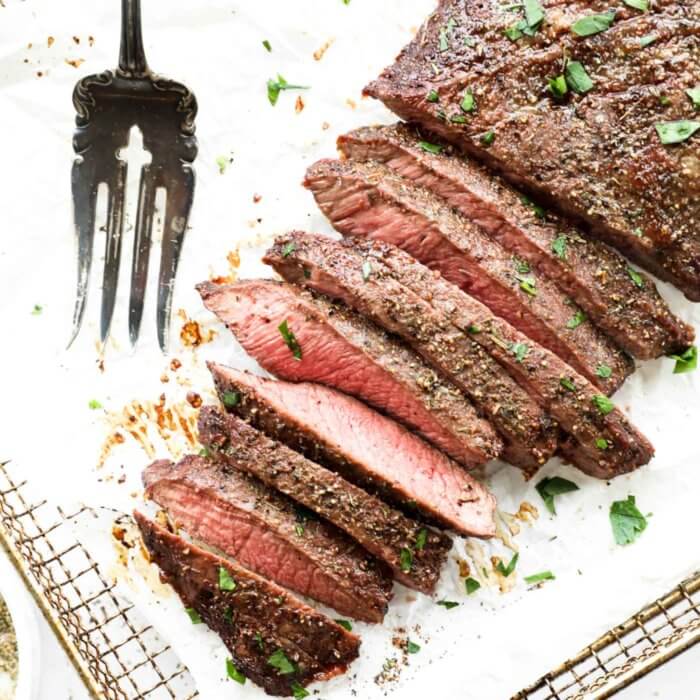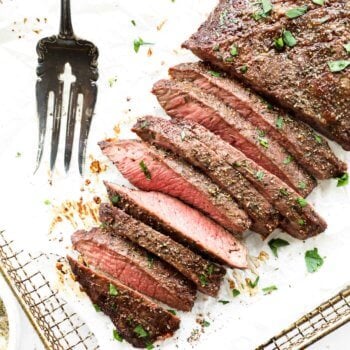 Get the Recipe:
Perfectly Seasoned Air Fryer Flank Steak in 15-Minutes
With amazing flavor from a homemade steak seasoning, this juicy and perfectly seasoned air fryer flank steak is the best way to cook your steak!
Ingredients
For the steak seasoning:
1 tsp sea salt, (large flakes if you have them)
1 tsp ground pepper
1/2 tsp garlic powder
1/4 tsp onion powder
1/4 tsp coriander
1/4 tsp dill
1/8 tsp thyme
1/8 tsp crushed red pepper flakes, (optional)
Instructions
Preheat your air fryer to 400° Fahrenheit. Even if your air fryer doesn't preheat, set it to 400° and let it heat up for 5 minutes.

Make the steak seasoning by combining all of the ingredients in a bowl or jar and mixing well.

Sprinkle the seasoning on both sides of the flank steak.

Place the steak in the air fryer basket. Cook for 10-12 minutes, flipping halfway. Around 10 minutes will result in medium rare steak, cook longer if desired.

Remove the steak and let it rest for 5 minutes.

Slice steak against the grain into strips and serve.
Notes
Nutrition amounts listed are per serving and an estimate provided for those following a Ketogenic or low-carb diet. See our full nutrition information disclosure here. 
Calories: 314kcal, Carbohydrates: 1g, Protein: 49g, Fat: 11g, Saturated Fat: 5g, Fiber: 1g