Why you'll love this easy air fryer recipe
You'll get a healthy air fryer vegetable side dish perfectly cooked from frozen in 20 minutes!
The broccoli florets are perfectly seasoned with a mix of garlic powder, onion powder, Italian seasoning, and salt.
Only a few minutes of prep and the air fryer cooks the broccoli to crisp-tender perfection for you!
Related – Here are instructions for cooking fresh broccoli florets in the air fryer.
How to make frozen broccoli in the air fryer
First, preheat the air fryer to 400° Fahrenheit and make the easy vegetable seasoning mix.
Dump the frozen broccoli florets in a bowl and coat them with oil and the seasoning.
Spread the broccoli out in an even layer in your air fryer.
Cook at 400° for 10-15 minutes, shaking (or stirring) quickly every 5 minutes.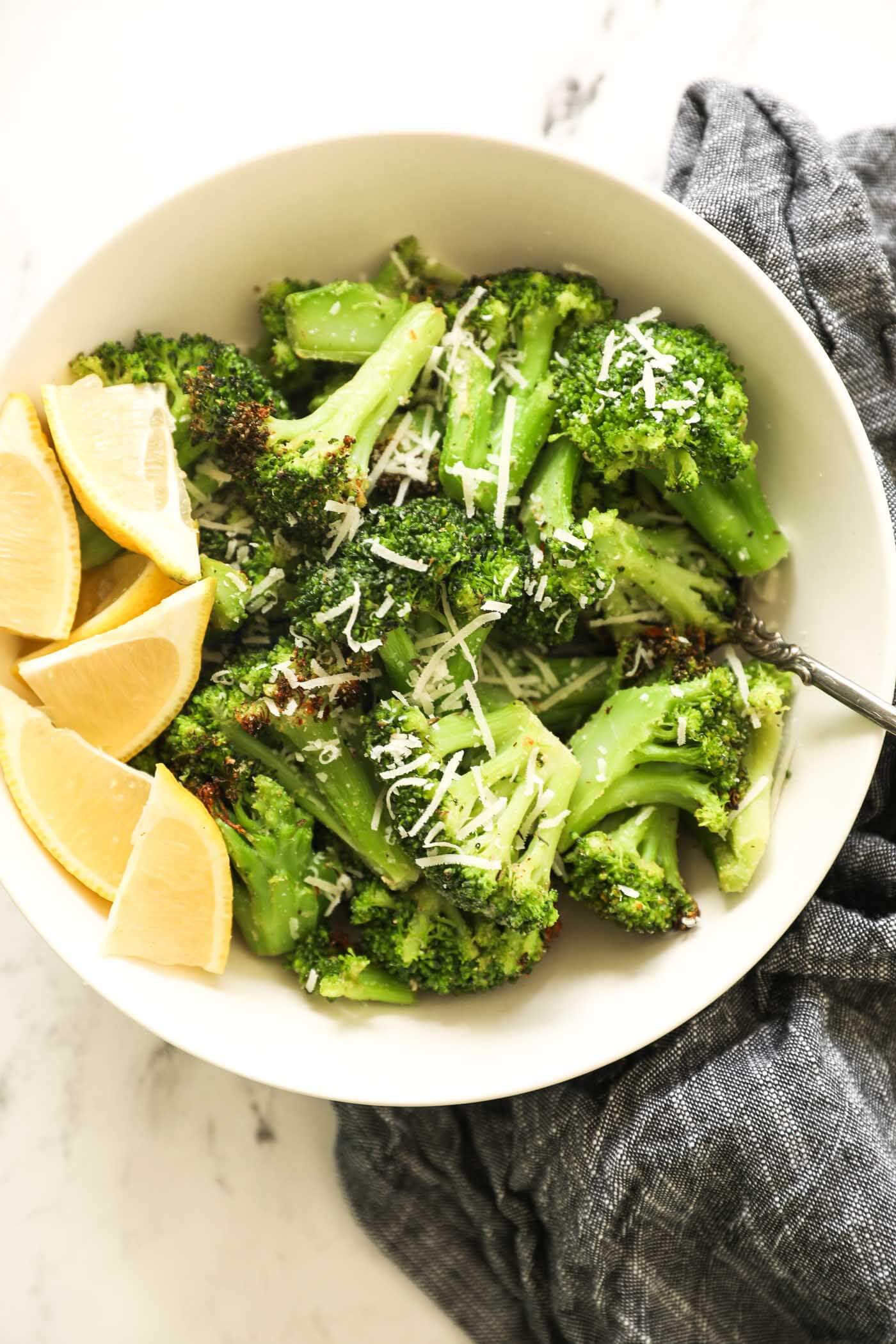 Common Questions
How long do you cook frozen broccoli in an air fryer? For crisp-tender broccoli florets, cook them for 10-15 minutes. Watch them carefully around the 10-minute mark, and stop cooking when they are at your desired state.
What temperature do you cook frozen broccoli in the air fryer? For quick, even cooking, cook them at 400° Fahrenheit. This will give you an excellent result.
Can you air fry broccoli straight from frozen? Yes, absolutely! Just toss it in for 10-15 minutes, and it will cook quickly.
Do I season the broccoli before or after cooking? You can do it either way, but we like cooking the seasonings with broccoli for extra flavor.
Tips from an expert home chef
Depending on how you like your broccoli, you may need to cook it more or less to suit your taste. Again, watch the broccoli carefully at the end of the cooking time.
The air fryer will burn the broccoli florets if you cook them too long. Watch out for the edges starting to brown.
If you're adding the parmesan cheese, sprinkle it on with a couple of minutes left of cooking time to melt it.
Pair this crisp-tender broccoli with a healthy sauce like our chipotle aioli for the best creamy and crunchy combo.
We hope you love this air fryer recipe as much as we do!
Don't forget to leave a quick star rating and review below, we read every comment and truly appreciate your feedback. Also, be sure to browse the rest of our quick and easy air fryer recipes to find some other favorites too!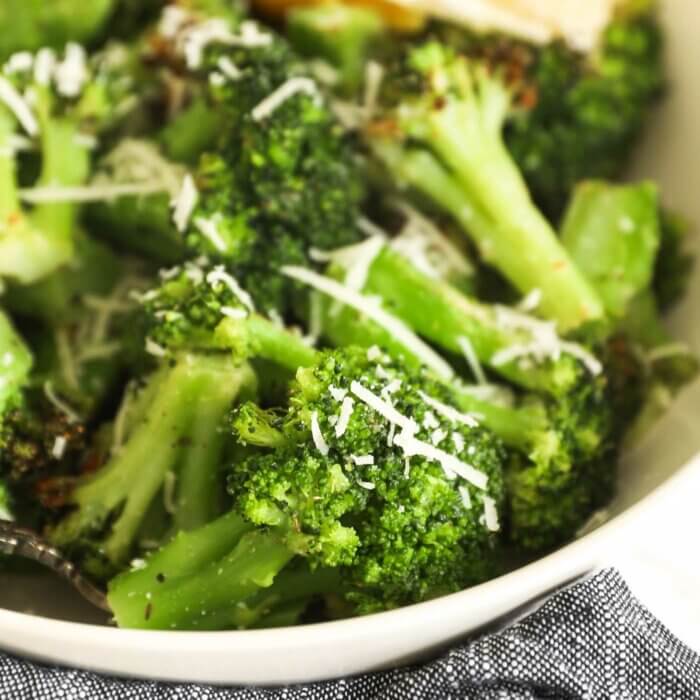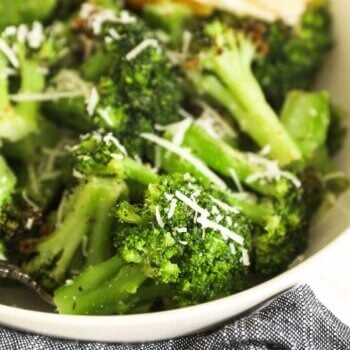 Get the Recipe:
20-Minute (Crisp-Tender!) Air Fryer Frozen Broccoli
On your plate straight from the freezer in about 20 minutes, this easy air fryer frozen broccoli will be your new go-to healthy side dish. Mix it with a few seasonings and cook it to crisp-tender in the air fryer.
Ingredients
For the seasoning:
1/2 tsp garlic powder
1/2 tsp onion powder
1/2 tsp Italian seasoning
1/4 tsp sea salt
Optional toppings:
shredded parmesan cheese, (not for whole30 or dairy free)
squeeze of lemon juice
Instructions
Preheat your air fryer to 400° Fahrenheit. Even if your air fryer doesn't preheat, set it to 400° and let it heat up for 5 minutes.

Make the seasoning by combining the seasoning ingredients in a small bowl or ramekin.

Dump the frozen broccoli in a bowl and drizzle with the avocado oil. Toss to coat. Add in all of the seasoning mix to in the bowl and toss/mix to distribute the seasonings evenly all over the florets.

Spread the broccoli out as much as possible in the air fryer basket.

Cook for 10-15 minutes, stirring quickly every 5 minutes to ensure even cooking.

Remove the broccoli when the florets are completely warmed through and just starting to get tender. Serve immediately and top with toppings if desired. If using parmesan cheese, you can add it over the broccoli for the last 1-2 minutes to melt it.
Notes
Nutrition amounts provided are per serving and an estimate provided for those following a Ketogenic or low-carb diet. Amounts do not include optional toppings for this recipe. See our full nutrition information disclosure here. 
Calories: 103kcal, Carbohydrates: 8g, Protein: 3g, Fat: 7g, Fiber: 3g