Why you'll love this air fryer chicken recipe
You truly can get juicy chicken breasts straight from frozen! Be sure to read the recipe tips below to get perfectly cooked chicken every time.
The recipe has an easy sauce that coats the chicken and adds some ridiculously delicious flavor. If you're thinking this is a boring chicken breast recipe – think again! No extra seasoning required.
If you are in a pinch and forgot to plan dinner, this is a great way to still get a healthy dinner on the table in around 30 minutes!
How to cook a frozen chicken breast in the air fryer (step-by-step)
It's really pretty simple. Start by preheating your air fryer to 400° Fahrenheit. Even if it doesn't preheat, manually set it to 400° to preheat for a few minutes. Then follow these steps: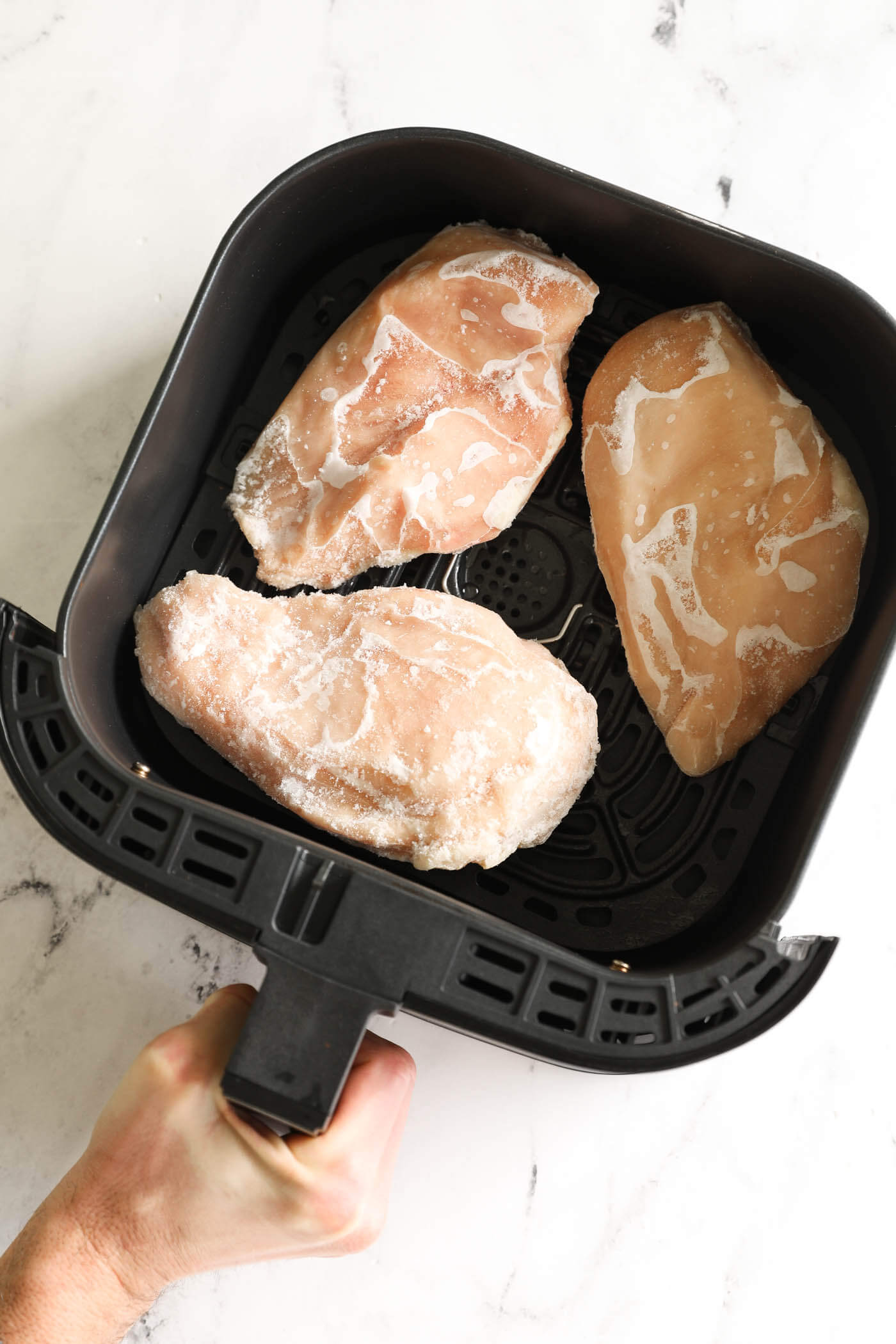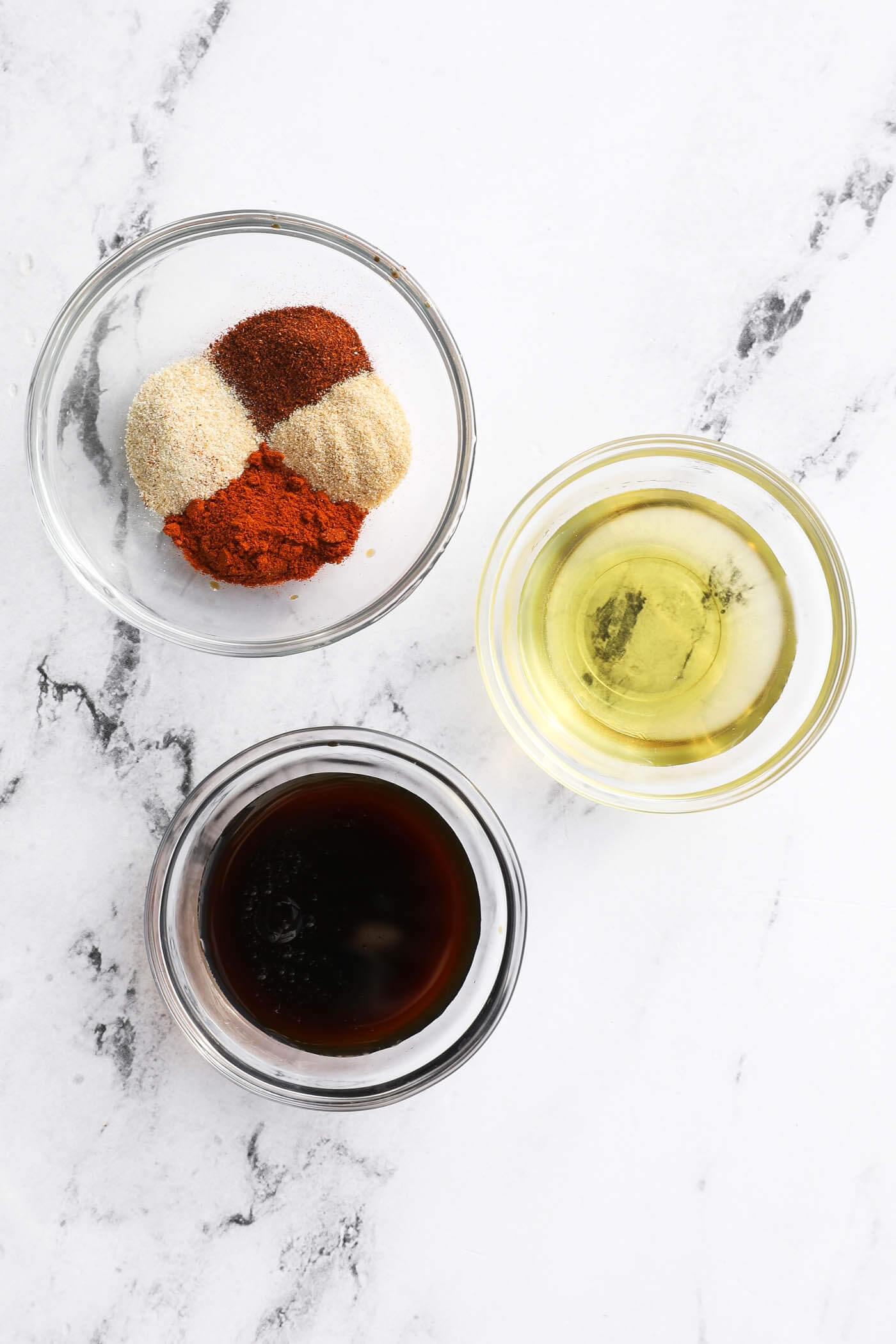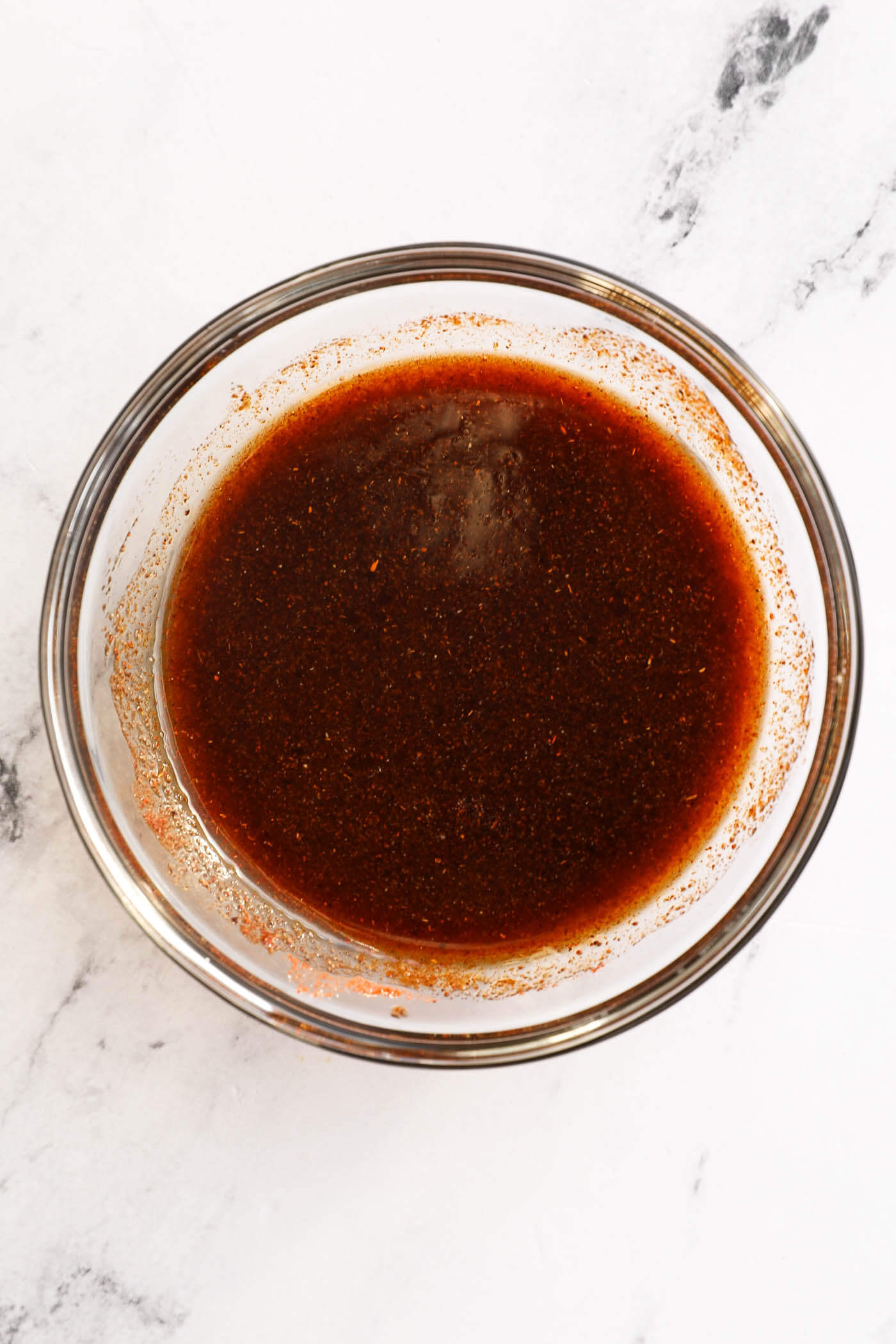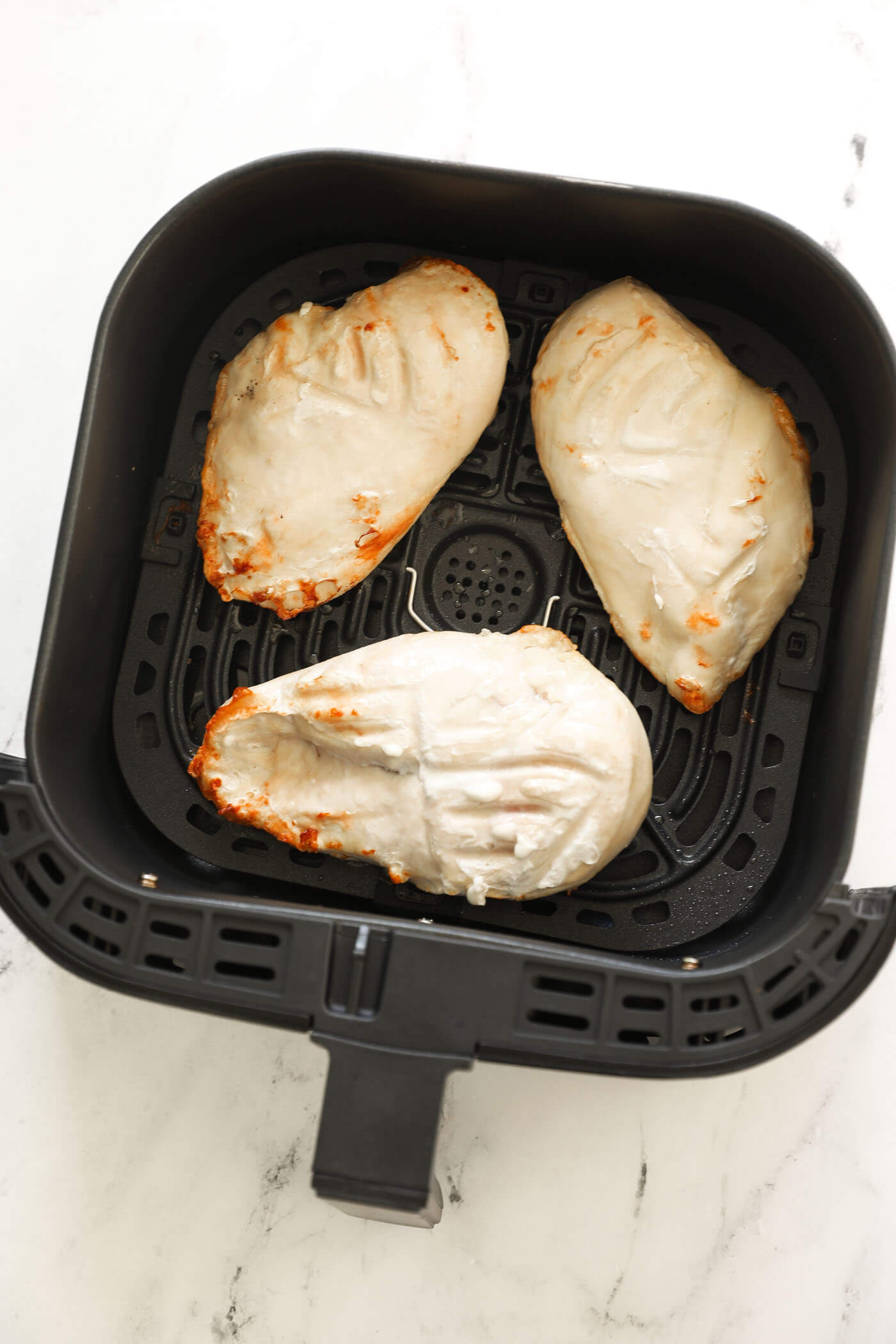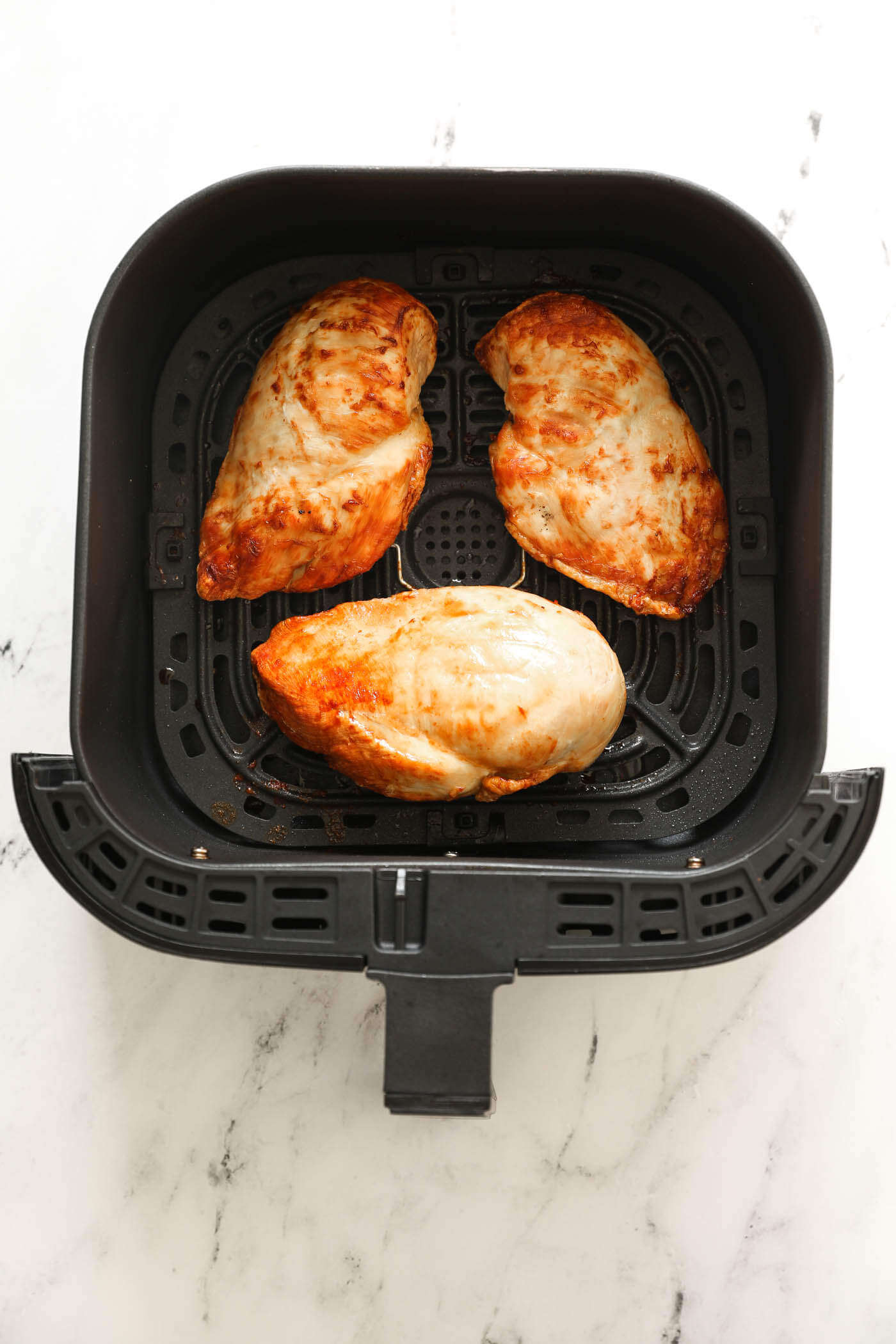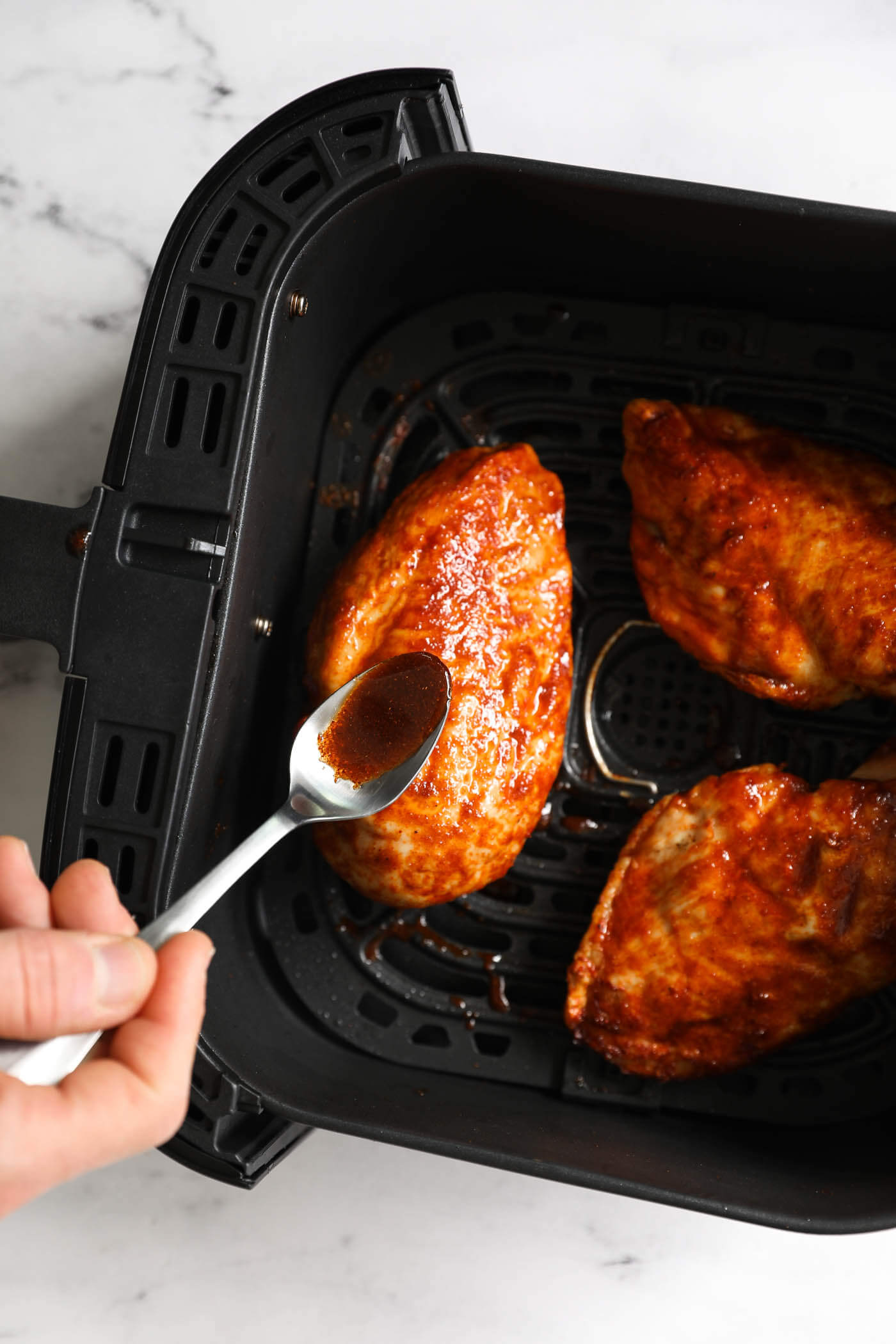 Related ->> Check out this listing of easy and tasty air fryer recipes!
How long to cook frozen chicken breasts in the air fryer
Depending on the size of your chicken breasts, they will take around 20-30 minutes, to cook from frozen in the air fryer. Here are some notes on cooking:
Size matters – Large, thick chicken breasts will take longer to cook. Try and find breasts that are approximately the same size to ensure even cooking. We tested with various sizes of breasts and noted that times range between 25-40 minutes depending on the size. Shoot for smaller breasts if you want them to cook in under 30 minutes.
Temperature – I highly recommend checking the internal temperature of the chicken with an instant-read thermometer to ensure the chicken is fully cooked to 165° in the thickest part.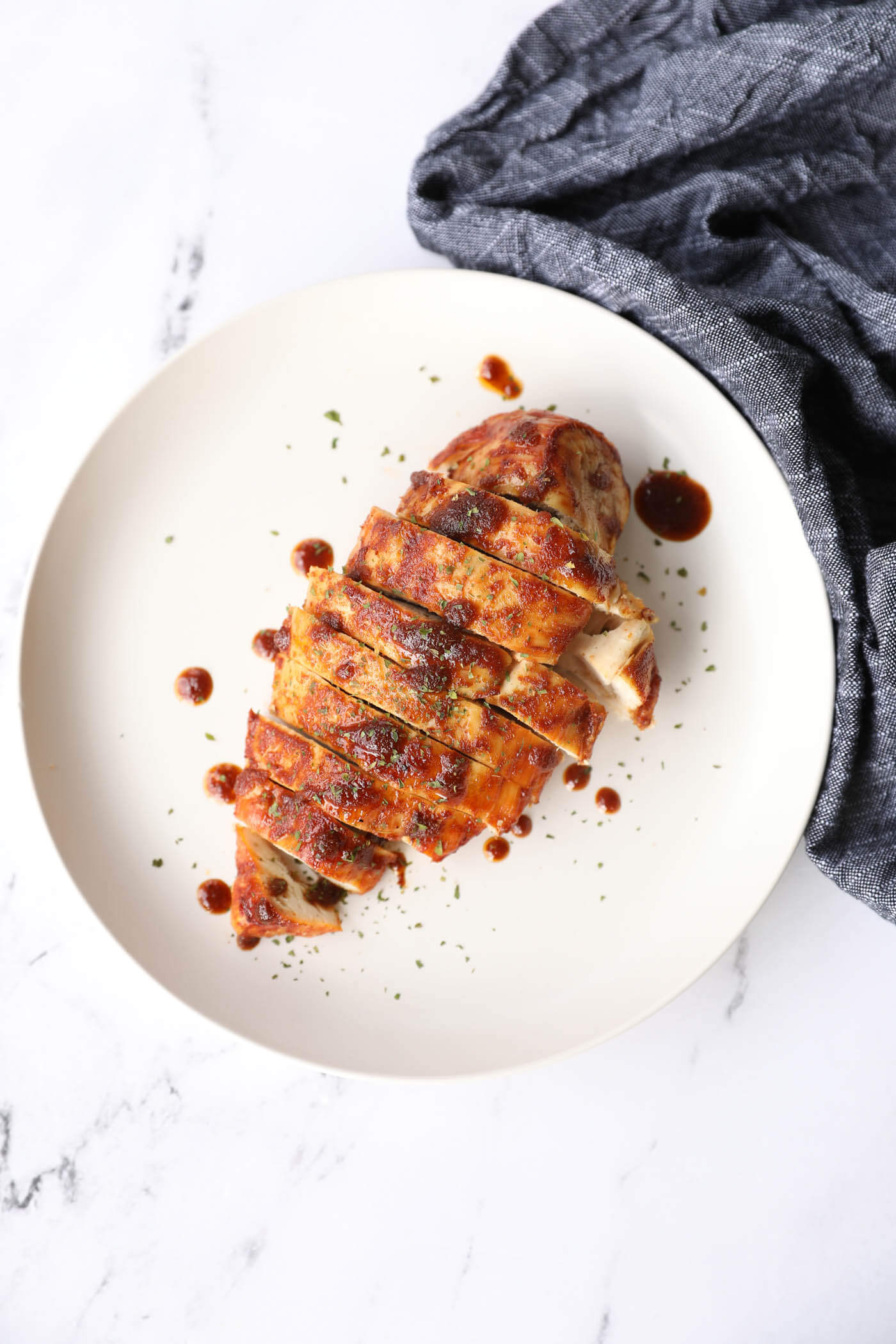 Recipe tips and tricks
No thaw – Cook the chicken from completely frozen. If your chicken breasts are stuck together, submerge the package in warm water for about 5 minutes. Then, open them up and carefully pry the breasts apart with a fork or knife.
Use an instant read thermometer – It's essential for this recipe as each individual chicken breast is slightly different and will come to temp at a different time.
Check each breast – You'll want to check the temp of each breast and pull it when it reaches temperature. You can simply set the fully cooked breast aside to rest while the remaining chicken cooks.
Check the thickest section – Insert your thermometer into the thickest section of each breast. Since you're cooking from frozen, the innermost section will be the last to thaw and cook completely.
Cut the chicken – If you have chicken pieces that are thick on one end and thinner on another (most are), you can cut off the thin end and let it rest while the thick end finishes up. This prevents the thin half of the chicken breast from getting overcooked and rubbery.
Watch the temperature closely at the end – When the chicken reaches the 130°- 140° mark, check it every few minutes. The internal temperature can rise 10°-15° every 2-3 minutes of cooking after this point.
Sauce at the very end – If you end up pulling some chicken out, wait until the very end to sauce up all of the breasts. Then you can just put it back in the air fryer for 2-3 minutes to finish the chicken.
Other frozen foods made in the air fryer
The air fryer is amazing at turning frozen food into a delicious meal – quickly! Try these out:
Or just browse all of our air fryer recipes!
We hope you love this recipe as much as we do!
Don't forget to leave a quick star rating and review below, we read every comment and truly appreciate your feedback. Also, be sure to browse the rest of our healthy air fryer recipes to find some other favorites too!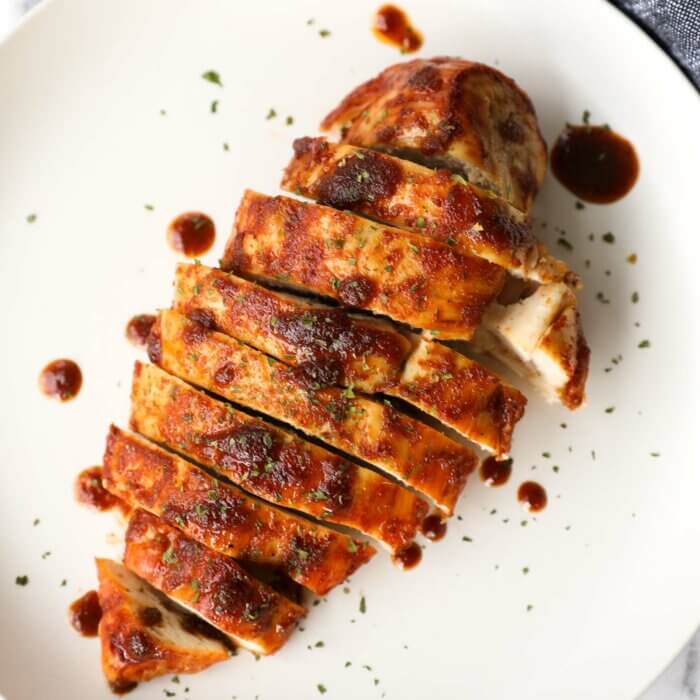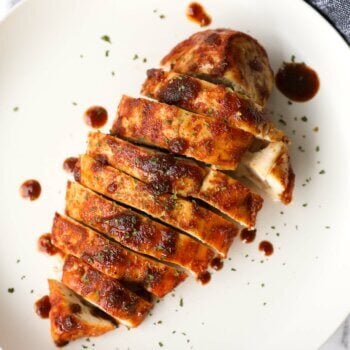 Get the Recipe:
Juicy Air Fryer Frozen Chicken Breasts (No Thaw)
There's no need to thaw the chicken, just toss it in your air fryer straight out of the freezer. It's a quick and easy way to cook juicy chicken breasts!
Ingredients
Cooking oil spray, (for the basket, optional)
3 frozen chicken breasts, (of the same approximate size)
Instructions
Make the sauce by adding all of the sauce ingredients to a bowl and mixing well.

Preheat air fryer to 400° Fahrenheit. Even if it doesn't have a preheat function, preheat it for a few minutes.

If desired, spray your air fryer basket with cooking oil. Place the chicken breasts in the basket.

Set the breasts to cook for a total of 30 minutes (you'll flip them after 15 minutes).

After 15 minutes of cooking, flip the breasts.

Cook for another 10-20 minutes, or until the chicken reaches an internal temperature of 165° in the thickest part of the breast.

In the last few minutes of cooking, brush the sauce on both sides of the breasts. Note: Don't brush the sauce on too early, as it will burn after a few minutes. If you don't want to risk it burning, simply brush the sauce on after the chicken is completely cooked.

Remove the chicken and serve.
Notes
Nutrition amounts are an estimate provided for those following a Ketogenic or low-carb diet. See our full nutrition information disclosure here.  
Calories: 360kcal, Carbohydrates: 3g, Protein: 48g, Fat: 16g, Fiber: 1g