These baked ground pork meatballs are packed full of asian-inspired flavors and topped with the best homemade sticky sauce.
Ready within 30 minutes, these Asian-spiced meatballs are one of our favorite weeknight dinners because they're so quick and easy to prepare. They are Paleo and Whole30 friendly too!
Healthy meatballs are where it's at
These ground pork meatballs are just delicious! They've got the perfect combo of savory and sweet. And they really hit the spot, especially when you need a quick and easy meal. The meatballs themselves are flavored with sesame oil, coconut aminos (or this coconut aminos substitute) and scallions.
If you like this recipe, be sure to try our Asian-Inspired Turkey Meatballs and these Paleo & Whole30 Meatballs.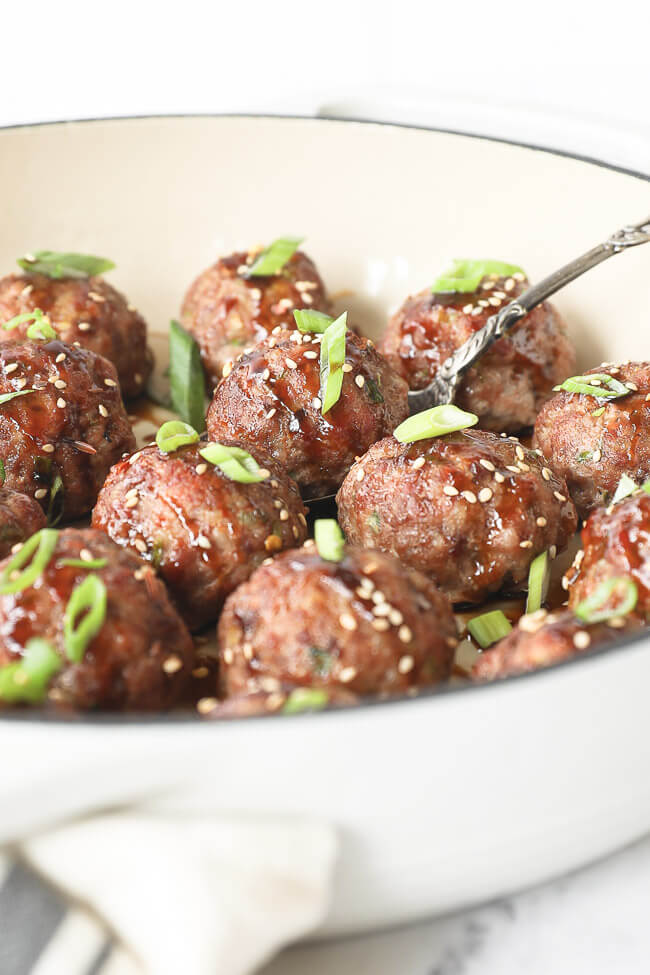 Making these Asian-inspired pork meatballs
Preheat your oven and gather the ingredients.
Mix the meatball ingredients in a large bowl.
Shape up the meatballs and put them in the oven to bake for 20 minutes.
When the meatballs are almost done, whip up the sticky sauce on the stovetop.
Spoon the sauce over the meatballs for serving and dig in!
Tips for freezing meatballs
We love meatball recipes for meal prep because they are easy to freeze and re-heat when you're ready to dig in. For these Asian-spiced meatballs, you have two options.
Make the meatballs, freeze them, and then when you go to re-heat them, make the sauce. This is our preferred method because the sauce is best right when it's made.
Make both the meatballs and the sauce, but freeze them separately. Re-heat and enjoy when you're ready. You'll want the sauce separate so that you can re-heat it and enjoy like a true sauce…otherwise it will just get soaked into the meatballs.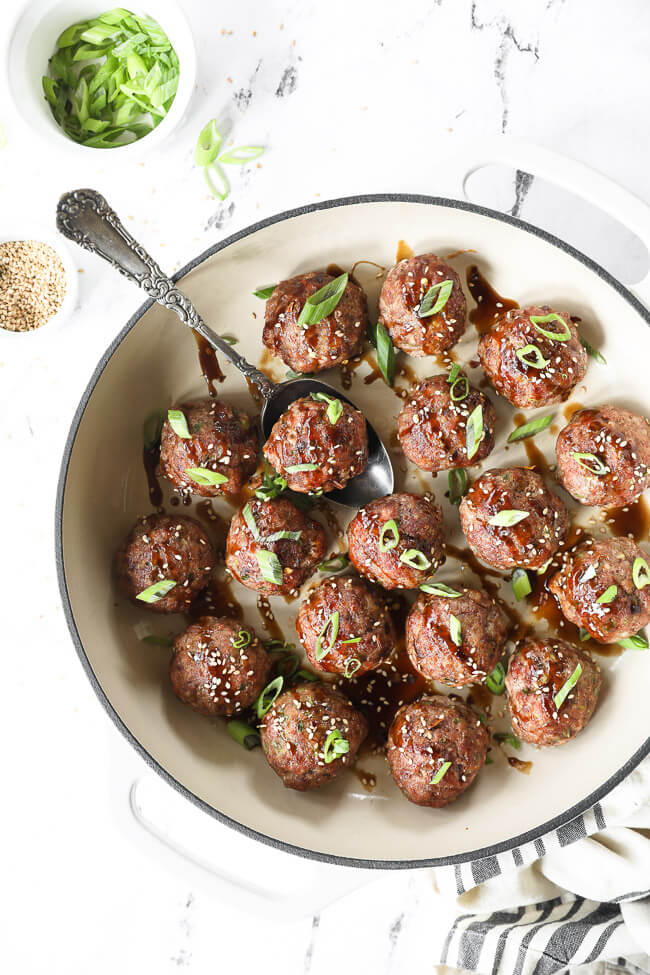 Recommend serving options for pork meatballs
With some greens or roasted veggies.
Over some white rice or cauliflower rice.
Mixed in with some regular noodles or zoodles.
With some sautéed cabbage.
Making meatballs without milk or eggs (or breadcrumbs)
You'll notice that these meatballs don't use milk, eggs or breadcrumbs as a binder. Because pork meatballs have plenty of fat, these binders are generally unnecessary.
In addition, they don't really enhance the flavor, they just add more work and more ingredients! So you can just skip them for this recipe and you'll never know the difference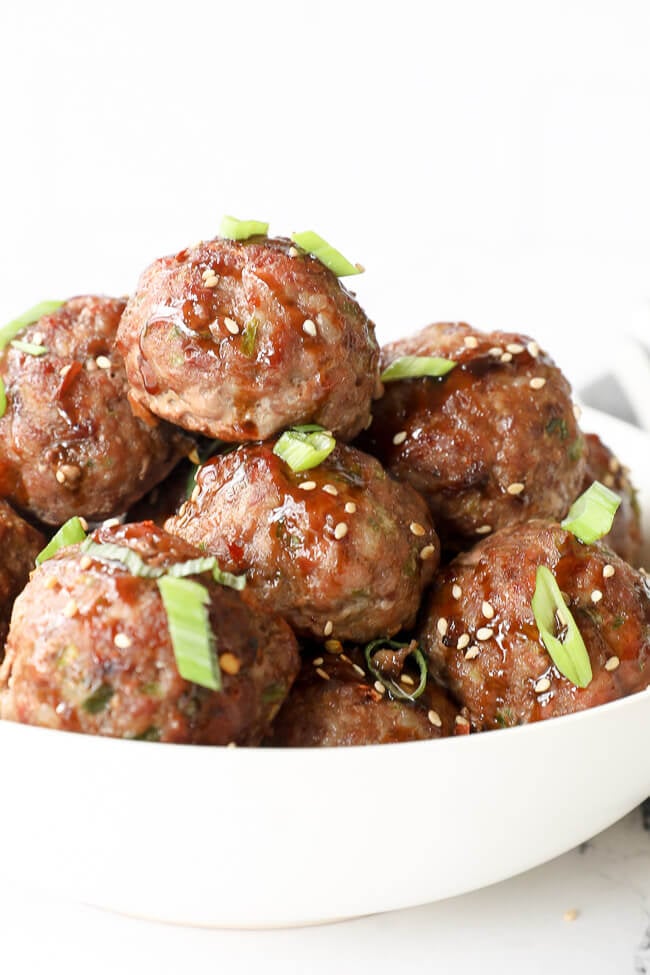 Time to try these Asian-spiced pork meatballs
Meal prepping or just need an easy weeknight dinner? Make these easy Asian-inspired pork meatballs with a delicious sticky sauce!
If you try the recipe, leave a comment and rating below to let us know how it goes. Also, take a pic to share on Instagram and tag us @realsimplegood, we love to see what you're making.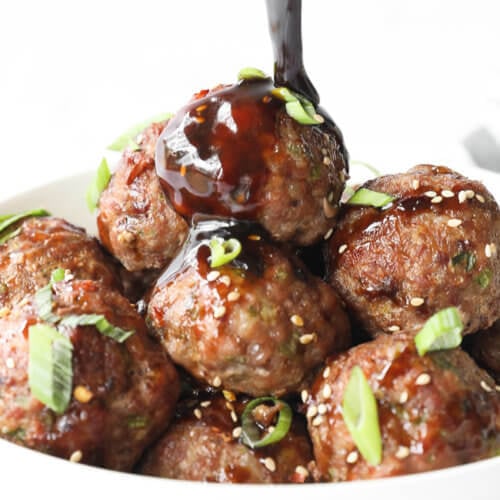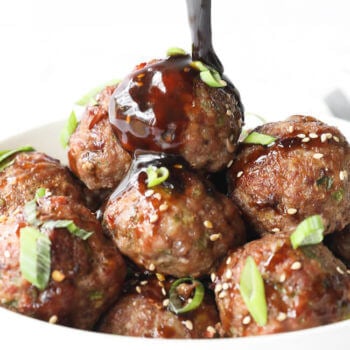 Get the Recipe:
Sweet & Spicy Asian-Inspired Pork Meatballs
These baked ground pork meatballs are packed full of asian-inspired flavors. This easy meatball recipe is also Paleo and Whole30 friendly.
Ingredients
For the meatballs:
2 lbs ground pork
1 tbsp sesame oil, (also used below)
2 tbsp coconut aminos, (also used below)
3 green onions, finely diced
For topping:
Sesame seeds
Diced green onion
Instructions
Preheat oven to 400° and line a large baking sheet with parchment paper.

In a large mixing bowl, combine ground pork, sesame oil, coconut aminos and green onion. Use your hands to mix and form into golfball-sized balls. You can use a small ice cream scoop if you have one. You should make about 18-20 balls.

Place the balls on parchment lined baking sheet and transfer to oven to bake for 20 minutes.

While the meatballs are cooking, add all of the sauce ingredients to a saucepan and whisk well to mix and incorporate the flour.

When the meatballs have about 7 minutes of cooking time left, start heating the sauce.

Whisk the sauce before turning on the heat to the saucepan. Bring the sauce to a quick low boil and then turn heat down to low to simmer. Simmer, stirring frequently, until the sauce thickens, about 4-5 minutes.

Remove meatballs from the oven. Spoon sauce over the meatballs for serving and top with any other desired toppings like sesame seeds or diced scallions.
Notes
If you want, you can broil the meatballs for 5 minutes at the end to brown the tops.