Chicken tenders are great for lots of reasons, and we love them because you can easily switch up the flavors by using different spices and you can also experiment with different dipping sauces to go with them. The best part though is if you bake them just right, they come out of the oven a little crispy on the outside, tender on the inside and oh so delicious. 
The key steps to baking these chicken tenders to perfection is to pat the chicken dry with paper towels, get it coated really well in the eggs, and then dredge the heck out of it in the flour mixture. Like seriously, get your chicken tenders well coated in both the egg and the flour mixtures. Serve these up right out of the oven with some tasty homemade honey mustard sauce (Just do what the name says…mix up some dijon mustard with honey. Yes, it's that easy. I added some fresh chopped thyme because it sounded yummy) or ketchup.
We like adding turmeric and cayenne to our seasonings, and these baked chicken tenders are a perfect place to do just that! Turmeric is a potent anti-inflammatory and may even help to prevent cancer. Cayenne also has powerful health benefits (not to mention it adds just the right amount of kick to these baked chicken tenders). Cayenne is rich in capsaicin, which has pain relieving properties among other things. There have also been studies which found cayenne helps to suppress appetite and burn more calories. Basically, you should add both turmeric and cayenne into your cooking for flavor and the health benefits. You can start with these baked chicken tenders.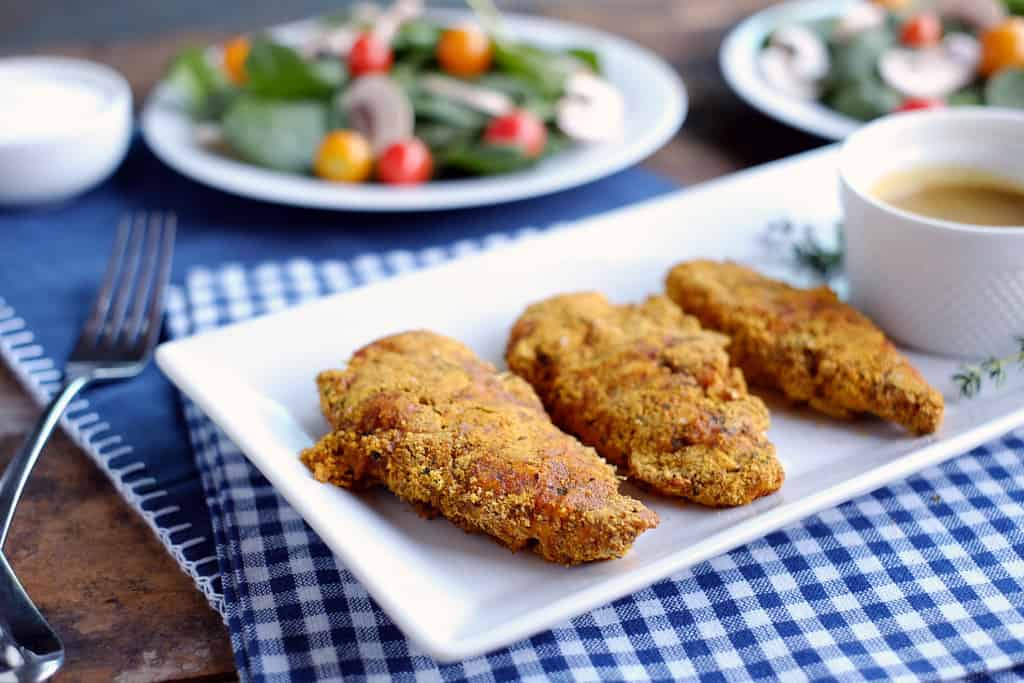 If you do try out this recipe, let us know what you think by leaving a comment below and adding a rating. Also, take a picture and tag it on Instagram #realsimplegood so we can check it out!
---
Get the Recipe:
Baked Chicken Tenders
These baked chicken tenders come out of the oven a little crispy on the outside, tender on the inside and oh so delicious.
Ingredients
1 lb chicken breast tenders
1 cup almond flour
1/4 cup tapioca flour
2 tsp garlic powder
2 tsp paprika
2 tsp parsley
2 tsp turmeric
1 tsp cayenne
1 tsp salt
1 tsp pepper
2 eggs, - whisked
3 tbsp milk, (we used cashew milk because I had just made some earlier in the day but almond or coconut would work too)
Instructions
Preheat your oven to 450 degrees fahrenheit.

Line two baking sheets with parchment paper and set nearby.

In a pie tin, or other shallow dish, combine the almond flour, tapioca flour, spices, salt and pepper.

Whisk your eggs in a separate bowl with the milk.

Pat dry each chicken tender with paper towels.

Place one of the tenders in the egg mixture and cover completely. It should be well coated.

Next, dredge the egg covered chicken tender in the flour mixture. Coat it well, pressing the chicken tender down into the mixture.

Place the coated chicken tender on your parchment lined baking sheet.

Repeat until all of the chicken tenders are coated and resting on your baking sheets.

Place your baking sheets in the oven and bake for 9 minutes.

Remove from the oven, flip the tenders over and bake for another 9 minutes.

Remove from the oven and serve these yummy baked chicken tenders up!

We love to dip them in honey mustard and ketchup...homemade of course!