Why you'll love these homemade chicken tenders
Great for family dinners and picky eaters, just grab your favorite dipping sauce and dig in!
Coated with the perfect mix of almond flour and seasonings, they turn out a little crispy on the outside and juicy and tender on the inside.
No bread crumbs in this recipe, so these gluten-free chicken tenders are a fit for almost any diet.
Related ->> Crunchy Keto Chicken Nuggets (Oven or Air Fryer)
How to make homemade almond flour chicken tenders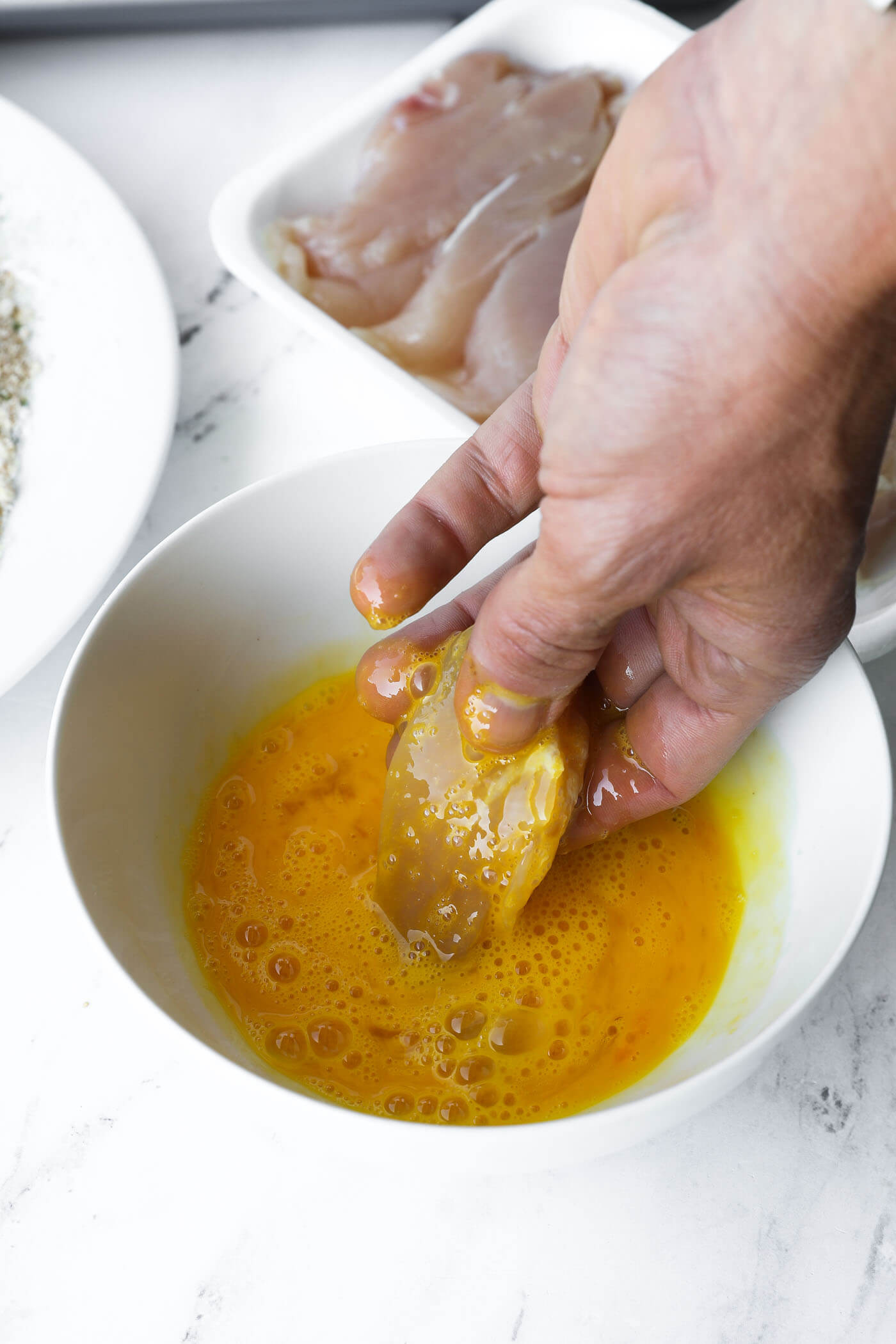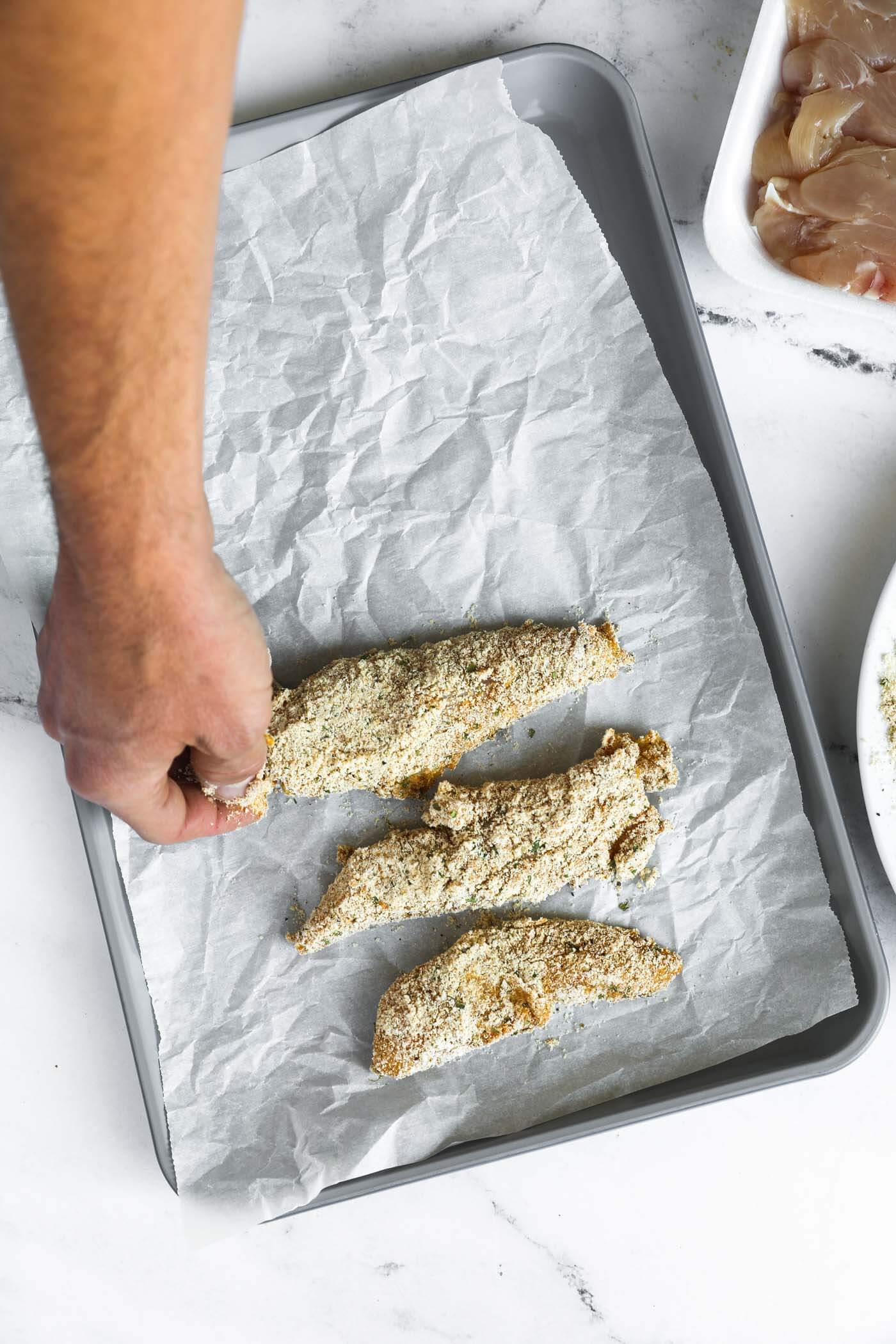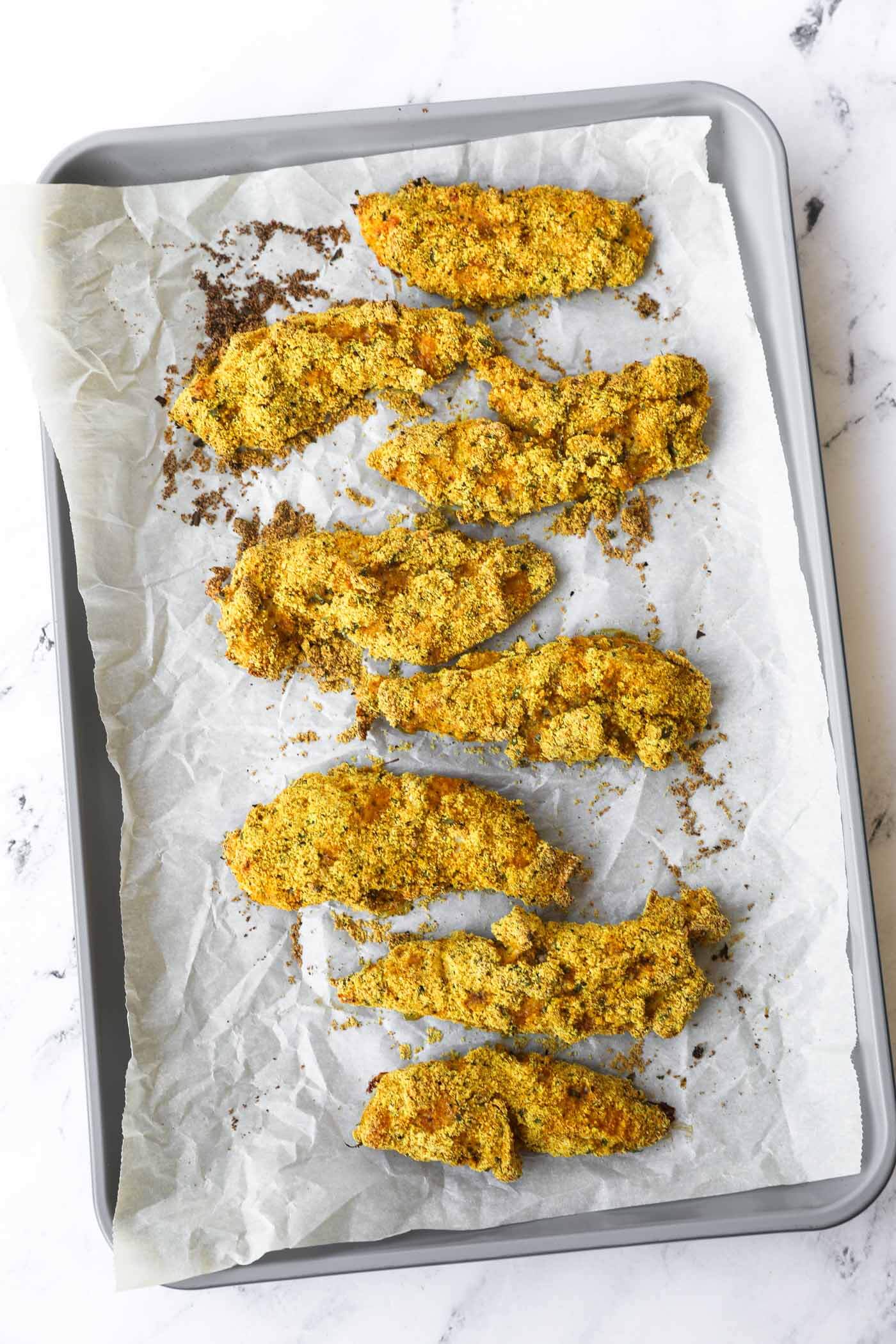 Ingredient notes and substitutions
Chicken breast tenders – To make this easy, buy pre-cut tenders. Or, you can cut your own tenders from full chicken breasts. Just make sure they are the same approximate size.
Tapioca flour – You can substitute arrowroot flour, cassava flour or chickpea flour if needed.
Turmeric – I like the orange-is color and savory flavor or turmeric, but I know that some don't. You can omit it if desired.
Eggs – For an egg-free option, substitute about 1 cup of milk or nut milk to coat the chicken with. The tenders might not be as crispy with this option, as the egg helps to crisp up the outer crust when cooking.
Tips from an expert home chef
When coating the tenders with the egg and flour mixture, try and keep one hand for the wet part (egg-dip) and one hand for the dry part (flour coating). This will prevent clumping and the flour from sticking to your hands.
You can easily scale this recipe up to make a larger batch. Just change the scale in the recipe card under the ingredients heading and the ingredient amounts will automatically update.
Don't forget to line your sheet pans with parchment paper for easier clean up!
Leave a little space between the chicken tenders on the sheet pan for even cooking.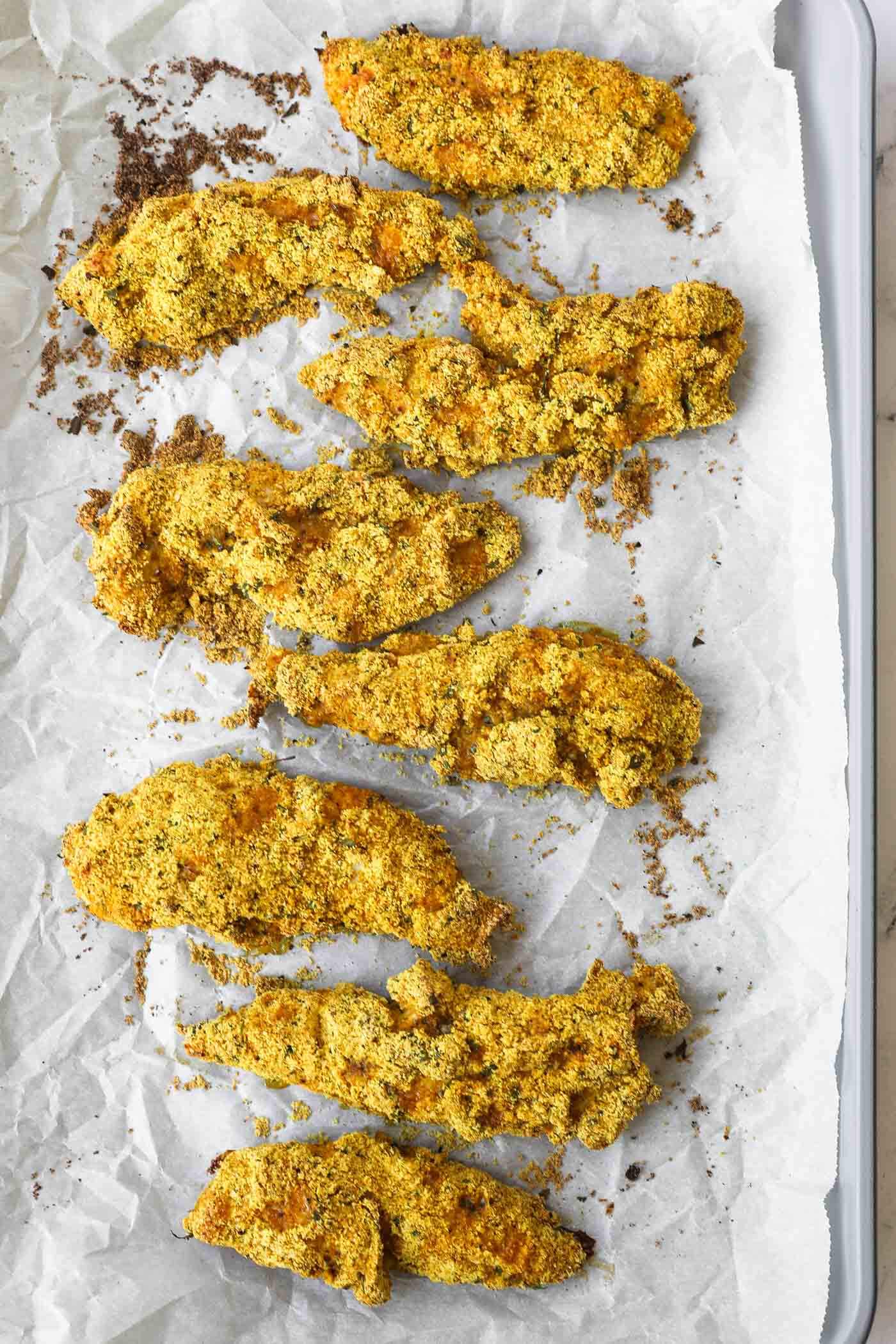 Pairing options for gluten free chicken tenders
Homemade chicken tenders are a versatile dinner option, they go with just about anything!
Dipping options:
Pairing options:
Here are a few quick and easy side dish recipes that you can whip up in around the same time as these chicken tenders take to bake (20-minutes).
We hope you love this recipe as much as we do!
Don't forget to leave a quick star rating and review below, we read every comment and truly appreciate your feedback. Also, be sure to browse the rest of our easy, delicious chicken recipes to find some other favorites too!
---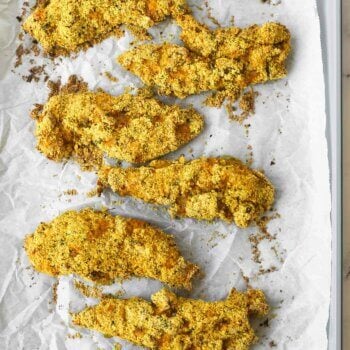 Get the Recipe:
30-Minute Baked Almond Flour Chicken Tenders (Gluten-free!)
These baked almond flour chicken tenders come out of the oven a little crispy on the outside, tender on the inside, and oh-so-delicious. Coated with almond flour and the perfect mix of seasonings, they're ready in about 30 minutes from scratch!
Ingredients
1 lb chicken breast tenders
3/4 cup almond flour
1/4 cup tapioca flour
2 tsp garlic powder
2 tsp paprika
2 tsp parsley
2 tsp turmeric
1 tsp salt
1 tsp pepper
2 eggs
Instructions
Preheat your oven to 400° Fahrenheit.

Line a sheet pan with parchment paper.

On a plate or shallow dish, combine the almond flour, tapioca flour, spices, salt and pepper.

Whisk eggs in a separate bowl.

Place one of the tenders in the egg mixture and cover completely. It should be well coated.

Next, dredge the egg-covered chicken tender in the flour mixture. Coat it well, pressing the chicken tender down into the mixture and tossing the flour all over the chicken.

Place the coated chicken tender on your parchment lined baking sheet.

Repeat until all of the chicken tenders are coated.

Place chicken in the oven and bake for 20 minutes, or until the chicken has reached an internal temperature of 165° Fahrenheit.

Remove and serve immediately.