It's almost V-Day, and I am guessing that may stir up some excitement or frustration for you. It seems like folks either love or hate the holiday. Although we don't get super jazzed for this holiday, I do love any excuse to create a fun dessert, and these balsamic strawberry topped lemon cupcakes are no exception! Duh. Enjoy these Valentine's Day cupcakes – they are for you to enjoy with yourself, your kiddos, friends, or with your significant other.
I love lemon. There is something refreshing about citrus, and I love that it can be made savory or sweet. I'm a fan of both; for Valentine's Day, I like it sweet. I especially love that these balsamic strawberry topped lemon cupcakes have a citrusy, sweet cupcake that is cut by the creamy coconut whipped cream frosting, and then sweetened again with the tangy, balsamic strawberries. All in all, this one is a ride for your taste buds.
It's true. Cupcakes have long been a favorite of mine. If you know me well, you know they are a go-to when I'm happy and celebrating and also when I need a pick me up or if I'm down, so whether you love or hate Valentine's Day these are basically the perfect treat this week! Also, you can use the leftover whipped cream for your coffee for the next few days, and who doesn't love making their coffee just a bit more fancy in the morning?!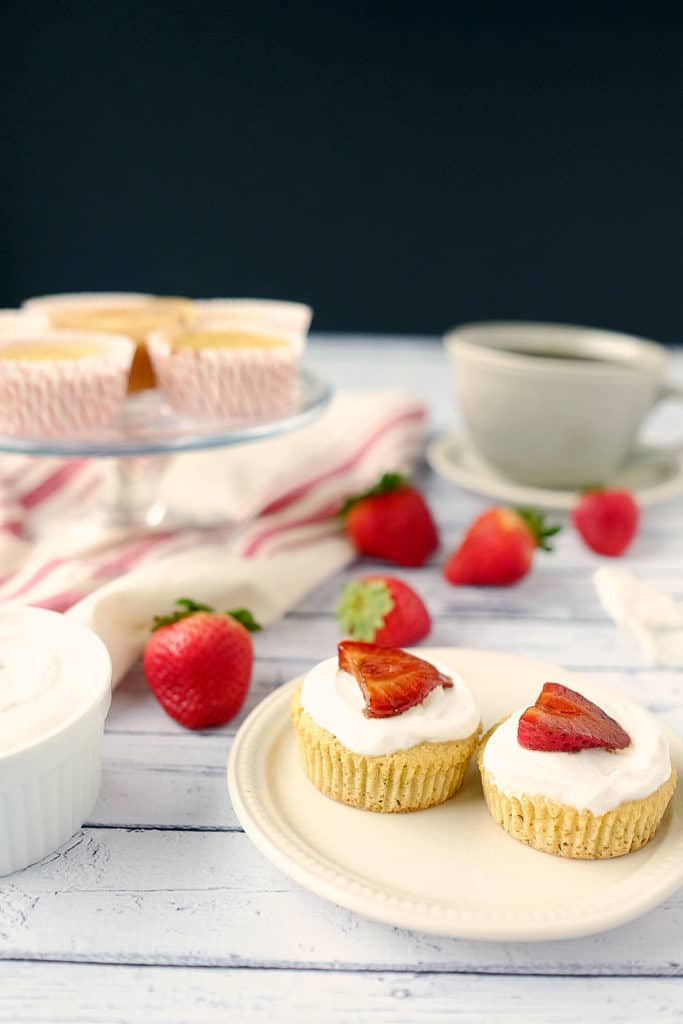 Make a batch of these balsamic strawberry topped lemon cupcakes for yourself to celebrate how amazing you are, and share them with whomever you'd like. Tag us on Instagram @realsimplegood so we can see and leave a comment below to let us know what you think.
---
Balsamic Strawberry Topped Lemon Cupcakes (Valentine's Day Cupcakes)
Print Recipe
Rate Recipe
Ingredients
For the cupcakes:
1/2

cup

coconut flour

1/2

cup

tapioca flour

1

tsp

baking soda

4

eggs

1

banana

- mashed (I use a ziplock baggie to mash it up so I can use my hands and get all the chunks out. Plus, it's less of a mess to clean up!)

1/4

cup

pure maple syrup

2

lemons

- zested and then juiced

1

tsp

vanilla

2

tbsp

grassfed butter, ghee or coconut oil

- melted
For the coconut whipped cream:
1

carton of full fat coconut milk

(We used the 8.5 oz cartons of Aroy-D. We aren't fans of the canned stuff and find it is harder to work with and often has extra ingredients we don't care for.)

2

tbsp

maple syrup

1

tsp

vanilla
For the strawberry topping:
4-6

strawberries

- sliced lengthwise like in the picture

1

tbsp

coconut sugar

2

tbsp

balsamic vinegar
Instructions
Note: I like to prepare the coconut whipped cream in advance, like the day before or the morning of so that it has extra time to chill and thicken up. See recipe at the bottom.

For the cupcakes: Line a muffin pan with silicone or parchment liners (seriously, don't use the regular liners, you'll be mad because your muffins will stick to them, and all you'll get out are the muffin tops.)

Preheat your oven to 350 degrees fahrenheit.

In a small mixing bowl combine the dry cupcake ingredients and whisk until all of the ingredients are evenly combined.

In a medium mixing bowl, whisk your eggs. Then add the rest of the wet cupcake ingredients and continue whisking until your mixture is smooth.

Slowly add in the dry ingredients and whisk until the flour mixture is fully incorporated.

Spoon the mixture into your parchment or silicone lined muffin pan. Fill each cup up about 2/3 of the way.

Place in the oven and bake for about 24 minutes, until the edges start to brown. A toothpick will come out clean. While your cupcakes are cooking, you can work on the strawberry topping. See below.

Once the cupcakes are done baking, remove from the oven and let cool, fully. You want them to get all the way cool so the coconut whipped cream doesn't just melt right off as you frost them.

Once your cupcakes have cooled, and just before you're going to serve them, pull out your coconut whipped cream (see below) and frost your cupcakes with a thick layer slathered on top.

Finally, pull your balsamic strawberries out of the fridge (see below), and place one on top of each cupcake.

Serve these beauties and enjoy the citrusy, creamy, tangy and sweet deliciousness!
For the strawberry topping:
Slice your strawberries lengthwise, so they look like little hearts almost, and place them in a small mixing bowl.

Add your coconut sugar and balsamic vinegar. Toss to coat and then place in the fridge until you're ready to frost and top your cupcakes. Pretty easy, right?!
For the coconut whipped cream:
I like to prepare this in advance, the day before or the morning of, so it has plenty of time to thicken up and get real creamy.

Start by placing your full fat coconut milk in the fridge for at least an hour. I also like to put a small mixing bowl in the freezer as well, so it is chilled when I go to mix.

We don't have a stand mixer, so we use a hand mixer, either will do. A whisk will also work, but it takes much longer and your forearm will hurt. For real. I've done it.

Place your chilled coconut milk in your chilled bowl and start the mixing. I go right for it, and dive in on high speed.

Keep mixing until it starts to get creamier and creamier. It will start to thicken and peaks will form. I usually like to stop at this point and add in maple syrup and vanilla.

Start the mixer again, and keep going until it reaches your desired thickness. Then, cover and place in the fridge until you are ready to frost and top your cupcakes.

When you're ready to frost your cupcakes, remove from the fridge and use a whisk to fluff your whipped cream up.