Don't you just love the flavors of summer? This berry lemon shortcake in mason jars is the perfect combination of summer flavors and patriotic cheer to celebrate the 4th of July this year!
Summer must be our favorite season for fresh produce. While we are definitely missing our garden and fresh berries this summer, we have had great access to fresh and local fruits and veggies at the farmer's markets here in town. I do really miss having blueberries in our yard though. Luckily, between the farmer's markets and Justin's mom's garden we have plenty! They are the perfect topper for this fabulous dessert!
Aside from simply loving mason jars and trying to put just about everything and anything I can in them, this one was meant to be. I mean, it is basically perfect. With this berry lemon shortcake cut up into bite sized chunks and the strawberries baked right in, you get a bite with all of the goodies each and every time. No need to save the best bite for last (do you do that, too?!). Just dive right into this berry lemon shortcake and enjoy the best bite. Every. Single. Bite. Plus, you get a little red, white, and blue in each bite! Could you even be more patriotic!?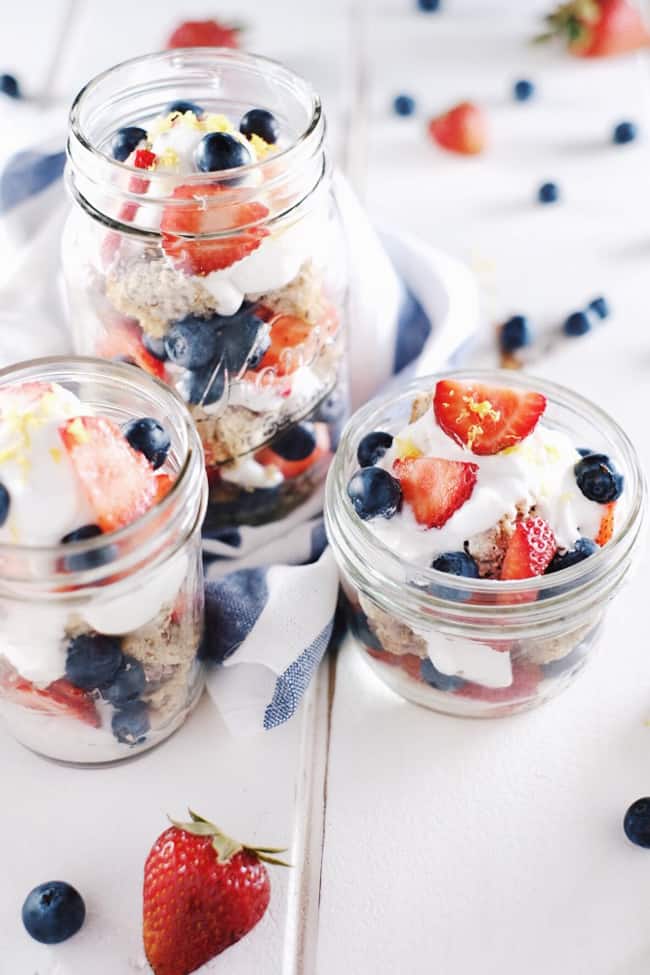 What else are you enjoying for the 4th of July? We have been queuing you up with recipes to enjoy at all of your summer cookouts and barbecues. How about a little summer citrus salad, some strawberry basil watermelon agua frescas, lamb burgers with rosemary pesto sauce, Paleo pancakes, plantain fries, our Paleo steak marinade and Paleo apple crisp?! There are really so many options and ways to enjoy the best flavors of summer. Get in on the fun already, and make this a 4th of July to remember!
Give this berry lemon shortcake a try! Let us know what you think by leaving a comment below. Also, tag us on Instagram @realsimplegood so we can check it out!
---
Get the Recipe:
Berry Lemon Shortcake (Paleo, GF + Refined Sugar-Free)
This paleo berry lemon shortcake in mason jars is the perfect combination of summer flavors and patriotic cheer to celebrate this summer!
Ingredients
Wet Ingredients:
3 eggs
2 lemons, - zest and juice
1/4 cup maple syrup
1 tsp vanilla
2 tbsp coconut oil, grassfed butter or ghee, - melted
Fruit:
1 cup strawberries, - cut into slices
1 cup fresh blueberries
Coconut cream whipped cream:
Instructions
Preheat your oven to 350 degrees fahrenheit and line a bread pan with parchment paper.

In a large mixing bowl, combine all of the dry ingredients and use a whisk to sift them together.

In a smaller mixing bowl, combine all of the wet ingredients (excluding the lemon zest, save it until the end). Start by whisking your eggs, then add the ingredients in the order listed above, whisking more after each one.

Add the dry ingredients slowly into the bowl of wet ingredients. Continue whisking.

Fold in about half of your fresh strawberry slices.

Pour your batter into your parchment lined bread pan.

Bake at 350 degrees for about 35 minutes, until a knife comes out clean. Depending on your oven it may take a little more or less time, go with a clean knife as your cue.

When your loaf is done, remove from the oven and let cool completely.

Once cooled, slice your loaf and then cut it into bite sized chunks.

Start filling your mason jars. Start with your chunks of shortcake, then add fresh blueberries and strawberries, followed by coconut cream whipped cream. Continue to layer until your fill up your mason jars. Sprinkle the lemon zest on top of each mason jar. Enjoy right away or refrigerate until you serve.