Have you ever tried making a breakfast version of fried rice? It's such a satisfying and filling way to start the day! We used all natural turkey sausage links and cauliflower rice to make this one Paleo, Whole30 + Keto. Meal prep it on Sunday and enjoy a healthy breakfast to start your work week!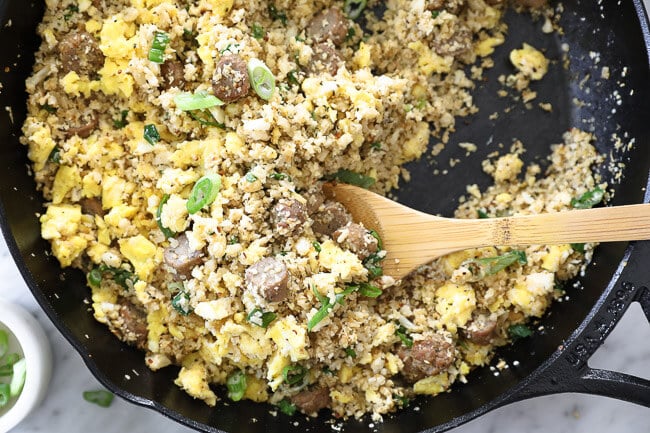 Disclaimer: We partnered with Jones Dairy Farm to bring you this post. We only work with companies and brands we truly believe in and use ourselves. Therefore, all opinions and recipes are entirely our own. Thank you for supporting The Real Simple Good Life and our partners.
What kind of Whole30 sausage links do you like and where do you find them?
We are so happy to be partnering with Jones Dairy Farm for this post to share a clean, Whole30 compliant, sausage option with you! For this recipe we used their their No Antibiotics Ever Golden Brown Turkey Sausage Links. They're the perfect flavor to go with this fried rice recipe! These all natural turkey links are from Jones Dairy Farm's No Antibiotics Ever line and contain no artificial ingredients, preservatives, sugar, MSG, or nitrites/nitrates and are minimally processed. They're also Certified Paleo and Gluten-Free, and each serving contains 10 grams of protein!
We love that Jones Dairy Farms is very transparent with their ingredients. The Antibiotic Free No Sugar Turkey Sausage Links contain just six simple ingredients: turkey, water, potato starch, salt, spices and lemon peel powder.
How do you get cauliflower rice to get crispy like fried rice?
We have a fun trick for you! When we want our cauliflower rice to get extra crispy bits in it, we add some hempseed. The hempseed crisps up really well and adds that extra bit of crunch to the texture you expect when you want to have fried rice. The hempseed just ends up taking on the flavors used in the rest of the dish, so other than the crispy bits you'd really never know it was hempseed mixed in.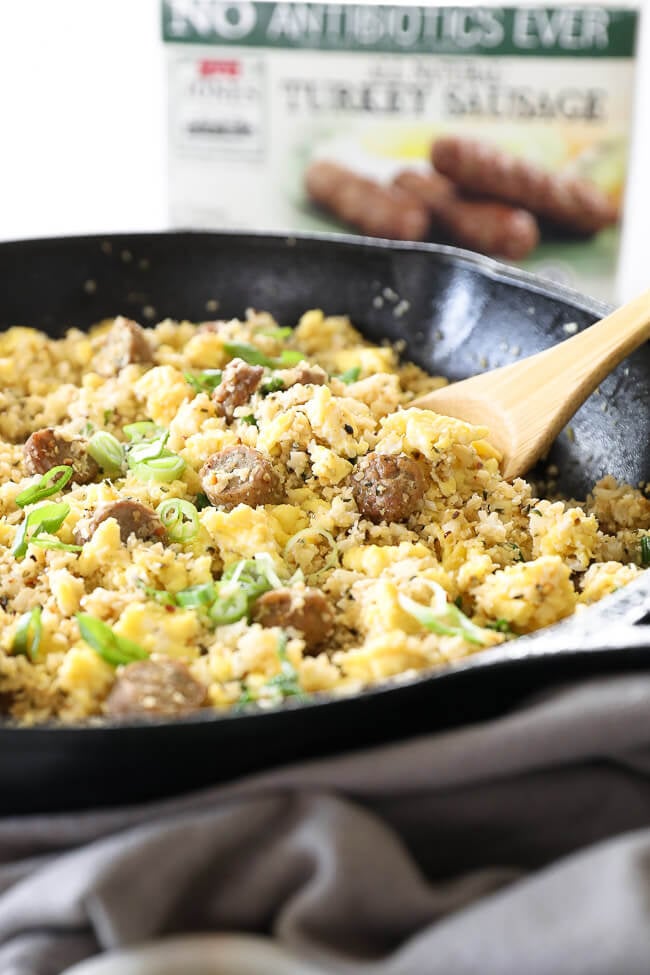 Is this breakfast fried rice good for meal prep?
This fried rice recipe is great for meal prep to have breakfast on hand. You can make a batch Sunday, and then re-heat for breakfast Monday morning. You'll appreciate the satisfying start to your week! If you have time in the morning though, it's also super quick to make, especially since the Antibiotic Free No Sugar Turkey Sausage Links are pre-cooked and you're really just heating everything up in a skillet and scrambling some eggs in it.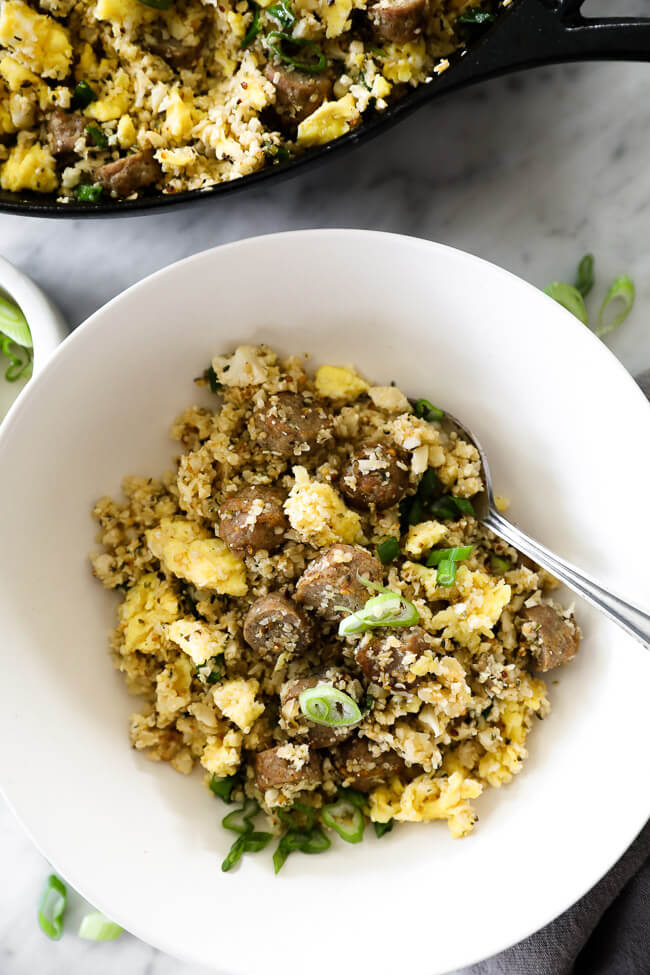 Some other breakfast recipes to try
Your turn to try our breakfast fried rice
Whether you're meal prepping breakfast for next week, or making breakfast for dinner, this breakfast fried rice is going to be a new favorite! It's savory and delicious and makes a satisfying, healthy workweek meal. Leave a comment below to let us know how it goes. Also, take a pic to share on Instagram and tag us @realsimplegood so we can see! Make sure to give us a follow if you don't already – let's stay connected!
---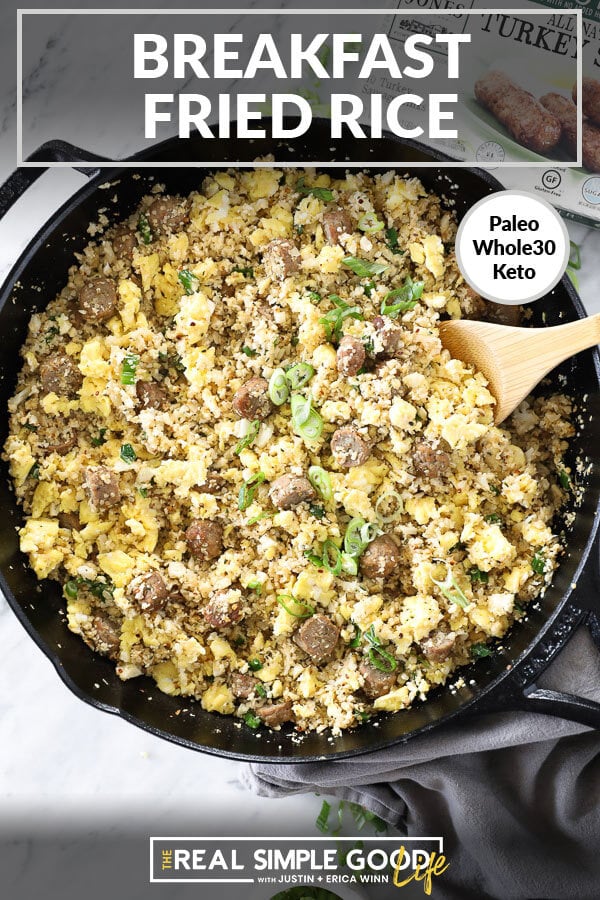 ---
Like this Recipe?
SHARE IT NOW OR PIN IT FOR LATER!
---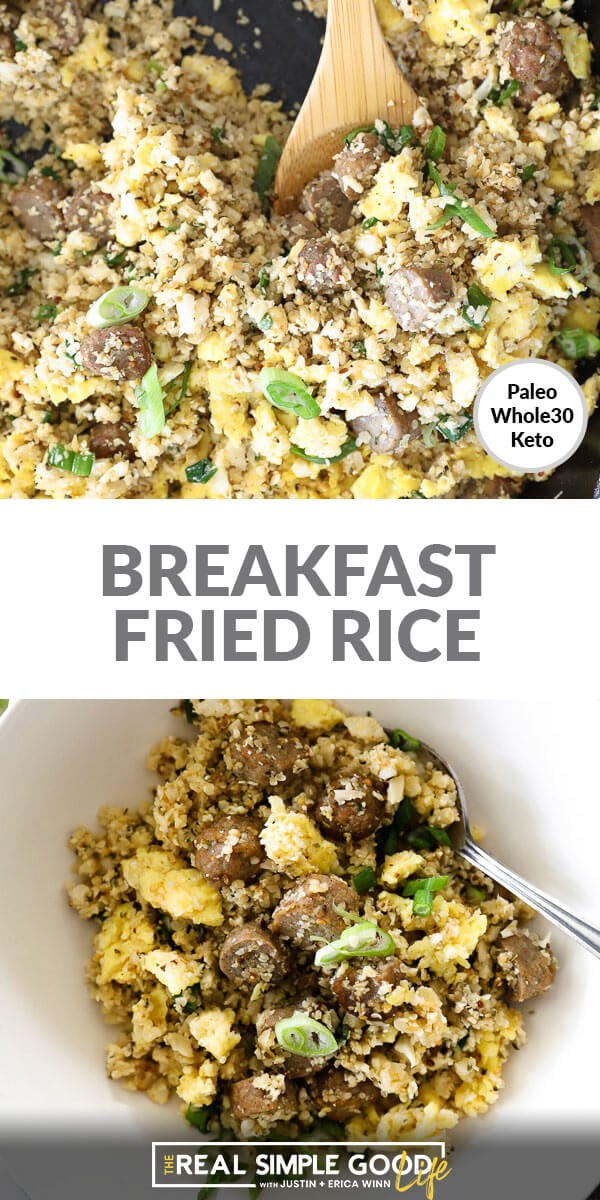 ---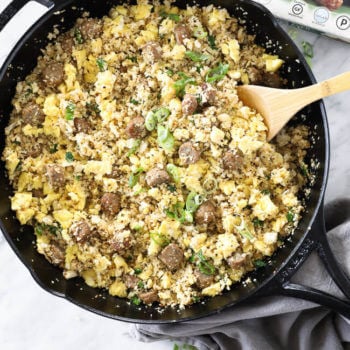 Get the Recipe:
Breakfast Fried Rice (Paleo, Whole30 + Keto)
This Paleo, Whole30 + Keto breakfast fried rice is a satisfying way to start the day! Made wtih turkey sausage and cauli rice, it's perfect for meal prep!
Ingredients
1 package Jones Dairy Farm No Antibiotics Ever Golden Brown Turkey Sausage Links, (thawed)
4 green onions, diced
1 small head cauliflower, riced, (about 6 cups)
2 tbsp sesame oil
1 cup hemp seeds
2 tbsp coconut aminos
2 tsp fish sauce
1/4 tsp cayenne pepper
4 eggs
Salt and pepper
Instructions
Slice sausage links into small pieces. Dice green onion. Rice cauliflower in a food processor with a grating attachment or with a hand grater.

In a large pan over medium heat, add sesame oil. Once hot, add sliced sausage and hemp seeds. Cook for 2-3 minutes, stirring frequently.

Add cauliflower rice to the skillet along with the green onions, coconut aminos, fish sauce and cayenne pepper. Cook for 3-4 minutes, stirring occasionally, until the rice begins to soften.

Crack the eggs into the pan and stir them around to scramble. Continue to stir until the eggs are fully cooked, about 2-3 more minutes.

Remove from heat and season with salt and pepper, to taste. Serve and enjoy.
Calories: 548kcal, Carbohydrates: 14g, Protein: 38g, Fat: 38g, Saturated Fat: 5g, Fiber: 5g