These baked keto diet-friendly buffalo chicken meatballs are ready in 30 minutes! Drizzle the low-carb meatballs with homemade ranch sauce for a super-satisfying and quick-to-make meatball dinner.
Yumtastic! Doubled this for a super bowl party and people are devouring them! No one guessed how healthy they are because the don't taste like health food! Thank you so much for making my party a hit!

-Courtney K.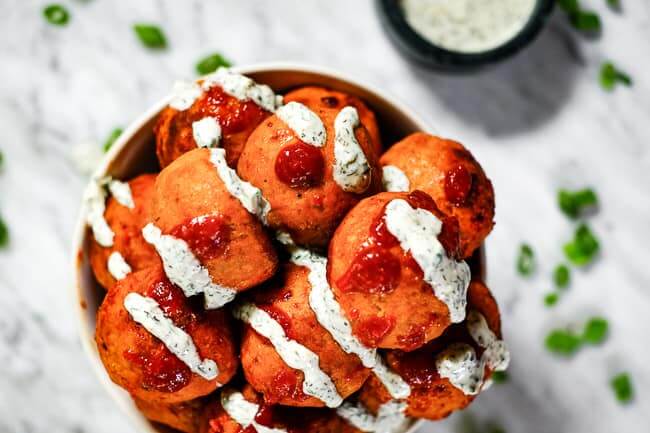 Ingredients in keto buffalo chicken meatballs
It only takes 30 minutes and four ingredients to make these amazingly flavorful and moist chicken meatballs. Here's what you'll need.
Ground chicken – If you can find it, get ground chicken made with thighs for a little higher fat content.
Nutritional yeast – This gives the meatballs a cheesy flavor and a little texture.
Mayo – Make your own homemade keto-friendly mayonnaise or use a store-bought sugar free mayo.
Hot sauce – The classic Frank's red hot works great or use any sugar free hot sauce of your choice.
If you like this recipe, check out these related recipes for homemade keto-friendly buffalo sauce, easy keto diet turkey meatballs and this healthy meatball dinner idea.
Recipe tips
Mix the ingredients lightly – Over-mixing will turn the chicken tough and rubbery, mix just enough to get everything spread throughout the ground chicken.
Oil your hands – Ground chicken can be sticky, so add a little oil to your hands before forming the meatballs and they won't stick to your fingers.
Nutritional yeast – If you don't have nutritional yeast and eat dairy, you can substitute with some shredded cheese.
Hot sauce – You can add more or less to suit your taste! The meatballs will take on their flavor from the hot sauce, so choose wisely.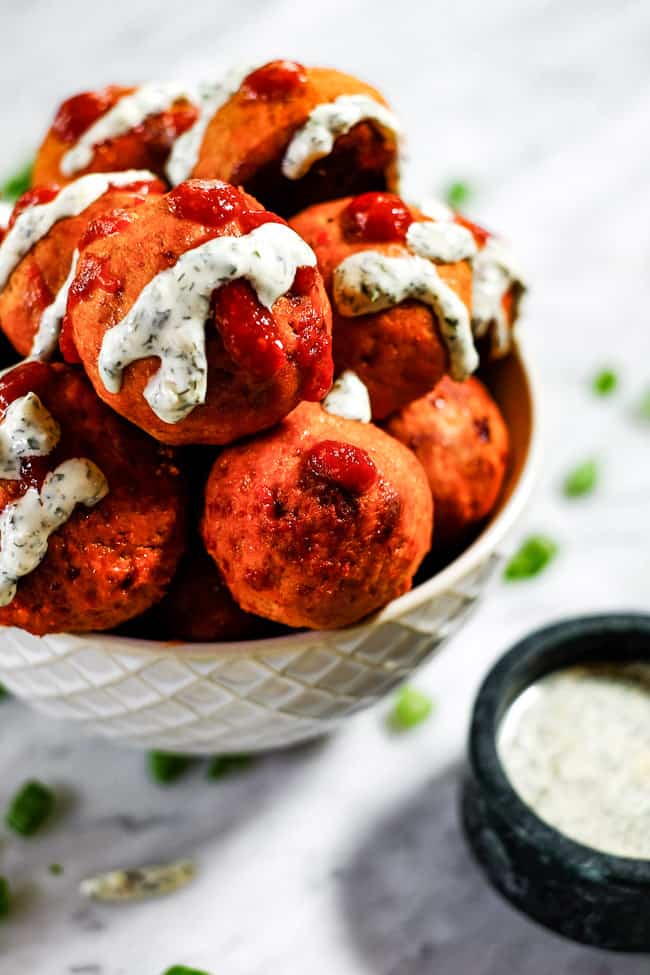 Common questions about this recipe
Can I use ground turkey instead of ground chicken? Absolutely! You can substitute turkey directly for the ground chicken.
How do I keep the meatballs warm for serving? If you're serving these as an appetizer, we suggest putting them in a crockpot on the "warm" or "low" setting to keep them warm.
If I double the recipe, do I need to adjust the cooking time? No, you'll just need a larger sheet pan or use two pans.
How do I store these meatballs? Simply store the cooked meatballs in an airtight container in the fridge. They will be good for 3-4 days after cooking.
Can you freeze this recipe? Yes! This is a great meal prep recipe that's also a freezer friendly recipe. They can be stored in the freezer for a few months. Allow them to thaw completely in the fridge before reheating on the stovetop, in the oven, microwave or air fryer.
Related: Check out all of our keto diet recipes!
Serving ideas for low carb buffalo chicken meatballs
Serve as an appetizer for game day with the homemade ranch or blue cheese on the side for dipping.
Make a buffalo chicken meatball bowl with some greens and low-carb cauliflower rice.
They go great with this rich and creamy keto coleslaw.
Serve them with any roasted veggies, just toss the veggies in to bake along with the meatballs!
Your turn to try these delicious chicken meatballs
Hurry to your kitchen right now, and make these easy buffalo chicken meatballs! With only four ingredients, you'll be amazed by the flavor bomb you get when you bite into each meatball.
If you make this recipe, let us know how it goes by leaving a rating and review below. Take a pic to share on Instagram and tag us @realsimplegood, we love to see what you're cooking!
Get the Recipe:
30-Minute Buffalo Chicken Meatballs (Keto + Whole30)
With only 4 ingredients, these baked keto-friendly buffalo chicken meatballs are ready in 30 minutes! Drizzle with homemade ranch sauce for a delicious meatball dinner.
Ingredients
1 lb ground chicken
1/4 cup nutritional yeast
1/4 cup hot sauce, (check ingredients for Whole30 compliance)
2 tbsp mayo
2 green onions, sliced, (for topping)
For the ranch sauce (optional):
1.5 tsp dried parsley
1.5 tsp dried chives
1 tsp dill weed
1 tsp garlic powder
1 tsp onion powder
1 tsp onion flakes
1/4 tsp ground pepper
1/3 cup mayo
1/4 cup water
Instructions
Preheat oven to 400° Fahrenheit and line a sheet pan with parchment paper.

Place the ground chicken, nutritional yeast, hot sauce, mayo and salt in a bowl. Mix ingredients with your hands until incorporated.

Form the chicken mixture into small balls about the size of a heaping tablespoon. You can use a small ice cream scoop if you have one, it makes it easy to form the turkey into balls without everything sticking to your hands. This should yield about 12-15 meatballs.

Place in the oven to cook for 20 minutes. To brown them a bit at the end turn your oven to broil and move them up to the top rack to broil for 3-4 minutes.

While the meatballs are baking, make the ranch dressing by combining all dressing ingredients in a small bowl or container and whisking well. Refrigerate and whisk again before using.

When the meatballs are finished, remove from oven and sprinkle on green onions. Drizzle with ranch dressing for serving or serve the ranch on the side for dipping (optional). Enjoy.
Calories: 487kcal, Carbohydrates: 7g, Protein: 29g, Fat: 38g, Fiber: 2g