Pizza time!! Buffalo ranch chicken pizza to be specific! I mean, does it even get any better than that?! We hope you agree and are excited to try this easy and delicious pizza recipe featuring Simple Mills Pizza Dough Mix!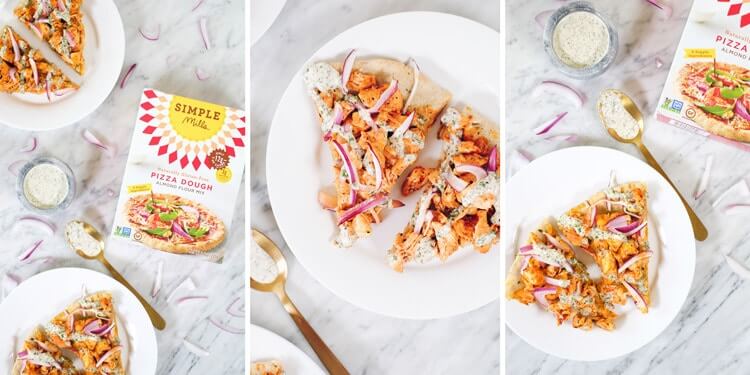 **Disclaimer** Real Simple Good partnered with Simple Mills to create this recipe and post. Please note we only endorse products in alignment with Real Simple Good's ideals and that we believe in, use, support and feel would be of value to our readers. Sponsored content helps to offset costs of running our blog.
Pizza Crust Made Easy
We love pizza, and it is no surprise we jumped at the opportunity to create a pizza recipe with Simple Mills! While we dabble with making our own pizzas, it is such a time saver to use a pre-made pizza dough mix. We also love how using a mix requires having minimal ingredients on hand. In fact, all you need to whip up a tasty crust is the mix, apple cider vinegar, oil and water. So basically, you've already got everything you need most likely!
Ranch + Buffalo Chicken Just Belong Together
If you love this combo as much as we do, you will appreciate the bit of kick in the buffalo chicken combined with the creaminess of the ranch. Pair that with the herbaceous crust, and you really can't help but it eat it all up! We like to add an extra generous drizzle of ranch all over the top of the pizza for a little extra creamy goodness! You seriously don't even miss the cheese with this pizza.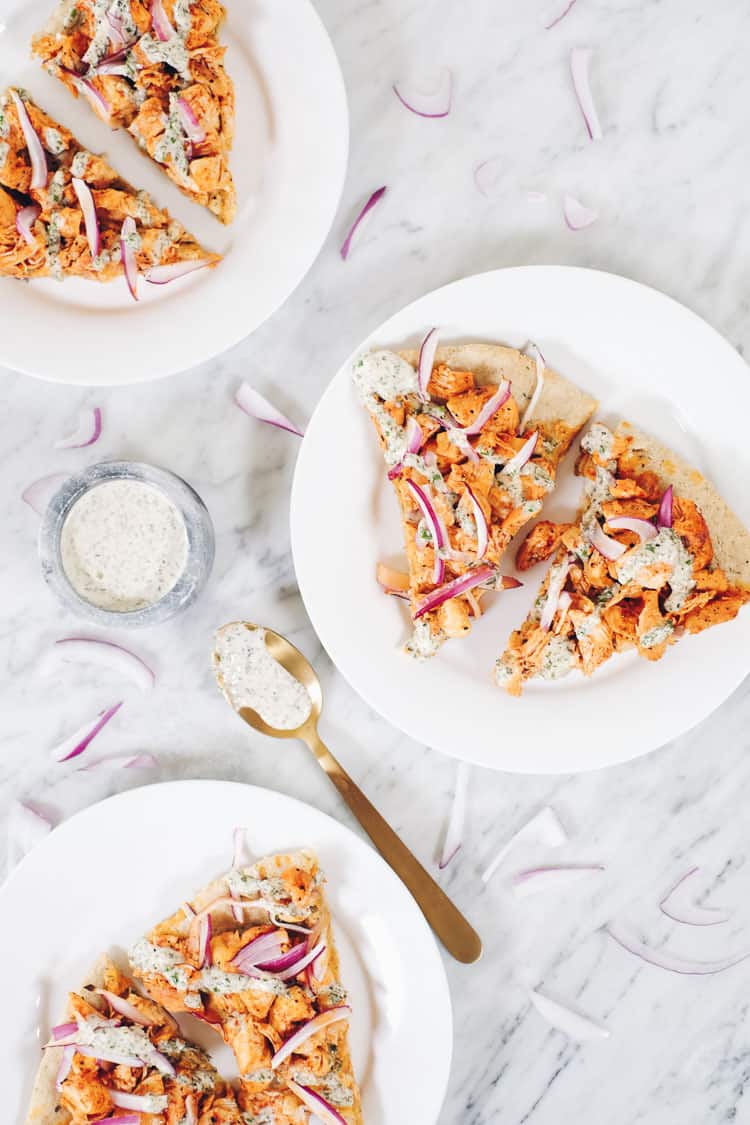 Some Other Simple Mills Products You Might Like That We're Crushing On
If you have been enjoying your Paleo and gluten-free lifestyle, but have trouble finding clean snacks and treats, definitely check out the other great products Simple Mills makes. All of their products are made with simple, real food ingredients, which we love and appreciate. We are obsessed with their Almond Flour Crackers and Sprouted Seed Crackers. The Everything Sprouted Seed Crackers rock my world because they are sturdy enough to dip in all your favorite dips and sauces. And don't even get me started on the sweet treats! They've got Almond Flour Baking Mixes for pancakes, muffins, breads and cakes. Plus, there are the cleanest Frostings I've seen that are perfect for a special occasion!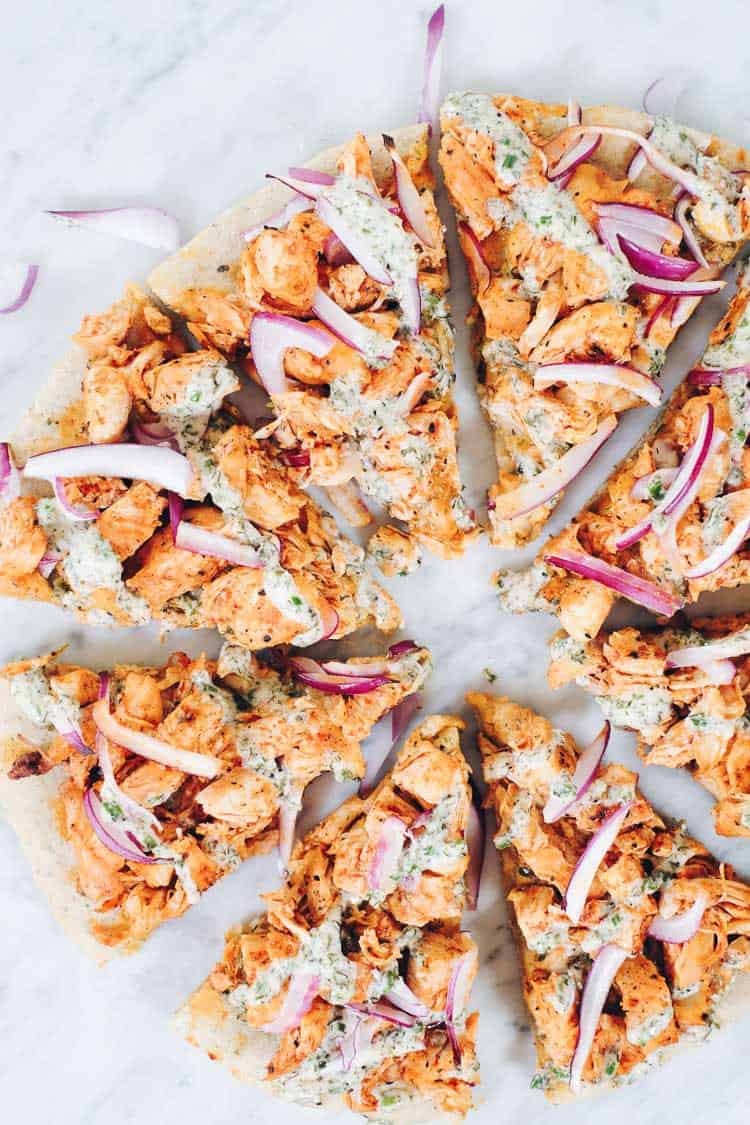 Your Turn To Try Our Buffalo Ranch Chicken Pizza
If you've been dying for a tasty and easy way to enjoy a clean pizza, this is it! Try our buffalo ranch chicken pizza featuring Simple Mill's Pizza Dough Mix, and enjoy the bit of kick with the creamy ranch. Let us know how it goes by leaving a comment below. Also, take a photo and tag us on Instagram @realsimplegood, so we can check it out!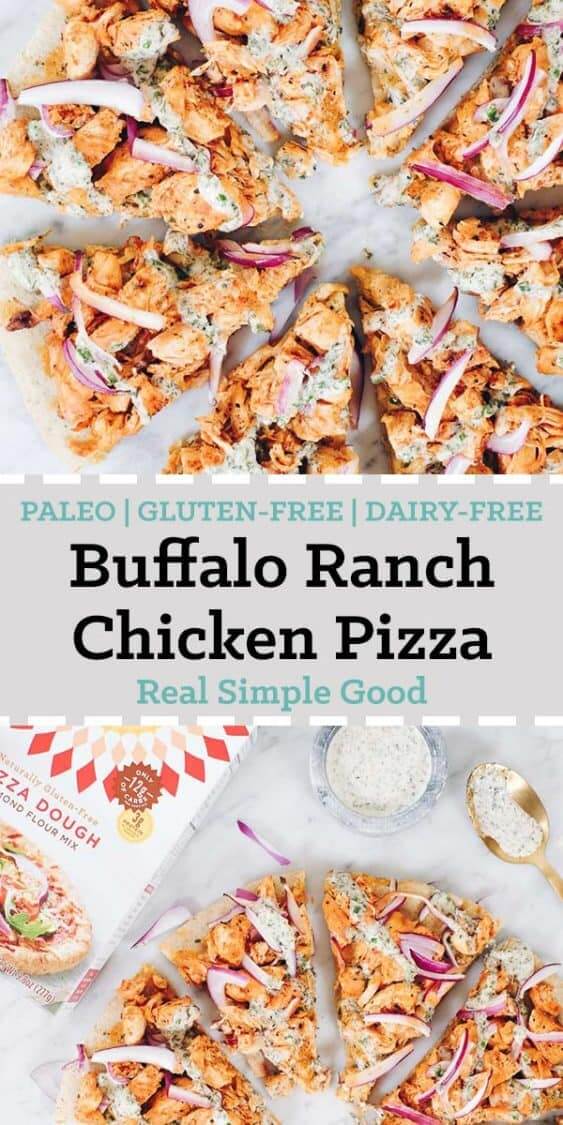 ---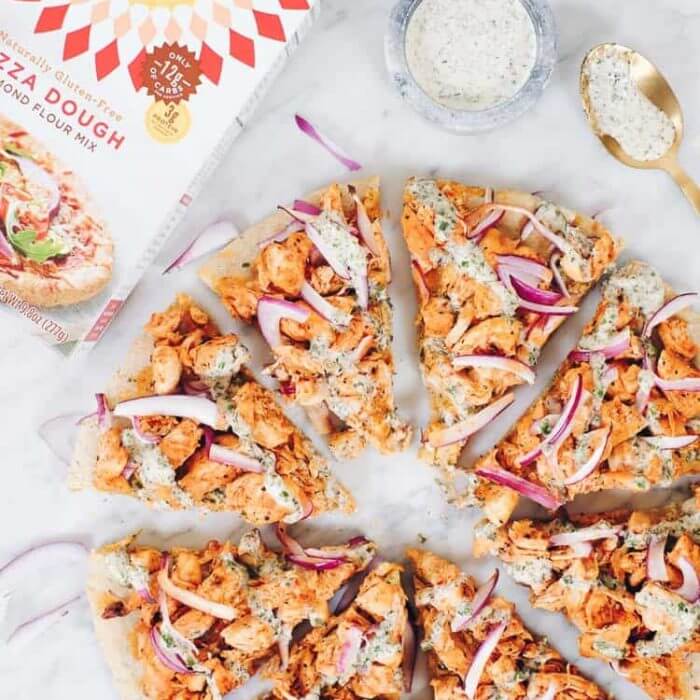 Get the Recipe:
Buffalo Ranch Chicken Pizza (Paleo, GF + Dairy-Free)
Pizza time!! Buffalo ranch chicken pizza to be specific! Enjoy this Paleo, gluten free and dairy free pizza recipe featuring Simple Mills Pizza Dough Mix!
Ingredients
For the ranch dressing:
1.5 tsp dried parsley
1.5 tsp dried chives
1 tsp dill weed
1 tsp garlic powder
1 tsp onion powder
1 tsp onion flakes
1/4 tsp pepper
1/3 cup mayo
1/4 cup water
For the pizza:
3 tbsp avocado oil, divided
1 lb boneless, skinless chicken tenders
1/4 red onion, sliced into thin strips
3 tbsp hot sauce, (less or more as desired)
1 box Simple Mills pizza dough almond flour mix
2 tbsp apple cider vinegar
Salt and pepper
Instructions
First, make the ranch dressing by combining all dressing ingredients in a small bowl or container and whisking well. Place in refrigerator while you prep the other ingredients.

Heat a large skillet over medium heat and add in 1 tbsp avocado oil. Season chicken on both sides with salt and pepper. Once the pan is hot, place the chicken in to cook. Cook for 4-5 minutes on each side, until the chicken is cooked through. Remove and place on a cutting board to rest.

Preheat oven to 350° Fahrenheit. Slice onion and set aside.

Prepare Simple Mills pizza dough mix according to the package instructions. You can make one large 16 inch pizza or divide it in half as noted on the package. Prebake for 5 minutes.

While the crust is baking, chop or shred the cooked chicken tenders as desired and place in a bowl. Add in hot sauce and mix well to coat the chicken.

After the crust has baked for 5 minutes, remove it from the oven. Add the ranch dressing to the crust as the base sauce, reserving a couple of tablespoons for drizzling on the pizza after cooking.

Top the pizza with the buffalo chicken and sprinkle on the red onions. Place back in the oven and bake for 15 minutes.

Remove and drizzle on additional ranch over the top of the pizza. Slice into pieces and enjoy!