We get a lot of requests for egg-free breakfast recipes, so these butternut breakfast meatballs are for all you egg-free folks! Justin loves eggs for breakfast; they are his favorite food. Just ask, and he'll tell you! That said, they are really a go-to in our house, so coming up with egg-free breakfast ideas requires us to think outside of the box a bit.
Meatballs For Breakfast
One of my favorite things about making these meatballs is that they are the perfect make ahead breakfast! When we make them, I love how easy breakfast is for the rest of the week! Just re-heat these butternut breakfast meatballs and enjoy the easy morning. They are also easily packed and enjoyed once you get to your office if that's your thing, too.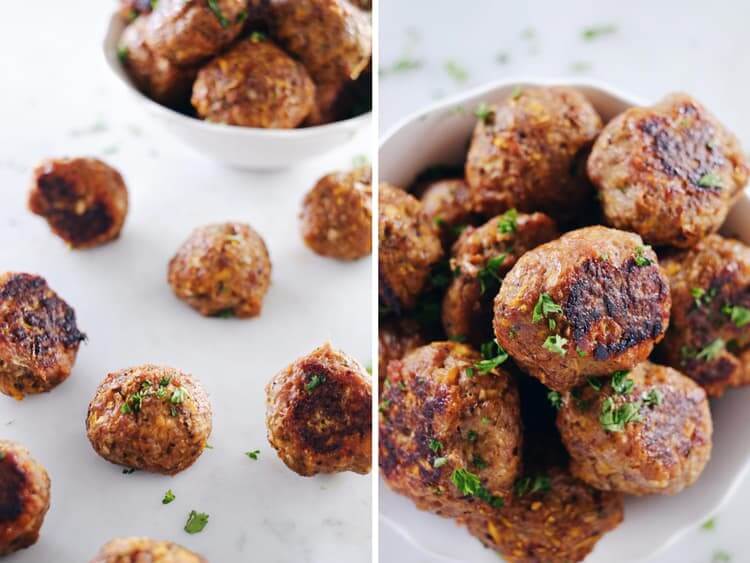 Just Add Some Greens
Since these butternut breakfast meatballs have squash in them in addition to the protein, they've got fiber built in which makes them filling and a great way to start your morning. I love eating them over a bed of greens and with some kraut to get the day started with some probiotics, too. Such a yummy and satisfying combo!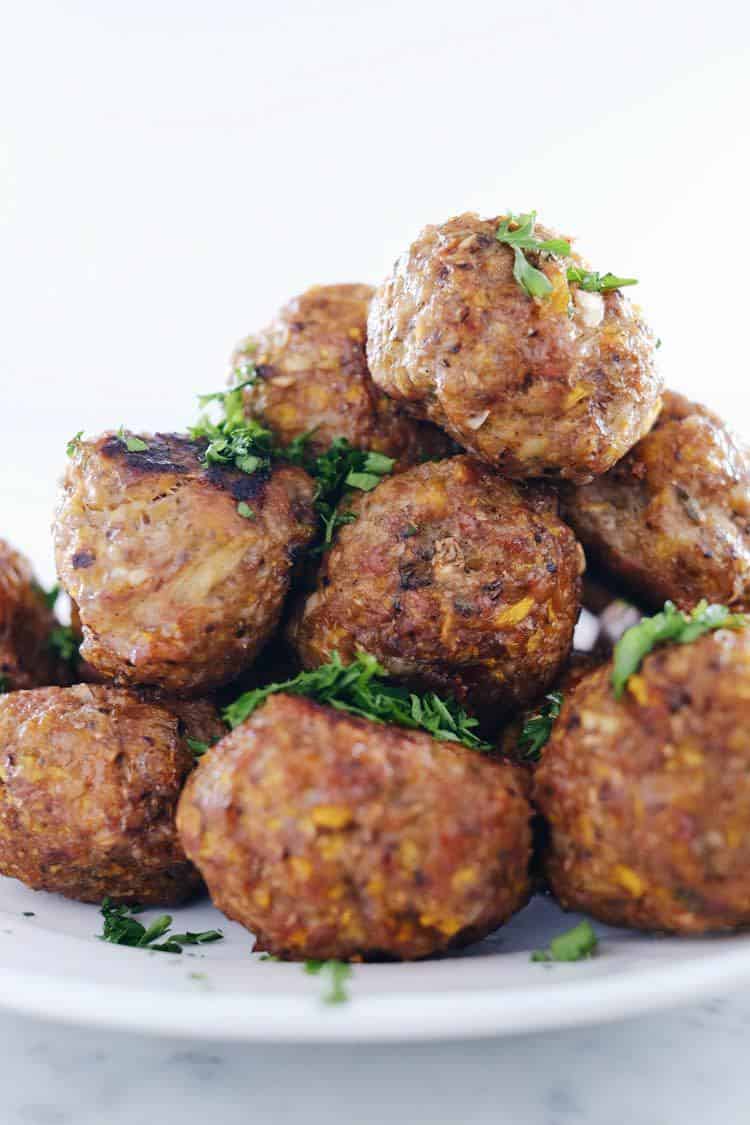 Your Turn To Make Our Butternut Breakfast Meatballs
Go ahead and make these butternut breakfast meatballs over the weekend to enjoy for breakfast throughout the following week. It will surely make your mornings easy and delicious! Let us know how it goes by leaving a comment below. Also, take a photo and tag us on Instagram @realsimplegood, so we can check it out!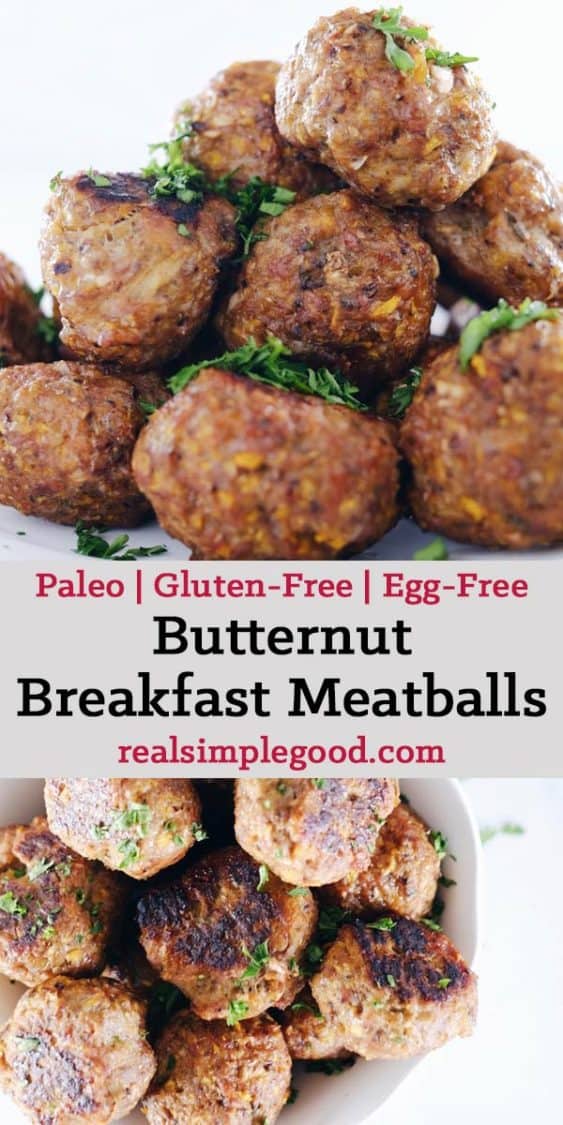 ---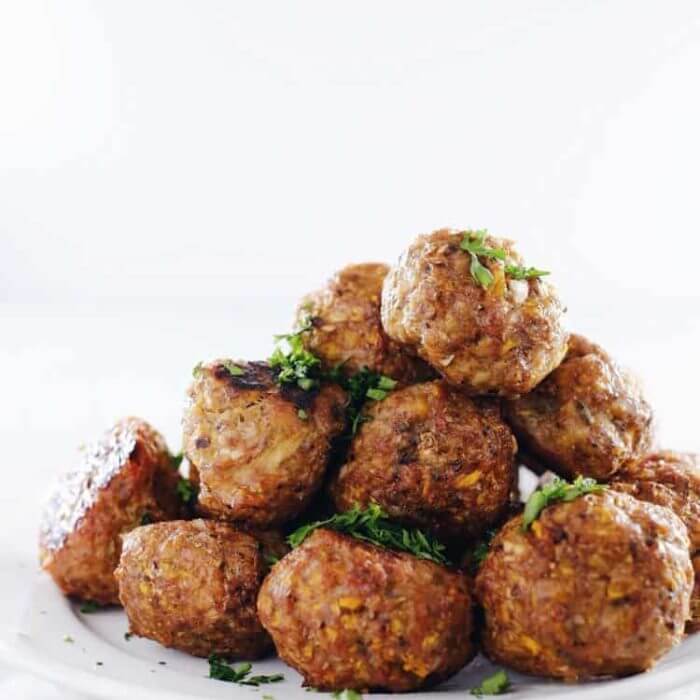 Get the Recipe:
Butternut Breakfast Meatballs (Paleo, Whole30 + Egg-Free)
These butternut breakfast meatballs are for all you egg-free Paleo + Whole30 folks! The perfect make ahead breakfast for easy mornings during a busy week!
Ingredients
1/2 butternut squash, (approx. 3-4 cups)
1 cup mushrooms, (about 4 oz)
1/2 onion
2 lbs ground breakfast sausage
1 sprig rosemary, diced finely
1 tsp smoked paprika
1 tsp cinnamon
Instructions
Preheat oven to 375 degrees fahrenheit and line a large baking sheet (or 2 medium sheets) with parchment paper.

Cut up the butternut squash into large cubes. Using the chopping attachment of a food processor, chop the squash into small bits. Remove from food processor and place in a large bowl. Chop onion and mushrooms into bits also and place in the bowl with the squash.

Add sausage, rosemary, paprika and cinnamon to the bowl. Use your hands to combine all of the ingredients until everything is mixed well.

Form the mixture into golf ball sized balls and place them on the lined baking sheet. Bake in the oven for 40 minutes.

Remove, allow to cool for a few minutes, and serve.