Now that spring is officially here, we are getting teased with some unseasonably warm weather in the Pacific Northwest. It's during this time of year, when we emerge from the rainy season and everything outside feels like it is ready to burst with growth, that I really begin to crave the super-fresh fruits and vegetables that are sure to be on our plates in the coming months. That's the inspiration behind this cabbage salad with creamy cashew dressing. I wanted to make a unique salad that would be a transition piece from the heavy, cold weather comfort foods of winter to the light, bold and fresh flavors of spring and summer.
This salad feels a bit indulgent, with a creamy cashew dressing infused with a heavy dose of garlic and ginger that really steals the show. Luckily for your waistline though, it's not the loaded wedge with blue cheese and bacon or creamy caesar and parmesan type of indulgent. It's more of the I can't believe this is paleo it's so good kind of indulgent.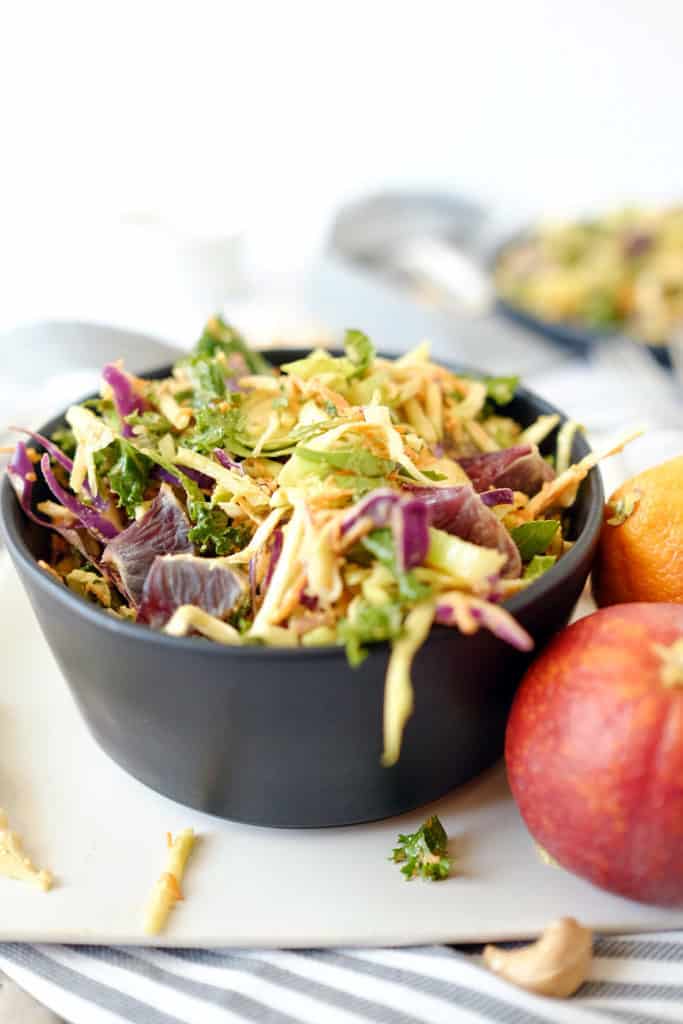 I made this on Sunday and used it for my lunches throughout the week. It's loaded with nutrient dense vegetables like kale, cabbage, brussels sprouts and broccoli, so it is actually very filling for a salad. I topped it with some shredded slow-cooker pork (a recipe in the making), and it filled me right up for the entire afternoon. It would also go well with grilled chicken or pulled pork if you are looking to add in some protein with the salad.
It's time to embrace the upcoming spring and summer! Give this cabbage salad with creamy cashew butter a try, and let us know how it goes by leaving a comment and rating below. Tag us on Instagram @realsimplegood so we can check it out!
---
Get the Recipe:
Cabbage Salad with Creamy Cashew Dressing
Ingredients
For the salad:
6 cups cruciferous vegetables, (I used a package from Trader Joe's, which cuts down the prep time. If I were making it from scratch, it's about 2 cups kale and 1 cup each of shaved brussels sprouts, broccoli, green cabbage, red cabbage.)
1 cup celery, - diced
Instructions
First, mix up your dressing. Add all of the dressing ingredients to a small bowl and stir together with a whisk until smooth and creamy. Dip your finger in and taste, you won't regret it.

Chop up your vegetables and add them to a large bowl. Mix well.

Add in the dressing to the vegetables, tossing well to allow the dressing to coat the veggies.

Serve and enjoy. This will keep well in the fridge without getting soggy for 4-5 days.