Remember those greasy, salty, delicious hash browns from the golden arches?? Yeah, those were good, but these Paleo, Whole30 + Keto cauliflower fritters are freaking amazing! You're going to love these low carb fritters as a side dish that goes well with any protein. The crispy outside and the soft and cheesy inside is about to rock your world!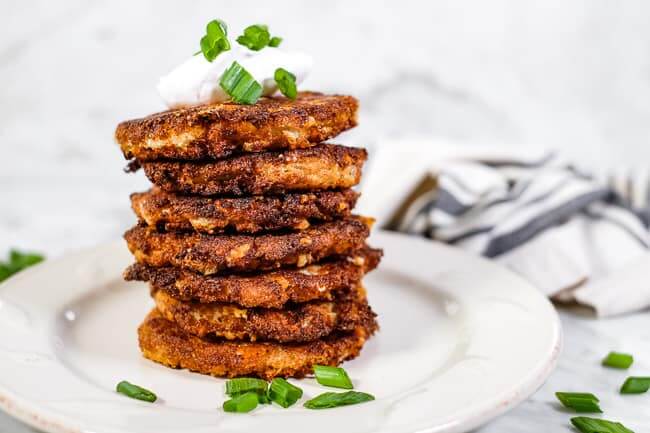 Yes, I Said They're Cheesy Inside
I know, I know. Cheese is not Paleo. So, here's the deal. You can make these without the cheese if you're super strict Paleo and don't want to go there. You do you. If, however, you eat cheese sometimes like us and/or are playing with the Keto lifestyle, then have at it! This one is especially for you!
With or Without Eggs
As you may know, I haven't been eating eggs so we make these cauliflower fritters without the eggs (and with cheese), but if you tolerate eggs go ahead and use them. And especially if you aren't going to use cheese, use the eggs! They help to bind the fritters and make forming patties a little easier.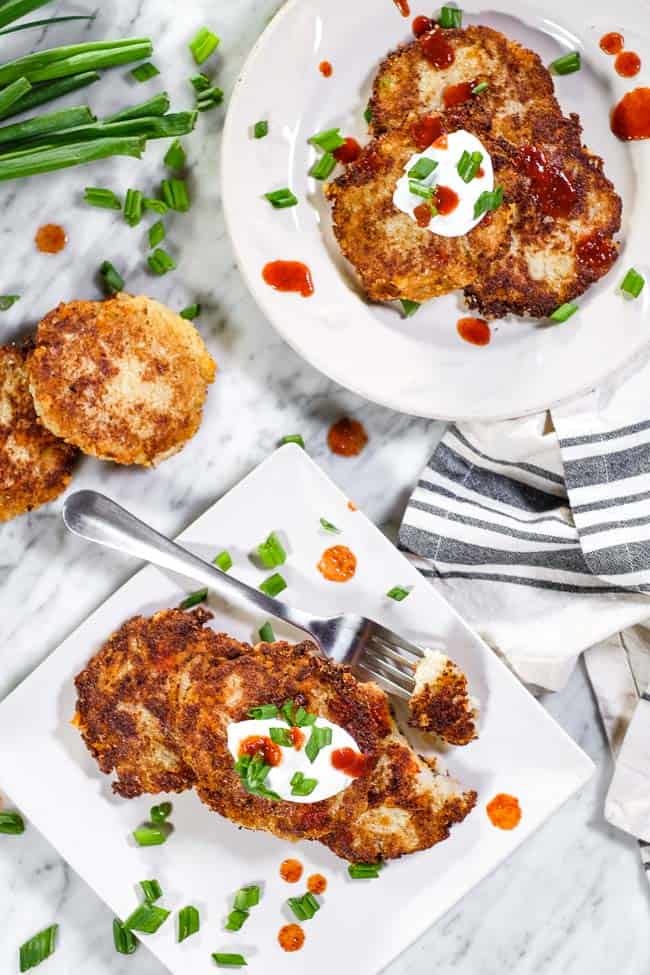 Tips For Forming Your Fritters
Eggs and cheese. Use them both if you're down with it. This will help with keeping these cauliflower fritters together. Also, to form them into patties, start by making a ball of the mixture in your hands and squeeze out the juices a bit. Then, flatten into a patty shape. Go for a flatter, and not too thick size, a bit bigger around than the size of the bottom of a mug. This will help the outsides to get crispy and stick together, then the insides will get a little gooey and cheesy and delicious. Can you tell I'm drooling over here just thinking about it?!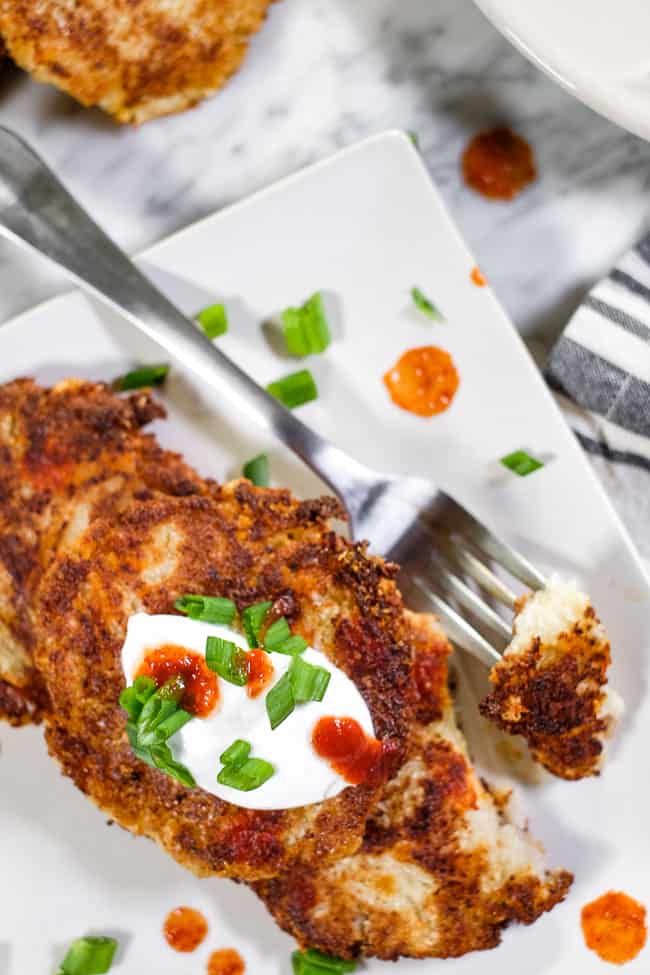 Some Other Side Dishes To Try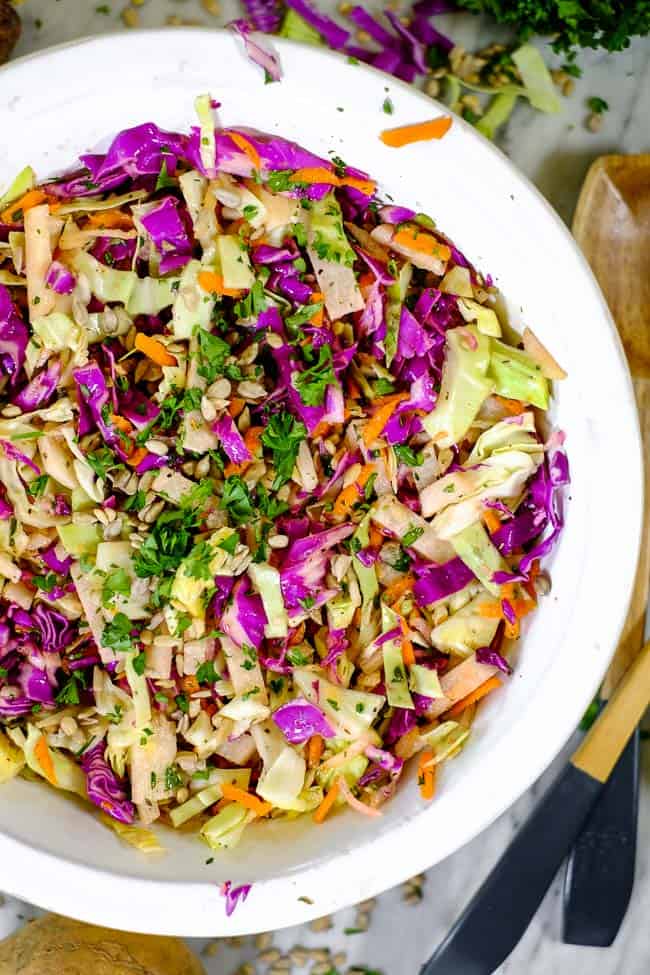 Your Turn To Try Our Cauliflower Fritters
You do you, but if you're open to cheese – use it! You won't regret it. Make these cauliflower fritters to go with any protein and enjoy the crispy outside, gooey insides and savory deliciousness. Leave a comment below and let us know how it goes. Also, take a pic and tag us on Instagram @realsimplegood. Make sure to give us a follow if you don't already. We'd love to stay connected!
Like this Recipe?
SHARE IT NOW OR PIN IT FOR LATER!
---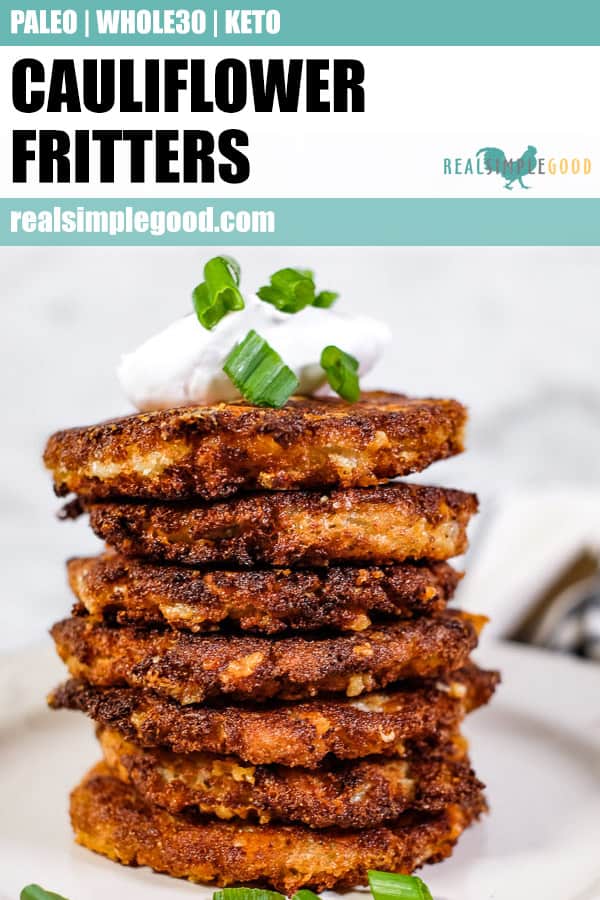 ---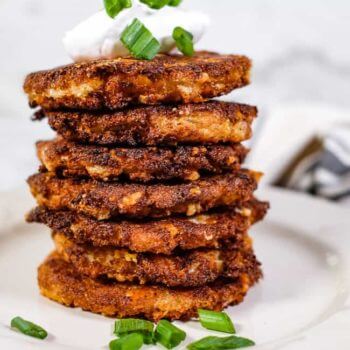 Get the Recipe:
Cauliflower Fritters (Paleo, Whole30 + Keto)
These Paleo, Whole30 + Keto cauliflower fritters are a low carb side dish that goes with any protein! You'll love the crispy outside and soft, gooey inside!
Ingredients
1 head cauliflower, riced, (finely riced, see instructions)
1/3 cup cassava flour
1 cup shredded parmesan cheese, (optional - omit for whole30 and strict paleo)
2 eggs whisked, (can be omitted, but fritters won't bind as well)
1 tsp garlic powder
1 tsp onion powder
1 tsp sea salt
1/2 cup avocado oil
Optional toppings
chopped scallions or chives
coconut yogurt, greek yogurt, sour cream, (coconut yogurt only for Whole30)
hot sauce
Instructions
Cut the head of cauliflower into small florets. Using the blade attachment, add 1/2 of the cauliflower florets to the processor and turn into rice by pulsing in the food processor until the cauliflower is processed into fine bits. Repeat with remaining cauliflower.

Mix all of the ingredients (except avocado oil and any toppings) together in a bowl.

Form the cauliflower mixture into small patties with your hands. It helps to form a round ball and squeeze it well and then flatten it into a patty. It will make approximately 10 medium patties.

Heat a large skillet over medium-high heat and add avocado oil. Once the oil is hot and shimmering, add in the cauliflower patties and cook for 5-6 minutes on each side, until golden brown. Work in batches of 4-5 patties and add extra oil if needed between batches.

When the fritters are cooked, transfer to a paper towel lined plate. Top with any desired toppings for serving and enjoy!
Notes
Nutrition facts are an estimate provided for those following a Ketogenic or low-carb diet and do not include optional toppings for this recipe. See our full nutrition information disclosure here. 
Calories: 478kcal, Carbohydrates: 13g, Protein: 22g, Fat: 37g, Saturated Fat: 9g, Fiber: 3g