Stuffed with melted cheese and bacon bits, this is the ultimate keto burger recipe! This easy to make stuffed burger is perfect on a keto bun, in a lettuce wrap or in a burger bowl.
Making This Keto Burger Recipe
Making a stuffed burger might sound intimidating, but it's really not that hard. Here's how:
First, chop up the cooked bacon into small bits and shred the cheese.
Split your ground beef up into 4 even chunks and roll each chunk into a ball.
Smash one of the beef balls completely flat to form a patty. Use wax paper or parchment paper and the bottom of a plate or pan to get a very flat and thin patty.
Top that patty with some cheese and bacon bits, keeping them away from the edges.
Flatten another ball into a patty and place it over the top of the one with cheese and bacon.
Working around the edges, pinch the beef patties together so they form a "seal", holding the cheese and bacon in the middle. Repeat with the remaining beef to form another stuffed burger patty.
Cook on the stovetop or grill for 8-10 minutes and serve!
Looking for more? Check out this roundup of 35+ amazing keto recipes!
Are Those Keto Burger Buns?
Yes! Pictured in this post are unbuns keto buns (not sponsored). They are available in stores and online and we found them at our local Safeway.
There are other store bought or online options for keto bread and buns too. In addition, here are other serving ideas:
Use a sturdy lettuce like iceburg or romaine as a bun.
Skip the bun! You can eat these with a fork and they are delicious.
Make a burger bowl or burger topped salad. Don't forget the keto big mac sauce!
Some Low Carb Hamburger Sides
Here are some delicious, keto-friendly sides you can have with this burger.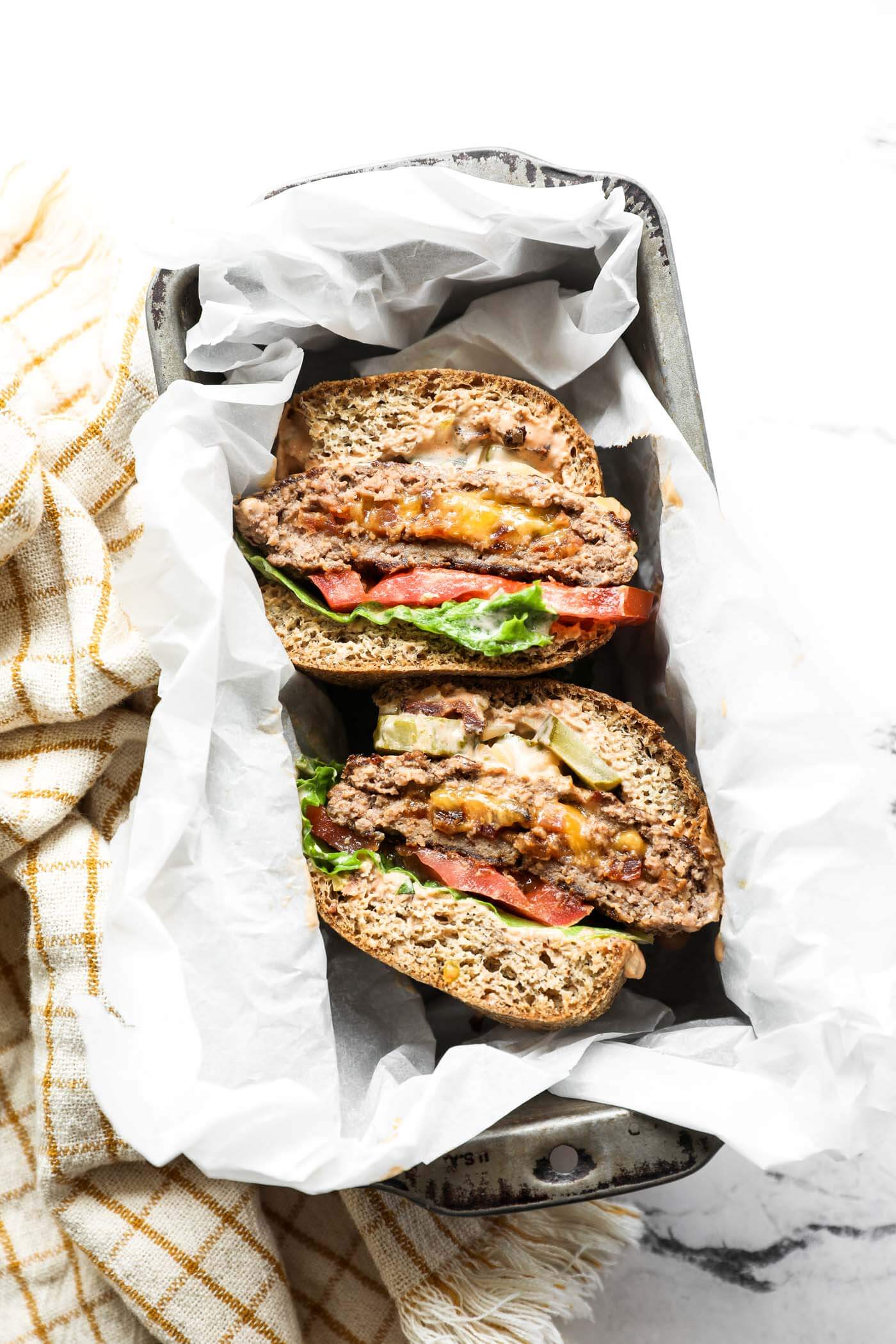 Your Turn To Try These Low Carb Burgers
The next time you get a burger craving, make a cheese and bacon stuffed burger! You'll love the cheesy bacon flavor that's perfectly melted into every bite.
If you try this recipe, leave a comment below and let us know how it goes. Also, take a pic to share on Instagram, and tag us @realsimplegood. We love to see what you're cooking!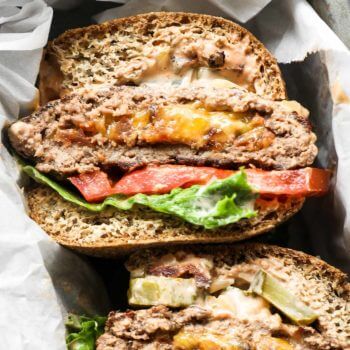 Get the Recipe:
Cheese & Bacon Stuffed Keto Burger
Stuffed with melted cheese and bacon bits, this is the ultimate keto burger recipe! It's perfect on a keto bun or in a lettuce wrap.
Ingredients
For the burgers:
1 lb ground beef
1/2 cup shredded cheddar cheese, (or cheese of choice)
1/4 cup cooked bacon, diced
Salt and pepper, (about 1/4 tsp each)
For serving (optional):
Keto buns, (or iceburg lettuce)
Cooked bacon
Sliced pickles
Sliced tomatoes
Instructions
Separate ground beef into 4, evenly sized balls.

Prep cheese and bacon as noted.

Lay out a sheet of wax paper and place one of balls down. Cover it with another sheet of wax paper. Using the bottom of a plate or pan, flatten the beef down into a very thin patty. Repeat with remaing beef to form 4 patties.

To one of the thin patties, top with 1/2 of the cheese and 1/2 of the bacon. Keep the cheese and bacon away from the edges. Top with another thin patty and press the edges of the top and bottom patty together to seal them together. Shape into a thick burger patty and make sure the edges are sealed well so the cheese won't leak out when cooking.

Repeat with the remaining 2 patties. Season both sides of each burger with salt and pepper.

Heat a large skillet over medium heat and add in some cooking oil. Once the cookingo oil is hot and shimmering, add in the burgers to cook.

Cook for 8-10 minutes total (or until cooked to your liking), flipping carefully halfway. Remove and serve on a Keto bun (or lettuce bun) with your favorite low-carb toppings.
Notes
Nutrition amounts are per serving and only include the burger for this recipe. Any buns or toppings used need to be calculated and added separately. Amounts provided are an estimate provided for those following a Ketogenic or low-carb diet. See our full nutrition information disclosure here. 
Calories: 757kcal, Carbohydrates: 1g, Protein: 50g, Fat: 60g