What readers are saying about this recipe
I've made this a few times now and each time I amazed at how simple it truly is to make! And of course it is so delicious, it has become a weekly staple.

Rachel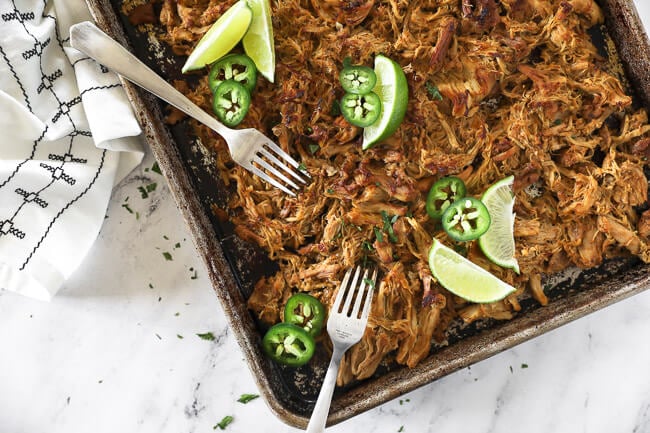 Simple + Versatile
We love this recipe, not just because it's delicious, but because it's super simple and versatile. That ends up being the winning combo for us. We love meal prep recipes that we can easily make a big batch of and then use it repeatedly throughout the week in different ways.
These chicken carnitas can be enjoyed several ways. Here are some ideas to get you started:
Tacos – with Siete tortillas or corn tortillas if you tolerate corn ok.
Bowls – you can make a bowl with rice or cauliflower rice, veggies, greens, avocado and throw some chipotle aioli or one of our other Whole30 sauces on top for good measure.
Roasted Veggies – just pair this flavorful chicken with your favorite roasted veggies and call it good.
Stuffed potato – stuff a sweet potato or regular potato if you eat them with these carnitas.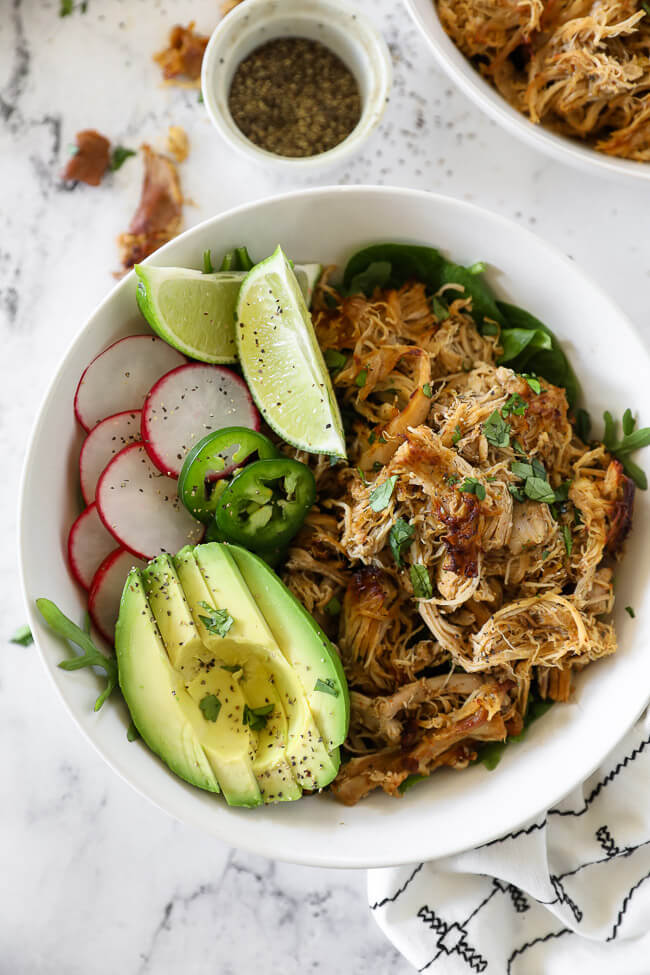 Easy shredded crispy chicken
An easy tip for making your Slow Cooker or Instant Pot chicken carnitas crispy is to put them on a sheet pan and broil them for 7-10 minutes before serving. This is an optional tip to get those crispy bits.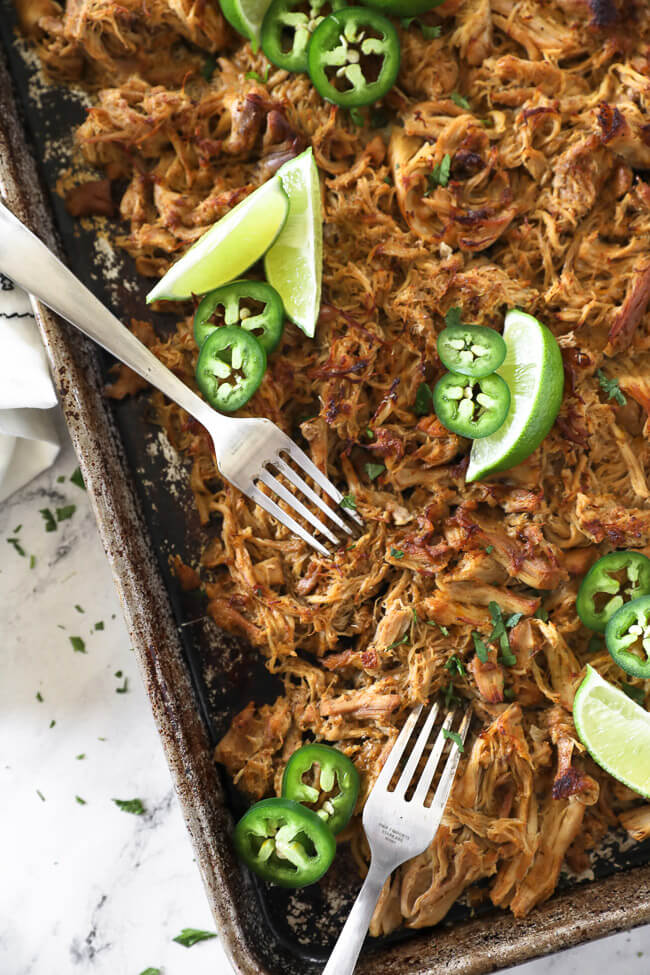 Storage + Re-heating Tips
When you go to store your carnitas for leftovers, make sure to store them in the extra juices so that when you re-heat them, you infuse them again with the flavorful sauce. Our preferred way of re-heating these carnitas is in a pan on the stove. This also makes them crispy and delicious.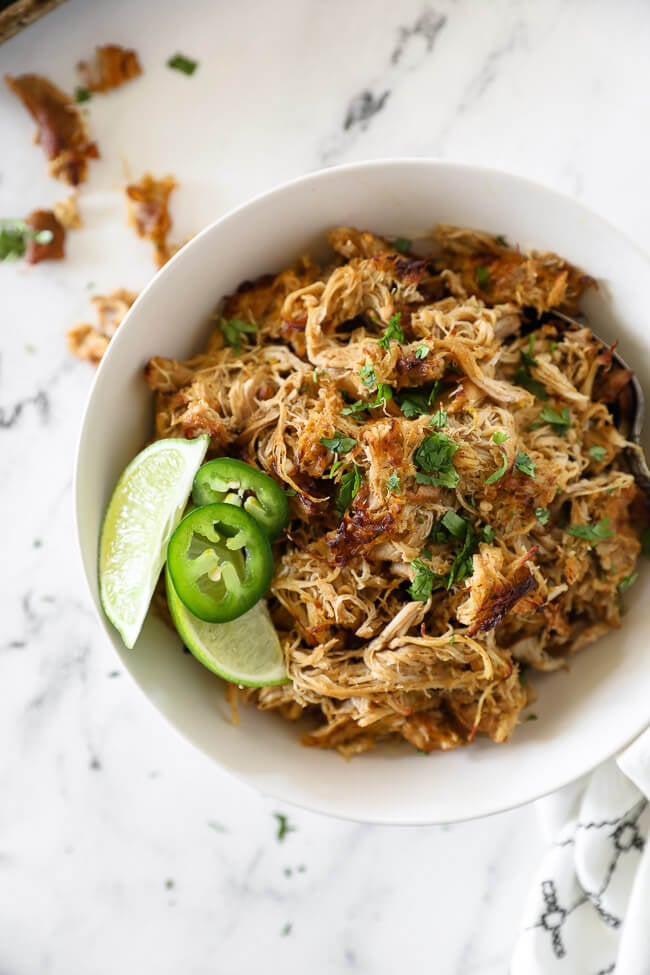 Some Other Slow Cooker + Instant Pot Recipes
Your Turn To Make This Chicken Carnitas Recipe
Plan to meal prep these chicken carnitas, and then mix up how you eat them throughout the week. Enjoy healthy chicken dinners or lunches that are friendly for any diet – Keto, Paleo and Whole30!
We hope you love this recipe as much as we do!
Don't forget to leave a quick star rating and review below, we read every comment and truly appreciate your feedback. Also, be sure to browse the rest of our delicious, healthy recipes to find some other favorites too!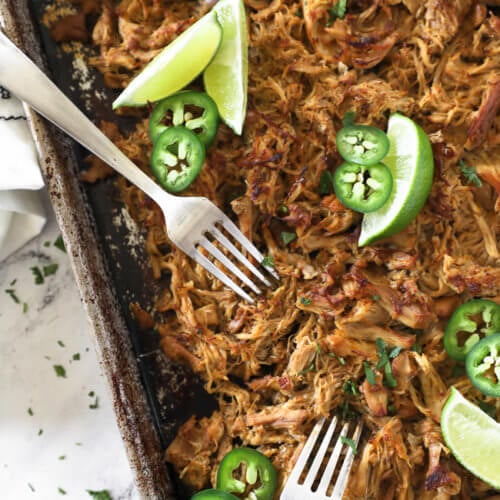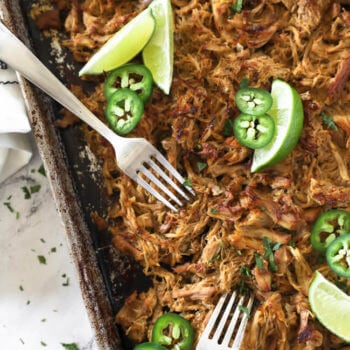 Get the Recipe:
Chicken Carnitas (Juicy & Crispy!) – Slow Cooker or Instant Pot
Whether you're meal prepping or feeding a crowd, this juicy chicken carnitas recipe is a great option. Only 10 minutes of active prep and then set your Instant Pot or Slow Cooker and walk away. This healthy chicken recipe is a quick and easy go-to for any day of the week!
Ingredients
4 lbs (1.81 kg) boneless skinless chicken thighs, (can sub chicken breasts)
For the carnitas sauce:
6 cloves (6 cloves) garlic, peeled and smashed
3/4 cup (186 g) fresh squeezed orange juice, (about 2 oranges)
1/4 cup (60.5 g) fresh squeezed lime juice, (about 2 limes)
1 tbsp (1 tbsp) cumin
1 tbsp (1 tbsp) chili powder
2 tsp (2 tsp) oregano, (fresh or dried)
2 tsp (2 tsp) salt
1 tsp (1 tsp) chipotle powder
For serving:
romaine lettuce, (or sub tortillas or other sturdy lettuce)
chopped cilantro
sliced avocado
sliced jalapenos
lime wedges
Instructions
Prep garlic as noted. Combine orange juice, lime juice, cumin, chili powder, oregano, salt and chipotle powder in a bowl or jar and mix well.

Prepare any optional toppings/serving items to have them ready for when the chicken is finished cooking.
For the Instant Pot:
Place chicken in the Instant Pot and add in the garlic. Pour the carnitas sauce all over the chicken and toss to coat.

Secure the lid on the instant pot and close the pressure valve. Press the "manual" button (or "pressure cook" button) and set the time to cook for 25 minutes at high pressure. Once the time is up, carefully quick release the pressure manually.
For the slow cooker:
Place chicken in the slow cooker and pour the carnitas sauce all over the chicken.

Place lid on the slow cooker and cook on low for 8-10 hours or on high for 4-5 hours.

When the chicken has finished cooking in either the Instant pot or slow cooker, remove the lid and shred the chicken with two forks.

Serve chicken carnitas in bowls, lettuce wedges or tortillas with your favorite toppings.
Optional step for crispy chicken carnitas:
Set your oven to broil.

After shredding the chicken, use a spoon to remove the chicken from the instant pot or slow cooker and place on a large sheet pan. Pour or spoon the juices from the instant pot or slow cooker over the chicken in the sheet pan.

Place in the oven to broil for 7-10 minutes, until the chicken begins to develop some brown and crispy edges. Remove the chicken halfway through and mix it up with a spoon or tongs to help coat all of the chicken with the juices.

Watch the chicken carefully under the broiler and cook to your preference.
Notes
Nutrition amounts noted are per serving and are an estimate provided for those following a Ketogenic or low-carb diet and do not include the optional topping for this recipe. See our full nutrition information disclosure here. 
Calories: 391kcal, Carbohydrates: 7g, Protein: 59g, Fat: 13g, Fiber: 1g