We love our cast iron skillet, and lately we've been eating a lot of bone in chicken with the skin on. We know a lot of people only eat boneless, skinless chicken breasts and we have to say we are guilty of cooking with them and using them in a lot of our recipes. But really, when it comes to flavor, you can't beat bone-in chicken drumsticks and thighs. We really suggest you use them for this chicken skillet with brussels and squash.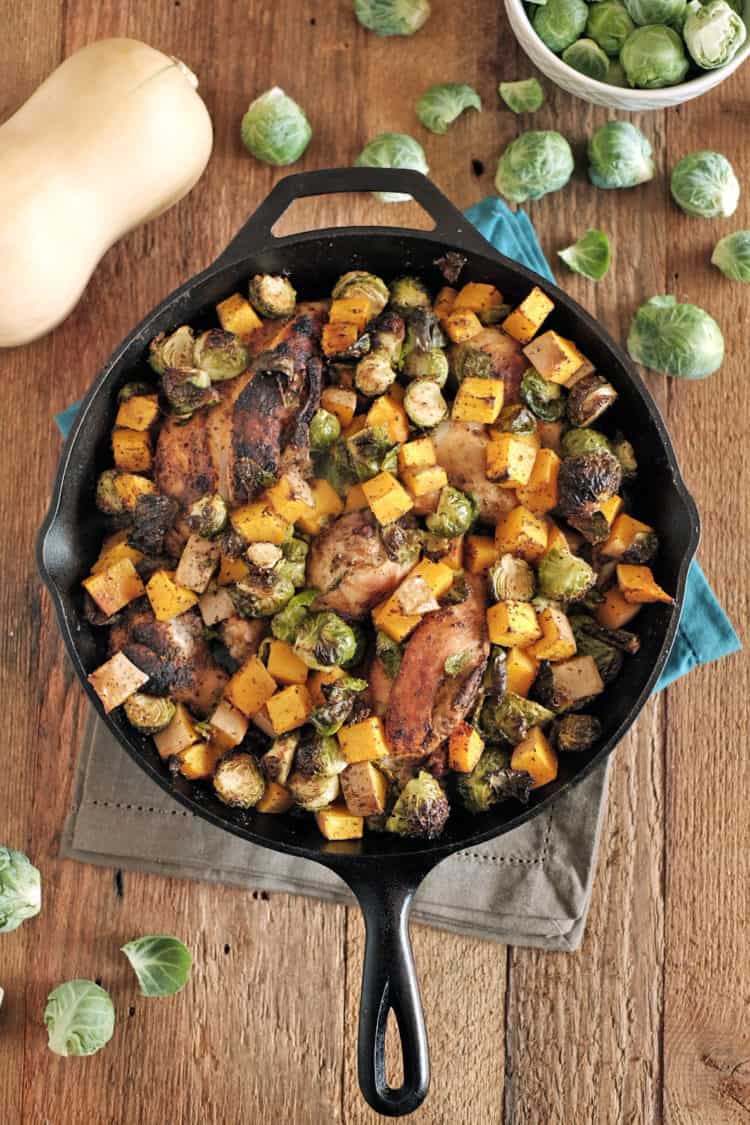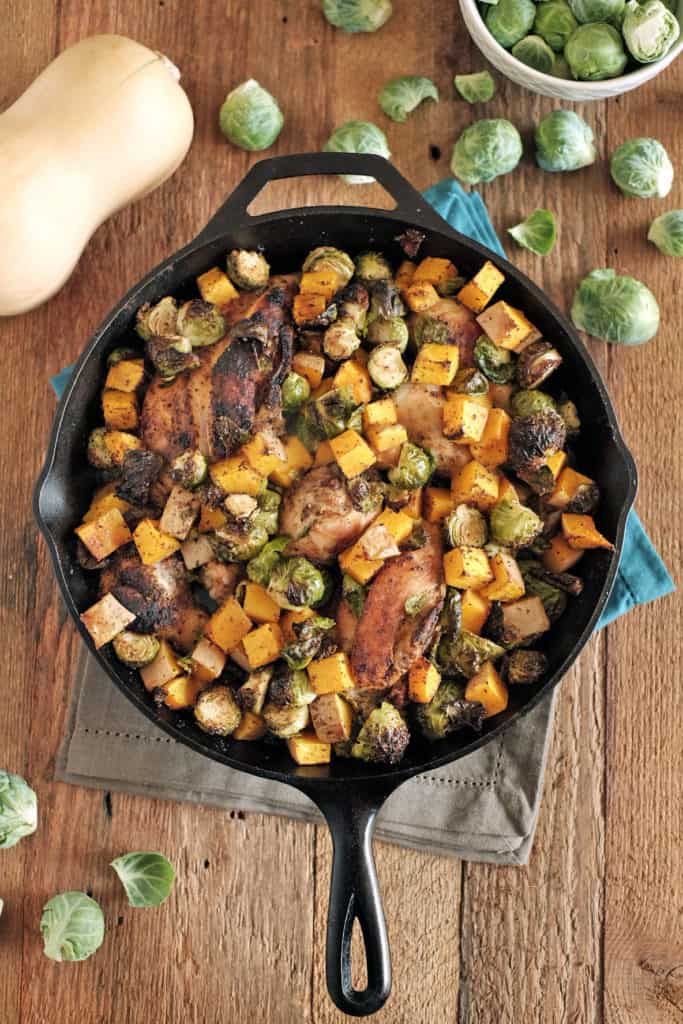 Plus, there's really no reason to be afraid of the little extra fat that comes with eating these cuts of chicken. Honestly, one of the main things we LOVE about the paleo lifestyle is that we NEVER count calories or give too much worry to eating things like bacon and a little chicken skin. As long as our diet is based on the paleo principles and full of a variety of vegetables and healthy proteins, we know that some fat is an integral part of our diet and helps to keep us feeling full and satiated longer. Read more here about why fat is an essential component to a healthy diet.
And really, don't you just want to dig in and eat that?
For this recipe you'll get a full meal in one pan with some squash, brussels sprouts and crispy chicken that is seasoned to perfection. The crispy skin is oh so tasty and finger-lickin' good.
Just rub the chicken down with the seasoning blend and throw it in the cast iron skillet to crisp up for 5 minutes on each side. Then, toss in the squash and brussels sprouts and bake it for 30 minutes and you are good to go!
If you try out this recipe, we'd love to know what you think so make sure you leave a comment below or add in your rating. Also, take a picture and tag it on Instagram #realsimplegood so we can check it out!
---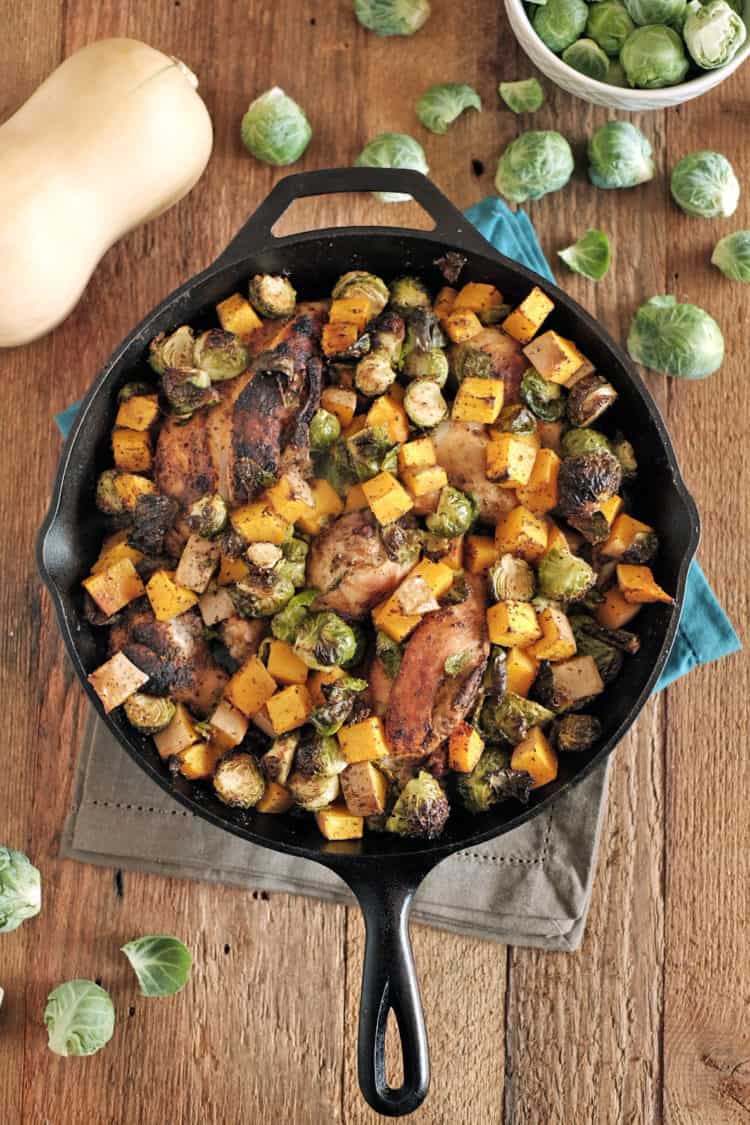 Chicken Skillet with Brussels and Squash
This chicken skillet with brussels and squash is a full meal in one pan and the crispy chicken is seasoned perfectly. It's tasty and finger-lickin' good.
Print Recipe
Rate Recipe
Share by Email
Ingredients
For seasoning rub:
1.5

tsp

salt

1.5

tsp

pepper

1.5

tsp

paprika

1.5

tsp

garlic powder

1.5

tsp

chili powder
For the skillet:
1

tbsp

fat

(bacon fat or oil)

3

lbs

bone-in chicken

(drumsticks and thighs or chicken quarters)

1

small butternut squash, cut into small square pieces

(or sub 1 delicata squash or 1 large sweet potato)

1

lb

brussels sprouts, ends cut off and halved

1

tbsp

avocado oil

1/2

tsp

salt

1/2

tsp

pepper

1

tsp

garlic powder

1

tsp

chili powder
Want more recipes like this?
SIGN UP FOR OUR LATEST RECIPES:
Instructions
Start by making the seasoning rub. Combine all of the rub ingredients together in a small bowl and mix well.

Season the chicken with the rub, making sure every bit of the chicken is covered liberally.

Next, chop up the butternut squash and brussels and place in a bowl. Toss in the avocado oil, salt, pepper, garlic powder and chili powder. Mix well to incorporate the seasonings and spread out in an even layer on a baking sheet. Set aside.

Preheat oven to 425 degrees Fahrenheit.

Heat a cast iron skillet over medium heat and add in the fat. Let the skillet warm up to full temperature.

Add in your chicken to cook for 5 minutes. Flip it over to the other side and cook for another 5 minutes.

Add the squash and brussels to the skillet around the chicken. Carefully transfer the skillet to the oven using oven mitts.

Cook for 30 minutes and remove everything from the oven. Allow to cool for a few minutes before serving.