This chicken with creamy mushroom sauce recipe is a healthy and dairy-free option to get that cream sauce over pasta flavor with real food ingredients. With a rich and creamy sauce flavored with bacon, onion, mushrooms and garlic, you won't believe it's Paleo, Whole30 and dairy-free.
If you like this recipe, you have to try our dairy free chicken recipe with mustard sauce, our dairy free creamy tuscan chicken recipe and this creamy dairy-free chicken thigh recipe. They're all dairy free and full of creamy deliciousness!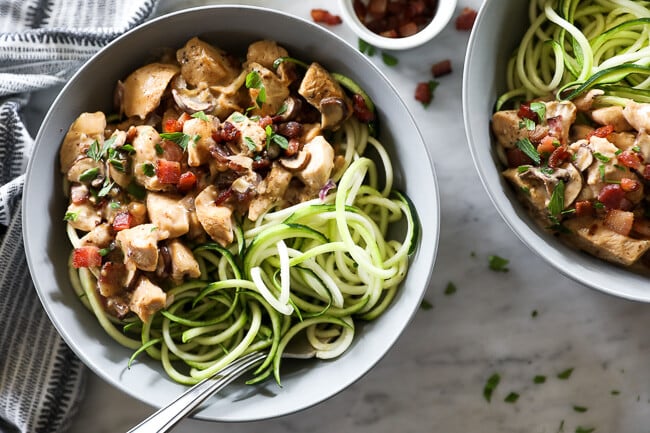 How do you make a healthy creamy mushroom sauce?
When I first started making creamy sauces, I was always concerned about it tasting too much like coconut milk. Making a dairy-free creamy mushroom sauce is difficult because it is hard to get the thick, creamy consistency you want without the overpowering flavor of coconut. Luckily, I found just the right mix of ingredients for this chicken with creamy mushroom sauce recipe. You won't even know the sauce is made with coconut milk as the base.
The sauce is nut free too!
A lot of dairy-free creamy sauces use nuts (typically cashews) as the base to get the creamy texture. Those sauces can sometimes be more work and require soaking cashews overnight to soften them and then blending them to get a creamy consistency. Well, this recipe skips all that hassle and just uses full-fat coconut milk and some standard ingredients to hide the coconut flavor and turn it into a rich and creamy sauce.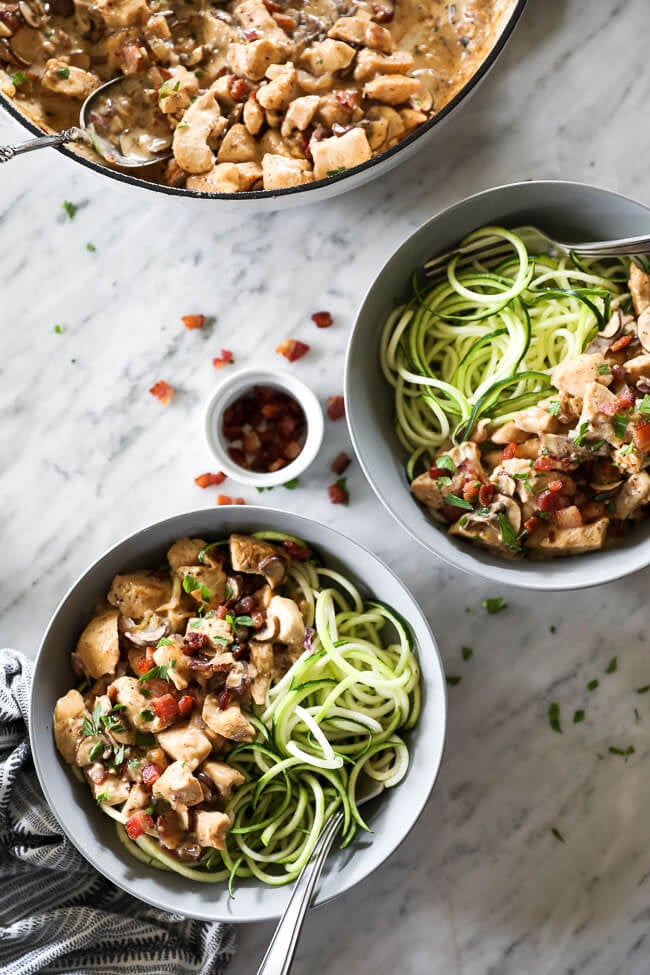 A 30 minute chicken with mushroom sauce recipe
You wouldn't think you could create such deliciousness from scratch in only about 30 minutes, but it's really very simple. There are only six main ingredients for this chicken with mushroom sauce recipe and they blend together perfectly to give you a mix of creamy, garlicky, mushroomy goodness in each and every bite. Also, one of the six ingredients in bacon, so that pretty much tells you everything you need to know.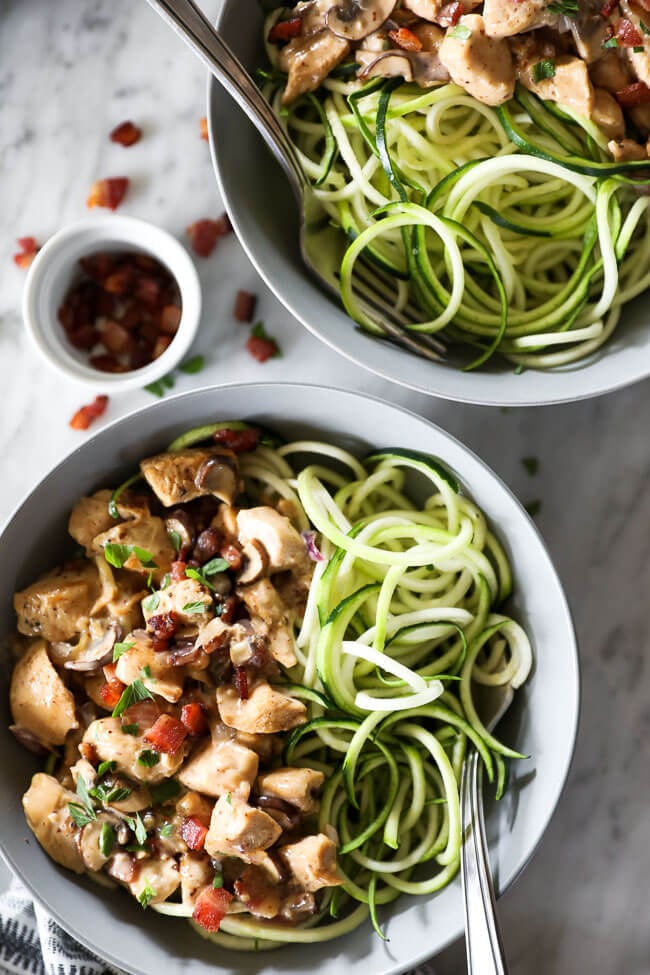 Some other comfort food recipes with creamy sauces
Your turn to try this chicken with creamy mushroom sauce recipe
If you're looking for an indulgent yet easy weeknight dinner, give this recipe a try let us know what you think! Leave a comment below, and share a pic on Instagram. Tag us @realsimplegood, and make sure to give us a follow if you don't already. Let's stay connected!
---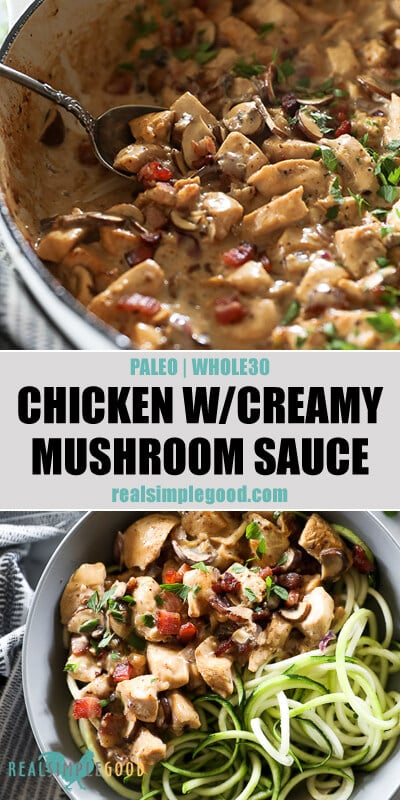 ---
Like this Recipe?
SHARE IT NOW OR PIN IT FOR LATER!
---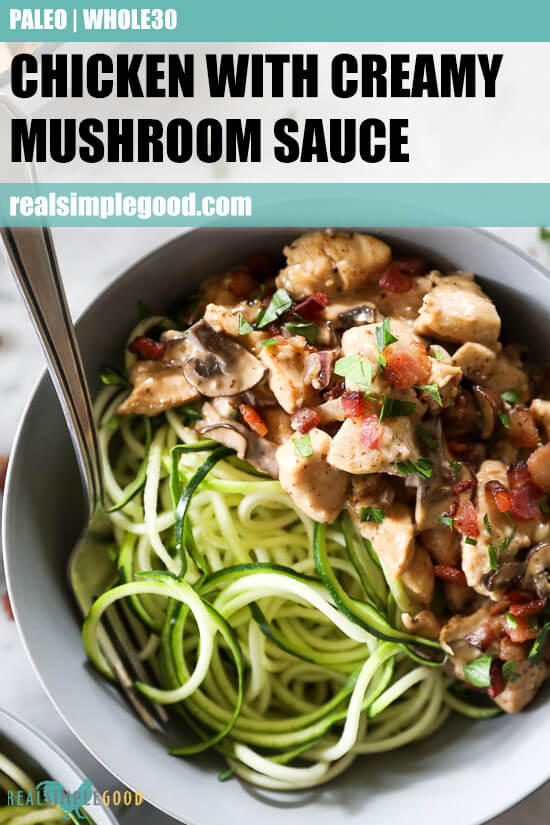 ---
Get the Recipe:
Chicken with Creamy Mushroom Sauce Recipe (Paleo, Dairy-Free + Whole30)
A dairy-free chicken with creamy mushroom sauce recipe made with real food ingredients. It has a rich and creamy sauce that's Paleo + Whole30 too!
Ingredients
5 slices bacon, diced
3 boneless skinless chicken breasts, chopped into small cubes
1/2 onion, diced
2 cups mushrooms, sliced
2 tbsp minced garlic
1 cup coconut milk
2 tbsp arrowroot flour
1 tsp salt
1 tsp pepper
3 small zucchinis spiralized
Chopped parsley for topping, (optional)
Instructions
Cut up bacon and chicken breasts. Chop onions, mushrooms and mince garlic.

Heat a large skillet over medium heat. Once hot, add in the bacon to cook. Cook until it is just starting to get crispy, about 5-6 minutes. Remove with a slotted spoon to a paper towel lined plate.

While bacon is cooking, make your zoodles with the spiralizer and set aside. Add arrowroot starch to the coconut milk and mix well.

Leaving at least 1 Tbsp bacon grease in the pan, add in the chicken to cook. Season the chicken with salt and pepper, about 1/2 tsp each. Cook, stirring occasionally, until the chicken cubes are white and cooked through, about 6-7 minutes.

Remove the cooked chicken from the pan and place on a plate.

Next, add in the onion. Cook for 2-3 minutes, stirring occasionally and scraping up the chicken and bacon bits from the bottom of the pan.

Add in the garlic and mushrooms. Cook, stirring frequently, for another 2-3 minutes.

Mix up the coconut milk and arrowroot starch again. Add in the coconut milk to the pan, stirring constantly for 2 minutes. The sauce will thicken and bubble, that's ok.

Finally, add the chicken and bacon back into the pan. Turn the heat down to low and simmer for about 2-3 minutes, stirring frequently.

Place another pan over medium heat to warm up the zoodles. Place the zoodles in the pan to heat up for about 2-3 minutes, tossing every minute or so. Season with salt and pepper to taste. Alternatively, you can just add the zoodles in with the chicken mixture and stir to coat and cook until warmed through.

Serve the chicken mixture over zoodles. Top with optional parsley and enjoy.