This fresh chunky guacamole will be the hit of any party. Every time we make it for friends and family it gets devoured. Since we don't eat tortilla chips on the paleo diet, we typically serve it with plantain chips (you can find them in a purple bag at Trader Joe's) and fresh veggies for dipping. Serve this chunky guacamole up on the fourth of July or any summer barbecue and watch it disappear.
Start by slicing the avocados in half and setting aside the pits. If you are not serving the guacamole immediately, keep some of the pits to leave in the bowl to keep it from turning brown. Slice the inner pieces of the avocado vertically and then horizontally to form medium-sized pieces and then scoop them out of the shell into a bowl. Next, just slice up the rest of the ingredients and add them to the avocado, squeeze in the lime juice, add the seasonings and mix everything together.
Dip away and enjoy every bite of this chunky guacamole.
---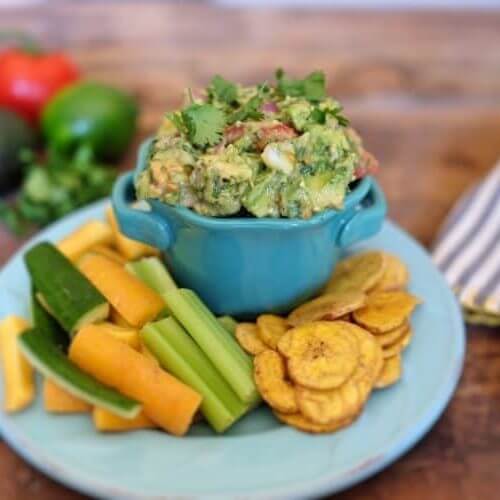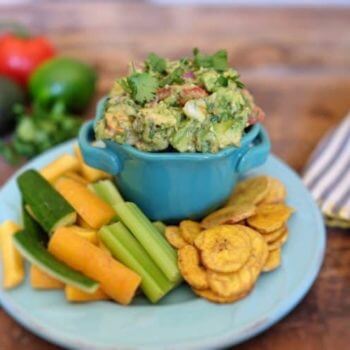 Get the Recipe:
Chunky Guacamole (Paleo, Whole30 + Keto)
This fresh chunky guacamole will be the hit of any party. Serve it up at any gathering for a fresh dip that everyone will enjoy and watch it disappear.
Ingredients
4 medium avocados, - sliced into chunks
1/2 red onion, - diced finely
2 medium tomatoes, - sliced into chunks
handful cilantro, - diced
juice of 1-2 limes, (We like ours with a lot of lime flavor so we use 2 limes)
jalapeno, - diced (optional)
1 tbsp garlic powder
1 tsp salt
1 tsp pepper
Instructions
Slice up all of your fresh ingredients and place them in a large bowl.

Squeeze the juice of two limes into the bowl and add in your garlic powder, salt & pepper. Stir everything together just enough to mix it well. You want to keep it chunky so don't do too much stirring since it will make things mushy.

Taste and add any additional salt, pepper or garlic powder if desired.

Dip away!
Notes
Nutrition facts are an estimate provided for those following a Ketogenic or low-carb diet. See our full nutrition information disclosure here.  
Calories: 233kcal, Carbohydrates: 15g, Protein: 3g, Fat: 19g, Saturated Fat: 2g, Fiber: 9g