Shrimp on the grill? Yes, please! Lightly coated with a simple homemade marinade of cilantro, garlic lime and coconut aminos (substitute suggested below), these grilled shrimp skewers marinate while the grill heats up and cook for just a few minutes on the BBQ. Perfectly charred and juicy! Keto-friendly and Whole30 too.
Making These Easy Shrimp Kabobs
We love cooking shrimp because it pairs well with anything, cooks quickly and takes on whatever flavor you want to add to it with ease.
Start your grill and and prepare it for high heat
Prep shrimp (if necessary) and rinse it under cold water
Make the shrimp marinade
Coat the shrimp with the marinade and thread it onto kabobs
Grill for 6-7 minutes and remove to serve
Looking for more? Check out all of our healthy grilling recipes!
The Grilled Shrimp Marinade
Making this easy homemade shrimp marinade is simple. With only five ingredients it comes together quickly and packs a huge punch of flavor!
Notes on the marinade:
It will be thick, that's by design. You want it to be a "paste" like consistency so it can coat and stick to each piece of shrimp.
You may not need the entire 1/3 cup of coconut aminos noted. Add just enough to mix with the other ingredients to allow it to coat the shrimp.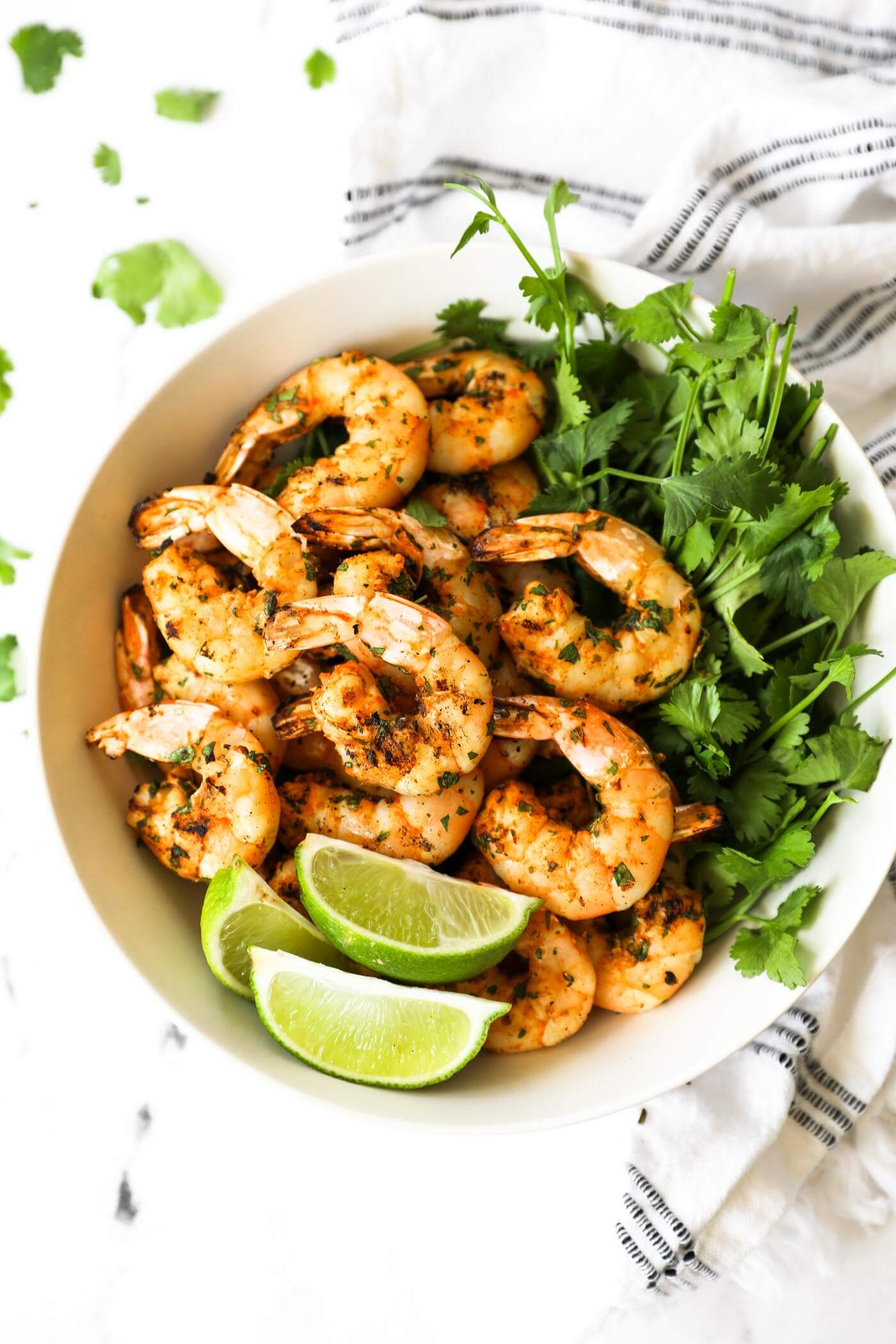 Other Cooking Options
This recipe isn't limited to only grilling, it's great on the stovetop or baked in the oven.
For the stovetop – Simply follow the instructions and cook the shrimp over medium heat in a large pan. Cook for 2-3 minutes on each side until the shrimp is opaque and cooked through.
For the oven – Preheat oven to 400° Fahrenheit. Follow the recipe instructions and place the shrimp in an even layer on the sheet pan. Bake for 8-10 minutes, or until cooked through.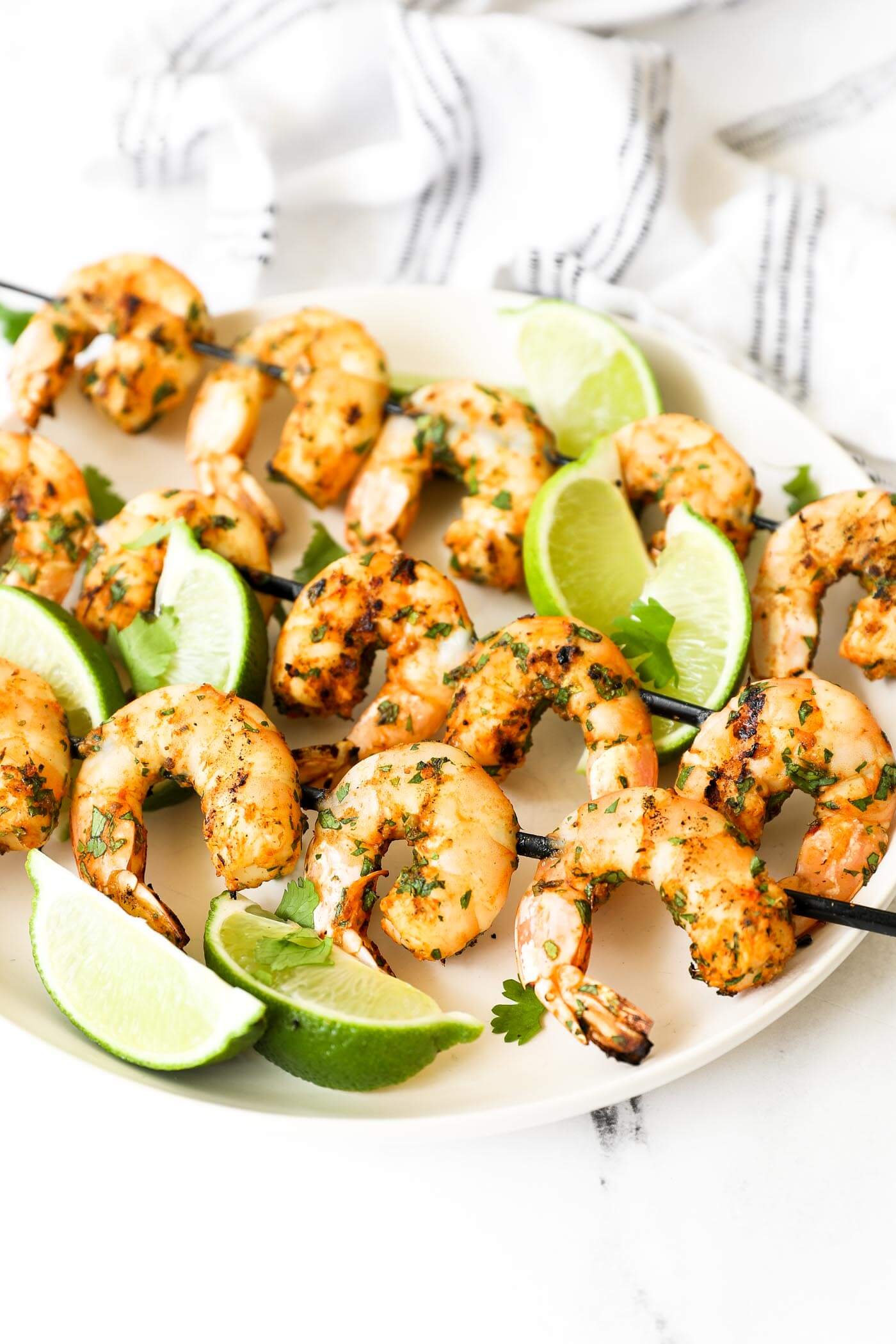 What to Serve With These Grilled Shrimp Skewers
When we make these, we like to chop up some veggies to put on kabobs and grill right along with the shrimp for a complete meal. Some other ideas:
Over regular rice or cauliflower rice
With any kind of noodles (or zoodles)
Make them into shrimp tacos
Over greens for a grilled shrimp salad
Your Turn to Try This Grilled Shrimp Recipe
Go ahead and make these kebabs for a flavorful shrimp dinner! You'll love the easy and delicious homemade marinade that's perfect for grilling.
If you make this recipe, let us know how it goes by leaving a rating and review below. Take a pic to share on Instagram and tag us @realsimplegood, love to see what you're cooking!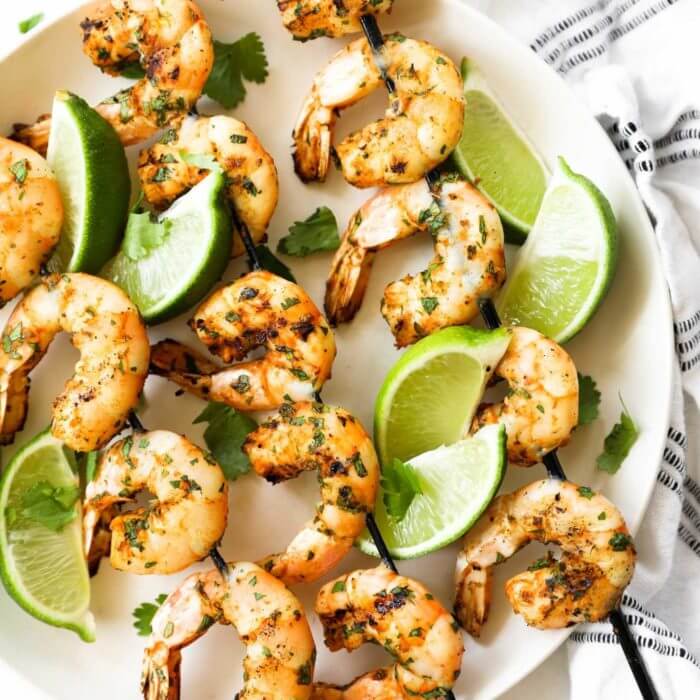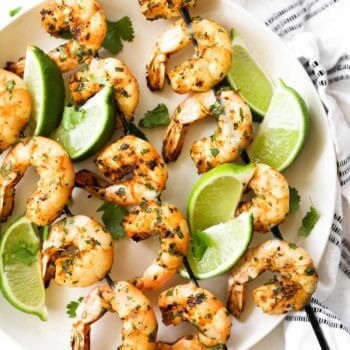 Get the Recipe:
Grilled Cilantro, Garlic & Lime Shrimp Kabobs
Shrimp on the grill? Yes, please! Coated with a simple homemade marinade, these shrimp skewers are easy to prep and cook quickly on the BBQ.
Ingredients
1 lb large shrimp, peeled and deveined
For the shrimp marinade:
3 cloves garlic, minced
1 cup cilantro, diced
1 tbsp chili powder
1 lime juice of, (about 1-2 tbsp)
1/3 cup coconut aminos, (this amount is approximate, see recipe steps below)
Instructions
Start your grill and and prepare it for high heat.

Rinse shrimp with cold water. Set aside on a paper towel lined plate to dry while you prepare the marinade.

In a medium bowl, combine garlic, cilantro, chili powder and lime juice. Mix well, it should be a thick consistency.

Add in some coconut aminos, just enough to make a "paste" that can be smeared on the shrimp to marinate it with flavor. You don't want it too runny.

Add shrimp to the bowl with the marinade and mix everything together to coat all the shrimp.

Thread the shrimp onto kabobs. and it is ready to grill. At this point you can grill the shrimp immediately or set the shrimp in the refridgerator to marinate for up to an hour.

Grill the shrimp for about 3 minutes each side, until it is cooked through. Remove and serve.
Notes
Nutrition amounts are per serving and an estimate and provided for those following a Ketogenic or low-carb diet. See our full nutrition information disclosure here.  
Calories: 110kcal, Carbohydrates: 7g, Protein: 16g, Fat: 1g, Saturated Fat: 1g, Fiber: 1g