This country breakfast sausage recipe with homemade seasoning (no MSG!) is an absolute game changer and our favorite way to start the day.
Justin's Mom raises pigs, and a couple times a year we are fortunate enough to get a half of a hog from her. It's the BEST pork. But after learning the butcher uses MSG in the breakfast sausage seasoning, we decided to get plain ground pork and make both the breakfast sausage and breakfast sausage seasoning at home.
A healthy breakfast sausage
When doing a Whole30 or following the Keto diet, it can be hard to find a breakfast sausage made without sugar. Because this recipe is made with only ground pork and some simple seasonings, it's perfect for any diet and 100% Paleo, Whole30 and Keto friendly!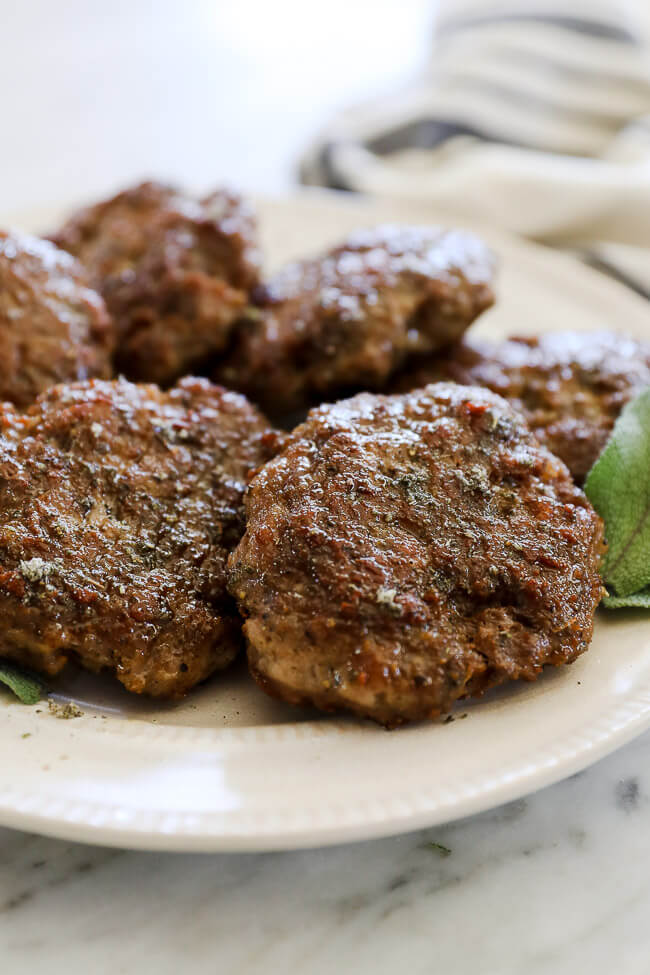 Our homemade breakfast sausage seasoning recipe
Justin is really great at coming up with flavorful seasoning combinations and he was on a mission with this homemade breakfast sausage recipe. To start we tried some recipes from a couple of our go-to paleo cookbooks – Make it Paleo II and Primal Cravings. These were both pretty good but not quite the "classic" breakfast sausage we were looking for.
After some trials in the kitchen, we came it with this simple homemade breakfast sausage recipe. It has a classic breakfast sausage taste from only a handful of seasonings. This recipe is even better than store-bought versions and quick and easy to make!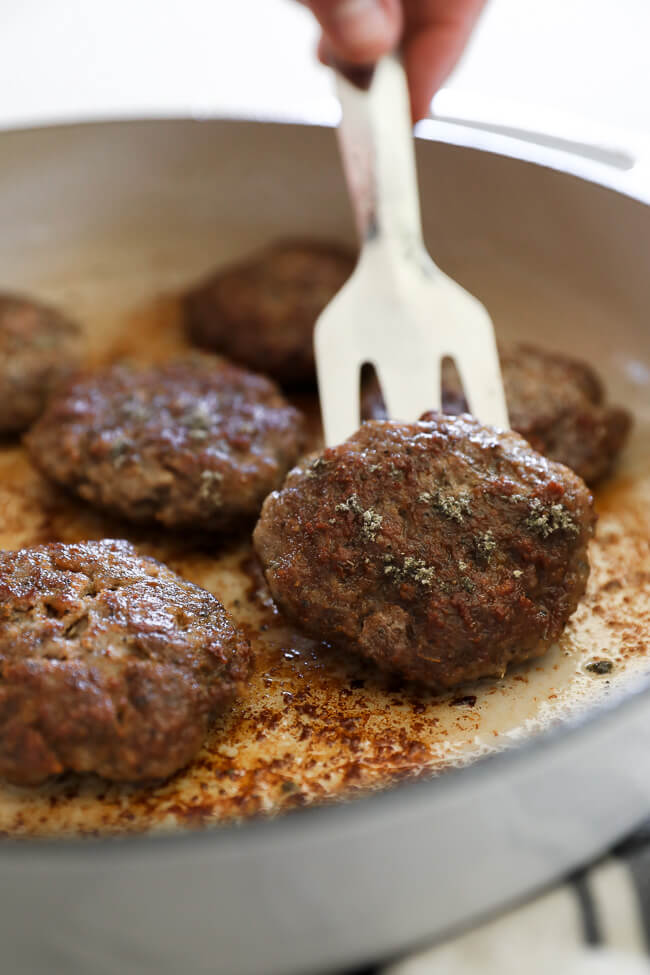 Why breakfast sausage is perfect for meal prep
These homemade breakfast sausage patties are perfect for meal prep. Here are some options to prep and store them:
The patties can be cooked and frozen for 6 months. We recommend freezing the sausage in the portions you'll want to eat. Just thaw, reheat and eat!
You can prep the sausage with the seasoning mixture and freeze it to cook later. Either keep it as bulk sausage or form it into patties before freezing for speedy cooking after you defrost it!
Simply cook the sausage over the weekend to use for breakfast or other meals during the week. Store in an airtight container for up to one week in the fridge.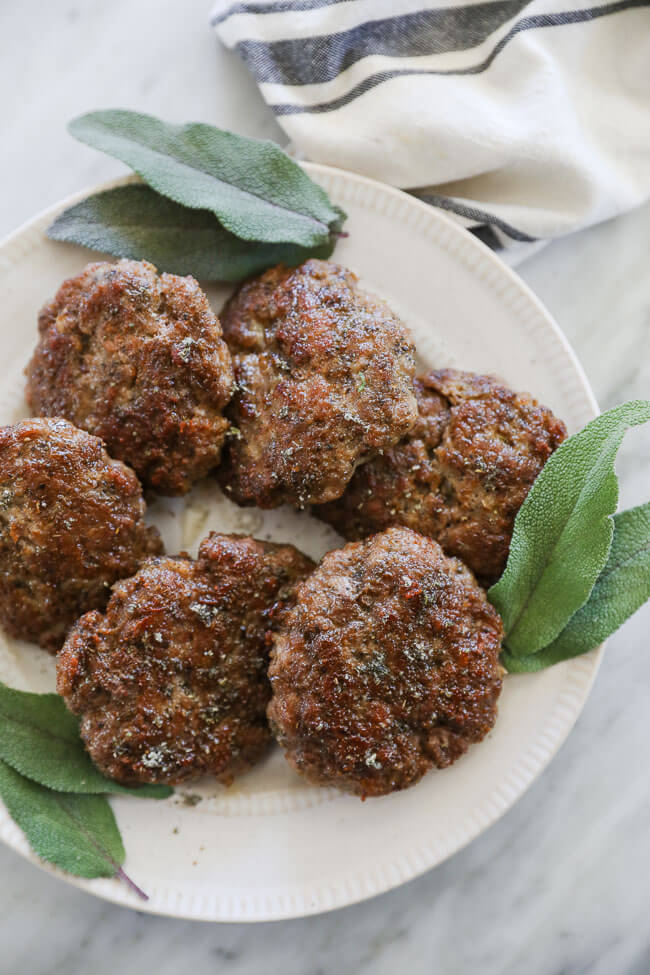 Breakfast casseroles with homemade sausage to try
Your turn to try our homemade country breakfast sausage recipe
Whether you're meal prepping or making a weekend breakfast, try out this homemade breakfast sausage! It's an easy recipe the whole family will enjoy. Leave a comment below, and let us know what you think. Also, take a pic and tag it on Instagram @realsimplegood, we love to see what you're making!
---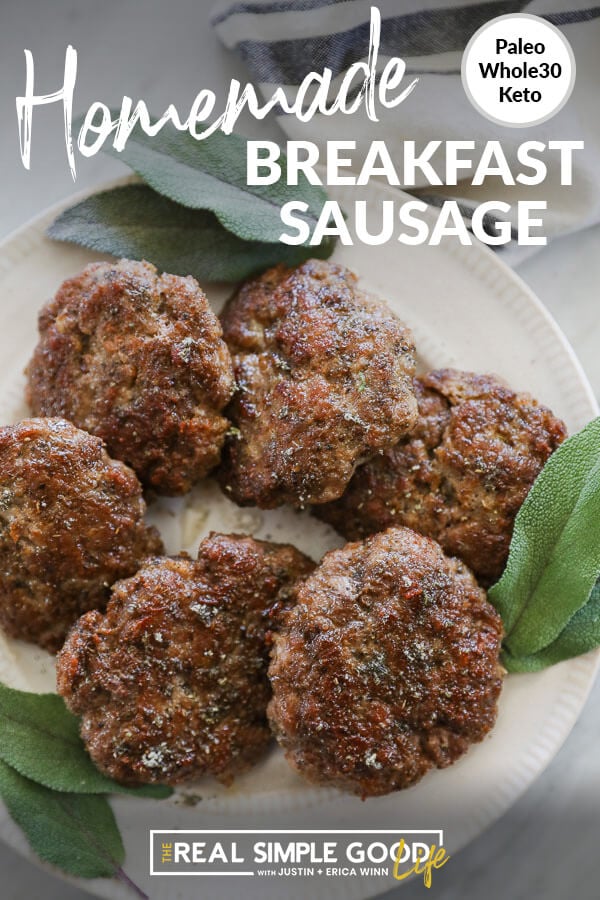 ---
Like this Recipe?
SHARE IT NOW OR PIN IT FOR LATER!
---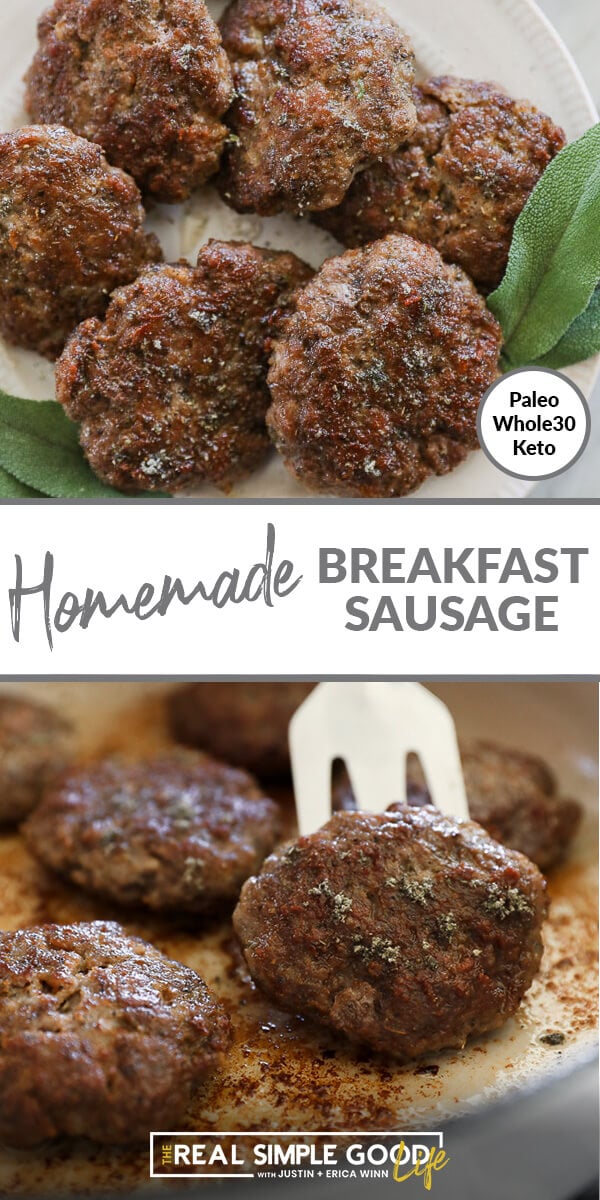 ---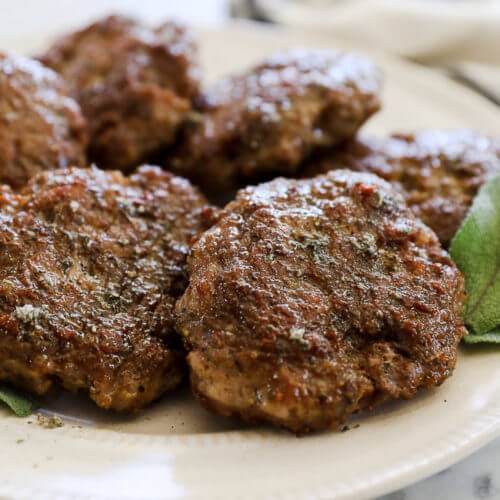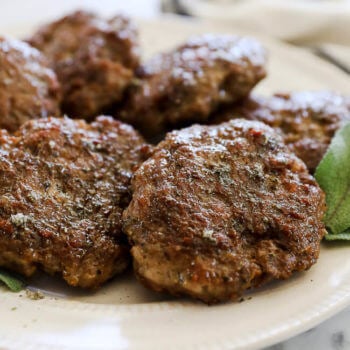 Get the Recipe:
Homemade (15-Minute!) Breakfast Sausage Recipe
This country breakfast sausage recipe with homemade seasoning (no MSG!) is an absolute game changer and our favorite way to start the day. Ready from scratch in only 15-minutes!
Ingredients
1 lb ground pork
1.5 tsp ground sage
1 tsp salt
1 tsp pepper
1/2 tsp oregano
1/2 tsp garlic powder
1/2 tsp onion powder
1/4 tsp paprika, (optional)
Instructions
Place the ground pork in a medium sized bowl.

Mix the seasonings together in a separate bowl or ramekin.

Pour the seasonings in with the pork and mix it together well with your hands. Make sure the seasonings are evenly incorporated throughout the pork but don't overmix.

Shape the sausage into 4-6 patties.

Heat a pan over medium heat. Once the pan is hot, add in the sausage to cook.

Cook about 5 minutes per side, until the sausage is cooked through the center.

Serve and enjoy.
Notes
Nutrition facts are an estimate provided for those following a Ketogenic or low-carb diet.  See our full nutrition information disclosure here. 
Calories: 303kcal, Carbohydrates: 1g, Protein: 19g, Fat: 24g, Saturated Fat: 9g, Fiber: 1g