Spaghetti squash is such a cozy fall and winter ingredient. Once cooked, it shreds into perfect "spaghetti" noodles and can replace store-bought noodles in just about any dish.
From stuffed spaghetti squash to casseroles to roasted spaghetti squash noodles, you'll love trying new recipes with this versatile and healthy ingredient!
Why We Love Spaghetti Squash
If you're looking for a gluten-free and plant based noodle option, it's hard to beat spaghetti squash. Here's what we love:
We love that it's a "real food" option. No boxes or processing here 🙂
It's easy to roast in the oven or even make in the Instant Pot.
The squash is pretty neutral tasting so it goes with just about anything.
Isn't it fun to make your own "noodles" at home?
Looking for more cozy recipes? Check out all of our Healthy Comfort Food Recipes!
How to Cook Spaghetti Squash
Our go-to way to cook a spaghetti squash is to roast it in the oven. Here's how:
Preheat your oven to 400° Fahrenheit and line a sheet pan with parchment for easy clean up.
Cut the squash in half and scoop out the seeds.
Place the squash cut side down on the sheet pan.
Bake in the oven for 30-45 minutes, depending on the size of your squash.
Be careful not to overcook the squash, or it can get mushy. You can test the squash by poking the squash "meat" with a fork. If it is still hard and not easily pierced with a fork it needs to cook and soften up a little more.
Our Favorite Healthy Spaghetti Squash Recipes
We've heard from some folks that they can find spaghetti squash in the store year-round, but for us it's mostly a fall and winter ingredient.
So bundle up with the cozy flavors of fall and make some of these healthy dinner recipes for your family! We know you'll love these unique and comforting recipes featuring this healthy noodle option.
Stuffed Spaghetti Squash
One of the best ways to serve a spaghetti squash is to load everything right back into the shell for serving! It's a beautiful way to present a meal and this one is fun for the whole family.
1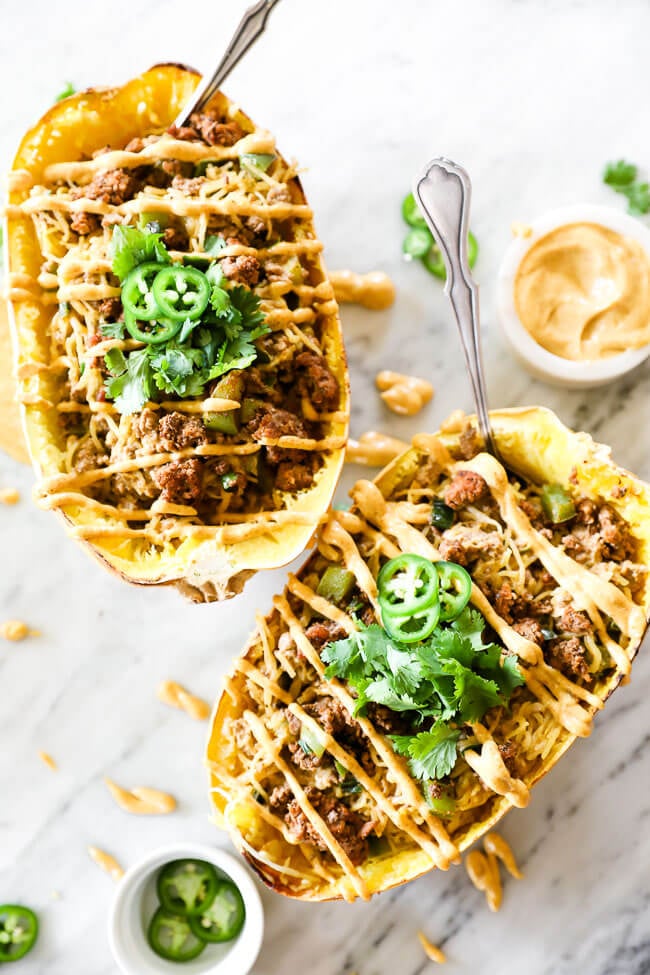 Taco Stuffed Spaghetti Squash (Paleo + Whole30)
This taco stuffed spaghetti squash recipe is a fun one for the whole family. Easy and healthy, you'll love the taco flavors in this Paleo + Whole30 recipe.
Get the recipe
Easy Spaghetti Squash Recipes
The easiest way to enjoy some spaghetti squash is to cook it and mix it up with a bunch of other goodies. Top it with some marinara sauce for a classic spaghetti or use it in place of regular noodles for some alfredo or chow mein. Enjoy!
2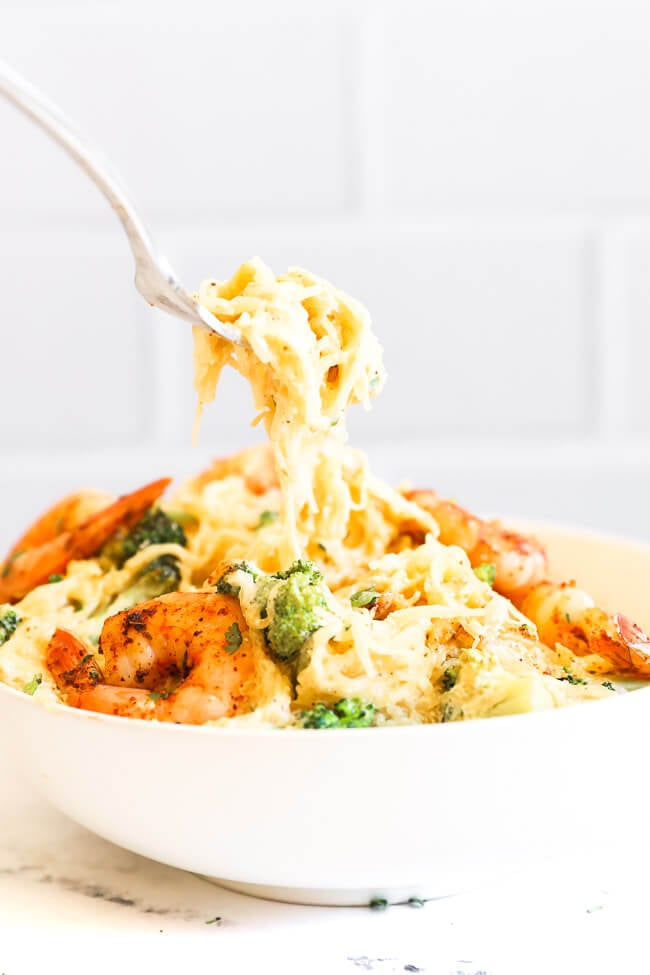 Easy Shrimp + Broccoli Spaghetti Squash Alfredo
The shrimp and broccoli make this spaghetti squash alfredo filling and satisfying, but the real winner here is the creamy, dairy free alfredo sauce!
Get the recipe
3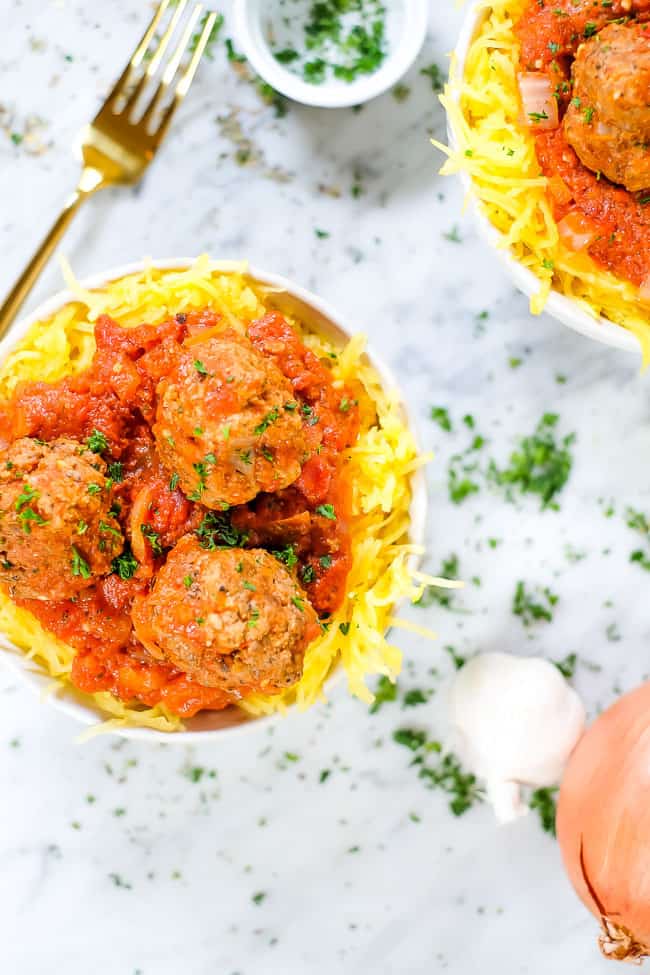 Instant Pot Spaghetti and Meatballs (Paleo + Whole30)
This Paleo and Whole30 Instant Pot spaghetti and meatballs is a healthified version of a traditional comfort food that is sure to be a family favorite!
Get the recipe
4
Spaghetti Squash Chicken Chow Mein (Paleo + GF)
Do you ever want the flavors of take out, but way healthier?! This spaghetti squash chicken chow mein is legit with all the flavor and none of the nonsense!
Get the recipe
5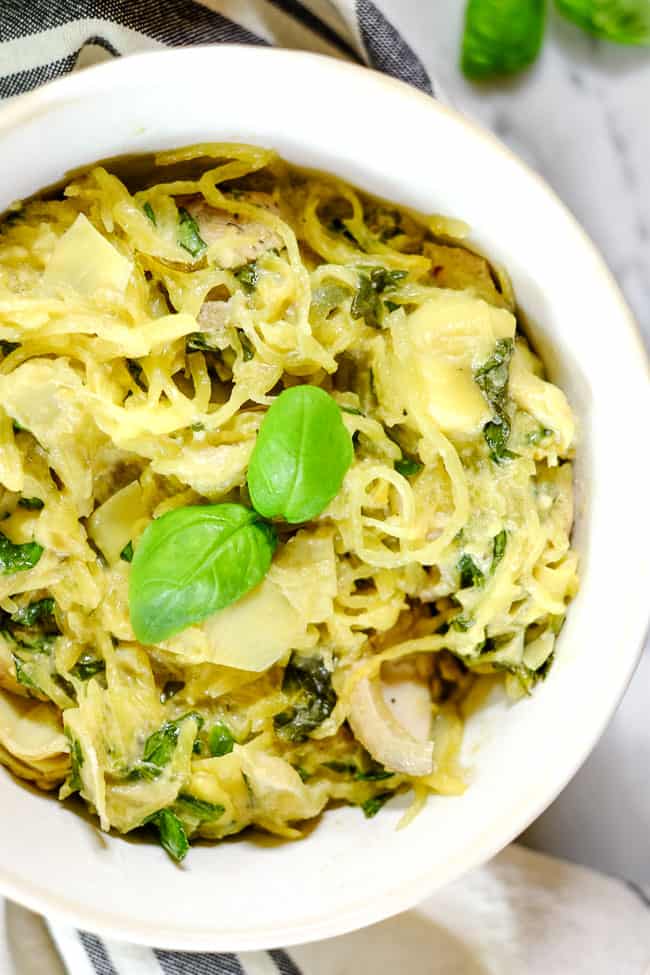 Creamy Chicken Casserole (Paleo, Whole30 + Dairy-Free)
This Paleo + Whole30 Creamy Chicken Casserole is made with spaghetti-squash so it's grain-free, gluten-free and the creamy, cheese-like sauce is dairy-free!
Get the recipe
Spaghetti Squash Casserole Recipes
These baked spaghetti squash casserole recipes are some of our most popular recipes! They have all of the comfort food vibes without all the guilt. Warm and filling, these casseroles are tasty and the perfect family friendly healthy meal.
6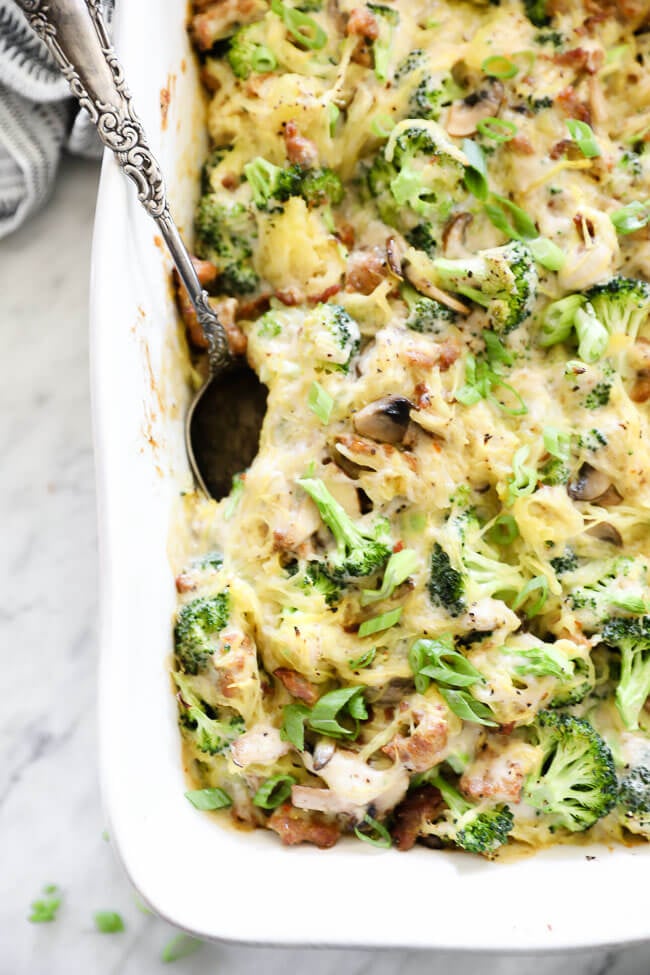 Creamy Garlic Spaghetti Squash Casserole (Paleo, Whole30, GF + Dairy-Free)
This creamy garlic spaghetti squash casserole is so saucy and delicious! It has a creamy, Paleo, Whole30 + Dairy-Free sauce packed with garlicky goodness.
Get the recipe
7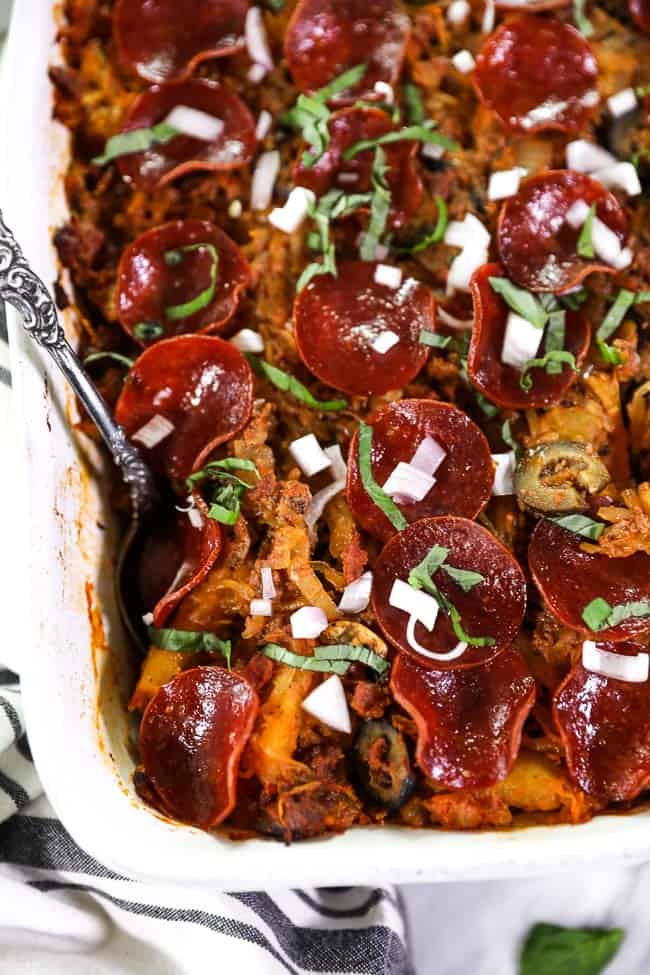 Spaghetti Pizza Casserole (Paleo + Whole30)
This Paleo + Whole30 Spaghetti Pizza Casserole is about to be a new family favorite! It's perfect for your weekend meal prep, and the whole family will enjoy this hearty and flavorful casserole!
Get the recipe
8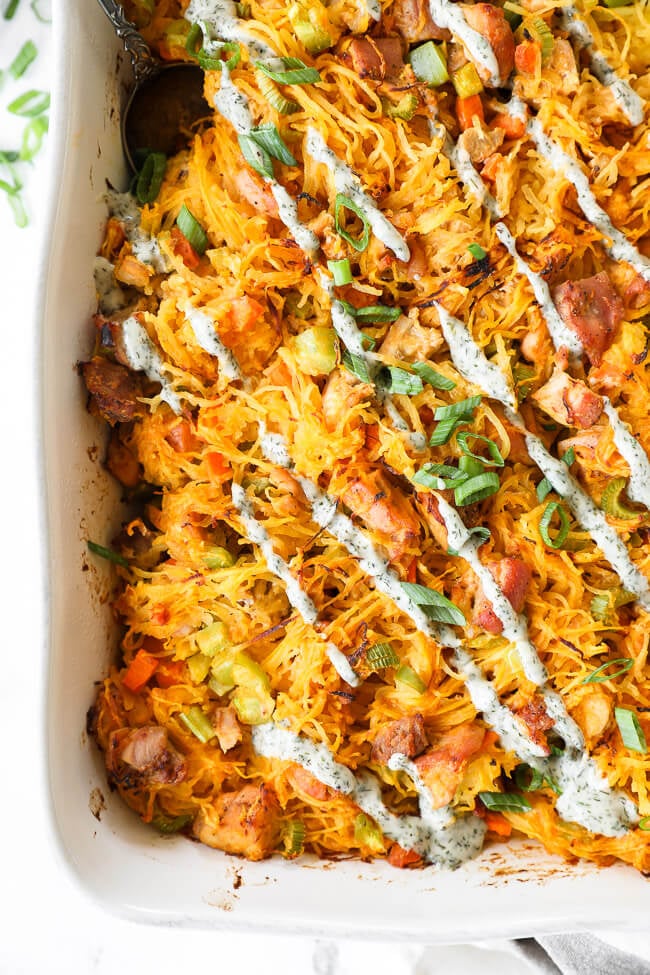 Healthy Baked Buffalo Chicken Casserole
We made this healthy baked chicken casserole Paleo, Whole30 and Low Carb, and with a simple modification it can also be made Keto. It's perfect for a family meal or meal prep!
Get the recipe
9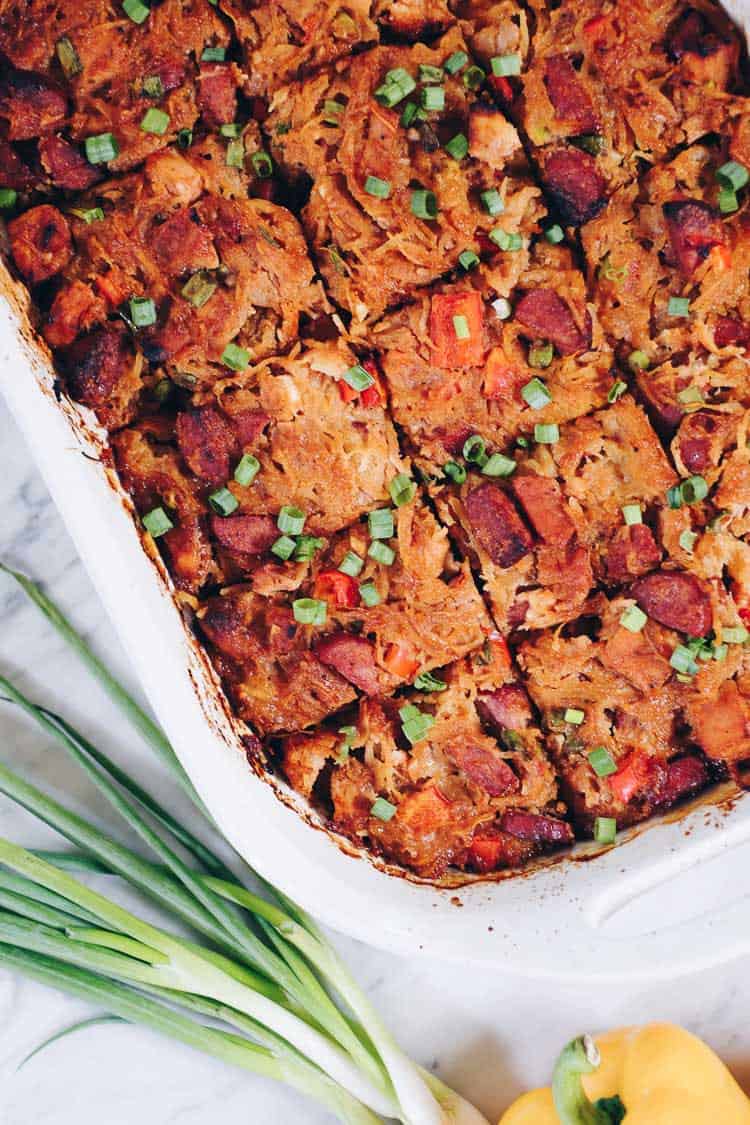 BBQ Chicken Casserole (Paleo, GF, Dairy-Free + Refined Sugar-Free)
We love when spaghetti squash is in season, so we can make this Paleo BBQ Chicken Casserole. It's a cleaner and healthier way to enjoy total comfort food!
Get the recipe
10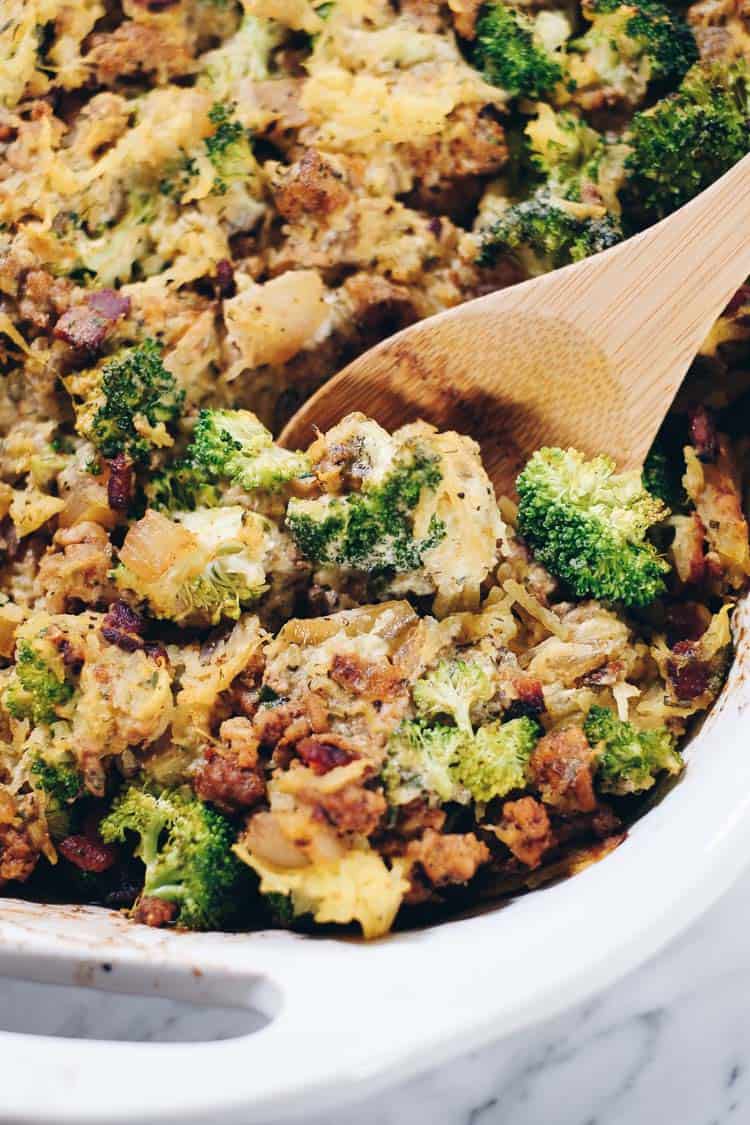 Creamy Bacon Ranch Chicken Casserole (Paleo + Whole30)
This Paleo and Whole30 Creamy Bacon Ranch Chicken Casserole is all you need to know this fall and winter. It's a healthier, creamy and dairy-free casserole!
Get the recipe
---
Like this Post?
SHARE IT NOW OR PIN IT FOR LATER!
---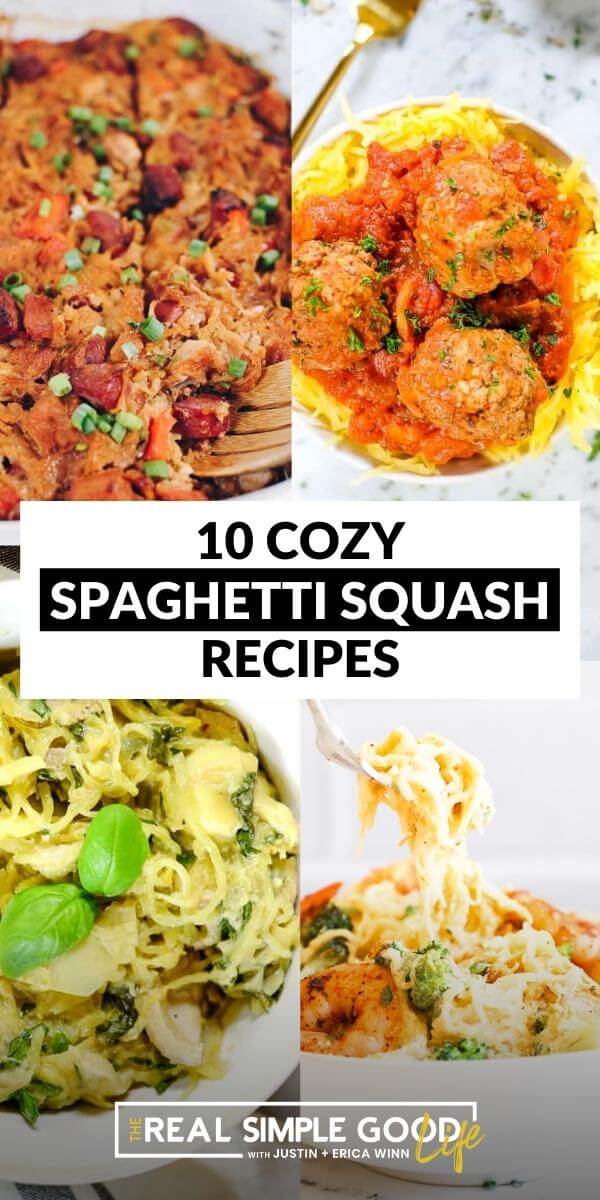 ---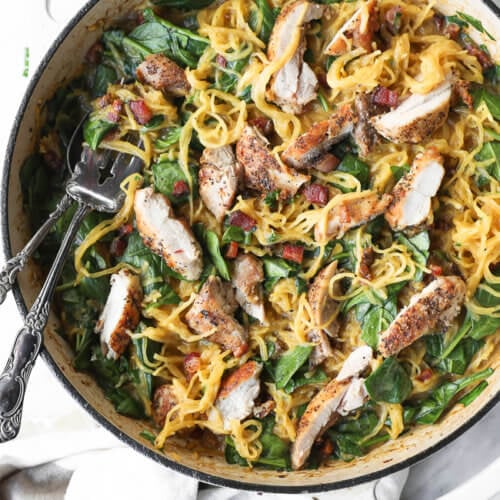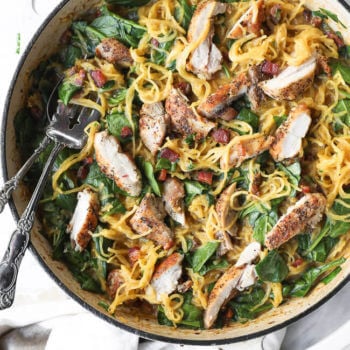 Get the Recipe:
10 Cozy Spaghetti Squash Recipes & Chicken Carbonara
This healthy + low carb spaghetti squash carbonara is dairy-free, creamy and has bacon in it! Plus, we've rounded up some other favorite cozy spaghetti squash recipes for fall and winter.
Ingredients
1 medium spaghetti squash, sliced in half lengthwise and seeds removed
8 pieces bacon, chopped into small pieces
1.5 lbs boneless skinless chicken thighs
1 tbsp Italian seasoning
Sea salt and pepper, (about 1/2 tsp each)
1 cup almond milk, (or full fat coconut milk)
1/2 cup chicken broth
2 tbsp arrowroot starch
1/2 tsp garlic powder, (or sub 1 tbsp garlic oil)
1/2 tsp sea salt
4 cups spinach, chopped
1/2 cup pecorino romano or parmesan cheese, (optional – omit for Whole30 and strict Paleo)
Fresh parsley, chopped
Instructions
Preheat oven to 400° Fahrenheit and line a baking sheet with parchment paper.

Slice spaghetti squash in half lengthwise, scoop out the seeds and place open side down on the lined baking sheet. Place in the oven to bake for about 30 minutes. Once done, remove from the oven and set aside to cool enough to handle.

While the spaghetti squash cooks, chop and place bacon in a large skillet over medium heat. Cook until it just starts to get crispy. Remove and set aside on a paper towel lined plate and reserve bacon grease in the pan.

In the same pan, add chicken thighs to the pan and season with half the Italian seasoning, salt and pepper. Cook for about 6 minutes, until the bottom gets golden brown and then flip. Season with the rest of the Italian seasoning, salt and pepper and cook for another 6 or so minutes, or until chicken is fully cooked. Remove and set on a cutting board. Turn heat off and leave skillet as is. Cut the chicken into thin strips.

Combine almond milk, chicken broth, sea salt garlic powder and arrowroot starch in a bowl and whisk to combine. Set aside.

Once spaghetti squash is done and has cooled just enough to handle, scoop the flesh out with a fork onto the sheet pan you cooked it on. Discard the shells.

Turn the heat on the pan you cooked the chicken in to low. Stir the almond milk mixture again to dissolve the arrowroot starch. Add the sauce mixture to the pan. Increase heat if needed to bring the sauce to a low simmer. Stirring frequently, simmer sauce for 3-4 minutes, or until it thickens.

Add the spaghetti squash noodles to the pan and mix to coat with the sauce. Add spinach to the skillet and mix in. Simmer for 2-3 minutes, until spinach wilts. Add bacon and chicken back to pan. Mix ingredients.

Serve and top with cheese (optional) and chopped parsley. Enjoy!
Notes
Nutrition facts are an estimate provided for those following a Ketogenic or low-carb diet and do not include the topping/serving items for this recipe. See our full nutrition information disclosure here. 
Calories: 330kcal, Carbohydrates: 15g, Protein: 27g, Fat: 18g, Saturated Fat: 5g, Fiber: 3g