Simple and delicious recipes are our jam! We love using real, whole food ingredients to create flavorful dishes your entire family can enjoy! This creamy bacon chicken and brussels sprouts skillet is one that you will add to your regular rotation.
If you like this recipe, you have to try our dairy free chicken recipe with mustard sauce, our dairy free creamy tuscan chicken recipe and this creamy dairy-free chicken thigh recipe. They're all dairy free and full of creamy deliciousness!
Creamy + Dairy-Free
I've always loved creamy dishes. There's just something cozy and comforting about a creamy, soul-satisfying recipe. There seems to be a misconception though that creamy dishes are off the table when eating Paleo. We are fully prepared to debunk this myth. This creamy bacon chicken and brussels sprouts skillet is dairy-free and filled with all the creamy goodness. You won't even miss the dairy.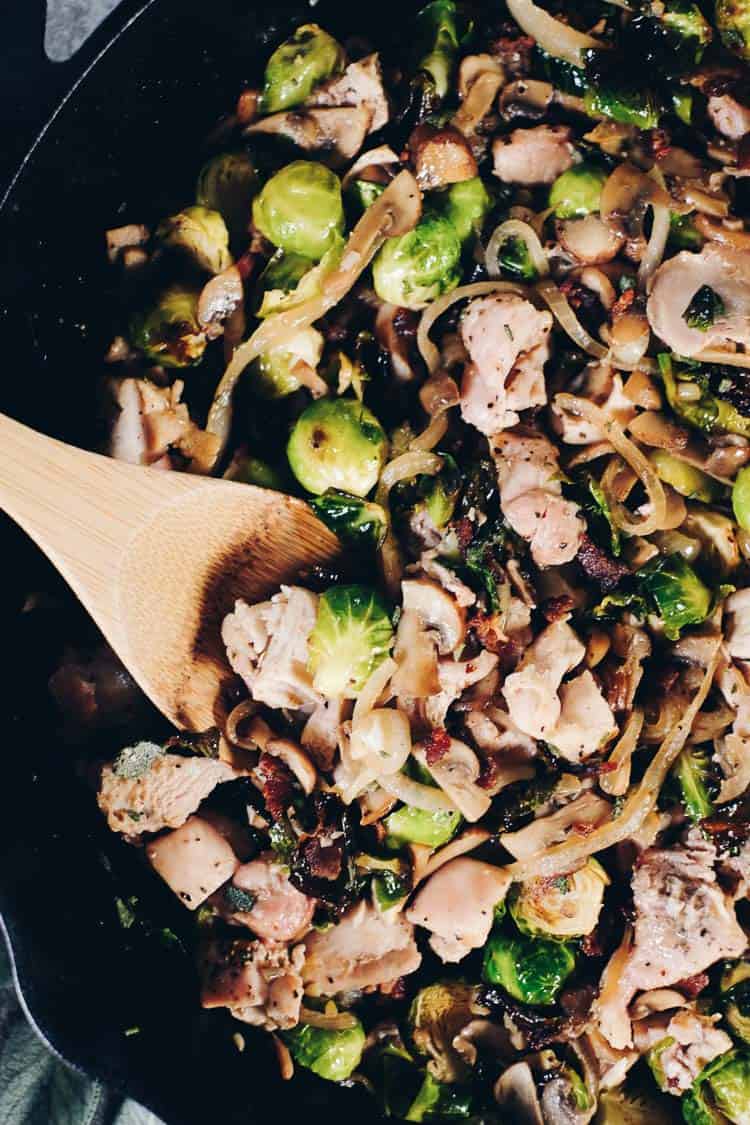 Brussels Sprouts + Bacon
It's just a combo that goes so well together! You may never eat brussels sprouts without bacon ever again! 😉 Just sayin'. Seriously though, the salty bacon and the brussels mixed with the creamy sauce…pretty much heaven. The chicken is really just along for the ride to add some more protein.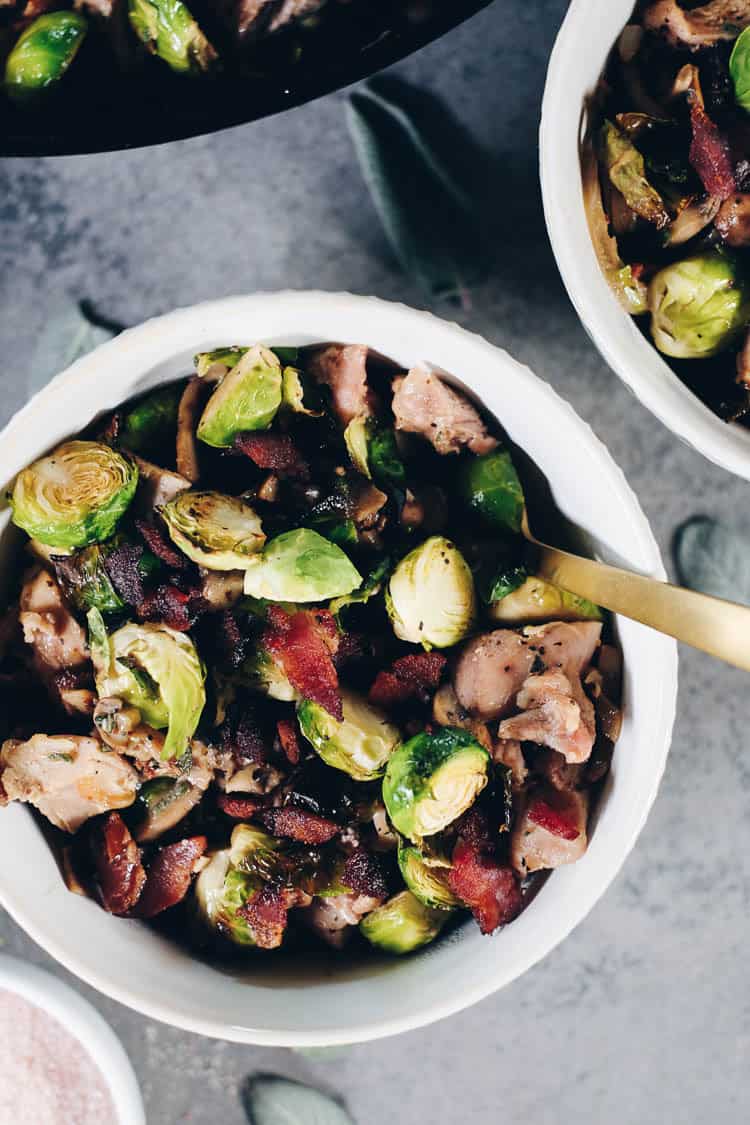 Serve It Up
Once you mix everything together with the creamy sauce in your skillet, you can serve it up as is! You can also serve it over some greens and/or sweet potatoes if you'd like to add a little starch to your meal. Either way you'll enjoy the creamy goodness with the salty bacon! It's a rich and indulgent dish, one that you might not expect to be Paleo and Whole30 friendly!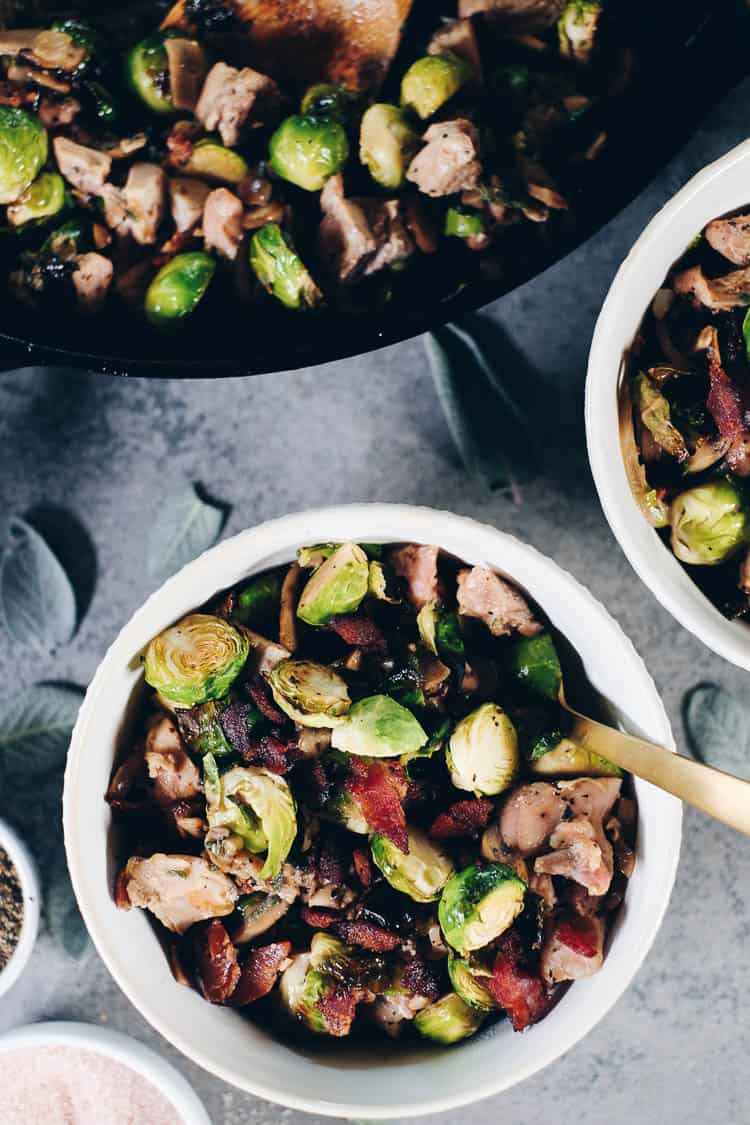 More Creamy + Delicious Recipes To Try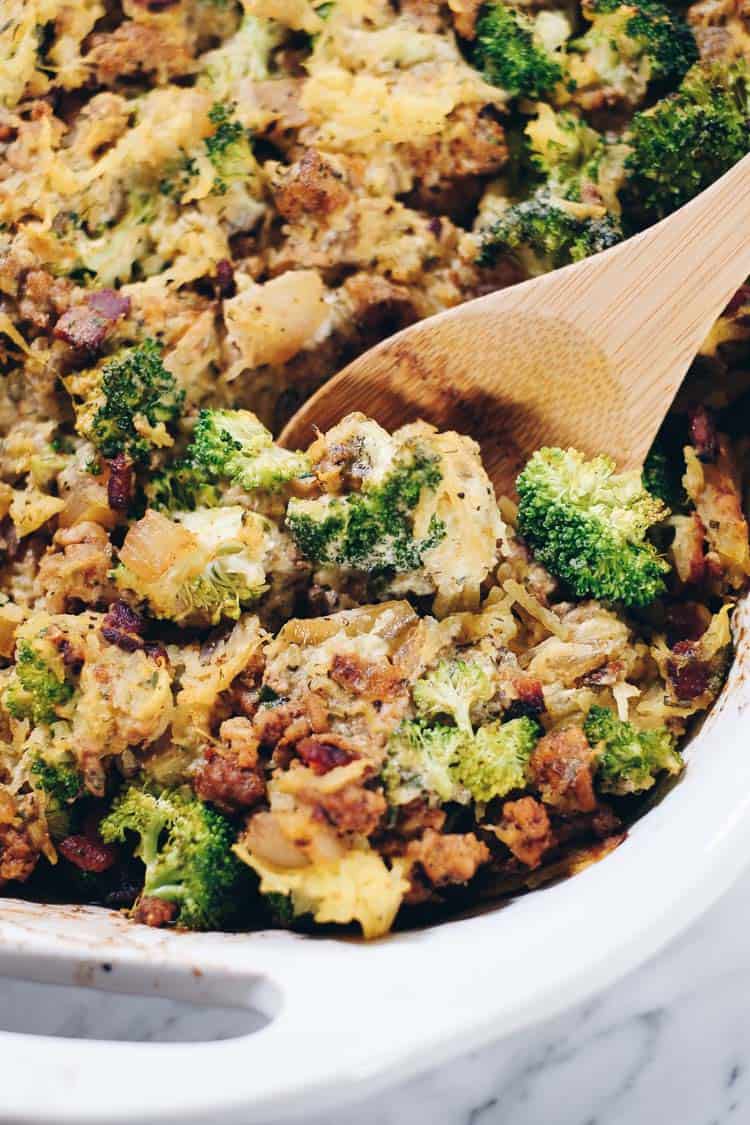 Your Turn To Try Our Creamy Bacon Chicken and Brussels Sprouts Skillet
If you've been aching for a creamy, comfort food recipe give this creamy bacon chicken and brussels sprouts skillet a try! You will love how amazing it is, all without dairy. Let us know how it goes by leaving a comment below. Also, take a photo and tag us on Instagram @realsimplegood, so we can check it out!
---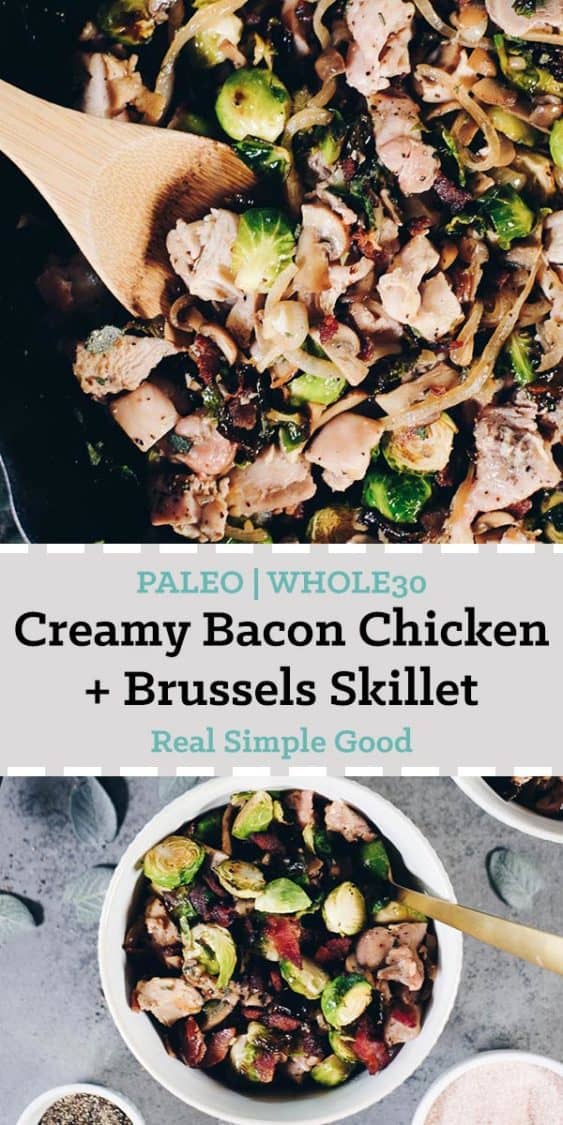 ---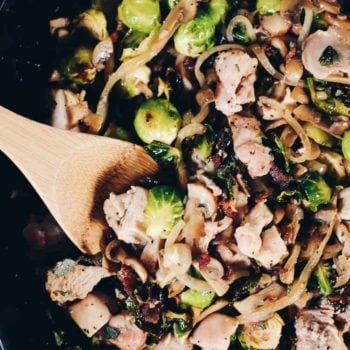 Get the Recipe:
Creamy Bacon Chicken and Brussels Sprouts Skillet (Paleo + Whole30)
This Paleo + Whole30 Creamy Bacon Chicken and Brussels Sprouts Skillet is one that you will add to your regular rotation. It's full of dairy-free, creamy goodness that pairs so well with the salty bacon!
Ingredients
1.5 lbs brussels sprouts, ends removed and halved , (about 5-6 cups)
1 tbsp avocado oil
1/2 tsp salt
1/2 tsp pepper
1.5 lbs chicken thighs
1 tbsp Italian seasoning
6 pieces bacon, diced
For the creamy sauce:
1/2 onion, thinly sliced
8 oz mushrooms, sliced
3 cloves garlic, minced
1 tbsp fresh sage, diced, (can sub dried)
1 cup coconut milk
1/2 tsp sea salt
1/4 tsp ground black pepper
Instructions
Preheat oven to 400° Fahrenheit and line 2 medium sheet pans with parchment paper.

Chop brussels sprouts as noted and place them on one of the sheet pans. Drizzle with avocado oil and season with salt and pepper. Toss to mix and spread out evenly.

Add the chicken to the other sheet pan. Season with Italian seasoning.

Roast chicken and brussels sprouts for 20-25 minutes, or until brussels sprouts are browning and tender and the chicken is cooked through.

Meanwhile, dice bacon. In a large skillet (you'll put the chicken and brussels into this skillet at the end) over medium heat, cook diced bacon until crispy. Once crispy, place on a paper towel lined plate and set aside.

While the bacon is cooking, prep onions, mushrooms, garlic and sage as noted above.

Next, make the creamy sauce. Place onions and mushrooms in the same skillet you cooked the bacon in over medium heat. Cook until both soften, about 4-5 minutes.

Next, add coconut milk, minced garlic, salt, pepper and sage. Stir to combine everything. Turn heat to low and simmer until the chicken and brussels are ready.

Once the chicken and brussels are finished, remove them from the oven. Allow the chicken to cool for a few minutes and then cut it up into small strips/pieces.

Add the bacon, chicken pieces and brussels sprouts to the skillet with the sauce. Mix well to coat with the sauce and then serve.