This creamy low-carb bacon & mushroom chicken thigh skillet is our latest favorite! When I make something and Justin says it is the best one yet, I know we better turn it into a blog post! I always know he likes something when he goes back for seconds, but the first time I made this one, before even going for seconds he said it was my best so far. He not only went for seconds, but then also did some extra picking before loading up the leftovers into the fridge. So basically, this one is a keeper, and you should try it!
Creamy + Dairy-Free
Sometimes it seems challenging to achieve true creaminess without the dairy, but we love using full fat coconut milk and garlic together to make creamy sauces. The garlic masks the coconut taste, and it ends up being super rich and silky. In this recipe we added onion and used Italian seasoning on the chicken with fresh thyme added to the sauce, too. It ended up being a really delicious combination!
If you like this recipe, check out this Keto chicken thighs recipe. It's creamy and delicious, just like this one!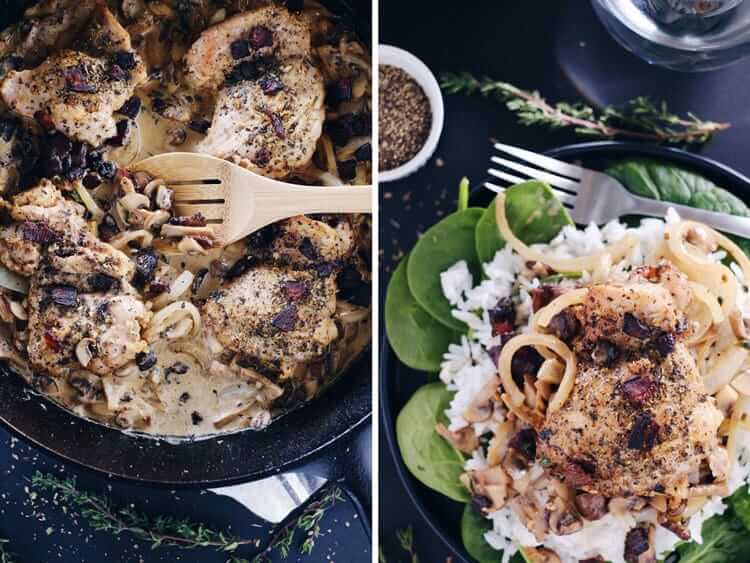 Savory Flavors
We love the savory and smoky flavors in this creamy bacon mushroom chicken skillet. The mix of the garlic, thyme and Italian seasoning with the creaminess of the coconut milk and the smoky bacon really give this dish the deep and satisfying flavor of comfort food.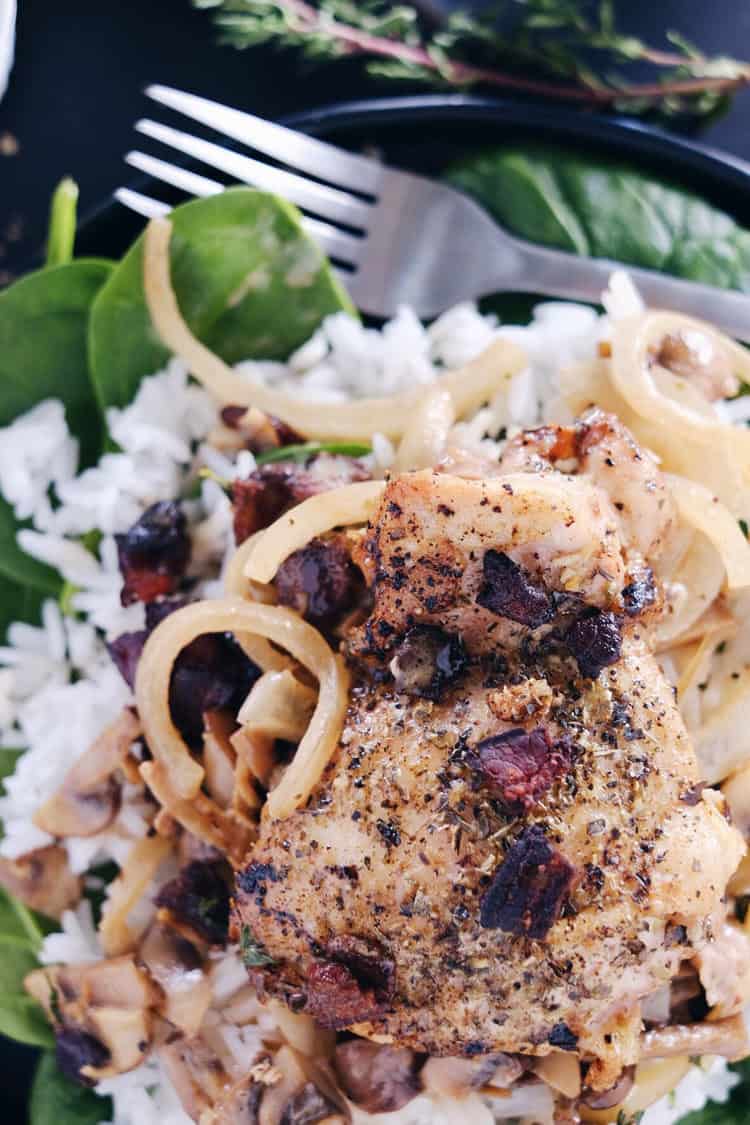 Your Turn To Try Our Creamy Bacon Mushroom Chicken Skillet
Bust out your cast iron skillet and make this one pan creamy bacon mushroom chicken skillet to enjoy the velvety goodness. Let us know how it goes by leaving a comment below. Also, snap a photo and tag us on Instagram @realsimplegood, so we can check it out!

---
Get the Recipe:
Creamy Keto Bacon & Mushroom Thighs
This creamy keto bacon mushroom chicken skillet is rich and velvety with a creamy sauce. Plus, it is a one pan recipe!
Ingredients
5 pieces bacon, diced
1.5 lbs chicken thighs
1 tbsp Italian seasoning
For the creamy sauce:
1/2 onion, thinly sliced
8 oz mushrooms, sliced
3 cloves garlic, minced
1 cup coconut milk
1/2 tsp sea salt
1/4 tsp ground black pepper
1 tbsp fresh thyme, stems removed
6 cups spinach, (or kale)
1 cup cooked rice, (optional – omit for Whole30 or Keto)
Instructions
Preheat oven to 350 degrees Fahrenheit.

In a large cast iron or other oven safe skillet over medium heat, cook diced bacon until crispy. Once crispy, place on a paper towel lined plate and set aside.

Place chicken thighs in hot skillet with bacon grease and season with half of the Italian seasoning. Cook for 2 minutes, flip and season with the rest of the Italian seasoning. Cook for 2 more minutes, and then place in the oven to bake for 20 minutes.

While the chicken is cooking, prep onions, mushrooms and garlic as noted above. Set aside.

When chicken is done, carefully remove from oven. Place chicken on plate with bacon, and set aside for a moment. Make creamy sauce by placing onions and mushrooms in pan. Cook until both soften.

Add coconut milk, minced garlic, salt, pepper and fresh thyme. Stir to combine everything. Then turn to low and add chicken and bacon back to the pan. Simmer for 3-5 minutes to marry all the flavors.

Plate with a bed of spinach, optional rice and creamy chicken mixture. Enjoy!
Notes
Nutrition facts are an estimate provided for those following a Ketogenic or low-carb diet and do not include rice for this recipe. See our full nutrition information disclosure here. 
Calories: 635kcal, Carbohydrates: 9g, Protein: 35g, Fat: 51g, Saturated Fat: 22g, Fiber: 2g