Creamy bacon ranch chicken casserole. That is all you need to know this fall and winter. I promise this will get you through the cold months and help you get over any hesitation you have about cooking with spaghetti squash! 
If you like this recipe, you have to try our creamy dairy-free chicken thigh casserole and also check out this roundup of healthy chicken casserole recipes. We know you'll find a new favorite!
Best Tip For Prepping Spaghetti Squash
Ok, who is intimidated by the thought of having to cut the spaghetti squash in half?!?! Me, me, me! The first time I bought a spaghetti squash I lived by myself and was so excited to cook with it, but then got home and realized I had to do the cutting. Ugh…after almost slicing a finger off, I got it cut but basically vowed to never do that again. I thought that was the first and last time I'd cook with spaghetti squash, but then I ate the meal I prepared and loved it and wanted to eat it all the time. Total dilemma.
So, the next time I went to the grocery store I politely asked a guy working in the produce section if he would kindly do the cutting for me and he was like yeah, no problem. So….until I started dating Justin, that was my go-to for spaghetti squash and is still my best tip for getting it cut in half. Luckily now, Justin takes responsibility for safely cutting our spaghetti squash in half. Phew! But if you're like me and totally intimidated, just ask someone working in the produce section to cut it for you! Problem solved and now you can enjoy all the spaghetti squash you want! You're welcome!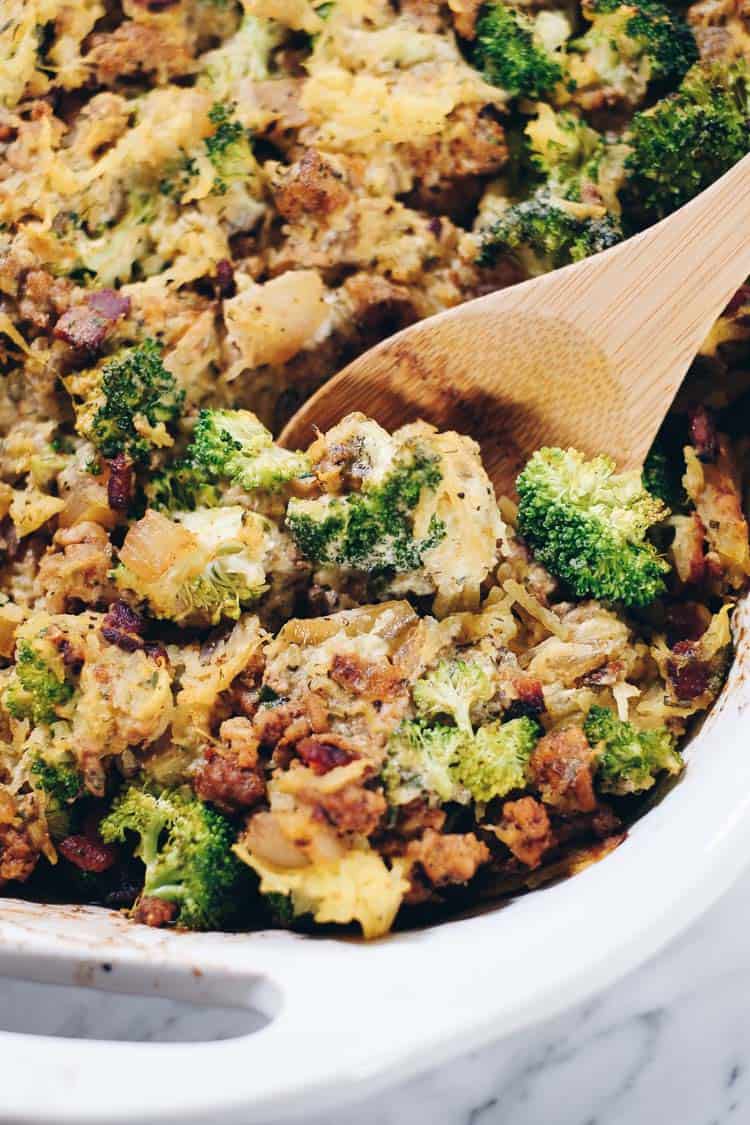 Creamy And Dairy-Free
This bacon ranch chicken casserole is dairy-free and creamy from the homemade ranch used in it. Do you make your own ranch dip or dressing? We love making our own because it's super easy and also because it's WAY more creamy and delicious than the store-bought kind. And..there are no crap ingredients, just quality Paleo-friendly mayo and some dried seasonings. Then you mix it up with the rest of the ingredients in this casserole, and the result is a lot of ranchy, creamy goodness! You won't even miss the dairy, we promise!
Don't Forget To Add Some Greens
We chose to add some broccoli into this dish to sneak some extra greenery in. Gotta get those servings in! You could even add some kale or other greens. You could also sub another veggie in place of the broccoli. Some options would be asparagus, canned artichokes (note to self to try that next time we make this), green beans, baby bok choy, etc. You can definitely get creative and adjust to your preferences. Let us know how it goes if you do!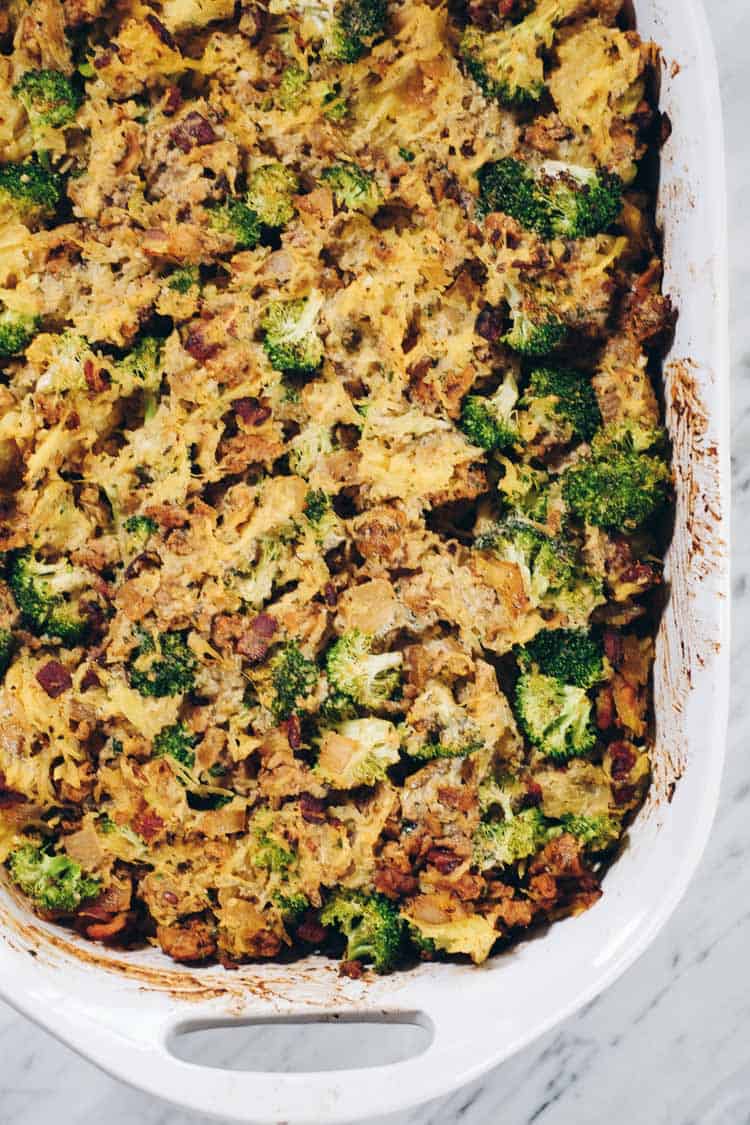 Other Healthier Comfort Food Recipes To Try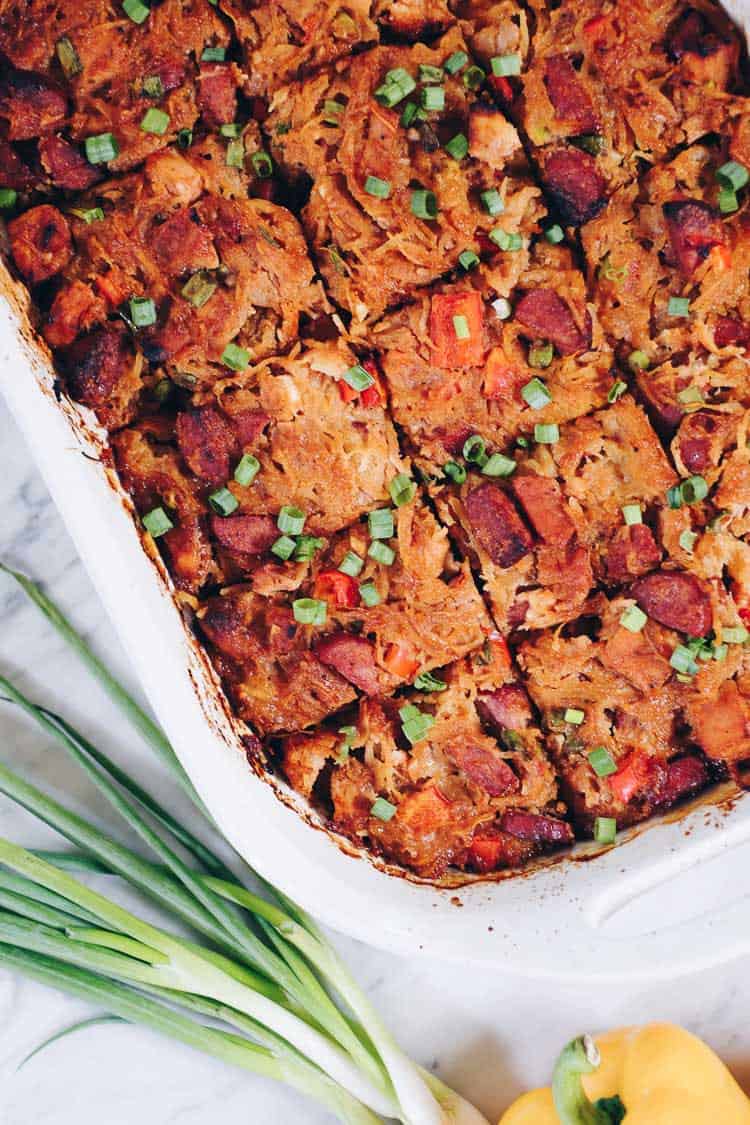 Your Turn To Try Our Creamy Bacon Ranch Chicken Casserole
Add this creamy bacon ranch chicken casserole to your fall/winter game plan! It's a great way to use seasonal ingredients and enjoy all the coziness this season has to offer! Let us know how it goes by leaving a comment below. Also, take a photo and tag us on Instagram @realsimplegood, so we can check it out!
---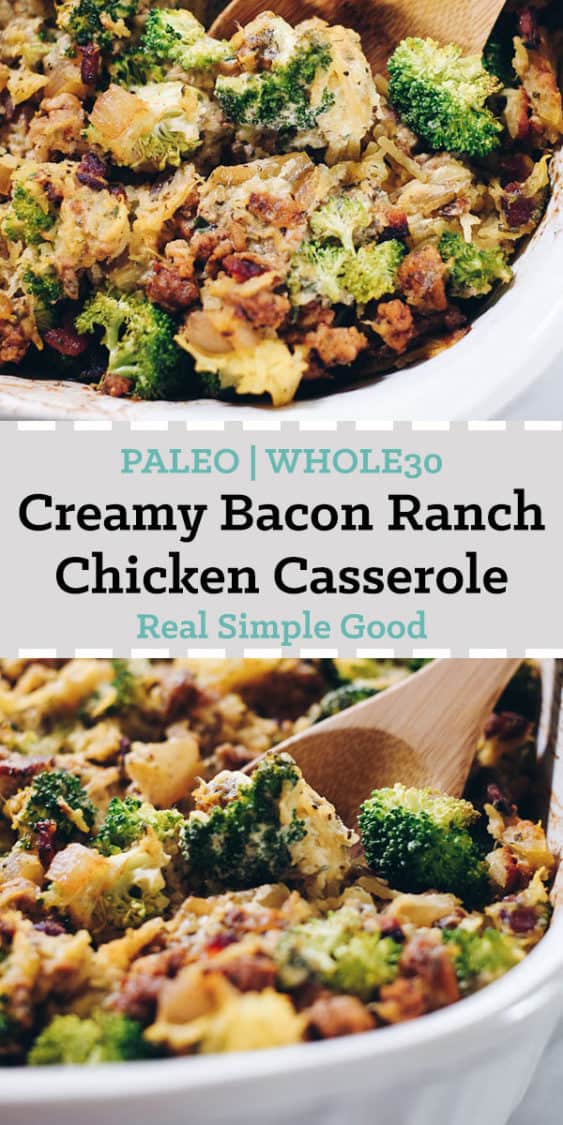 ---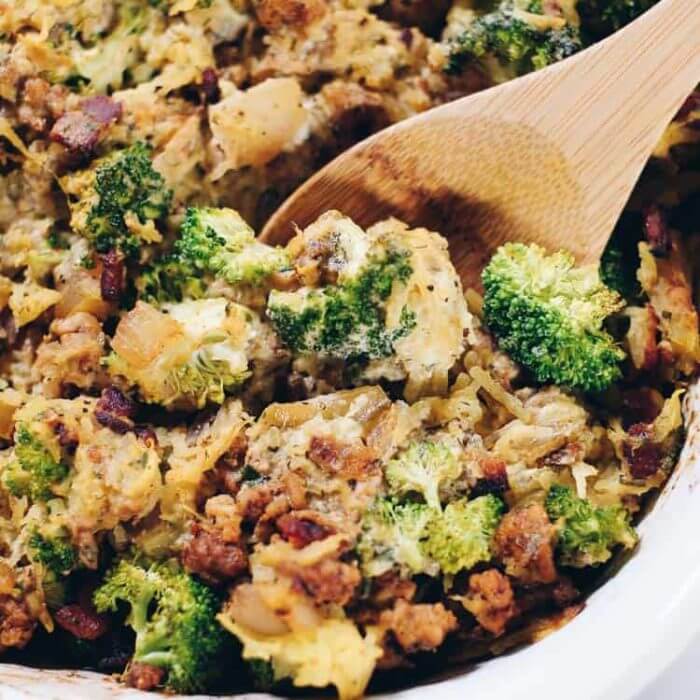 Get the Recipe:
Creamy Bacon Ranch Chicken Casserole (Paleo + Whole30)
This Paleo and Whole30 Creamy Bacon Ranch Chicken Casserole is all you need to know this fall and winter. It's a healthier, creamy and dairy-free casserole!
Ingredients
For the ranch dressing:
1 tbsp dried parsley
1 tbsp dried chives
1.5 tsp dill weed
1.5 tsp garlic powder
1.5 tsp onion powder
1.5 tsp onion flakes
1/2 tsp pepper
1/2 cup mayo
1/4 cup water
For the casserole:
1 spaghetti squash, (medium sized)
8 pieces bacon, diced
1 lb ground chicken
1 tsp garlic powder
1 tsp chili powder
1 onion, diced
4 cups broccoli florets
1/2 tsp sea salt
1/2 tsp ground pepper
1 tbsp grass-fed butter or ghee, (or coconut oil for dairy free)
Instructions
Preheat oven to 425° Fahrenheit. Slice the spaghetti squash lengthwise and scoop out the seeds. Place the two halves face-down on a baking sheet and place in the oven to bake for 30 minutes.

While the squash is cooking, make the ranch dressing by combining all dressing ingredients in a small bowl or container and whisking well. Add more water if needed if the dressing is too thick. Place in refrigerator while you prep the other ingredients.

Dice bacon and heat a large skillet over medium heat. Once hot add in bacon to cook, stirring occasionally, until it is just getting crispy, about 7-8 minutes. Remove and place on a paper towel lined plate.

While bacon is cooking, chop onion and broccoli. When the bacon is finished, retain bacon fat in the pan and leave it on medium heat. Add in chicken and onion to cook.

Break the chicken meat into small bits and cook, stirring occasionally, until the chicken is cooked through, about 7-8 minutes. When the chicken is almost cooked through, add in garlic powder, chili powder, salt and pepper. Stir to mix and remove from heat once cooked.

Remove squash from oven after 30 minutes and set aside to cool. Keep the oven on at 425 degrees and grease a 9×13 casserole dish with butter or ghee.

Once the squash has cooled enough to handle, you are ready to put it all together. With a fork, scrape out the spaghetti squash "noodles" into the casserole dish. Add in the cooked chicken, bacon, broccoli, and ranch dressing. Mix everything together well.

Place the casserole in the oven to bake for 15 more minutes. Remove and serve.
Notes
If desired, you can sub 1 cup of Primal Kitchen Ranch Dressing for the homemade ranch dressing. 
Calories: 353kcal, Carbohydrates: 14g, Protein: 15g, Fat: 27g, Fiber: 5g