Looking for a tasty, egg-free and not too sweet way to start your day? This creamy breakfast parfait fits the bill. It is filled with healthy fats from the full fat coconut milk, antioxidant rich berries and grain free granola to add a little protein, texture and crunch.
Paleonola
Eating Paleo is great and affords so many health benefits, but at times there are just some things you miss, like granola. Have you tried Paleonola yet? We are so excited to partner with them to bring this recipe to you!
**Disclosure: We were paid by Paleonola to write this post and receive an affiliate commission for any purchases you make using the links in this post. Rest assured, there is no cost to you and all thoughts and ideas are our own. We only recommend products we believe in and use ourselves.**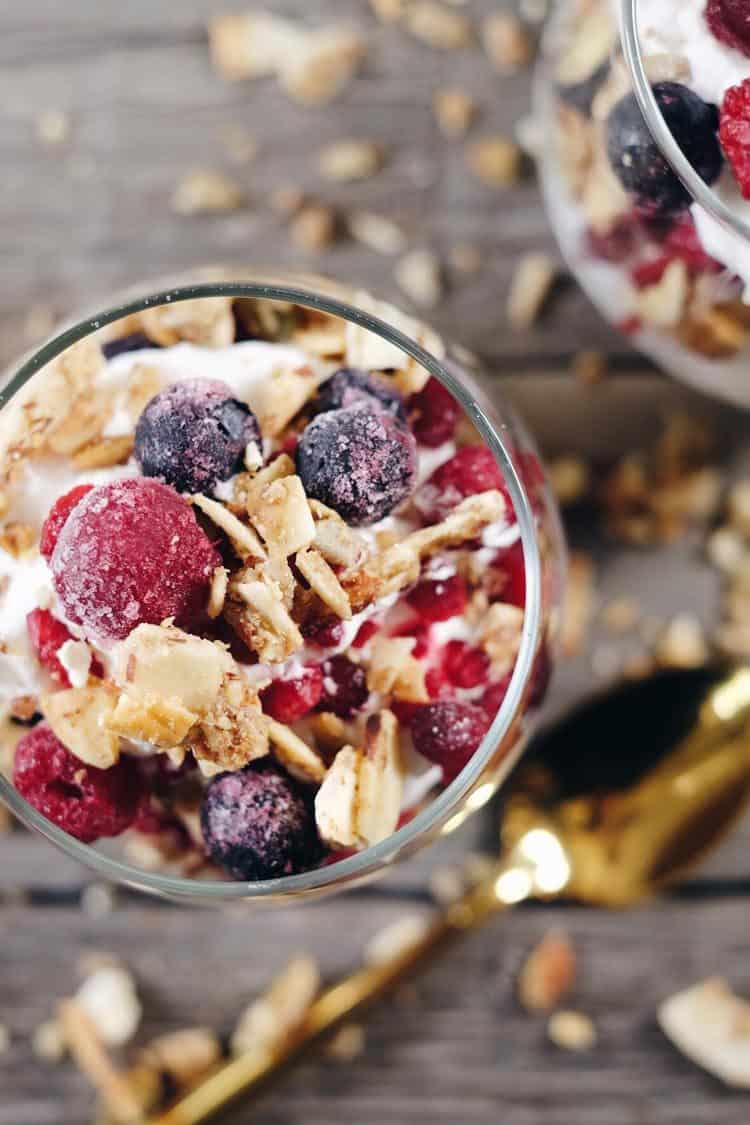 We love adding a bit of granola to fresh fruit, to coconut milk, or just enjoying it by the handful for a snack! We also love the convenience of this ready made, Paleo friendly granola. Paleonola has several flavors, and honestly we can't decide which is our favorite. For this recipe, we used the Pina Colada flavor because the toasted coconut and clustery goodness went perfectly with the berries and whipped coconut cream.
Check out the many flavors, and let us know which is your favorite! It's seriously a toss up for us – sometimes the pumpkin pie is my jam, but then apple pie has a hint of cinnamon, which I love. And original is always a solid go-to.
Whipped Coconut Cream – Tips For Making It Come Together
This is probably the hardest part of making this creamy breakfast parfait. The key is to use full fat coconut milk, and refrigerate it for a good 24 hours before you make this recipe. Then, there's only about 10 minutes of active prep time. When you refrigerate the coconut milk, the cream will separate from the water. Then, you want to use the creamy part to make whipped coconut cream.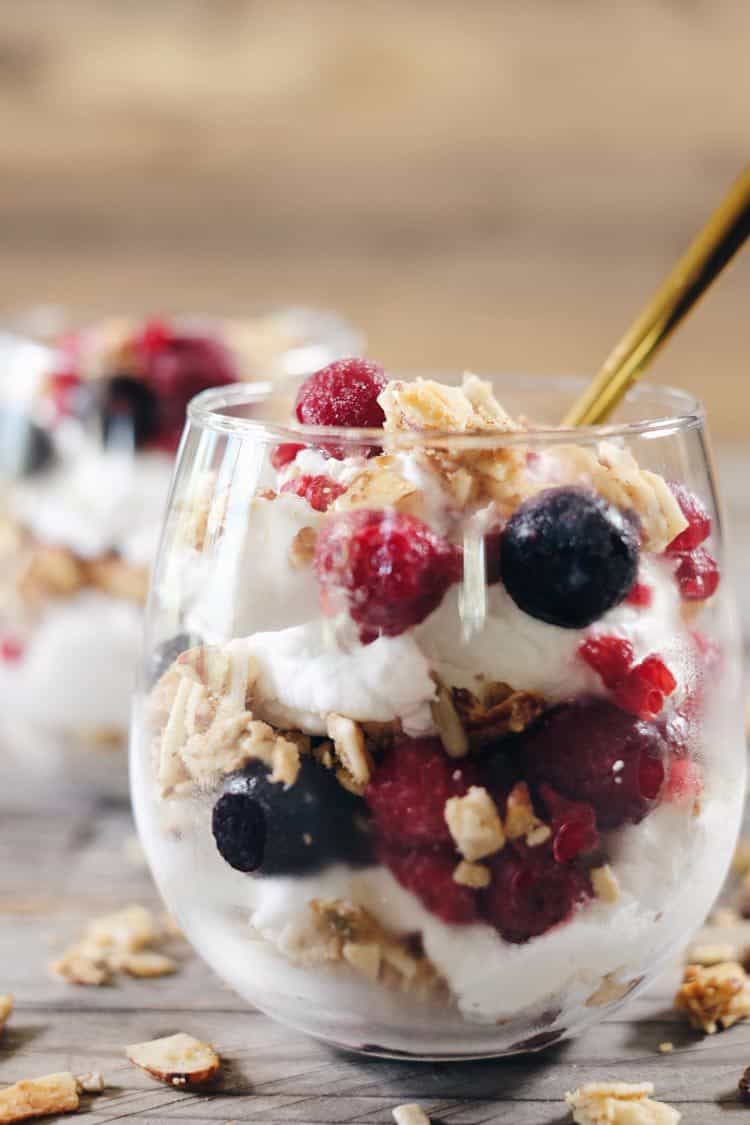 The next tip is to use either a high powered blender, like a Vitamix, or an electric mixer with a whisk attachment. You can do it by hand, but it sucks. Just being honest. It doesn't get nearly as fluffy and light when you do it by hand. Plus, it is WAY more work. I'm all about the path of least resistance in the kitchen.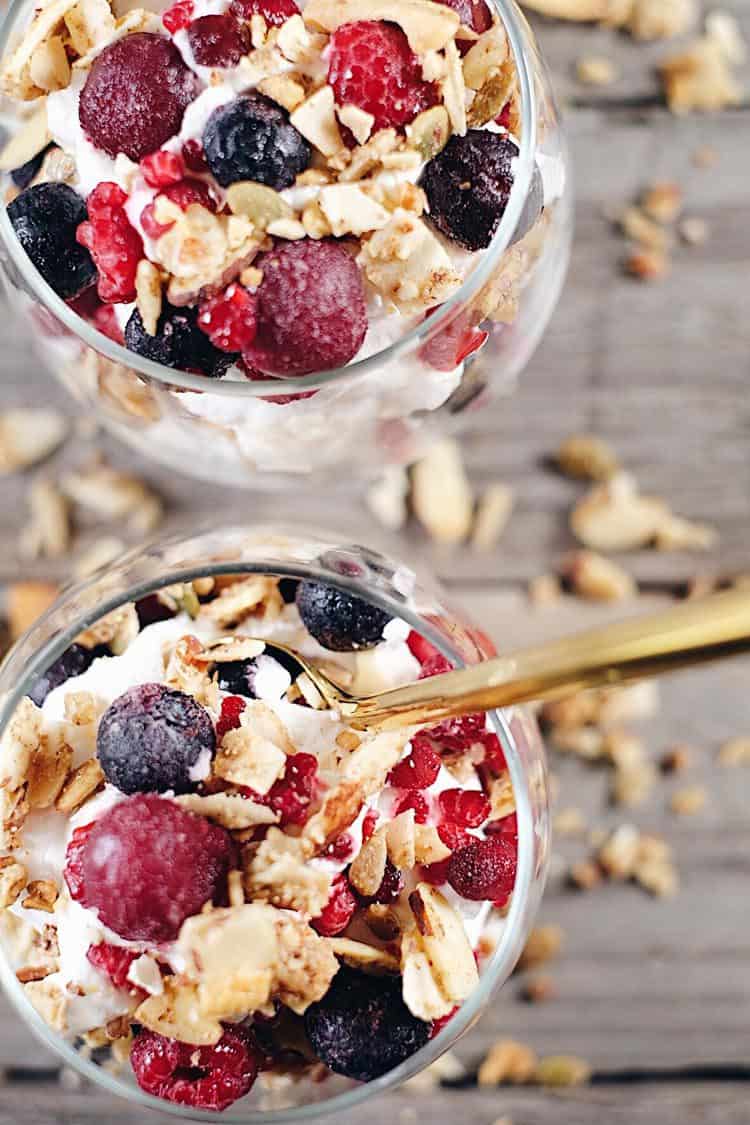 Layer It Up
You have full creative license on how you put this creamy breakfast parfait together. I like lots of layers with berries and Palenola granola, and then I always finish with a layer of the goodies on top! I just love how the sweet berries and crunchy-sweet granola are enveloped in creamy goodness with every bite.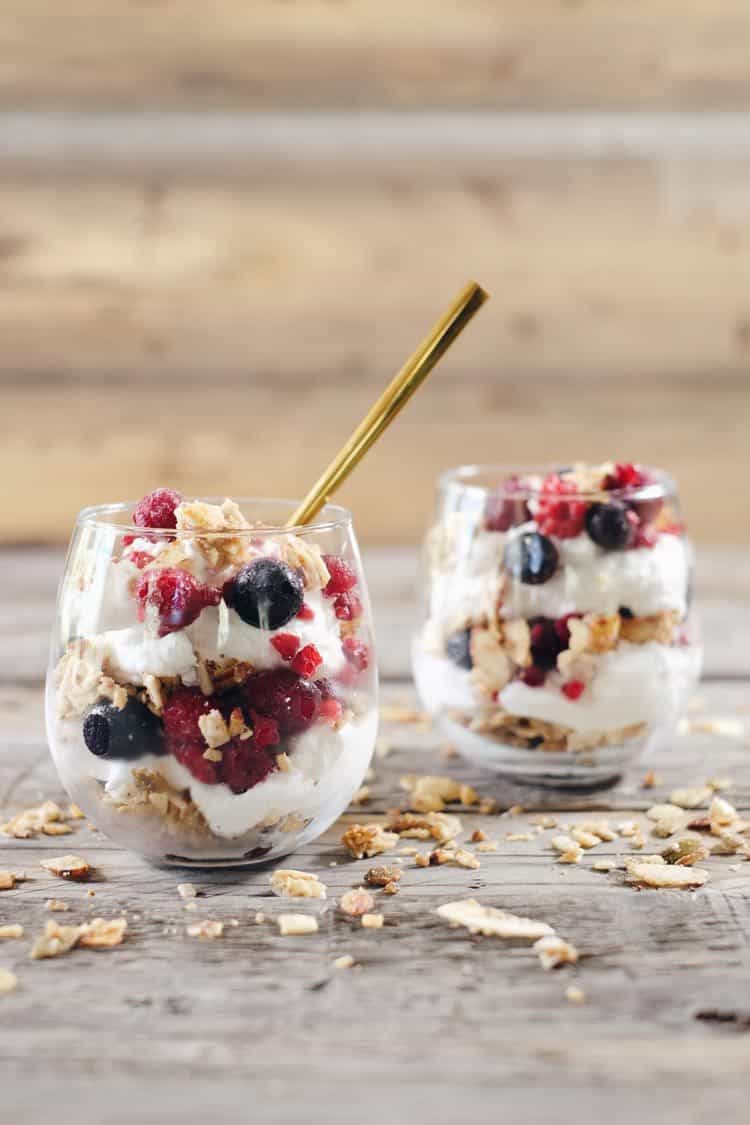 Your Turn To Make Our Creamy Breakfast Parfait
Get your full fat coconut milk in the fridge, so you can make this creamy breakfast parfait! Layer it up with all the goodies and pick up a bag or two of Paleonola grain free granola. Let us know how it goes by leaving a comment below. Also, take a photo and tag us on Instagram @realsimplegood, so we can see!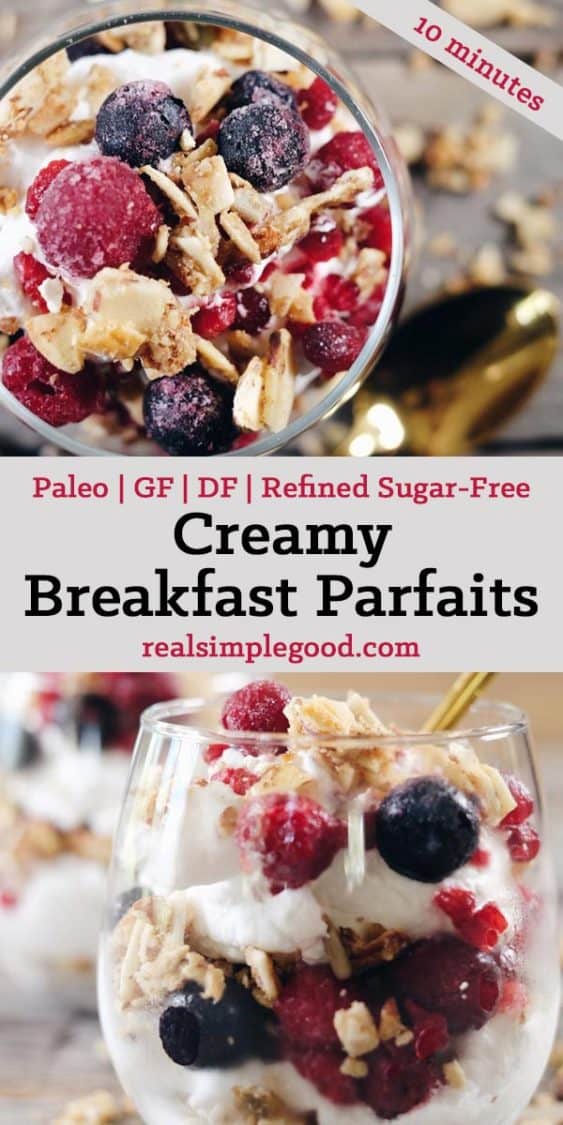 ---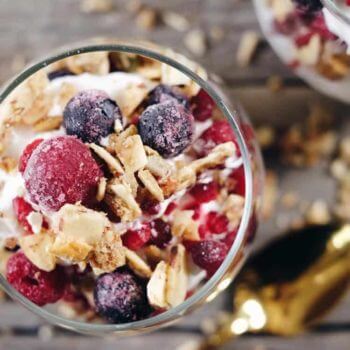 Get the Recipe:
Creamy Breakfast Parfait (Paleo, GF, Dairy-Free + Refined Sugar-Free)
This creamy breakfast parfait is easy to make and the perfect combo of creamy and sweet. 
Ingredients
16 oz coconut milk
1 tsp vanilla
Pinch of sea salt
1.5 cups fresh or frozen berries
Instructions
Make sure to use full fat coconut milk and also refrigerate it for 24+ hours before making this recipe.

Once the coconut milk has been chilled for 24+ hours, remove the cream from the watery part. Place the creamy part in a high powered blender or bowl with an electric mixer. Add vanilla and a pinch of sea salt.

Blend or mix on high until peaks form. In the blender it will get thick and airy. You may have to stop and re-start a couple times, pushing the sides down until it turns into a whipped cream.

Once the whipped coconut cream has been made, layer berries and granola in the bottom of two small jars or glasses (we used stemless wine glasses). Add whipped coconut cream and repeat until you've used all of the whipped cream up. Enjoy right away or cover and store in the fridge for up to a few days.