Creamy, dairy-free and full of flavor, this Paleo + Whole30 creamy chicken alfredo is an easy, weeknight dinner. The whole family will love this healthy comfort food recipe.
If you like this recipe, you have to try our dairy free chicken recipe with mustard sauce, our dairy free creamy tuscan chicken recipe and this creamy dairy-free chicken thigh recipe. They're all dairy free and full of creamy deliciousness!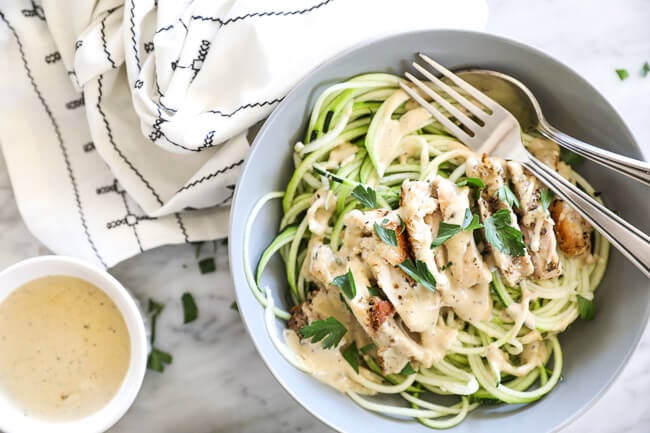 How do you make dairy-free alfredo sauce?
We used cashews as the base for the sauce in the creamy chicken alfredo. Originally, we planned to make this one of those recipes where you have to soak the cashews for several hours to overnight to soften them up.
However, me being a bit of a lazy cook, I forgot to soak the cashews (multiple times of working on this recipe) in advance, so I played with the recipe to make it so you don't have to worry about pre-soaking. You can just use raw cashews and call it good. The rest of the sauce ingredients add depth and the nutritional yeast gives it a cheesy, umami flavor.
What is nutritional yeast and why do you use it?
Nutritional yeast is an inactive yeast, meaning that it doesn't cause an issue for people with yeast overgrowth or candida issues. We love it because it adds a cheesy, umami flavor to whatever you're making, which is great for dairy-free recipes like this creamy chicken alfredo!
We used Bob's Red Mill nutritional yeast and love their products. Be sure to use their nutritional yeast when you make this creamy chicken alfredo or anything else you want to add a little extra cheesy flavor to!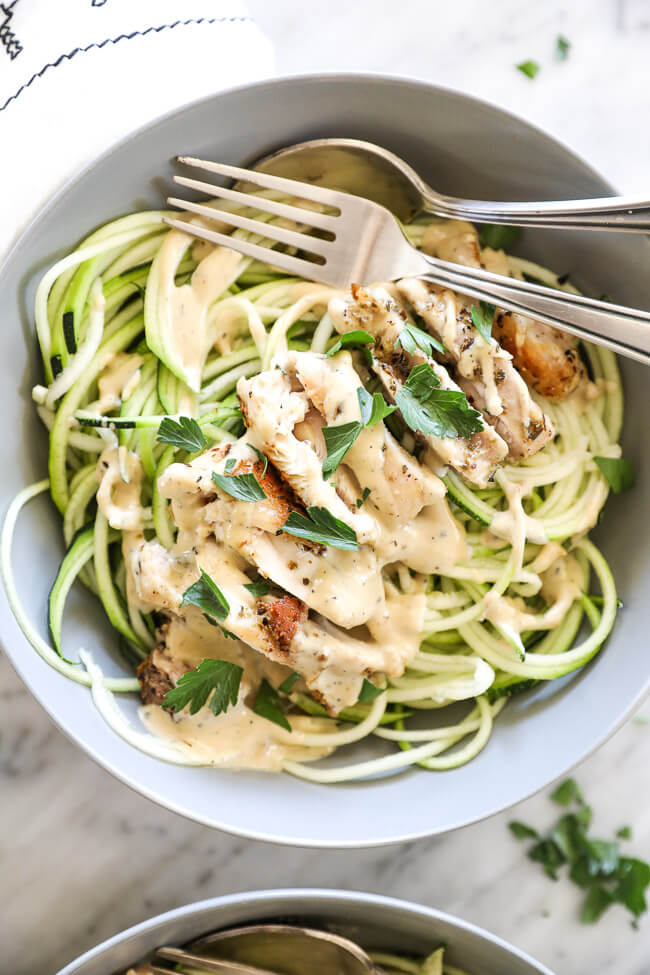 Can I use anything else for the noodles besides zoodles for this creamy chicken alfredo?
We love using zucchini for the noodles since it adds some extra greenery to our plates and it is a lower carb option, but you can definitely use any veggie noodles you and your family enjoy. Some other ideas are sweet potato or butternut squash noodles. You could also use a gluten-free pasta as well, like Cappellos fettuccine or spaghetti noodles.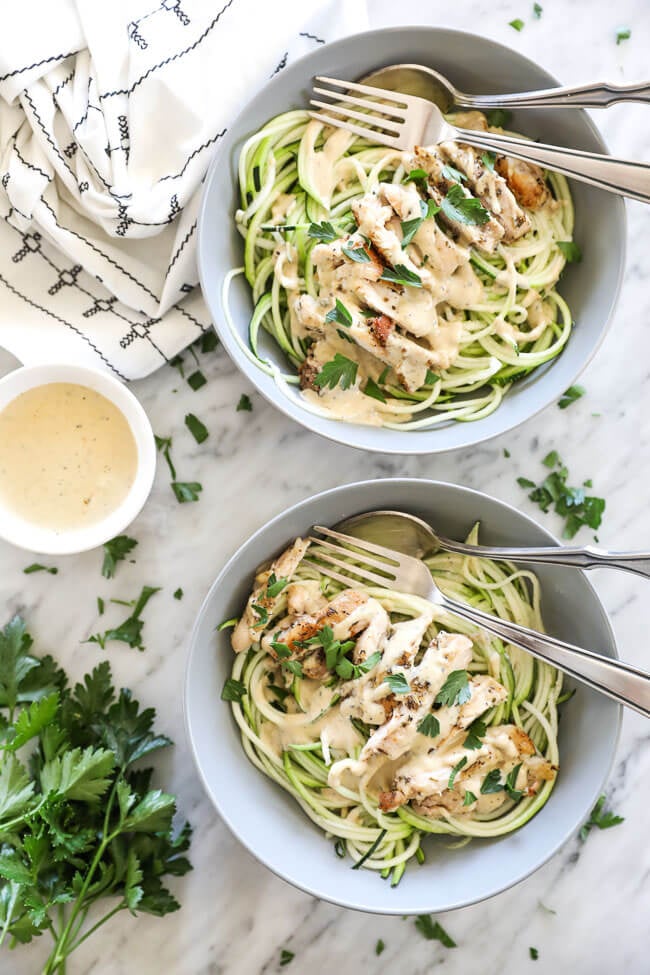 What if my family doesn't like chicken thighs?
We used chicken thighs for two reasons. First, they cook quicker, and we are always looking for a speedy weeknight meal. Second, chicken thighs have a little more fat and flavor, which we like. That said, you can definitely make this recipe with chicken breasts instead. Just know the cooking time will be longer. You could cut your chicken breasts (or even thighs) into small bite sized pieces and cook that way to speed up cooking time. Just make sure to cook until your chicken is fully done.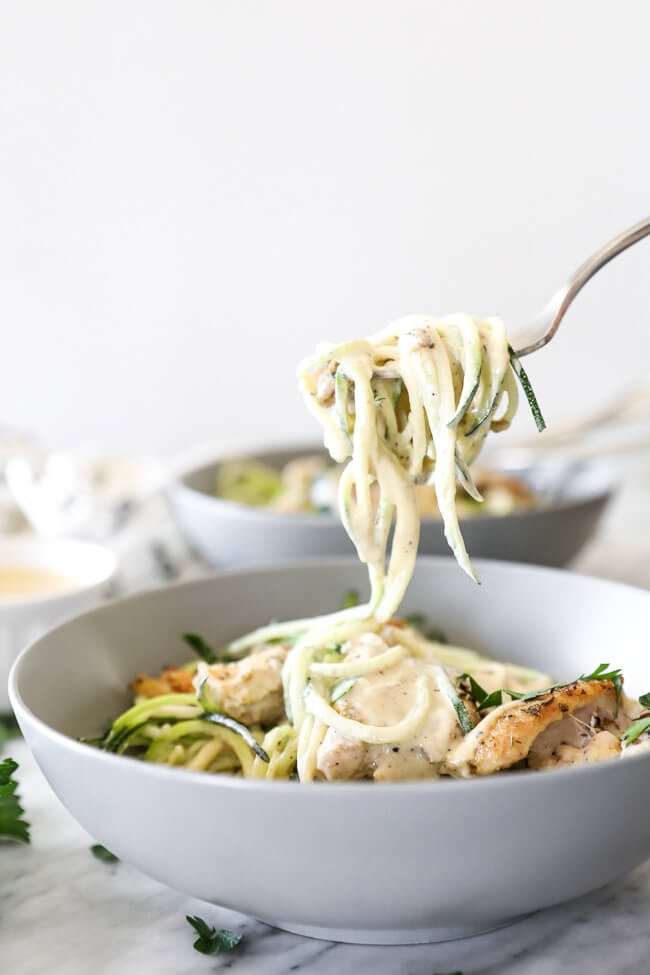 Some other healthy comfort food recipes
Your turn to try our creamy chicken alfredo
Whether you're craving comfort food or just need a quick and easy weeknight dinner, make this creamy chicken alfredo. It's healthy comfort food your whole family will love. Leave a comment below and let us know how it goes. Also, take a pic to share on Instagram, and tag us @realsimplegood. Make sure to give us a follow if you don't already. We'd love to stay connected!
---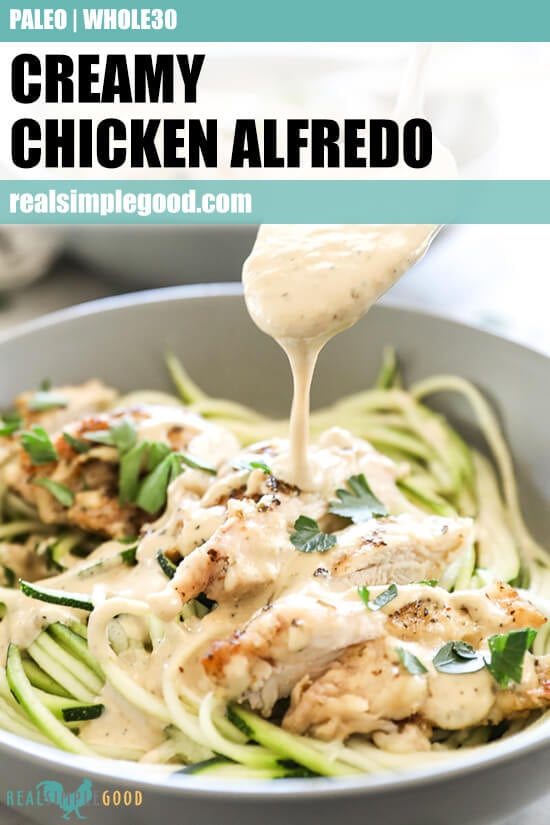 ---
Like this Recipe?
SHARE IT NOW OR PIN IT FOR LATER!
---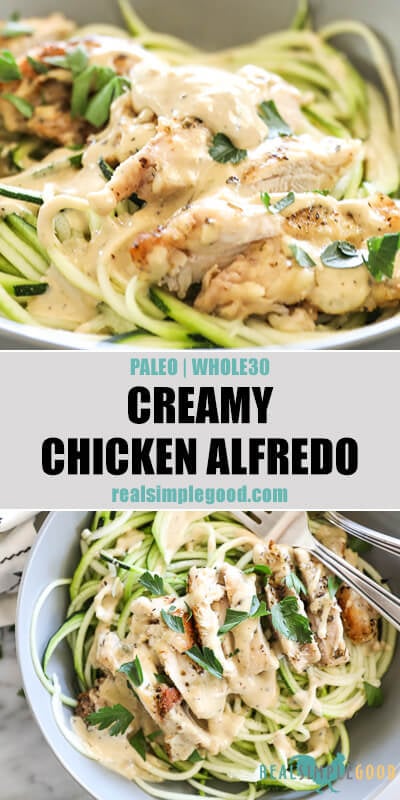 ---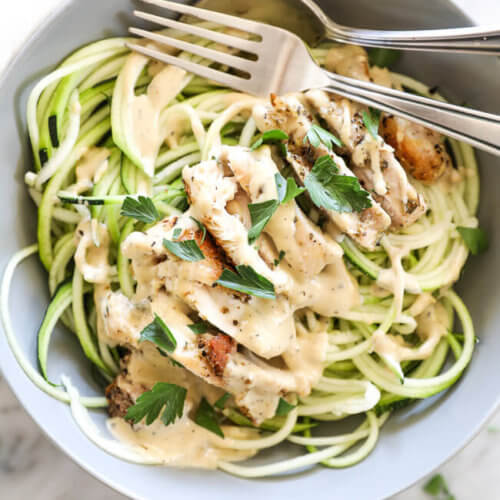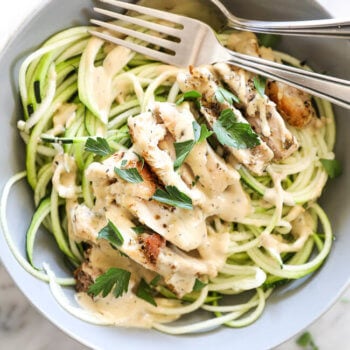 Get the Recipe:
Creamy Chicken Alfredo (Paleo, Whole30 + Dairy-free)
Creamy, dairy-free and healthy comfort food, this Paleo + Whole30 creamy chicken alfredo is an easy, weeknight dinner the whole family will love!
Ingredients
For the chicken:
1.5 lbs chicken thighs, (can sub chicken breast, but need to cook longer)
2 tbsp Italian seasoning, divided
1/2 tsp sea salt, divided
1/2 tsp ground pepper, divided
1 tbsp avocado oil
For the alfredo sauce:
1 cup water
1 lemon, juice of
2 cups raw whole cashews
2 tbsp nutritional yeast
1 tsp garlic powder
1 tsp ground black pepper
1/2 tsp sea salt
For the rest:
1 cup bone broth or chicken stock
2 zucchini, spiralized into noodles
Parsley, chopped , (optional garnish)
Instructions
Make alfredo sauce by placing all of the sauce ingredients in a high powered blender. Blend until smooth and creamy and set aside.

Heat a large skillet over medium heat and add avocado oil and chicken to pan. Season with half the Italian seasoning, salt and pepper. Sear for 5-6 minutes undisturbed so a brown crust starts to form. Flip and season with the rest of the Italian seasoning, salt and pepper and cook for another 5-6 minutes, or until the chicken is fully cooked. Remove and set on a cutting board.

While the chicken is cooking, spiralize zucchini and set aside.

In the same pan, turn heat to low, add bone broth and deglaze the pan. Then, add in the alfredo sauce. Stir continuously to heat up. Prep everything to put it all together.

Cut chicken into strips or cubes. Serve with a bed of zucchini noodles (you can heat them up for 3-5 minutes over the stove first or serve as is), sliced chicken and drizzle sauce all over. Top with optional parsley for garnish. Enjoy!