This creamy chicken casserole is made with spaghetti squash so it's grain-free and also happens to be dairy-free! It's one of the most flavorful Whole30 recipes we've ever made and the perfect casserole for meal prep. You'll love the creamy, cheese-like sauce filled with artichoke hearts and some basil for an extra flavor punch!
If you like this recipe, you have to try our dairy-free cubed chicken breast casserole and our dairy-free chicken thigh and broccoli casserole. They're both dairy free and full of creamy deliciousness!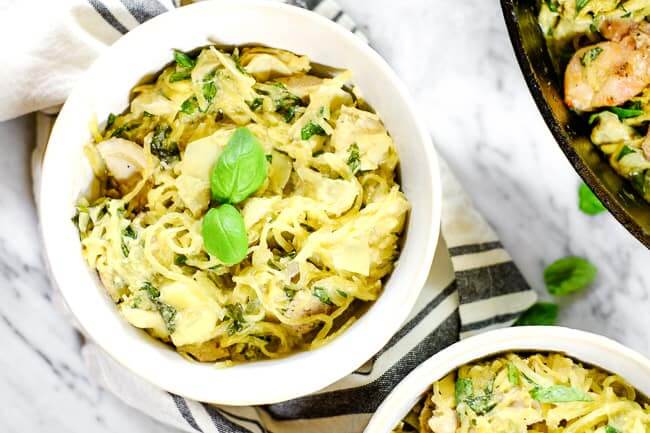 Creamy + Dairy-Free
Don't you worry, this creamy chicken casserole lacks nothing in the creamy department! We keep it dairy-free by using mayo, and you can even get an egg-free mayo if you are avoiding eggs. We love Primal Kitchen Egg-Free Mayo. Either way, you're going to love the creamy, velvety sauce and you won't even miss the dairy. Promise.
Looking for more? Check out this roundup of healthy chicken casserole recipes!
Nutritional Yeast For That Cheesy Flavor
The cheesy flavor of the creamy sauce comes from nutritional yeast, and if you haven't played much with it yet you're going to really enjoy doing so. And just in case you read the word yeast and got scared…it is an inactive yeast, which means there is no live yeast that might cause issues with yeast or bacteria growth if you are working to correct that. In addition, nutritional yeast is also a good food source of Vitamin B and folate, so beyond the cheesy taste it is has some great health benefits!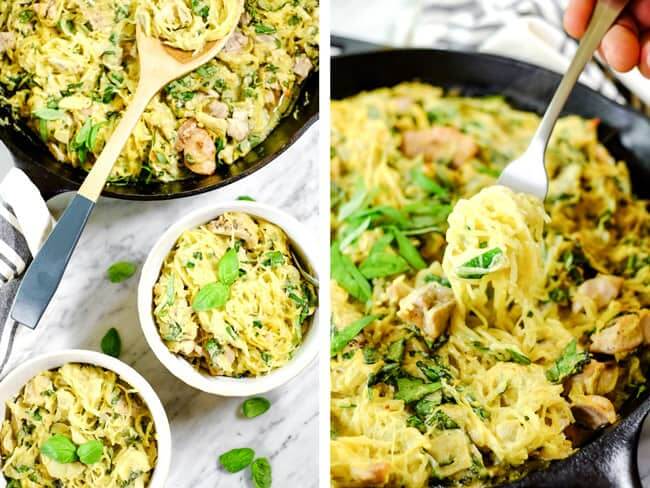 Meal Prep Saves The Day
One of our favorite meal planning and prep tricks is to make a big dinner on Sunday. We are already going to cook, so it's not really extra work. We just like to make it a larger meal, so we start the week with leftovers in the fridge for either lunches or dinner on a busy weeknight. It is seriously a no-brainer and one of the easiest ways to start the week with a little extra breathing room.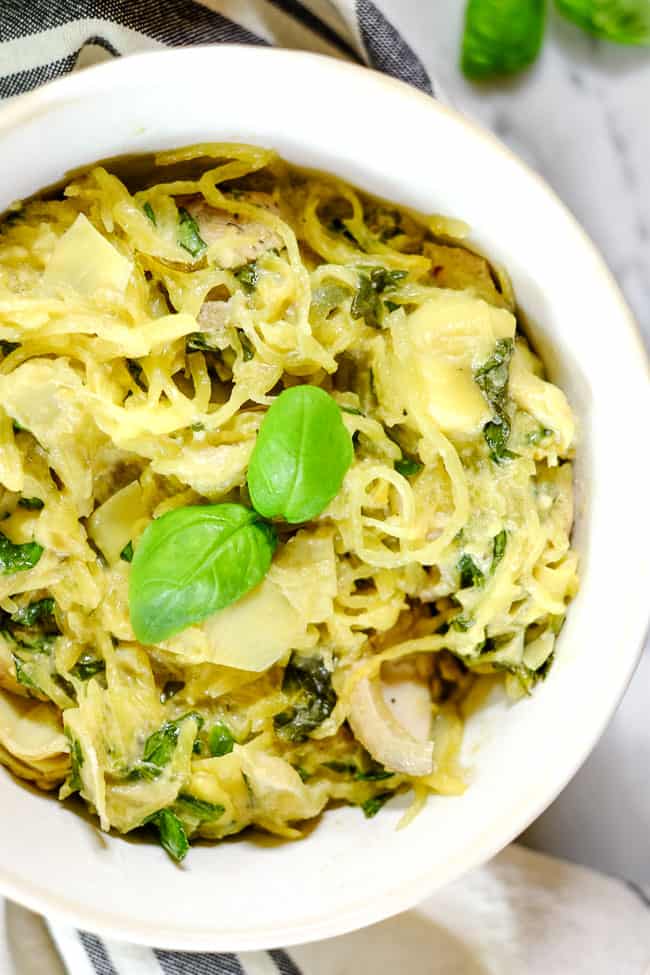 Other Tasty Casseroles To Try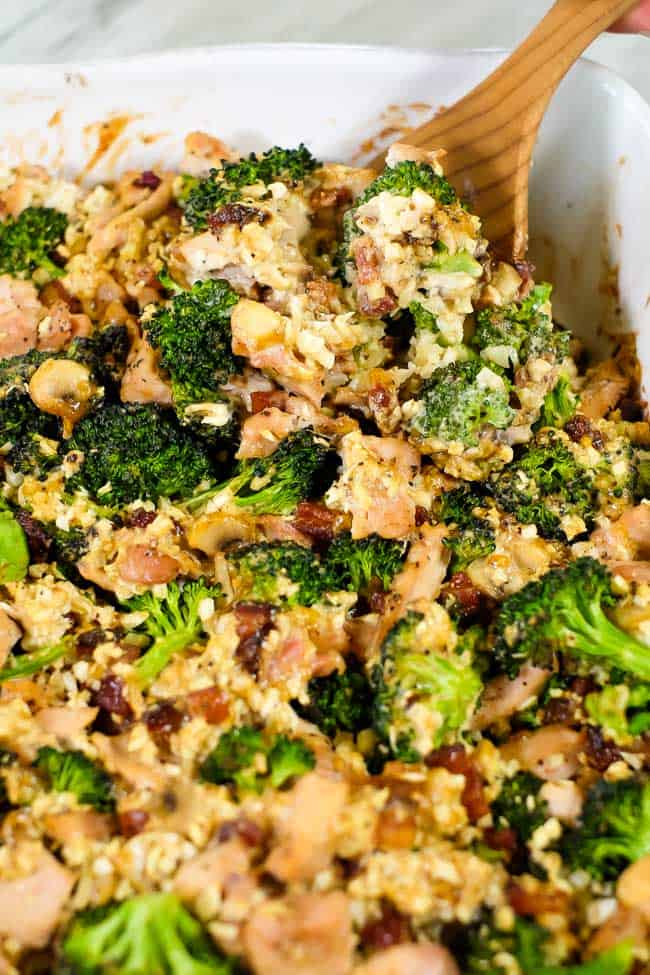 Your Turn To Try Our Creamy Chicken Casserole
Plan to make this creamy chicken casserole next weekend so you have tasty leftovers in the fridge to help get you through your busy work week. Leave a comment below and let us know how it goes. Also, take a pic to share on Instagram! Tag us @realsimplegood, and give us a follow if you don't already! We would love to stay connected!
LIKE THIS RECIPE? SHARE IT NOW OR PIN IT FOR LATER!
---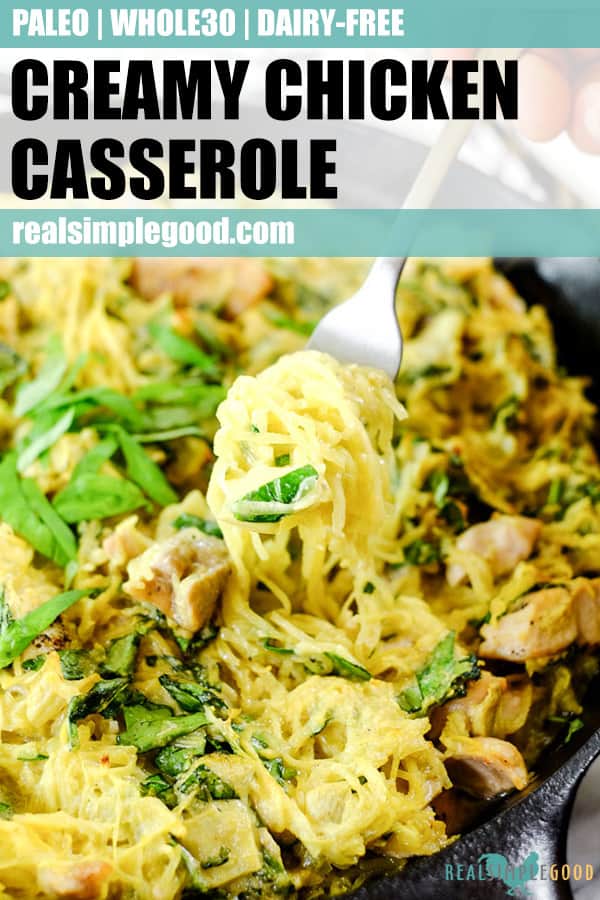 ---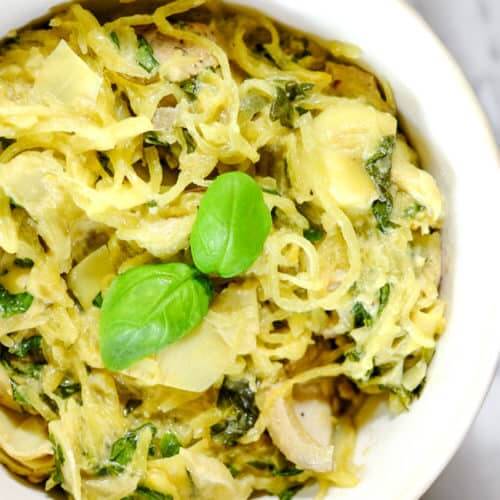 Get the Recipe:
Creamy Chicken Casserole (Paleo, Whole30 + Dairy-Free)
This Paleo + Whole30 Creamy Chicken Casserole is made with spaghetti-squash so it's grain-free, gluten-free and the creamy, cheese-like sauce is dairy-free!
Ingredients
2 lbs boneless skinless chicken thighs
Salt & pepper
For the sauce:
1 can artichoke hearts, roughly chopped , (14.5 oz can)
1 cup mayo, use egg-free if needed – we love Primal Kitchen Egg-Free Mayo
1/4 cup nutritional yeast, we love Bob's Red Mill
3 cups spinach, chopped
1/2 cup fresh basil, chopped, (plus more for topping)
4 cloves garlic, minced
Instructions
Preheat oven to 400℉.

Line two sheet pans with parchment paper.

Cut spaghetti squash in half and scoop out the seeds. Place it cut side down on one of the pans.

Place chicken thighs on the other pan and sprinkle on both sides with salt and pepper.

Place both pans in the oven to bake. Remove chicken after 20-25 minutes or when completely cooked through. Remove chicken and cover with another plate or foil to keep warm.

Allow squash to bake for an additional 15-20 minutes or until tender.

Meanwhile, prepare the sauce.

Chop artichoke hearts, spinach, basil and mince garlic. Add all of the sauce ingredients to bowl and mix until thoroughly combined.

Chop the chicken thighs into small strips or bite-sized pieces.

When the squash is cooked, remove it from the oven and let it cool enough to handle. Scrape the flesh out into a cast iron skillet or casserole dish, using a fork to create strands of squash noodles.

Add the chicken and sauce to the spaghetti squash noodles. Mix well to incorporate everything.

If you need to warm up the casserole, either place your cast iron skillet over medium heat to warm for 5-6 minutes (stirring occasionally) or place your casserole dish in the oven at 400° F for 15-20 minutes, until everything is heated through.

Sprinkle with additional basil and serve.
Notes
If desired, you can split up the cooking of the squash and the chicken (if you'd like to cook the squash in advance). To do this, simply roast the squash at 400° F for 30-35 minutes. Let it cool, scrape the squash noodles into a container and refrigerate.  When you want to make the recipe, broil the chicken to cook it faster. Broil for 6-8 minutes per side, until it is cooked through.  Follow other recipe instructions as noted to make the sauce, combine the ingredients and heat the casserole in the oven at 400° for 20 minutes.