This Paleo + Whole30 creamy garlic spaghetti squash casserole is so saucy and delicious! Do you long for a creamy, dairy-free sauce packed with garlicky goodness? Well, look no more! Plus, this dish is made with spaghetti squash, which is a much healthier casserole option. Go ahead, get your squash on, and make a big old pan of this filling and flavorful casserole!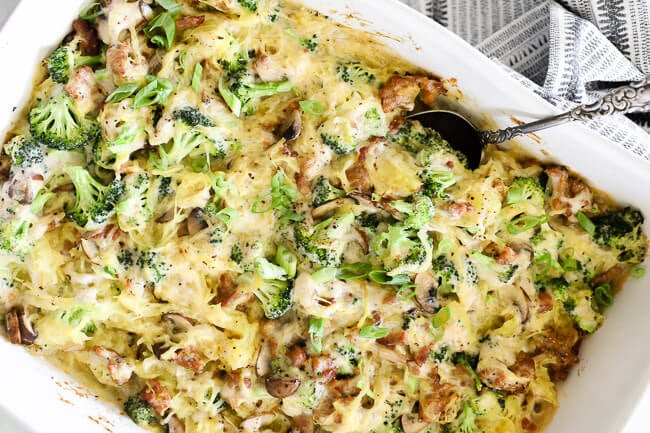 Making Life Easier
We love anything that makes life easier, and finding ways to be more efficient and effective in the kitchen can make such a huge difference in how we feel about cooking and preparing meals. I didn't always love being in the kitchen, but once I started to plan more and find ways to create delicious meals with the least amount of effort, I really started to love cooking and spending time in the kitchen!
Looking for more spaghetti squash recipes? Check out this roundup of 10 Cozy Spaghetti Squash Recipes!
We love this creamy garlic spaghetti squash casserole because there is only about five minutes of prep time, and the hardest part is really cutting the spaghetti squash! Seriously, isn't that the worst part? Did you know that if you ask someone working in the produce section at the grocery store, they will cut it in half for you?! Yep, there's a time saving (and potential ER trip saving) tip for you right there! Just saying.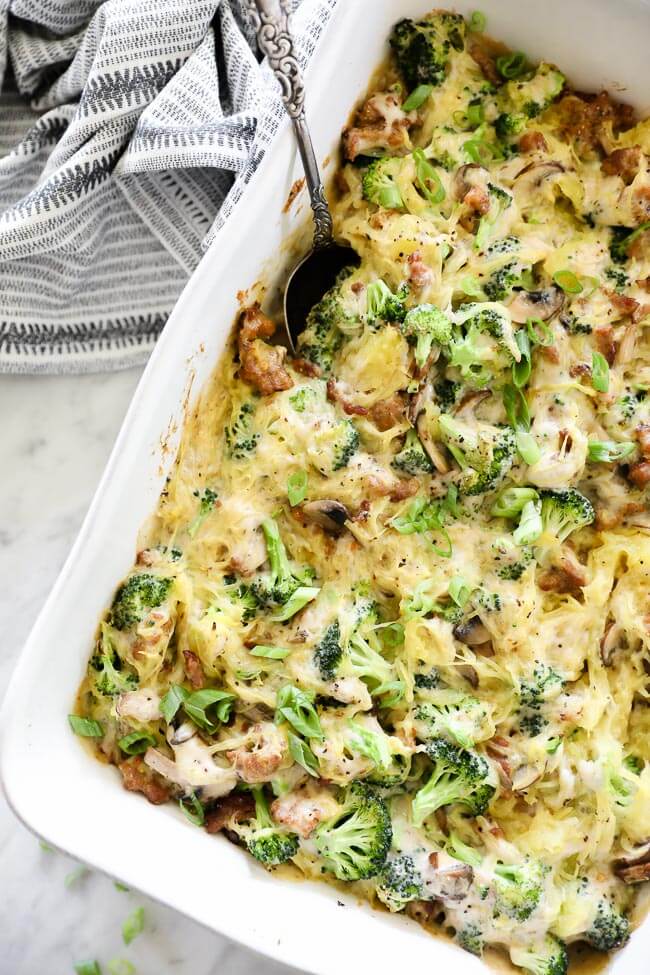 Creamy Garlicky Goodness
This casserole is full of creamy garlicky goodness that just hits the spot! You won't even notice the spaghetti squash isn't real noodles, and if you use a spicy Italian sausage, you'll also get just a touch of heat to go with the creamy deliciousness. We love making a big pan of this to have leftovers on hand because sometimes it feels like the leftovers are even better!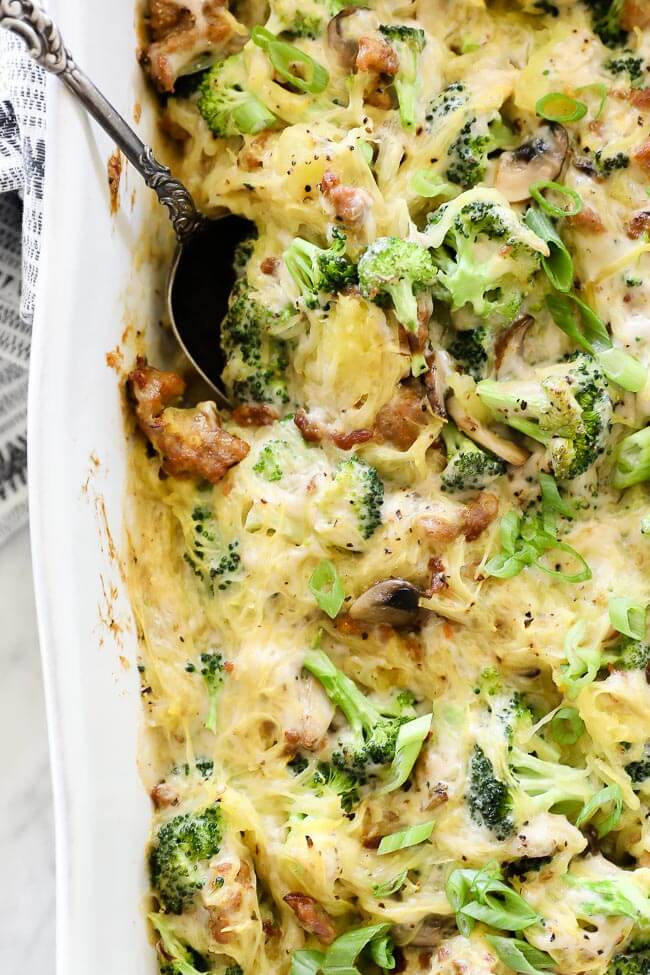 Quick + Easy Meals
While this recipe isn't a 30 minute meal, we love that it makes enough for leftovers, which can easily be reheated for lunch or another dinner. You could also make and freeze this casserole, and then pop it in the oven to reheat when you are in need of an already made meal. Just note that it may turn out a little more watery than when eaten fresh, and it should be good in the freezer for 1-2 months in an airtight container. We love meals like this since the effort is totally worth the time saved on another day!
That's what our Paleo Meal Plans are all about – making you more efficient in the kitchen! Need a little help getting organized or just want to reclaim some of your free-time? Check out all the details here!
Some Other Casseroles To Try
Your Turn To Try Our Creamy Garlic Spaghetti Squash Casserole
Ok, now it's your turn! Make a big pan of this creamy garlic spaghetti squash casserole and enjoy the goodness. Let us know how it goes by leaving a comment below. Take a photo and tag us on Instagram @realsimplegood, so we can check it out! And make sure to give us a follow if you don't already. Let's stay connected!
---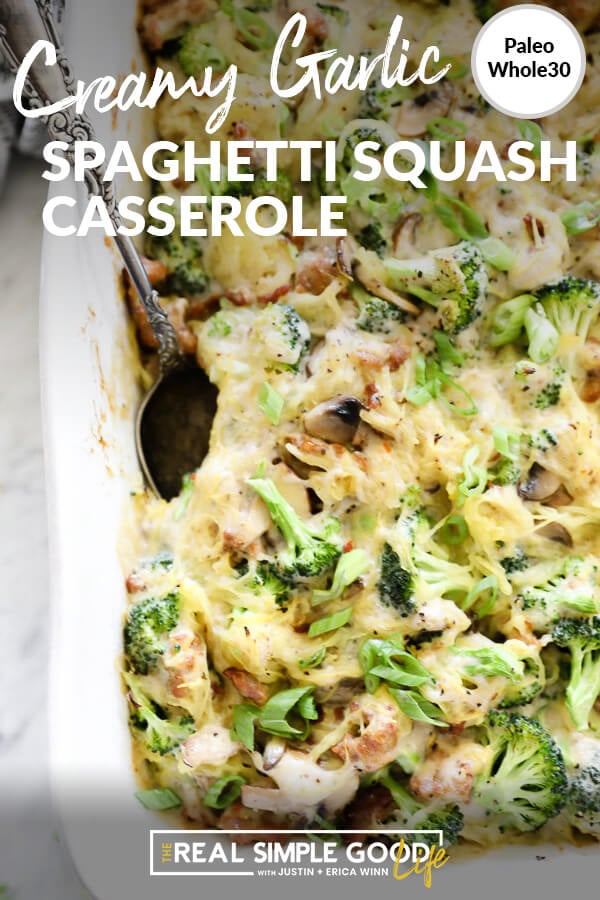 ---
Like this Recipe?
SHARE IT NOW OR PIN IT FOR LATER!
---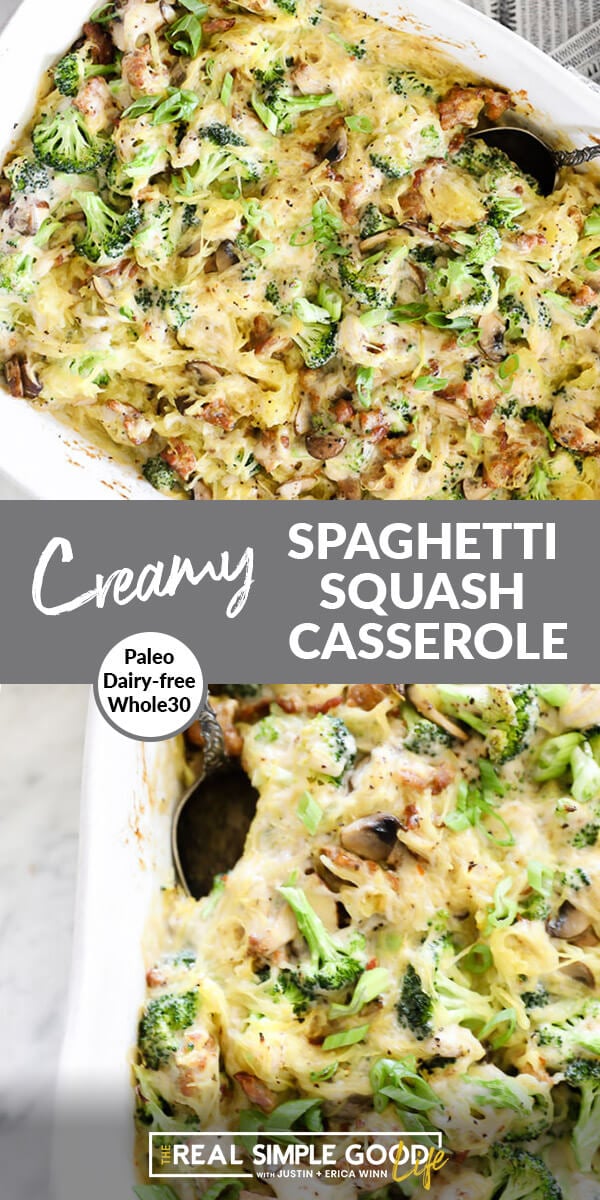 ---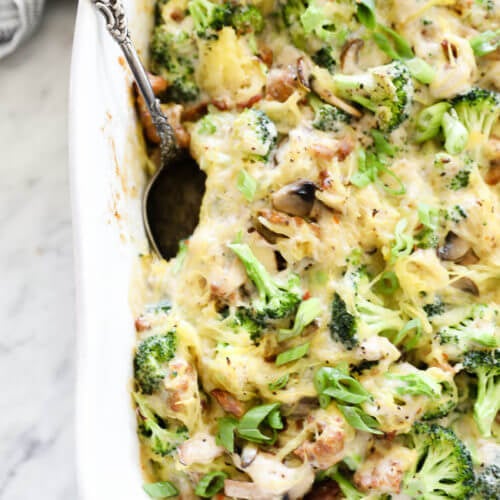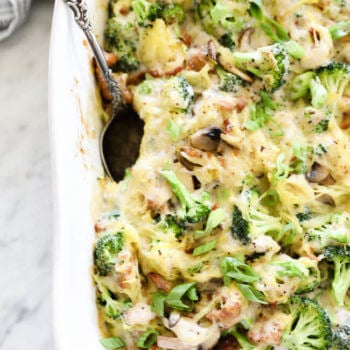 Get the Recipe:
Creamy Garlic Spaghetti Squash Casserole (Paleo, Whole30, GF + Dairy-Free)
This creamy garlic spaghetti squash casserole is so saucy and delicious! It has a creamy, Paleo, Whole30 + Dairy-Free sauce packed with garlicky goodness.
Ingredients
4 cups broccoli florets
1 lb ground Italian sausage, (regular breakfast or Chorizo work too)
2 cups mushrooms, sliced
1/4 cup arrowroot flour
2 tbsp minced garlic
16 oz coconut milk
Salt and pepper, (about 1 tsp each)
Instructions
Preheat oven to 400° Fahrenheit.

Slice the spaghetti squash lengthwise and scoop out the seeds. Place the two halves face-down on a baking sheet and bake for 25 minutes.

While the squash is cooking, get the sausage going. Heat a large pan over medium heat and add in the sausage. Break it into pieces with a spatula and cook, stirring occasionally, until browned and cooked through, about 8 minutes. Remove from pan and set aside. Reserve at least 1 tbsp of fat in the pan for the sauce you'll make later.

Remove squash from oven after 30 minutes and set aside to cool. Keep the oven on at 400°.

While the squash is cooling, prepare the creamy garlic sauce. Whisk together coconut milk and arrowroot flour in a bowl or jar and set aside.

Heat the same pan you cooked the sausage in over medium heat. Once hot, add mushrooms and cook until they begin to soften, about 2 minutes. Add in minced garlic and mix well with the mushrooms, about 1-2 minutes, until fragrant.

Next, whisk up the coconut milk mixture again and add to pan, stirring constantly for 2 minutes. The sauce will bubble and thicken, keep stirring to prevent burning. After 2 minutes turn heat off and stir in salt and pepper. 

Now, put it all together. With a fork, scrape out the spaghetti squash "noodles" into a medium casserole dish. Add the cooked sausage, broccoli, and creamy garlic sauce. Mix everything together well.

Place back in the oven to bake for 15 more minutes. Remove and serve.