Chicken, sausage, sun dried tomatoes and veggies smothered in a velvety sauce. This creamy sun dried tomato chicken and sausage skillet is everything!

So Many Veggies
This creamy sun dried tomato chicken and sausage skillet is packed with veggies. You'll get your fix of asparagus, mushrooms and onions in addition to garlic and fresh basil! Plus, the combo of chicken and sausage is quite tasty, too!
Dairy-Free + Creamy
We love creamy dishes, but without the dairy. Our favorite way to achieve a creamy sauce is with full fat coconut milk. It has a thicker consistency and loads in the good fats. To mask the coconut taste, we add in onions and garlic. You'd never know it was coconut milk based without reading the recipe!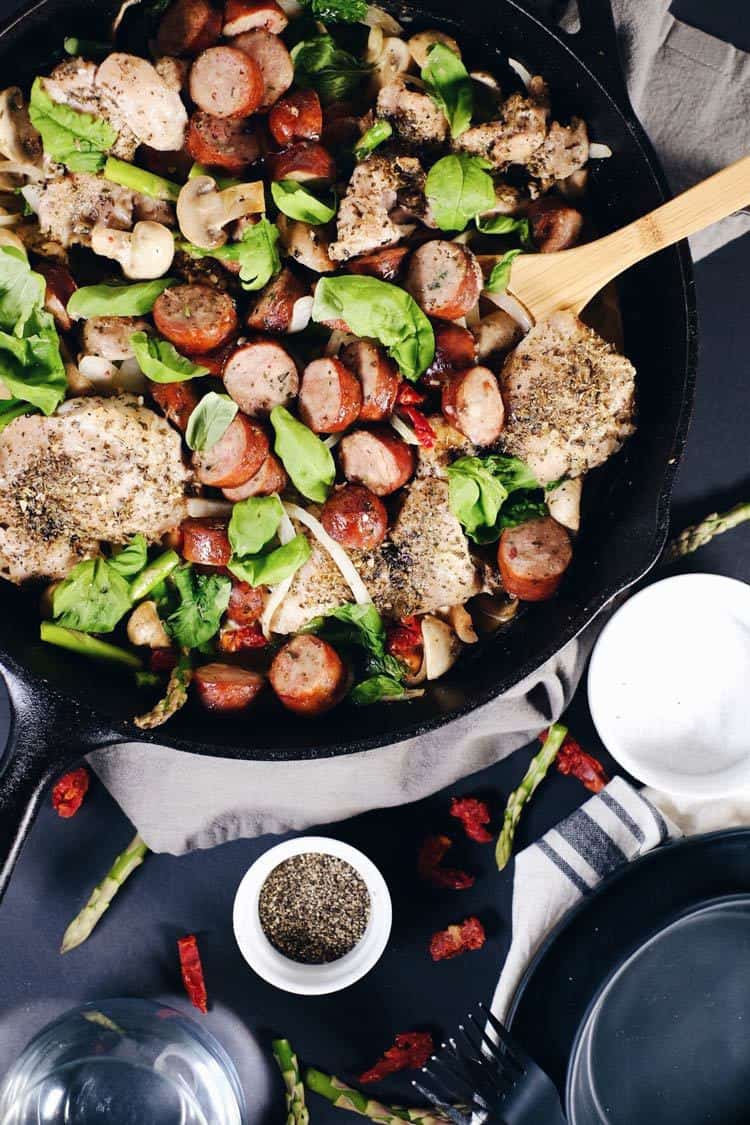 One Pan Is All You Need
This entire dish will fill up a large cast iron skillet, and it is all made in the single pan! You start by cooking the chicken and heating up the sausages. Then you set them aside for a moment and get the veggies and creamy sauce going. Finally you add back in the chicken and sausage and fresh basil and let it simmer.
Your Turn To Try Our Creamy Sun Dried Tomato Chicken And Sausage Skillet
Go ahead and add this to your plan for next week! It's an easy one to execute and super flavorful! You'll enjoy the creaminess without the digestive upset from dairy! Let us know how it goes by leaving a comment below. Also, take a photo and tag us on Instagram @realsimplegood, so we can check it out!
---
Get the Recipe:
Creamy Sun Dried Tomato Chicken And Sausage Skillet (Paleo, Whole30 + Dairy-Free)
Creamy and delicious without the dairy, this creamy sun dried tomato basil chicken and sausage skillet is filled with veggies and healthy fats.
Ingredients
1 tbsp avocado oil
1.5 lbs boneless skinless chicken thighs
1 tbsp Italian seasoning
4 pre-cooked sausages, cut into 1/4 inch thick rounds
For the creamy sauce:
1/2 onion, thinly sliced
8 oz mushrooms, halved
1 bunch asparagus, thick ends trimmed and cut into 1 inch segments
3 cloves garlic, minced
1/2 cup sun dried tomatoes
1 cup full fat coconut milk
1/2 tsp sea salt
1/4 tsp ground black pepper
1/2 cup fresh basil leaves, (about 15 leaves)
2 cups cooked white rice, (optional - omit for Whole30)
Instructions
Preheat oven to 350 degrees Fahrenheit, and cut sausage into rounds. Set aside.

In a large cast iron or other oven safe skillet over medium heat, add avocado oil to pan. Once hot, place chicken thighs in pan and season with half of the Italian seasoning. Cook for 2 minutes, flip and season with the rest of the Italian seasoning. Cook for 2 more minutes, and then add sausage rounds to pan. Carefully place in the oven to bake for 20 minutes.

While the chicken is cooking, prep onions, mushrooms, asparagus and garlic as noted. Set aside.

When chicken is done, carefully remove from oven. Place chicken and sausage on a plate, and set aside for a moment.

If needed add more oil to pan and make creamy sauce by placing onions, mushrooms, asparagus and sun dried tomatoes in pan. Cook until they soften.

Add coconut milk, minced garlic, salt and pepper. Stir to combine everything. Then turn to low and add chicken, sausage and basil to the pan. Simmer for 3-5 minutes to marry all the flavors.


Plate with a bed of optional rice and the creamy chicken and sausage mixture. Enjoy!
Calories: 768kcal, Carbohydrates: 22g, Protein: 48g, Fat: 56g, Saturated Fat: 21g, Cholesterol: 226mg, Sodium: 1484mg, Potassium: 1405mg, Fiber: 5g, Sugar: 10g, Vitamin A: 1585IU, Vitamin C: 16.9mg, Calcium: 98mg, Iron: 8.2mg