What readers are saying about this recipe
This recipe is absolutely amazing! I made it for my husband and I the other night and we are both so in love! The leftovers were great the next day as well. I've tried a few recipes from this blog and every single one has turned out amazing! Thank you!

Heather
If you like this recipe you have to try our dairy free chicken recipe with mustard sauce, our dairy free chicken breast recipe with mushroom sauce and this no dairy creamy chicken casserole recipe. They're all dairy free and full of creamy deliciousness!
Making One Pan Tuscan Chicken
This creamy dish comes together all in one pan in about 30 minutes. Here's how:
Chop a few ingredients and mix together the seasonings.
Cook the chicken (use chicken thighs if you don't want to flatten out breasts)
Mix up the sauce and grab the other ingredients while the chicken is cooking
Cook the garlic and shallot and dump in the sauce to thicken
Add the chicken back in with the remaining fresh herbs and greens and simmer for a few minutes
Making a Dairy Free Cream Sauce For Tuscan Chicken
How do you make creamy, delicious recipes without dairy?
Our preferred method is to use full fat coconut milk. We get the brand Aroy-D on Amazon, and we find it works best because it is pure full fat coconut milk that doesn't separate and get watery.
Most other coconut milks have some water or other ingredients added. It's best to use 100% full fat coconut milk.
Looking for more creamy recipes? Check out this roundup of 20+ Warm and Cozy Comfort Food Recipes!
Coconut Cream vs Coconut Milk
Coconut cream is just the thicker, creamier version of coconut milk. You can use either coconut cream or coconut milk for this recipe, the sauce will just be a little thicker with coconut cream.
If you are using coconut milk from a can and the water and cream have separated, I suggest dumping it into a blender to mix it back together and turn it into a more "milk" like consistency before mixing up the sauce.
And don't worry, this tuscan chicken doesn't really taste like coconut at all. The garlic, shallot, herbs and sun dried tomatoes cover up the coconut flavor and result in a rich and creamy dairy free sauce.
What to Serve With Tuscan Chicken
Our favorite way to serve this dish is over either white rice or cauliflower rice. Some other options:
Over your favorite noodles (zoodles or spaghetti squash noodles are great for a grain free option)
With some garlic bread
Pair it with any mix of roasted veggies
With mashed potatoes or mashed cauliflower
Your Turn To Try Our Creamy Tuscan Chicken
Need a quick dinner and craving some comfort food? Make this creamy tuscan chicken! It's creamy, dairy-free and comes together in just 30 minutes!
If you try it, be sure to leave a comment below and let us know how it goes. Also, take a pic to share on Instagram. Tag us @realsimplegood so we can see it, we love to see what you're cooking!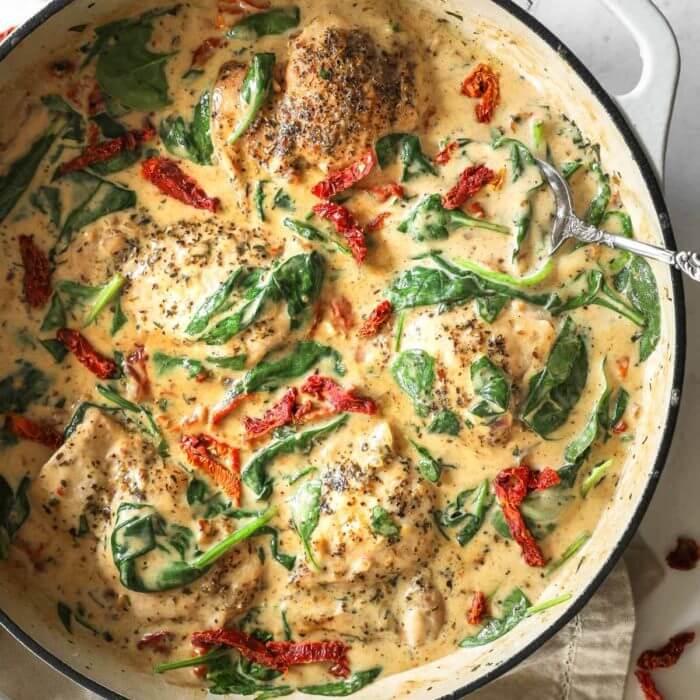 Get the Recipe:
25-Minute Creamy Tuscan Chicken (Dairy Free)
Spinach, fresh herbs and sun-dried tomatoes combine in one pan to create this dairy-free creamy tuscan chicken in only 25 minutes! Gluten-free, Paleo & Whole30.
Ingredients
1 shallot, diced
4 cloves garlic, minced
1 tbsp Italian seasoning
1 tsp sea salt
1 tsp pepper
4 chicken breasts, (or chicken thighs, see notes)
2 tbsp ghee, (can sub avocado oil if needed for dairy-free)
1/4 cup chicken broth, see notes
2 tbsp arrowroot starch, see notes
1.5 cups full fat coconut milk
1/2 cup sun dried tomatoes
1/4 cup basil, chopped
3 cups spinach
Chopped parsley, optional topping
Instructions
Prepare shallot and garlic as noted. Place Italian seasoning, sea salt and pepper in a small bowl and mix.

Place the chicken breasts between two pieces of parchment paper and pound them down to make them even in thickness (skip if using chicken thighs). Sprinkle each side of the chicken with the Italian seasoning mix.

Heat a large skillet over medium heat and add ghee.

Once hot, add the chicken to the pan (you may have to cook the chicken in 2 batches depending on the size of your pan). Cook, without disturbing for 3-4 minutes, until a nice brown crust has formed. Flip and cook another 3-4 minutes on the other side, until the chicken is mostly cooked through.

While the chicken is cooking, whisk together chicken broth and arrowroot starch.

Remove chicken from the skillet and set aside. Lower the heat to medium.

Add more ghee if needed and add the garlic and shallot to the pan. Cook, stirring constantly, for 1-2 minutes.

Add coconut milk, chicken broth, sun dried tomatoes and basil to the pan. Stir to mix, scraping up any browned bits remaining in the pan from when you cooked your chicken.

Add the chicken breasts back to the skillet with the sauce. Cover and turn heat down to low. Simmer for about 5 minutes, or until the chicken is fully cooked.

When the chicken is almost finished, add in the spinach. You might have to add it in in batches. Stir the spinach in until wilted.

Serve with vegetables, potatoes, rice or cauli rice. Spoon some sauce over everything for serving. Sprinkle with chopped parsley (optional).
Notes
You can use chicken thighs instead of breasts for this recipe. You should not have to pound the thighs (step 2). Adjust cooking time if needed to ensure the chicken is fully cooked.
If your sauce is too thick, add in more chicken broth to get the consistency you want.
If you don't have arrowroot starch, you can substitute tapioca starch or corn starch. Corn starch is not considered Paleo or Whole30.