If you're like us, you spend a decent amount of your summer grilling. We just love getting outside, and grilling is a quick and easy way to enjoy the weather and sunshine well into the evening. This Paleo, Whole30 + Keto crispy roasted cauliflower rice is the perfect healthy side dish to go with all your favorite grilled proteins.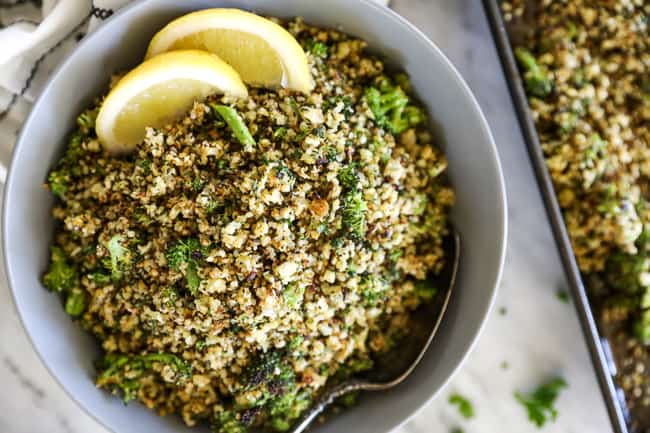 Disclaimer: We partnered with Bob's Red Mill to bring you this post. We only work with companies and brands we truly believe in and use ourselves. Therefore, all opinions and recipes are entirely our own. Thank you for supporting Real Simple Good and our partners.
Have you ever cooked cauliflower rice on a sheet pan before?
It's not that cauliflower rice is hard to make on the stove. I mean it only takes about 5 minutes, which is great, but do you ever feel like you're just kind of over the same old cauliflower rice? We definitely get that way and have really been enjoying making ours in the oven on a sheet pan lately. With this roasted cauliflower rice, you get some crispy bits, and the texture is just a little something different. We think it is a refreshing take on cauliflower rice!
Do I have to add the hemp seeds and nutritional yeast to this roasted cauliflower rice?
The short story is no you don't have to. You could use more cauliflower rice instead and omit the nutritional yeast, but we're telling you not to. Use the hemp seeds and the nutritional yeast! They really help to add to the texture and crispy bits, and it makes this roasted cauliflower rice more fun and exciting. The nutritional yeast also adds a bit of cheesy, umami flavor, too that you'd really be missing out on. The hemp seeds have a mild nutty flavor and a wealth of nutrition – protein, fat and fiber. You'll really enjoy this cauliflower rice with both the hemp seeds and nutritional yeast, promise!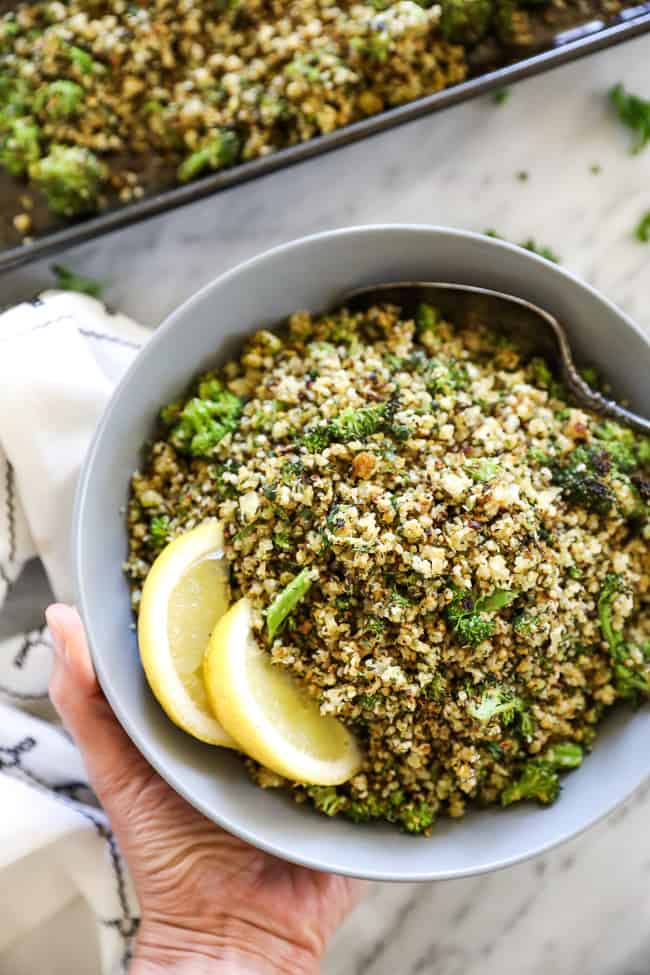 Ok, I'm convinced so where do you get your hemp seeds and nutritional yeast?
We thought you'd get on board! 😉 We have been using Bob's Red Mill Hulled Hemp Seeds and Nutritional Yeast. We love Bob's Red Mill, and we appreciate that they focus on high quality, minimally processed products from mill to table. Plus, they're headquartered right here in Oregon, and we love supporting our local partners! They also have a dedicated gluten-free facility, so you can trust that their gluten-free products are truly gluten-free.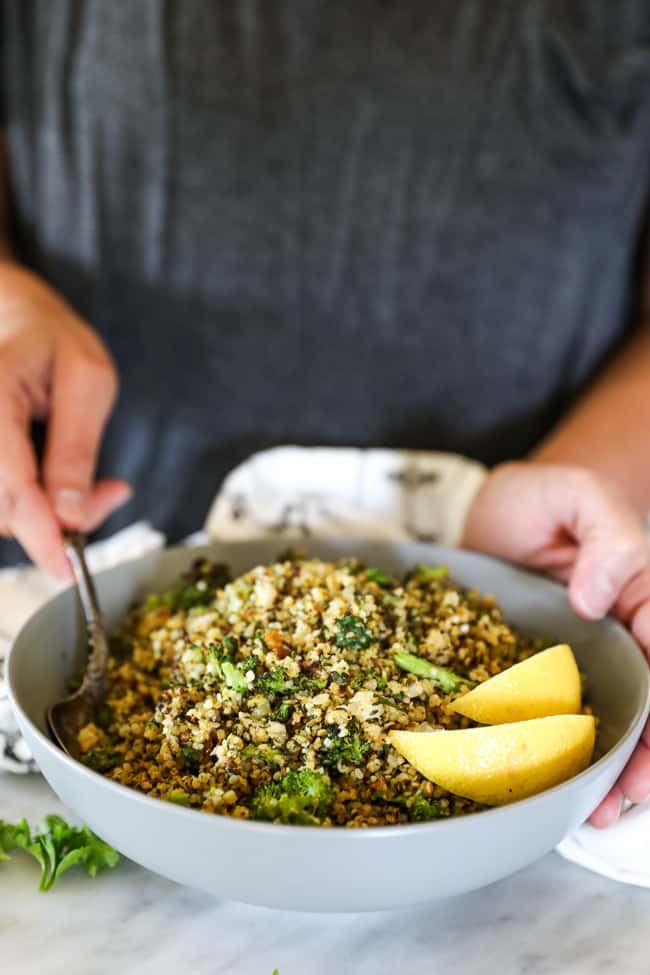 Some other great side dishes
Your turn to try our roasted cauliflower rice
Whatever you are grilling, this roasted cauliflower rice is the perfect light side dish to go with! It pairs well with all your favorites, and you'll enjoy cauliflower rice in a fresh, new way! Leave a comment below, and let us know how it goes. Also, take a pic to share on Instagram. Tag us @realsimplegood, and give us a follow if you don't already. We'd love to stay connected!
---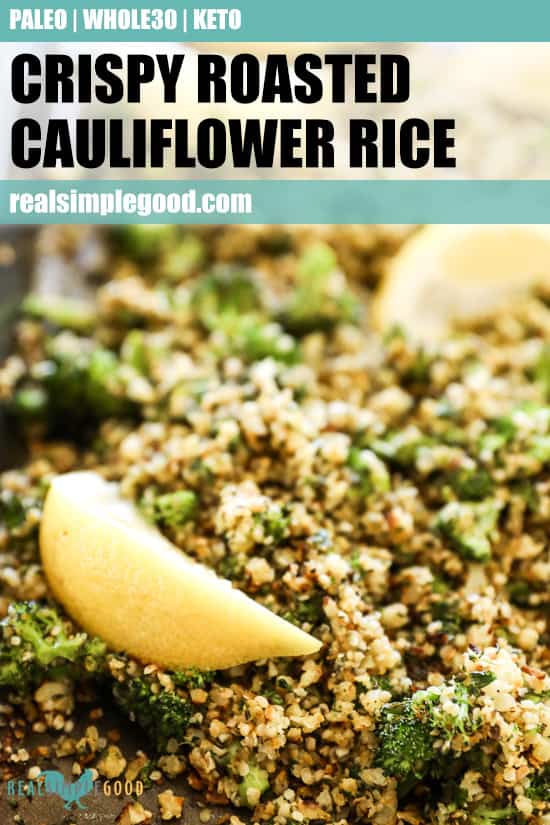 ---
Like this Recipe?
SHARE IT NOW OR PIN IT FOR LATER!
---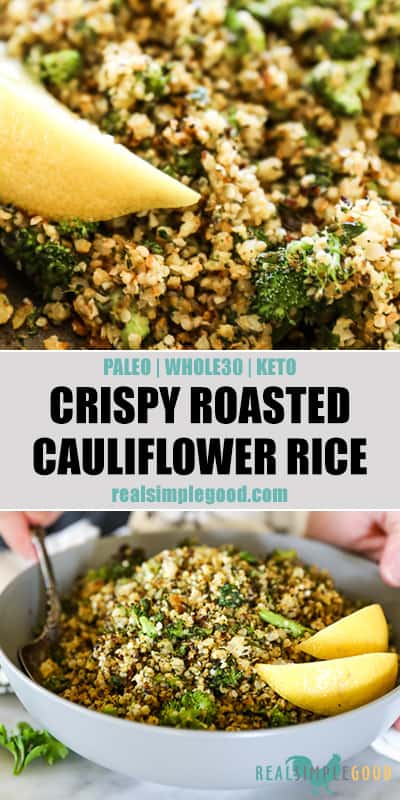 ---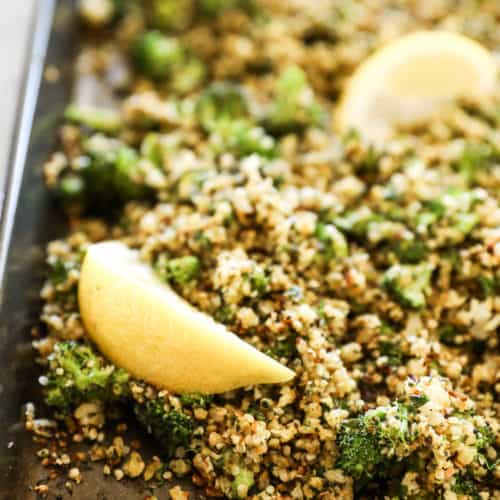 Get the Recipe:
Crispy Roasted Cauliflower Rice (Paleo, Whole30 + Keto)
This Paleo, Whole30 + Keto crispy roasted cauliflower rice is the perfect healthy side dish to go with all your favorite grilled proteins.
Ingredients
3 cups frozen cauliflower rice
3 cup broccoli florets, chopped into small bits
1 cup hemp seeds
1/4 cup fresh parsley, chopped
1/4 cup nutritional yeast
1 tsp sea salt
1/2 tsp garlic powder
1/2 tsp ground black pepper
3 tbsp avocado oil, divided, (or bacon fat, lard, etc.)
1 tsp lemon juice, (about 1/2 lemon)
Instructions
Preheat oven to 400° Fahrenheit, and prep ingredients as noted.

On a large baking sheet with a rim, add frozen caulfilower rice, chopped broccoli, hemp seeds, parsley, nutritional yeast, salt, garlic powder and pepper. Toss to mix.

Add avocado oil and toss again. Then, spread out into an even layer on the sheet pan.

Transfer to oven, and cook for 10 minutes, until crispy bits start to form. Remove and scrape up the bits and mix around. Return to oven and cook for 4-5 more minutes. Watch carefully not to burn the rice.

Remove, squeeze lemon juice over everything and use a spatula to scrape up and mix all of the crispy, toasty rice together. Serve with your favorite protein and enjoy!
Notes
Nutrition facts are an estimate provided for those following a Ketogenic or low-carb diet.  See our full nutrition information disclosure here. 
Serving: 4g, Calories: 450kcal, Carbohydrates: 16g, Protein: 24g, Fat: 34g, Saturated Fat: 3g, Fiber: 7g