This slow cooker beef pot roast and veggies is a complete Paleo + Whole30 meal you can set and forget! Easy prep and slow cooking results in melt in your mouth beef roast that your family will love. Tender, juicy and delicious, we know you'll love this easy slow cooker recipe!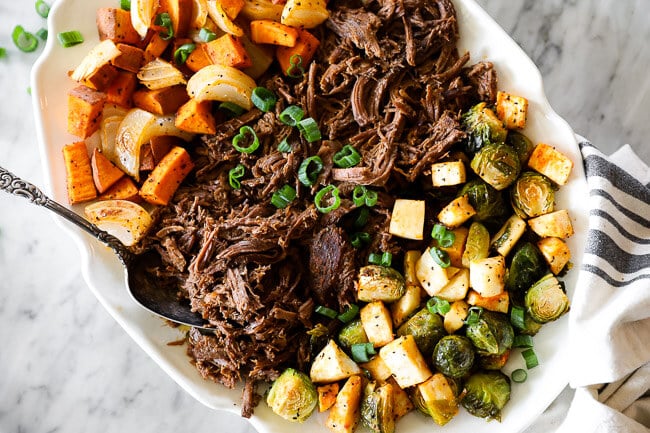 The slow cooker is king
The slow cooker is our not-so-secret weapon. While we love our Instant Pot (and we have an Instant Pot Pot Roast recipe too), if we have the time and plan ahead, we'll use our slow cooker. The slow cooker is so easy and you get such tender, fall apart beef roast with this recipe. You also get a house that smells like someone spent the entire day in the kitchen with the slow cooker. We love that!
Such a simple slow cooker beef pot roast recipe
We love simple recipes, and this one is about as easy as it gets for a family friendly meal. Just toss your roast in the crockpot with some bone broth, spices and veggies. That's it! You'll be pleasantly surprised by how tender and juicy it turns out to be. It is kind of like pulled pork and stew got married, and those are two of my favorite things. Anyway, it is simple, fresh and flavorful….and super easy to pull together.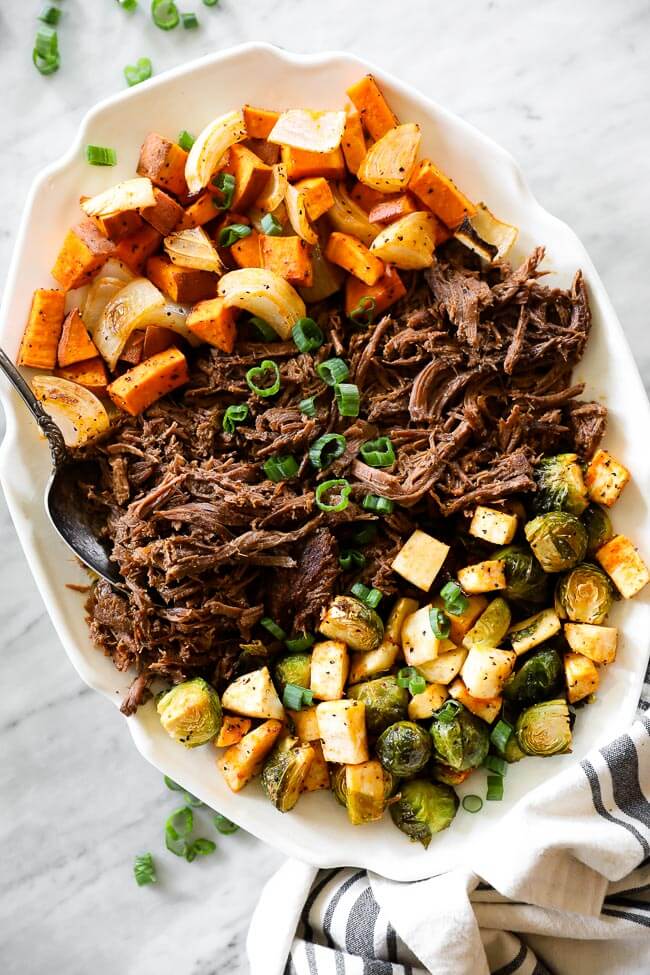 Some options for the vegetables
For convenience sake, we put the vegetables and the roast all together to cook in the slow cooker at the same time. This results in kind of a "soupy" or "stew-like" roast and veggies. We like this, but you may prefer to have your vegetables less on the mushy side. If this is your preference, just add the vegetables in halfway through the cooking time. This should result in vegetables that are cooked through but not as soft. Or, you could even roast the vegetables in the oven – see recipe notes for these instructions.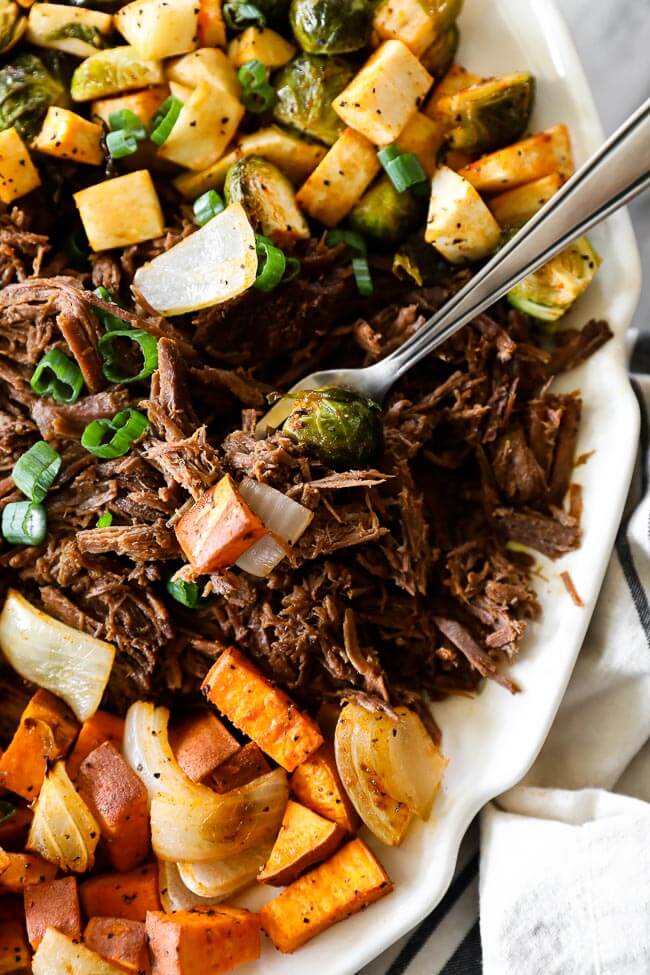 Some other easy slow cooker meals
Your turn to try this slow cooker beef pot roast recipe
Whether you're craving comfort food or just need a quick and easy weeknight dinner, make this slow cooker beef pot roast with vegetables. It's healthy comfort food your whole family will love. Leave a comment below and let us know how it goes. Also, take a pic to share on Instagram, and tag us @realsimplegood. Make sure to give us a follow if you don't already. We'd love to stay connected!
---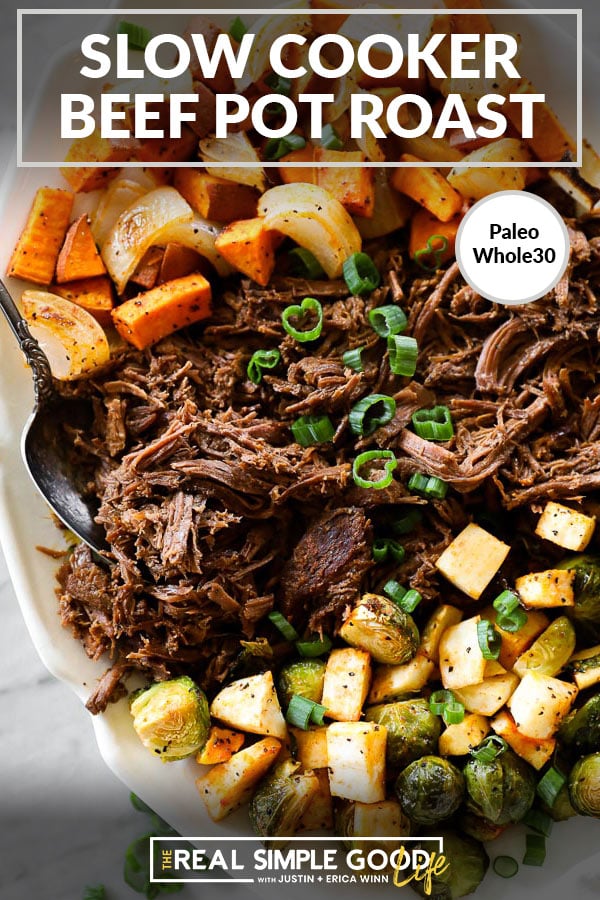 ---
Like this Recipe?
SHARE IT NOW OR PIN IT FOR LATER!
---
---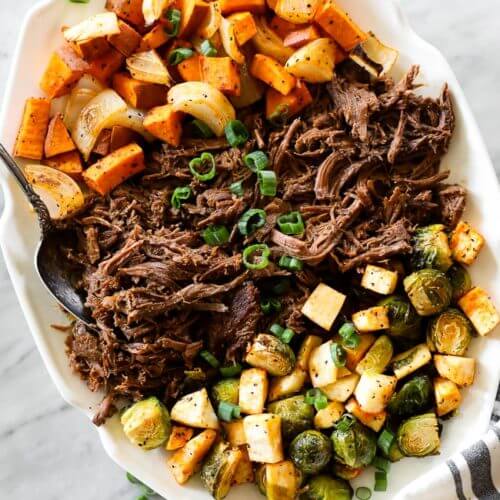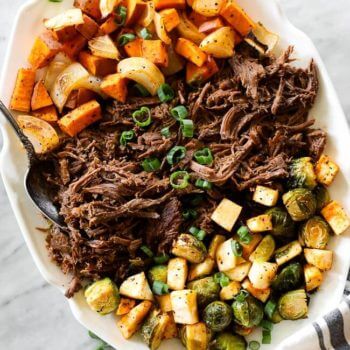 Get the Recipe:
Slow Cooker Beef Pot Roast with Vegetables (Paleo + Whole30)
This easy, tender and juicy slow cooker beef pot roast with veggies is the perfect family meal. Healthy, real food ingredients make it Paleo + Whole30!
Ingredients
4 lbs beef roast, (a bottom round roast, chuck roast, shoulder or brisket would work too)
1 cup bone broth, (chicken or beef stock)
2 medium sweet potatoes, cut into cubes, (or sub equivalent amount of white potato or squash)
2 medium parsnips, cut into cubes
1 lb brussels sprouts, ends removed
1 onion, chopped into medium chunks
For the seasoning:
1 tbsp onion powder
1 tbsp garlic powder
1 tbsp paprika
1 tbsp sea salt
1 tbsp ground pepper
Instructions
Place all of the seasonings in a small bowl and mix well to make the spice rub.

Reserve 1/2 of the spice rub to season the veggies. Massage the remaining 1/2 of the spice rub all over the beef.

Place the beef into the

crockpot

, pour the bone broth in around the beef without pouring it on the beef and removing the seasoning.

Add in the rest of the ingredients and sprinkle the seasoning over the veggies.

Cook on low for 8 hours.

Remove the beef from the

crockpot

and place it on a cutting board.

Shred with two forks or tongs and serve with the veggies from the

crockpot

.
Notes
If you're looking to avoid soft vegetables, you can roast them separately on sheet pans. Just cut the veggies into evenly sized chunks and add them to 1 large or 2 medium sheet pans. Drizzle with a little oil and toss with 1/2 of the seasoning mix. Spread the veggies out in an even layer and roast for 30-35 minutes at 400° Fahrenheit, or until they are cooked to your liking.