The crockpot is our not-so-secret weapon. We use it at least once a week, and it saves us time during the busy work week, so we can enjoy each other's company after work one night and have leftovers for lunches or dinner another night during the week. The best part is probably coming home to a house that smells like someone spent the entire day in the kitchen. It is so comforting and relaxing to come home to dinner being ready to be served. One of my favorite things to make in the slow cooker has turned out to be crockpot beef roast and veggies.
It is great because you can take a little bit of a tougher cut, or whatever is left in the freezer in our case, let it defrost, and then toss it in the crockpot with some bone broth, spices, and veggies, and you'll be pleasantly surprised by how tender and juicy it turns out to be. It is kind of like pulled pork and stew got married, and those are two of my favorite things. I can't think of a better marriage of my favorite meals actually. Anyway, it is simple, fresh and flavorful….and super easy to pull together. It is a no-brainer; you need to add this crockpot beef roast and veggies to your meal planner, and put it on repeat.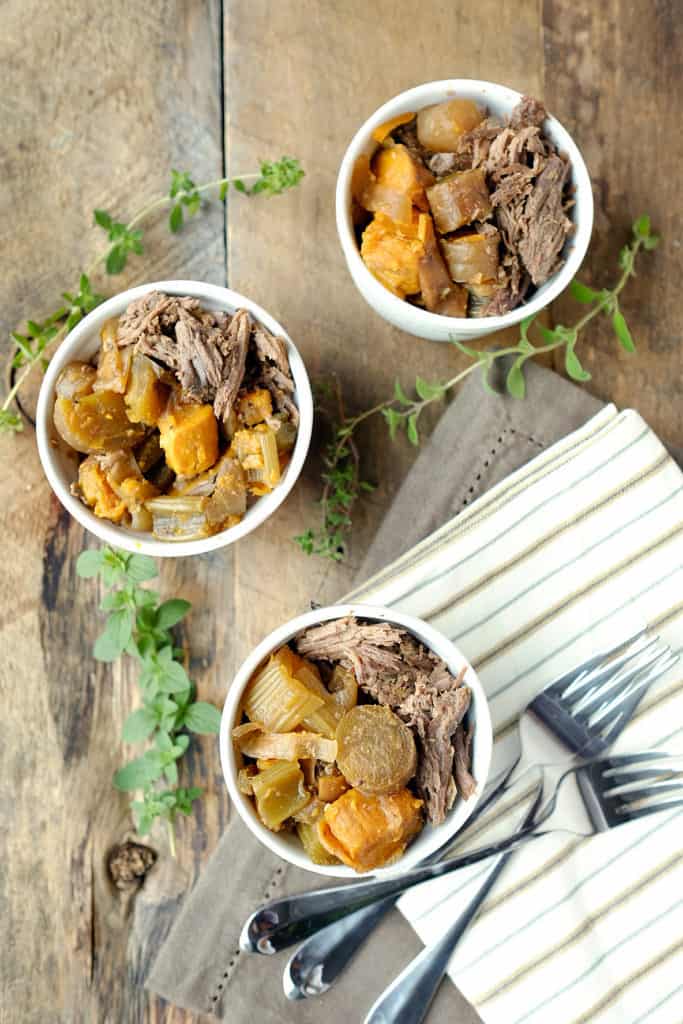 It is also very convenient that your entire meal is done in the crockpot. All of your meat and veggies in one pot, ready to be plated and eaten the moment you walk in the door. Only one real dish to wash is pretty fantastic, too! We usually throw onions, sweet potatoes, carrots, and celery in with our beef, but you can use whatever fresh veggies you have on hand. Mushrooms would be good; we'll have to try that next time. Or you can try it, and let us know how it goes in the comments below. We can't wait to hear about how you tailor our crockpot beef roast and veggies to fit your family.
Let us know how you like our crockpot beef roast and veggies by leaving a comment below. Also, take a picture and tag it on Instagram @realsimplegood so we can check it out!

---
Crockpot Beef Roast and Veggies (Paleo + Whole30)
Ingredients
4

lbs

beef roast

(we used a bottom round roast but chuck roast, pot roast, shoulder or brisket would work too)

2

cups

bone broth

(chicken or beef stock)

2

medium

sweet potatoes, cut into cubes

(or sub equivalent amount of white potato or squash)

6

celery stalks, chopped into thick chunks

6

carrots, chopped into thick rounds

1

onion, chopped into thick pieces
For the seasoning:
1

tbsp

onion powder

1

tbsp

garlic powder

1

tbsp

paprika

1

tbsp

sea salt

1

tbsp

ground pepper
Instructions
Place all of the seasonings in a small bowl and mix well to make the spice rub.

Massage the spice rub all over the beef. You may have some left over if you have a smaller cut of meat.

If you have the time, cover and refrigerate the meat for 3 hours or as long as 24 to let the rub set in. If you don't have the time, just season the beef and start cooking.

Place the beef into the

crockpot

, pour the bone broth in around the beef without pouring it on the beef and removing the seasoning.

Add in the rest of the ingredients.

Cook on low for 8 hours.

Remove the beef from the

crockpot

and place it on a cutting board.

Shred with two forks or tongs and serve with the veggies from the

crockpot

.