Have you used your crockpot lately? I know, I know, sometimes it's easy to forget just how simple slow cooker meals are and what a time saver they can be. But really, this little gadget does a lot of the work for you and can really be a powerful tool in the kitchen. So if you have your crockpot stored away in the back of your pantry, pull that thing out and make yourself a big batch of this authentic Mexican crockpot pork chile verde and you can thank us later!
Sometimes I think people don't use their crockpot much because it takes a little advance planning and usually there is a long cooking time associated with any slow cooker recipe. Even though the cooking time isn't you physically standing and slaving over a hot stove, there's something about seeing 8 hours of cooking time on a recipe that just makes it "feel" hard. But really guys, it's time to get over that mental block. Most of the crockpot recipes that we make are the cooking effort equivalent of making a grilled cheese sandwich. Ok, so that's not the greatest comparison for a Paleo recipe site, but you get the point.
I'll say it again. Use. Your. Crockpot. Period.
Ok, now on to this amazing chile verde recipe. I don't claim to be an expert in Mexican cuisine, but I have always loved chile verde and wanted to re-create some of the authentic flavors in this recipe. You know, that uniquely smoky, sweet and bitter flavor of the tomatillos and chilies, garlic and cilantro that all blend together to make the perfect sauce to cover tender bits of pork with.
Fortunately, it turns out that nailing the sauce wasn't as hard as I imagined. With some inspiration from PaleOMG and Simply Recipes, I formulated the basic ingredients and plan, which involves roasting the tomatillos and peppers to impart that delicious smoky flavor. After that you just blend up the roasted tomatillos and peppers with some garlic, onion, cilantro and spices and you have yourself the perfect chile verde sauce for slow cooking a pork shoulder (or butt) in. You can even prepare the sauce the night before you plan on cooking your pork so everything is ready to go.
Oh yeah, did I mention that your house will be completely filled with the delicious smells of this crockpot pork chile verde when you cook it? For me that was the best part. I could hardly wait for the crockpot to do it's thing, the smells were so enticing I just wanted to heap a pile of pork and chile verde sauce on a plate and stuff my face.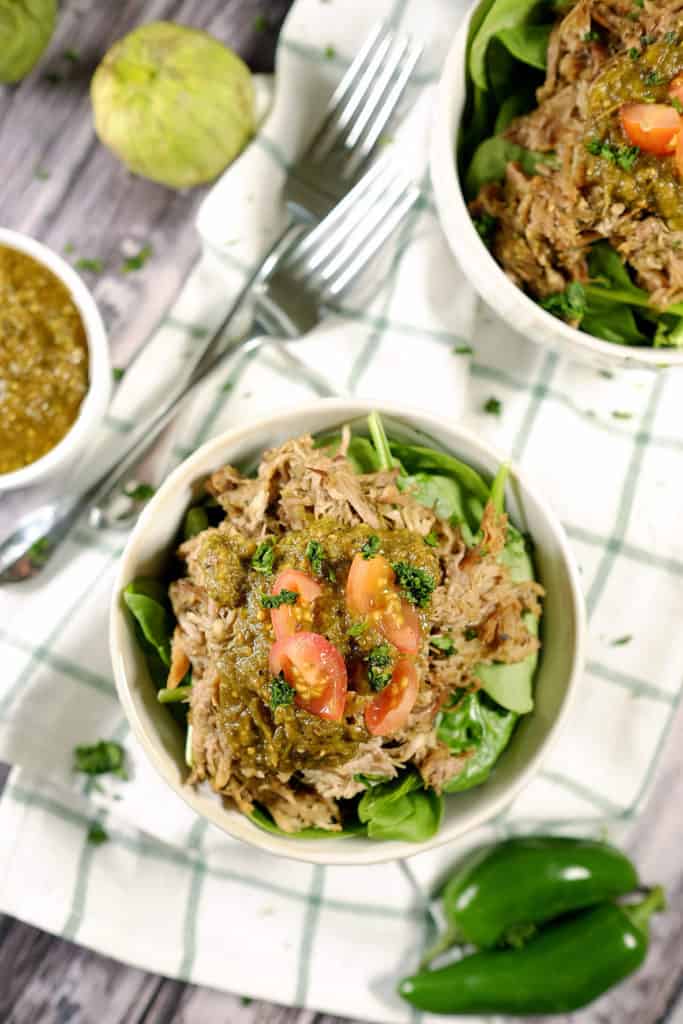 This recipe turned out tasting just as good as it smelled. Go make yourself a big batch, re-heating the leftovers is almost the best part! It's versatile too, you can have it straight up, with rice (if you eat rice), on a bed of greens, in a tortilla for a taco (we love Siete tortillas), etc. The options are endless. Also, we ended up saving some of the leftover verde sauce in a mason jar in the fridge and just spooned it on the leftover pork to reheat it in a pan the next day. Once the pork was gone, we still had some sauce left over so we also made a batch of crockpot chicken thighs with chile verde sauce. Seriously, this sauce was the gift that kept on giving for us. We ate off of it for three days straight!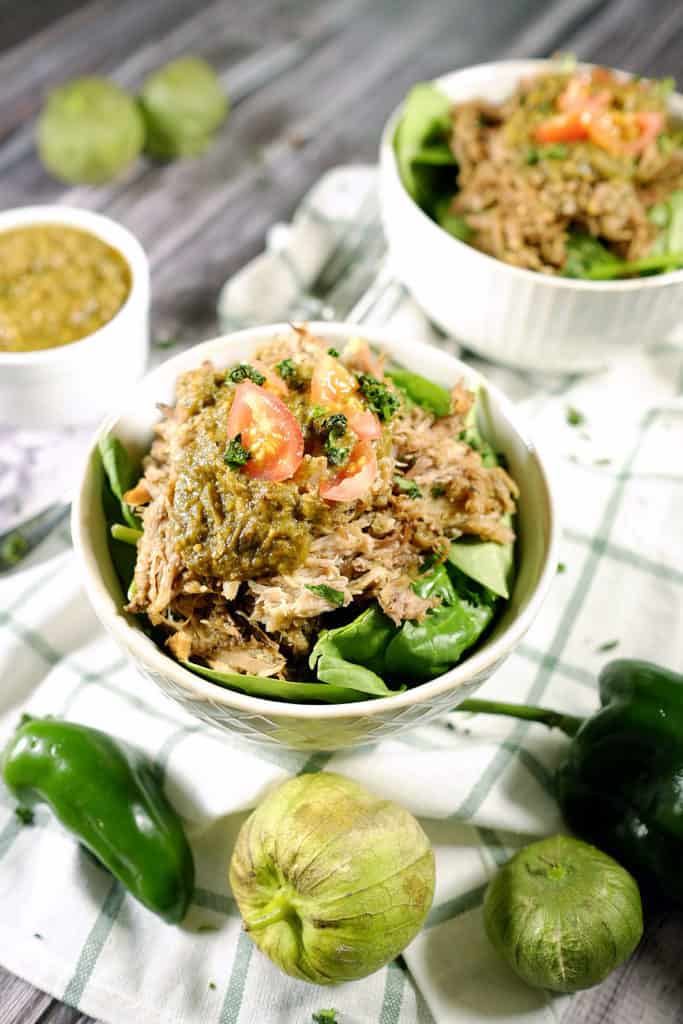 Don't be afraid to bust out that crockpot! Give this crockpot pork chile verde a try for a hearty and flavorful Mexican Paleo dinner option. Let us know how you like it by leaving a comment below, and tag us on Instagram @realsimplegood so we can check it out!
---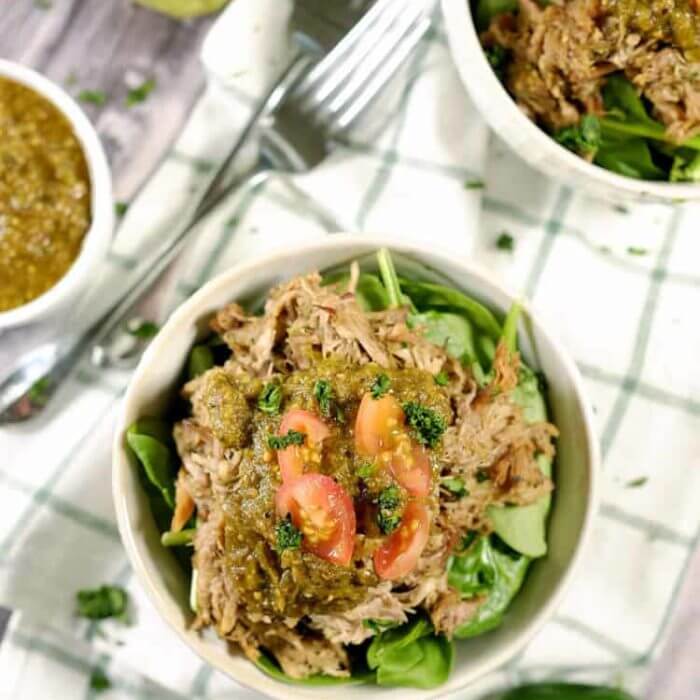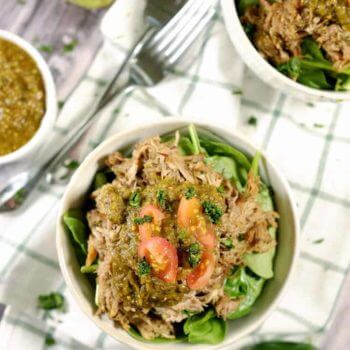 Get the Recipe:
Crockpot Pork Chile Verde (Paleo, Whole30 + Keto)
Tomatillos and chilies, garlic and cilantro blend to make the perfect sauce for tender pork in this easy Paleo + Whole30 crockpot pork chile verde recipe.
Ingredients
For the sauce:
1 lb tomatillos, husked and cut half, (about 10 tomatillos)
2 poblano peppers, cut half and seeds removed
2 jalapeno peppers, cut half and seeds removed
2 tbsp avocado oil
Generous pinch of salt and pepper
1 onion, quartered
4 cloves garlic
Small handful fresh cilantro
Juice of 2 limes
2 tsp cumin
1 tsp chili powder
1 tsp red pepper flakes
1 tsp salt
1 tsp oregano
Salt and pepper to taste
For the rest:
4 lb pork butt or shoulder
8 cups greens, (romaine, spinach, etc.)
4 cups cooked rice, (optional)
Instructions
Note: You can prepare the sauce in advance, just complete steps 2-5 below and store the sauce in an airtight container in the fridge until you are ready to throw everything in the slow cooker.

Preheat your oven to 400 degrees. Another note: If you want to get an extra smoky flavor, you can roast your tomatillos and peppers on a grill instead of the oven.

Prepare the tomatillos, poblano and jalapeño peppers as noted and place them in a bowl. Toss with oil and a couple of generous pinches of salt and pepper.

Place the tomatillos and peppers cut side down on a baking sheet (or grill) and roast for 30 minutes. You want everything to develop a nice char on the outside, that's what gives the sauce the smoky flavor.

Next, place the roasted veggies in a

blender

. Add in the remaining sauce ingredients except salt and pepper and blend into a smooth consistency. Taste and add any salt and pepper to your liking.

Place the pork butt or shoulder in your

crockpot

. Pour the chile verde sauce on top of the pork. Cook on low for 8-10 hours.

When the pork is almost done and you are ready to eat. Prepare the rice if you are having it.

Remove pork from the crockpot and shred the pork with 2 forks, removing any excess fat.

Spoon a generous amount of the sauce over the pork for serving. Serve pork over a bed of greens and rice (optional). Or, you can use for tacos! Enjoy!
Notes
Nutrition facts are an estimate provided for those following a Ketogenic or low-carb diet and do not include rice for this recipe. See our full nutrition information disclosure here.  
Calories: 376kcal, Carbohydrates: 9g, Protein: 44g, Fat: 17g, Saturated Fat: 5g, Fiber: 2g