This is one of the most flavorful summer side dishes you will ever sink your teeth into. It's got a little crunch from the celery and cucumber, some spice from the garlic, and a lot of creamy flavor from the avocado. Make this crunchy cucumber and avocado salad as a side for your next barbecue and everyone will be asking for a second helping.
Plus, we are expanding your vocabulary and kitchen lingo today by using a process called maceration to really pull out the flavors in this dish. Maceration is basically using liquid to soften food and/or absorb the flavor of the liquid into the food. In the case of fresh fruits or vegetables, you can just sprinkle them with salt and a little sugar and then leave them to sit and release their own juices. This process makes the food more flavorful and easier to chew and digest. In place of cane sugar we used maple sugar but maple syrup or honey could be used as well.
Start the dish by combining some cilantro, ginger, garlic and hot sauce (optional) into a resealable bag and pounding it with the bottom of a pan to mash the ingredients. Next comes the maceration, which involves adding in the cucumber, salt and maple sugar or other sweetener and lightly squeezing to get the juices flowing.
Let it sit for a half hour, mix with your celery, lime and avocado and you have a unique and fresh side dish.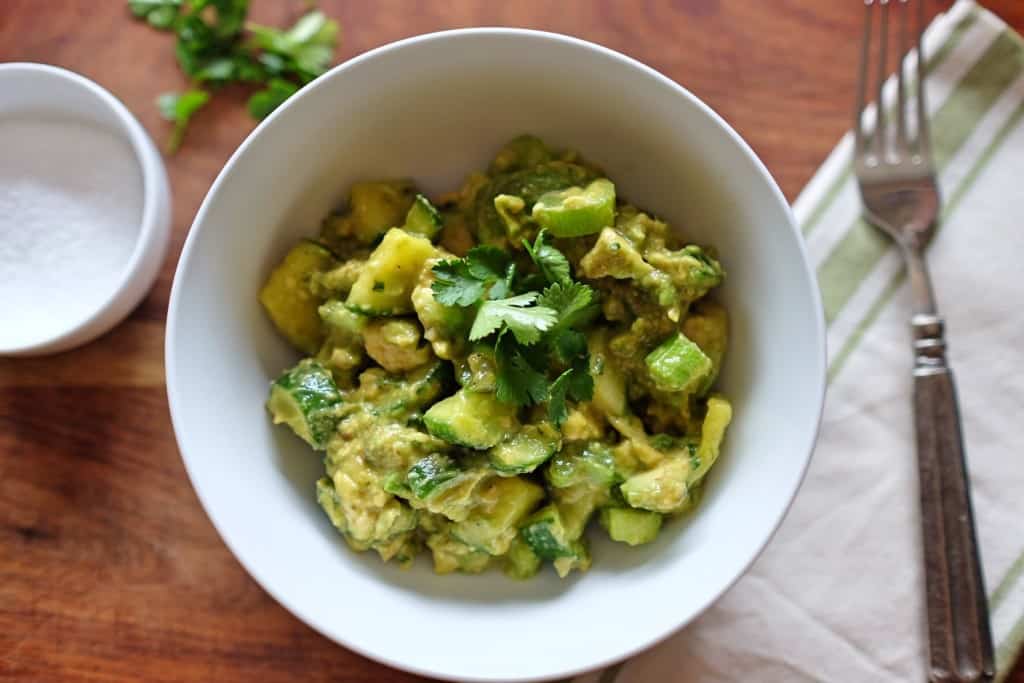 Enjoy!
---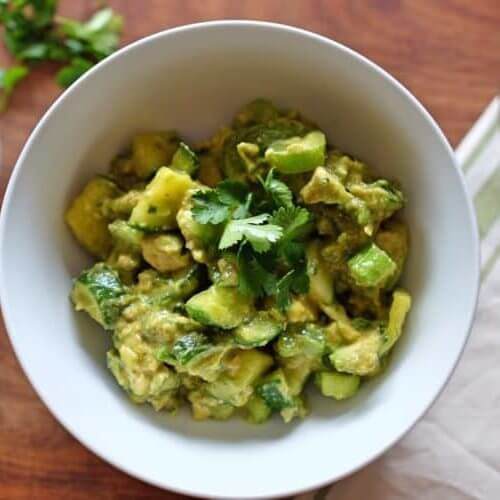 Get the Recipe:
CRUNCHY CUCUMBER AND AVOCADO SALAD
Ingredients
Handful of cilantro, - chopped
1/4 cup peeled and chopped ginger
8 cloves garlic, - lightly crushed and roughly chopped
2 Tbsp hot sauce, - optional
2 english cucumbers or several smaller pickling cucumbers
1 tsp salt
1 tsp maple sugar, (or substitute honey or maple syrup)
4-5 celery stalks, - sliced thin
Juice of a lime
2-3 avocados, - sliced
Instructions
Combine cilantro, ginger, garlic, and hot sauce in a resealable plastic freezer bag. Seal and lightly pound with a skillet until ginger and garlic are well mashed.

Add cucumbers, 1 tsp. salt, and maple sugar. Seal bag; shake to mix. Squeeze bag firmly to slightly mash cucumbers for about a minute. Place bag in a large bowl and let sit (macerate) at room temperature, turning halfway through, until juices form, about 30 minutes.

Empty contents of bag into bowl. Mix in celery and lime juice. Season with more salt, if desired.