We still drink coffee, and while it isn't super paleo of us, we recognize that sometimes you just have to do the stuff you enjoy and find what works for you. This means that things are often ebbing and flowing and changing. For a long time we just put coconut milk in our coffee, and it is quite delicious. Then, I cut coconut out for a while and had to get more creative.
Most of the nut milks you will find in the grocery store have some unusual ingredients in them…honestly I don't even know what some of the ingredients are. Sigh…and really, by most of the nut milks (almond, cashew, coconut, etc.) I basically mean all of them have unidentifiable ingredients in them. So, what are you to do?! You could make your own almond milk. It's really not that hard, but a little labor intensive because you need to strain the milk after you blend it. It's not hard…but sometimes I'm lazy, and it sounds like too much work. You have to pick your battles and most of the time this one doesn't sound like one I want to fight.
I started playing around with cashews and making my own cashew milk. It's also easy, and while you can strain the mixture after you blend, I've found that if you have a great blender (this is ours and I've heard Blendtec is also great), then you can get away with skipping the straining step…one less step and one less mess to deal with. Amen. Enough said.
This dairy-free coffee creamer is seriously so perfectly creamy with a hint of sweet from the dates and cinnamon…I might have drank some all on its own as a little treat one night. It was just too good.
This dairy-free coffee creamer is currently my favorite addition to my morning routine. It is super creamy…like whole milk creamy, and ever so slightly sweet and fragrant. It makes your morning cup that much more delightful! Give it a try and see how easy it can be to make your own coffee creamer! Also, stay tuned for some tasty holiday editions. Yum!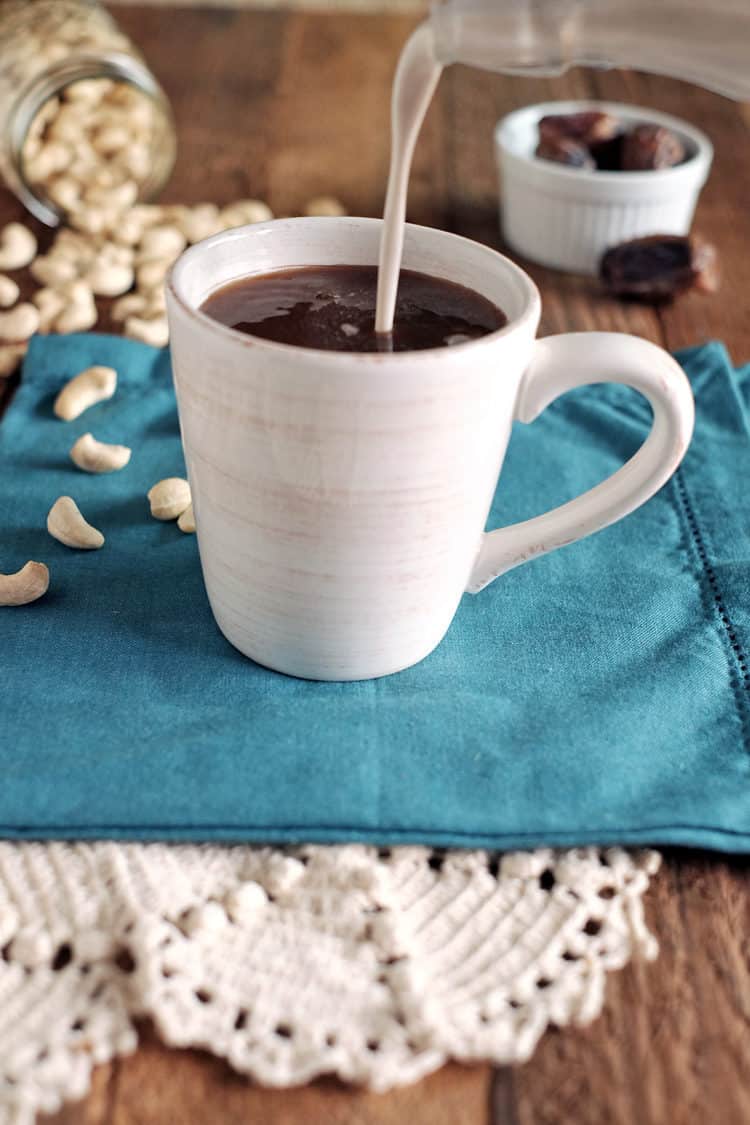 If you try out this recipe, we'd love to know what you think so make sure you leave a comment below or add in your rating. Also, take a picture and tag it on Instagram #realsimplegood so we can check it out!
---
Get the Recipe:
Dairy-Free Coffee Creamer
This dairy-free coffee creamer is super creamy...like whole milk creamy, and slightly sweet and fragrant. It makes your morning cup much more delightful!
Ingredients
1 cup raw cashews, - soaked for 8-12 hours
3 cups water
3 dates, - pitted
1/2 tsp vanilla
1/4 tsp cinnamon
Instructions
Soak your raw cashews overnight or for at least 8 hours. This makes them soft and malleable.

When you're all ready to make your creamer, drain the cashews and set aside.

Place 3 cups of water in your

blender

.

Then, add your cashews, dates, vanilla and cinnamon.

Blend on high for about a minute. Then turn it up to super high (the switch on a vitamix that turns your blender into a rocket - seriously sometimes I think my blender is going to take off!)

Blend for another mixture or two until it looks like all of the ingredients, especially the dates are completely blended.

Turn your blender off and pour your cashew creamer into an airtight container and store in the fridge for about 5 days. I wouldn't push it much past that as I've had bad cashew milk before and your stomach will not be very happy. Learn from my mistakes.

Pour this stuff into your morning brew and enjoy! I love to blend my coffee and the creamer together so it gets all frothy. Yum!