From brownies and cookies to pumpkin pie and to ice cream, here are 10 lovely dairy free desserts you must try!
If you have been searching for the perfect dairy free dessert recipe to treat yourself to, you've landed at the right place.
Why we Need Dairy Free Dessert Recipes
We all need a little treat now and then, and not all of us tolerate dairy for a variety of reasons. Since a lot of "traditional" desserts include butter in the ingredients, desserts that are made to be dairy free can be a lifesaver!
When looking to make a dairy free dessert, we recommend making one that is designed to be dairy free rather than substituting something for butter or omitting butter from a recipe. You never know how that will turn out.
Tips for Dairy Free Baking
My biggest tip would be to find naturally dairy free recipes or recipes created to be dairy free to try. Then you don't have to worry about converting recipes and finding suitable substitutes.
That's why we created this roundup! All the recipes are dairy free and ready for you to enjoy!
Just a note to remind you that eggs are in fact not dairy. It's easy to get confused or think of them as dairy since they are typically located near the dairy at the grocery store, but they are not a part of the dairy family.
Here are my favorite dairy free baking products that are used in some of these recipes.
A quick note on ghee…if you see a recipe with ghee in it, we do often consider ghee dairy free since the milk protein is removed, which is typically what people have a sensitivity to. If you can't do ghee, you can always replace ghee with coconut oil in these recipes.
Looking for more? Check out this roundup of 50 Healthy Desserts!
Dairy Free Chocolate Desserts
It's pretty easy to get your chocolate fix and keep things dairy free! Follow these recipes to get that rich and chocolatey goodness you are craving.
1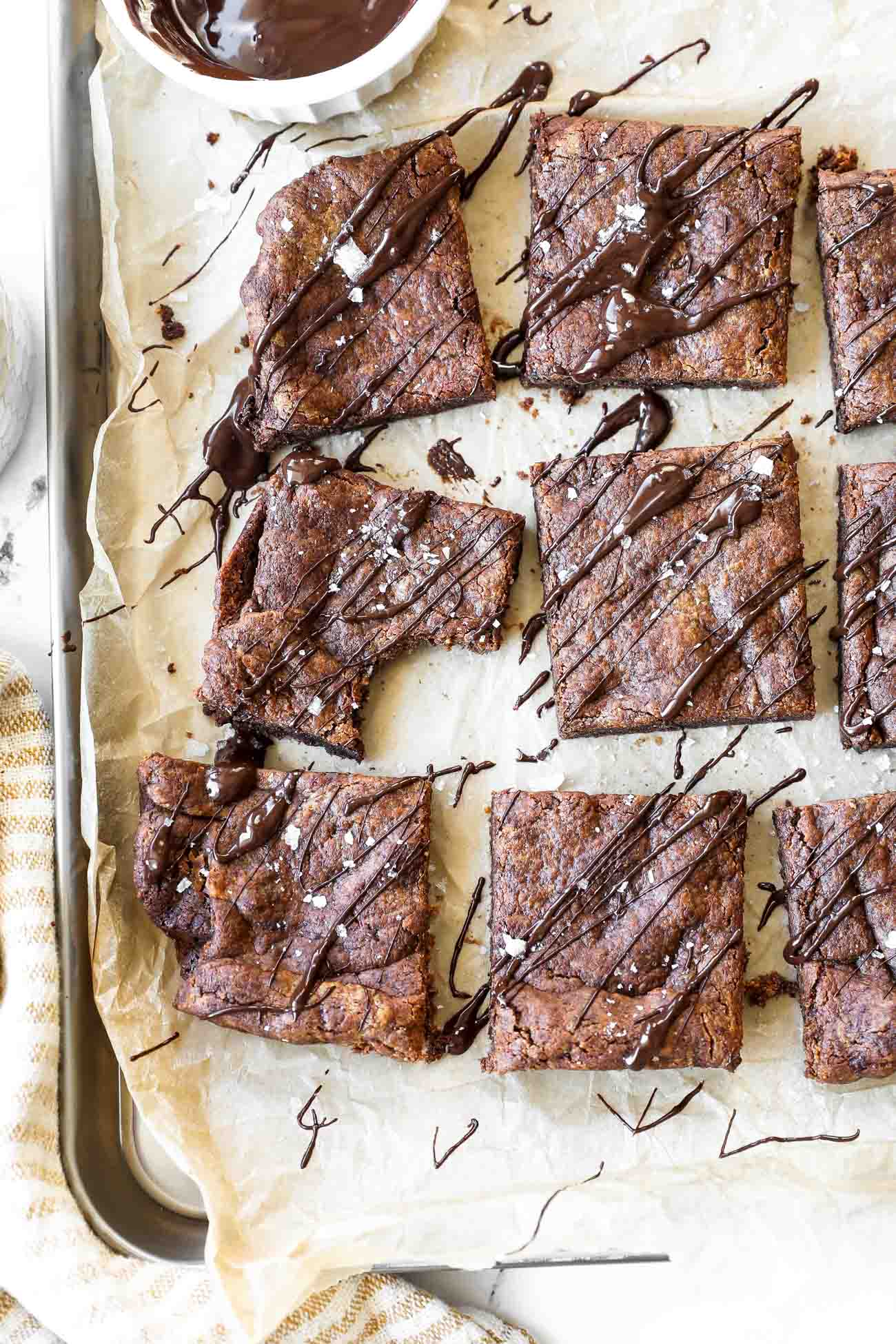 Chewy Dairy Free Flourless Brownies
We use nut butter, coconut sugar and raw cacao powder for a cleaned up, perfectly fudgy and chewy brownie. And it only takes about 25 minutes to whip up a batch! And they come out great every time!
Get the recipe
2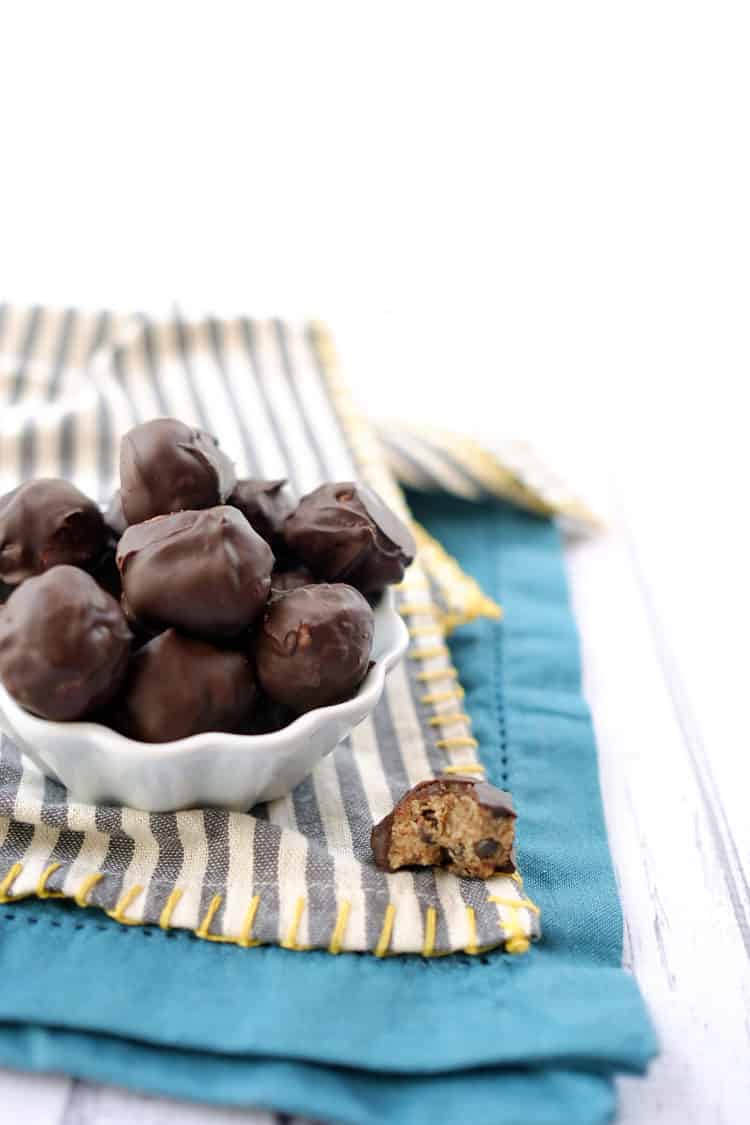 Chocolate Chip Cookie Dough Bites (Dairy-Free, Egg Free, + Paleo Friendly)
Scrumptious little bites of heaven. That is what these Chocolate Chip Cookie Dough Bites are. Try these out next time you're looking for a sweet treat. 
Get the recipe
Dairy Free Ice Cream Recipes
A traditional no churn ice cream that you can make without an ice cream maker. You could use this base recipe and mix up the ingredients all you want!
Or, if you do have an ice cream maker you can try a simple cherry vanilla that is the perfect colorful treat!
3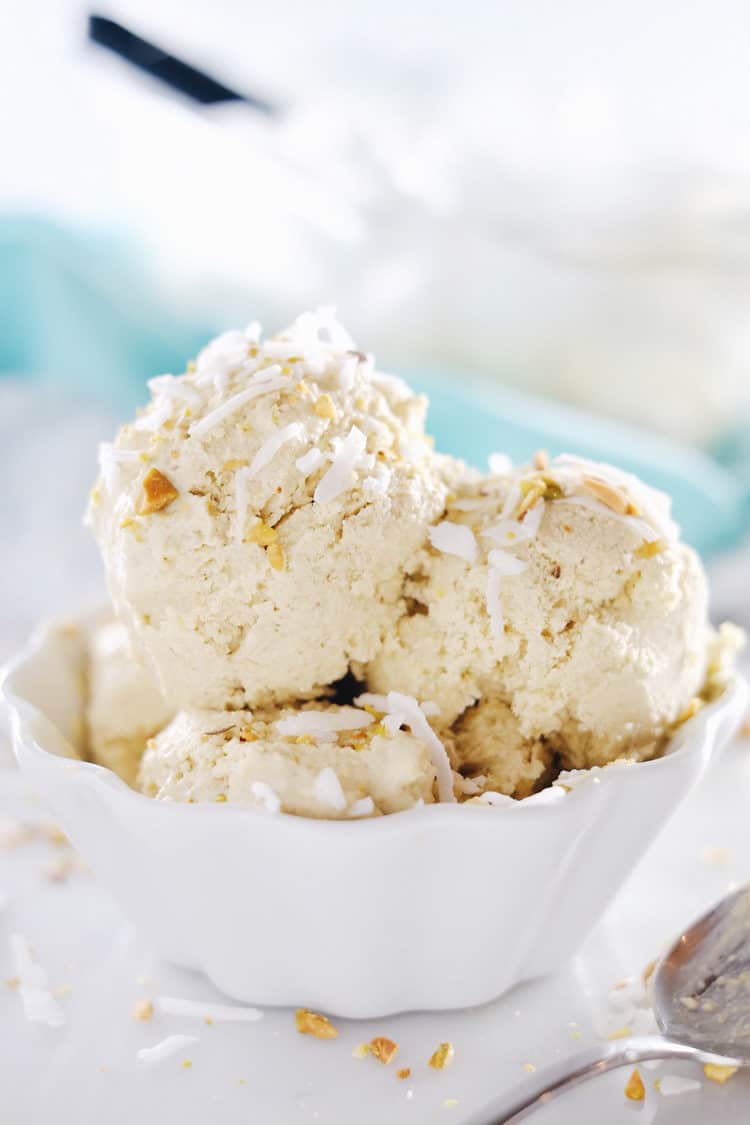 No Churn Pistachio Ice Cream (Dairy-Free + Refined Sugar-Free)
A creamy bowl of ice cream hits the spot on a long summer day. This no churn pistachio ice cream is full of nutty, slightly salty and sweet flavors.
Get the recipe
4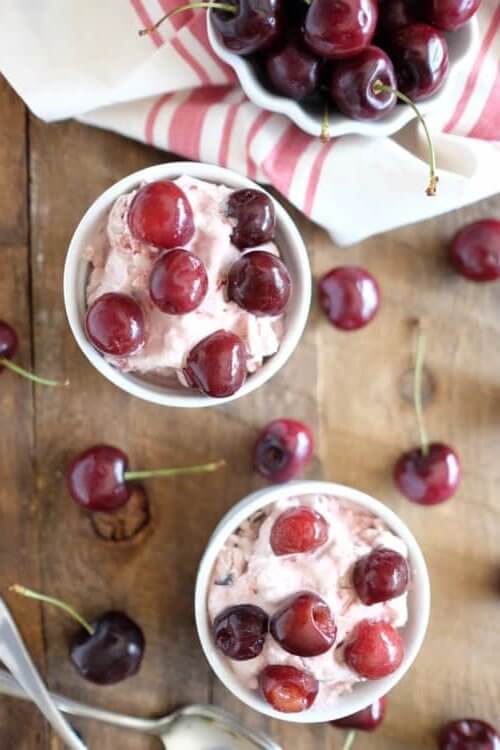 Paleo Cherry Vanilla Ice Cream
This paleo cherry vanilla ice cream is a little tart, a little sweet, and all kinds of delicious!
Get the recipe
Dairy Free Cookie and Bar Recipes
Probably the toughest thing to make without butter, these cookie recipes are a great option. Whip up a batch and you won't regret it.
5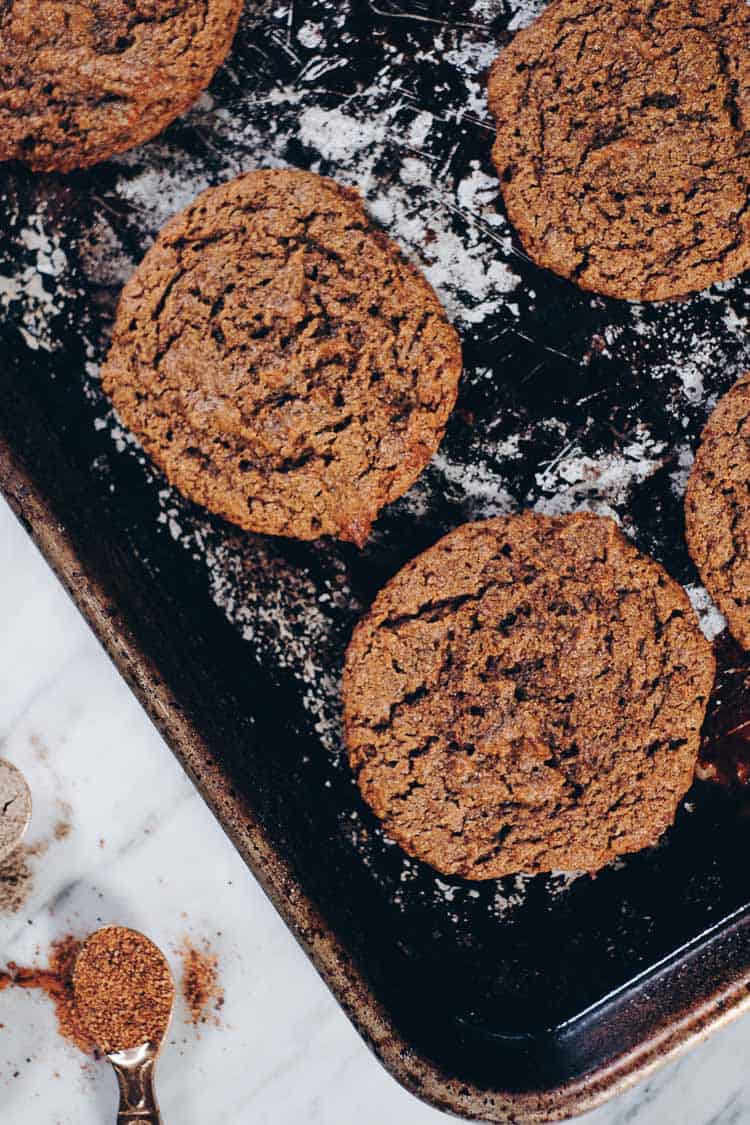 Paleo Chai Spiced Cookies (GF, Dairy-Free, Egg-Free + Refined Sugar-Free)
Hurry! Go make a batch of these Paleo and egg-free Chai Spiced Cookies! They're quick and easy to whip up and make your house smell all festive and cozy!
Get the recipe
6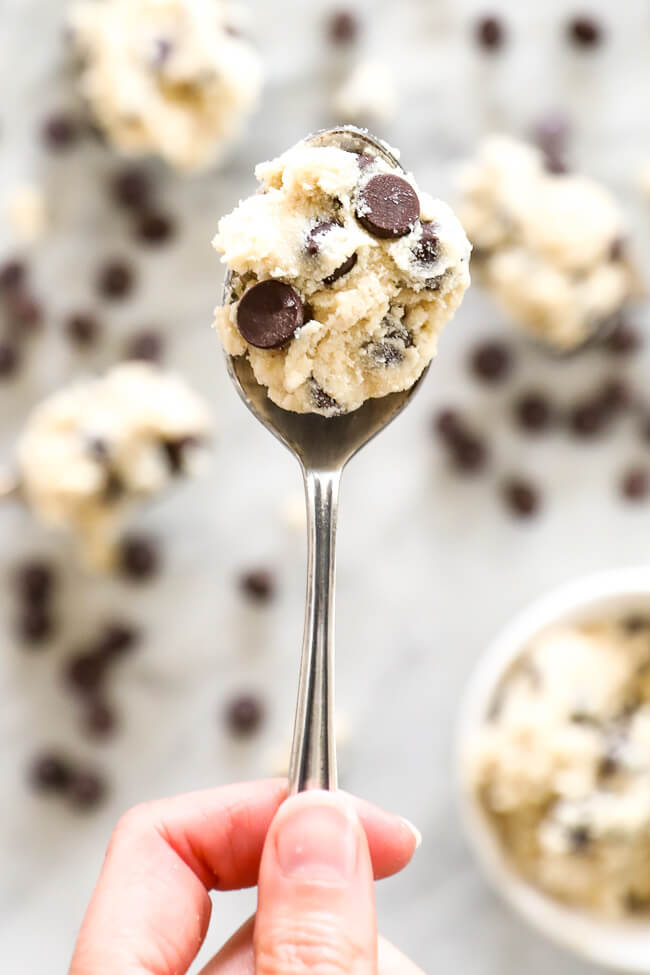 Healthy Cookie Dough (Edible, Paleo + Vegan)
If you've been looking for a nut-free, Paleo edible cookie dough recipe, search no more! Add chocolate chips or any other cookie add-in you love, and enjoy this healthy edible cookie dough with a bite here and a bite there.
Get the recipe
7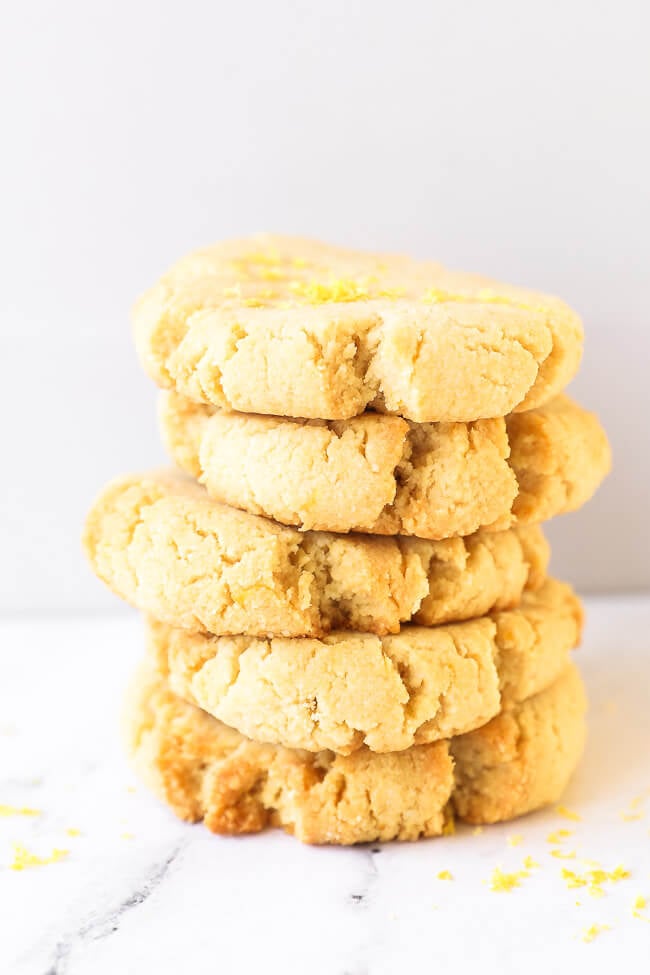 Easy Gluten Free Lemon Shortbread Cookies
These gluten free shortbread cookies are an easy one bowl recipe made with almond flour and coconut flour and just about a handful of ingredients. Fresh lemon juice and zest add a citrusy pop of flavor!
Get the recipe
Dairy Free Cobbler Recipes
A fruit cobbler is the ultimate seasonal dessert recipe. The fresh fruit is the star of the show but you'll love the buttery, dairy free toppings in these recipes.
8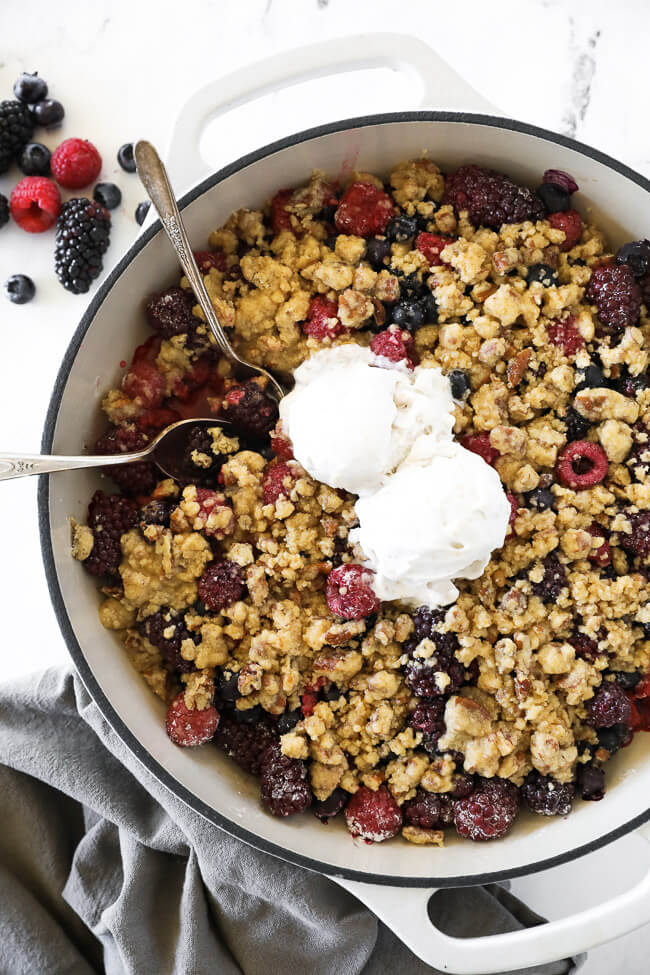 Healthy, Oven-Baked Mixed Berry Crisp
To make this healthy berry crisp, we used blackberries, blueberries and raspberries. It's topped with a salty-sweet crumbly mixture. Oat-free + gluten-free.
Get the recipe
9
Gluten Free Peach Cobbler (Paleo, Dairy-Free + Refined Sugar-Free)
Summer desserts are some of the best treats, and this gluten free peach cobbler is Paleo, refined sugar-free and egg-free too! It's a healthy peach dessert your entire family will love!
Get the recipe
Dairy Pumpkin Recipes
With staple recipes like pumpkin pie and pumpkin bread, who needs the dairy? You won't miss it in these traditional treats, we guarantee it!
10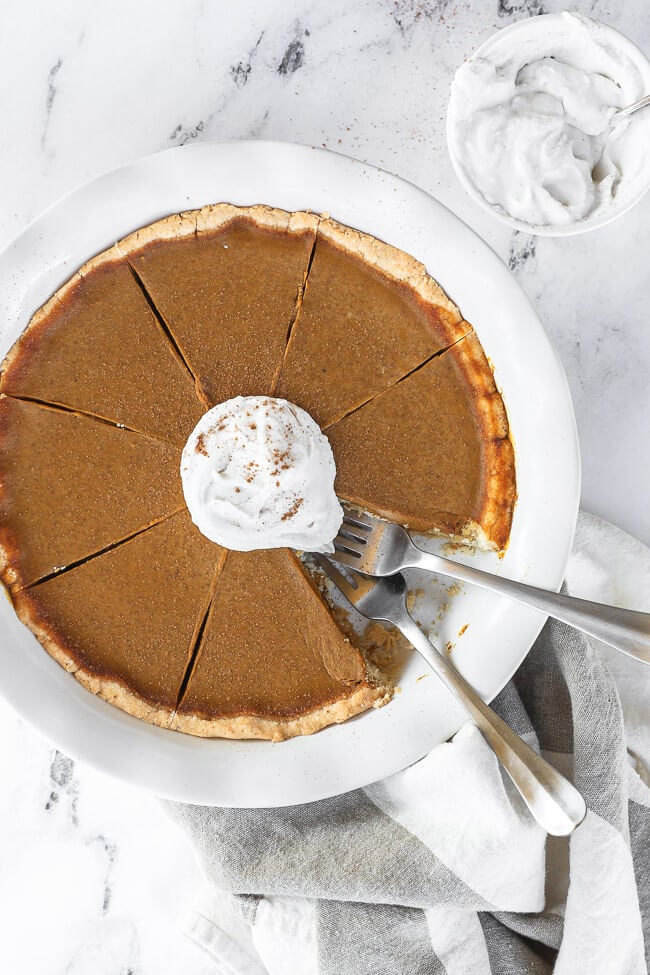 Dairy Free, Gluten Free Pumpkin Pie
This recipe for dairy free, gluten free pumpkin pie crust and pumpkin pie filling is buttery, flakey and melt-in-your-mouth good!
Get the recipe
11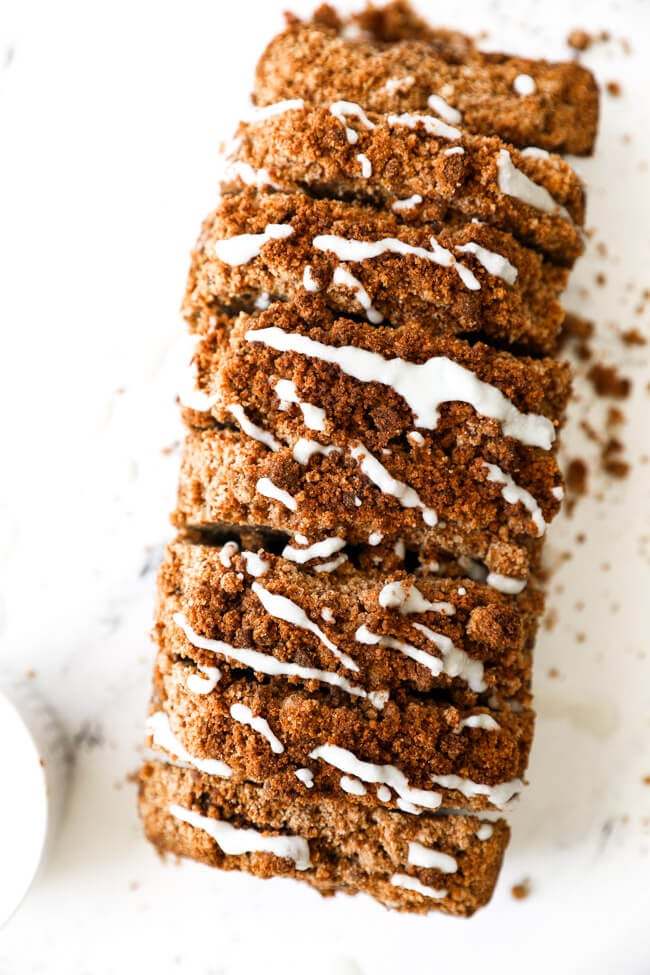 Gluten Free Pumpkin Bread
This one bowl gluten free pumpkin bread is made with almond flour, coconut flour and arrowroot flour. Perfectly spicy and a crumbly topping!
Get the recipe
---
Like this Post?
SHARE IT NOW OR PIN IT FOR LATER!
---
---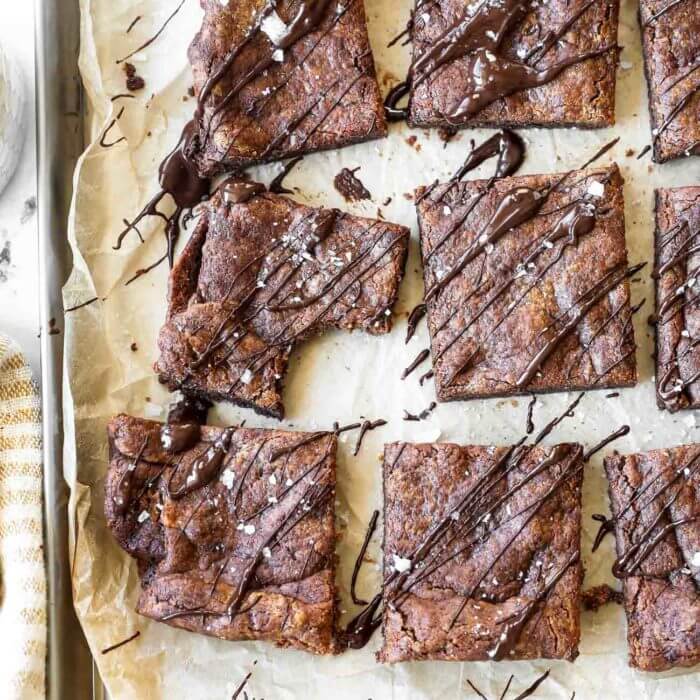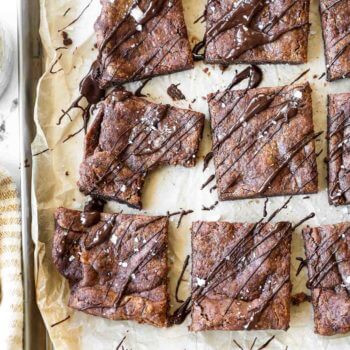 Get the Recipe:
10 Delightful Dairy Free Desserts: Chewy Flourless Brownies
We use nut butter, coconut sugar and raw cacao powder for a cleaned up, perfectly fudgy and chewy brownie. And it only takes about 25 minutes to whip up a batch! We've also rounded up some of our favorite dairy free dessert recipes for you!
Ingredients
1 egg
1 cup creamy nut butter, (almond butter, sunflower seed butter or peanut butter are my favorites)
1 cup coconut sugar, (or maple sugar)
1 tsp vanilla extract
1 tsp baking soda
1/8 tsp sea salt
1/4 cup raw cacao powder, (or unsweetened cocoa powder)
Optional toppings:
flaky sea salt
melted chocolate, (I use Enjoy Life dairy free chocolate chips)
Instructions
Preheat oven to 350° Fahrenheit and line a 9×9" baking dish with parchment paper.

In a large mixing bowl, whisk egg.

Add nut butter, coconut sugar, vanilla, baking soda and sea salt and mix to combine with a spoon.

Next, add cacao powder. It's easiest if you do it a little at a time as it gets harder and harder to combine.

Dump mixture into parchment lined pan and spread out with your hands. I sprinkled a little salt on top, but that's optional.

Bake for about 15 minutes. The brownies will rise quite a bit in the oven, and they'll be just a little squishy when they're ready, slightly underdone looking. That's what you want! Allow them to fully cool (THIS IS IMPORTANT) or they won't stay together for you.

You can drizzle with melted chocolate if you desire. Cut into squares and serve.