This Paleo version of dirty cauliflower rice is spicy, rich, filling and incredibly tasty. While most rice is usually relegated to the side of the plate as an afterthought, this rice is daring enough to be the main event. You can serve it in a bowl all by itself and no one will be complaining about having "only" a side dish for dinner. Instead, everyone will be busy devouring their bowl, gulping some water to ward off the heat from the jalapeno and quickly heading back to the stove to fill up on seconds.
When I first made this dirty cauliflower rice, I was impressed by the massive flavor that came out of a small number of ingredients. Then I decided to add some cilantro and a jalapeno – GAME OVER.
I couldn't get enough. It's what Erica calls "sneaky spicy". It's not too hot but the more you eat the more you taste the spice and keep wanting more. Somehow I think I managed to eat the whole jalapeno. Oops.
The cauliflower rice provides a perfect base for soaking up a few select seasonings. There's also a ton of healthy of veggies packed into this recipe. You have the cauliflower base plus a large dose of bell pepper, onion, mushrooms and kale. It's healthy and very filling, a very desirable combination.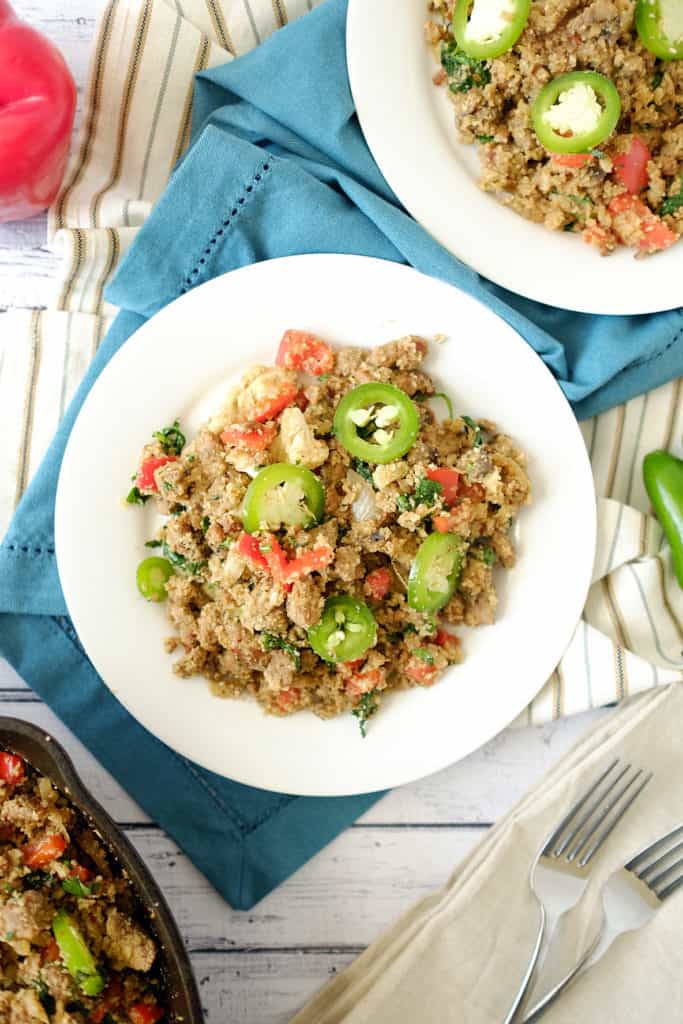 Give this dirty cauliflower rice a try, and let us know how it goes by leaving a comment below. Tag us on Instagram @realsimplegood so we can check it out!
---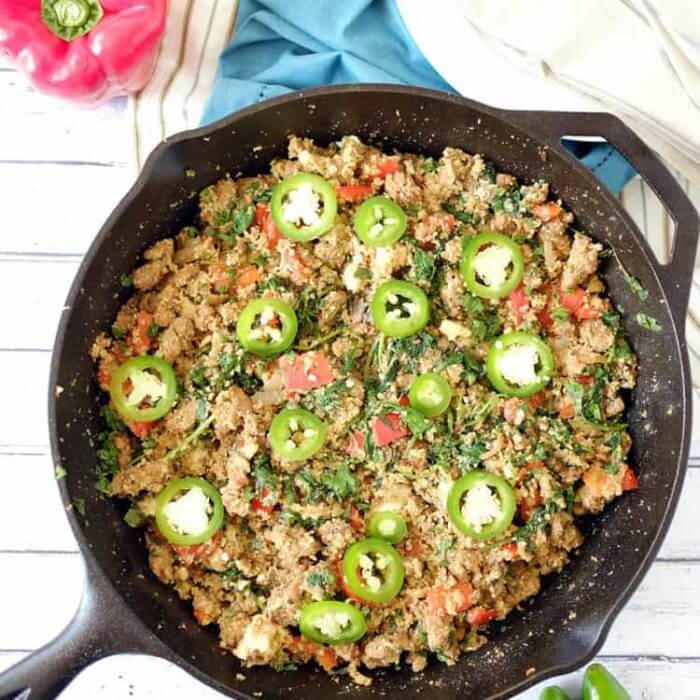 Get the Recipe:
Dirty Cauliflower Rice (Paleo, Whole30 + Keto)
This Paleo + Whole30 version of dirty cauliflower rice is spicy, rich, filling and incredibly tasty. It's not a side dish, it's a whole meal!
Ingredients
1 head cauliflower
1 lb spicy Italian sausage, - ground
1/4 onion, - diced
1 cup mushrooms, - diced
1 tbsp garlic paste
1 bell pepper, - diced
4 cups spinach, (or other greens)
1 tsp sage
Salt and pepper, to taste
2 tbsp fresh cilantro, - diced
1 jalapeno, - sliced into rounds
Instructions
"Rice" your cauliflower using a food processer with either the normal blade or shredding attachment to get the consistency you prefer. If doing this by hand you can use a grater.

Chop up your onion, mushrooms and bell pepper to have them ready.

Heat a large pan over medium heat. Once hot, add in the sausage.

Cook the sausage until browned and then remove it from the pan and set aside.

Add in the onions to the same pan, cook a few minutes until the onions become translucent. Be sure to scrape up the sausage bits from the bottom of the pan.

Add the mushrooms and garlic. Cook for a few minutes, stirring occasionally.

Add the cauliflower, sausage, kale and pepper. Season liberally with salt and pepper and 1 tsp sage. Allow everything to heat up and cook, stirring occasionally for about 5 minutes.

Remove from heat and toss with cilantro. Garnish with the jalapeño.

Serve and enjoy!
Notes
Nutrition facts are an estimate provided for those following a Ketogenic or low-carb diet. See our full nutrition information disclosure here.  
Calories: 459kcal, Carbohydrates: 13g, Protein: 21g, Fat: 36g, Saturated Fat: 12g, Fiber: 4g