Do you want to create a fun DIY holiday gift and share your Paleo way of eating with your friends, family, co-workers and clients? Last year, I really wanted to do something in a jar, but didn't have the perfect recipe that was both clean and didn't require the recipient to have unusual ingredients on hand. These DIY pumpkin cookies in a jar are a great idea for cookies in a jar, and the recipe fits perfectly in an eight ounce mason jar, so gather a few jars and the ingredients below, and create a fun holiday gift for this year's season of giving!
Getting Crafty
Ok, so let's just get this out there…I would not consider myself a super crafty person. I do think it is something that can be learned though, so this is me learning about it! I went to Michael's and got really overwhelmed and almost turned right back around to leave, but then I remembered that I'd just have to go back if I didn't just figure it out. So, I took a few deep breaths and went about my list. First stop, some cute ribbon to tie around the top of the jars…I'm pretty much obsessed with plaid so it was an easy pick. They even had a cute plaid with a deer on it, so that was pick number two.
Next up, I wanted to create a label that had the instructions for baking the cookies right on the back of it. Another favorite of mine right now is black and gold. So, I found some black craft paper that's in between paper and card stock and a gold sharpie marker. To attach the card to the mason jars I found these little stickers that go at the corners of the card and make it so you can remove the card from the jar for the instructions. Super cute and fun!
Then, I happened to walk by an end cap that had these cute little festive, decorated wood pieces that felt like they belonged next to my plaid ribbon, so I scored a couple packages of those and made my way to the checkout line. Ok, I actually felt like I wandered around for a while because I had no idea where to find anything in Michael's, but once I gathered these things I quickly headed out. Oh yeah, and just ask the person checking you out for an extra 20% coupon, and they'll most likely give it to you!
Putting It All Together
The hardest part was creating the removable label/recipe cards. It took me the most amount of time, probably about 40 minutes to cut them all out, line the edges with gold sharpie and write out the front and back sides. I made 10 labels.
The rest is easy! Just place all of the dry ingredients in the recipe below in the mason jar. Seal it up and then add your decorative touches.
Your Turn To Make These DIY Pumpkin Cookies In A Jar
Surprise your friends, family, co-workers and clients with these DIY pumpkin cookies in a jar. They are a clean cookie recipe that is packaged with care, and it's such a fun way to share a Paleo treat! Let us know how it goes by leaving a comment below. Also, take a photo and tag us on Instagram @realsimplegood, so we can check it out!

---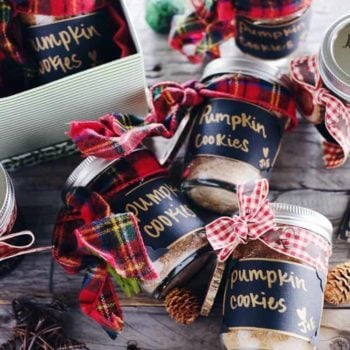 Get the Recipe:
DIY Pumpkin Cookies In A Jar (Paleo, GF, Egg-Free, Dairy-Free + Refined Sugar-Free)
Instructions
Place all of the ingredients in an 8 oz mason jar. Decorate with a label, ribbon, and any other decorative items you'd like.

On the label or a separate recipe card that goes with the jar add the following instructions: Add: 1 cup almond butter, 1/2 cup pumpkin puree, and 1 tsp vanilla. Mix well.Spoon onto parchment lined cookie sheet (w/ extra room between cookies).Bake 12 minutes at 350 degrees.Let cool completely. Enjoy!