This easy cauliflower hummus is a low carb, Paleo and Whole30 dip that you're sure to love! Made with roasted cauliflower, red peppers, garlic, and some simple seasonings, it's a chickpea free hummus recipe with all texture and flavor of traditional hummus.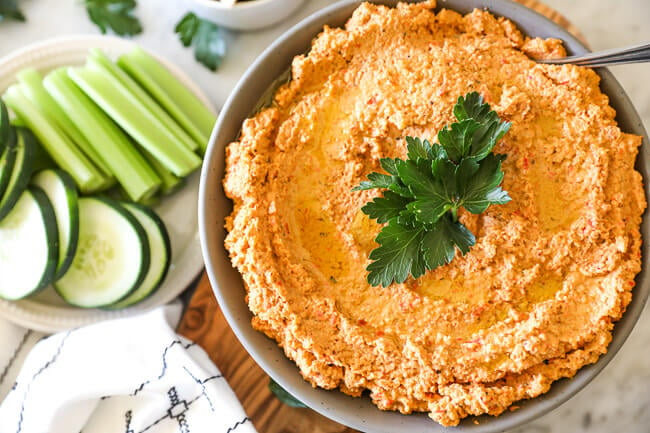 Why cauliflower hummus?
While I used to eat regular chickpea hummus before I went Paleo, let's just say that it wasn't exactly friendly to my stomach. It would cause gas and bloating, especially if I ate more that just a couple of bites.
Garbanzo beans are high in fiber, which can cause gas for some people. They also contain raffinose, a sugar found in many members of the legume family. Since humans lack the enzyme to digest raffinose, it gets passed down to the bacteria in the large intestine to be broken down. This process also creates gas in some people. Uh oh.
Legume free hummus is easier to digest
Although cauliflower also contains raffinose, it's a smaller amount than what is found in beans. In addition, this recipe uses roasted cauliflower, and cooked cauliflower tends to be easier to digest. So, your stomach will be happy you chose to make this bean free easy cauliflower hummus!
Good for parties and dipping
We love making this easy cauliflower hummus as an easy appetizer for parties, holidays or BBQ's. It's easy to make in advance, refrigerate and store it in a container to carry along with you. We usually bring along a variety of options for dipping, such as:
Chopped veggies (we like carrots, celery, cucumbers or radishes)
Chips (Seite brand are a good Paleo friendly option)
It's more than just a dip
Since this easy cauliflower hummus is so full of flavor, we have used it as a sauce/topping too! Try it out these options:
Mixed in with a salad
As a topping for a burger
To add flavor to any bowl
Scrambled up with some eggs (it's really good!)
Some other healthy cauliflower recipes
Your turn to try this easy cauliflower hummus
Looking for a healthy dip for a party, BBQ or holiday gathering? Look no further and try this cauliflower hummus! Leave a comment below and let us know how it goes if you try it. Also, take a pic to share on Instagram and tag us @realsimplegood so we can see. Give us a follow if you don't already, we'd love to stay connected!
---
---
Like this Recipe?
SHARE IT NOW OR PIN IT FOR LATER!
---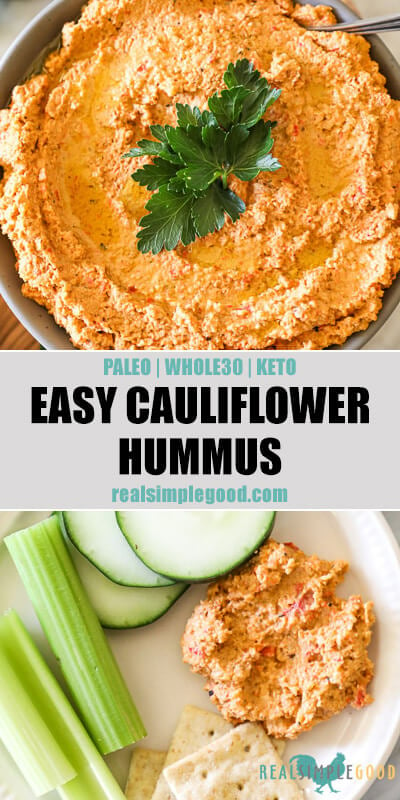 ---
Get the Recipe:
Easy Cauliflower Hummus (Paleo, Whole30 + Keto)
Easy cauliflower hummus is a low-carb, Paleo and Whole30 dip you'll surely love! Made with roasted cauliflower, red peppers, garlic and simple seasonings.
Ingredients
For the cauliflower:
1 head cauliflower, cut into florets, (about 6 cups florets)
3 cloves garlic, peeled
2 tbsp avocado oil
1 tsp smoked paprika
1/4 tsp sea salt
For the rest:
2 tbsp lemon juice, (about 1/2 lemon)
1/4 cup nutritional yeast
1/4 cup tahini
1 jar roasted peppers, drained, (Any jar size from 12-16 oz will work)
2 tbsp olive oil, (+/- more to taste)
chopped parsley, (optional topping)
Instructions
Preheat oven to 400° Fahrenheit and line a baking sheet with parchment paper.

Cut cauliflower into florets and place on baking sheet. Add garlic cloves to the baking sheet also. Drizzle with avocado oil and season with smoked paprika and sea salt. Toss to coat and mix.

Place in the oven and roast for 20 minutes. Once cooked, carefully transfer the cauliflower to a food processor or high-powered blender like a vitamix. This is easiest if you allow the cauliflower to cool first (recommended but not required).

Add the remaining ingredients to the processor/blender. Blend on high until smooth and creamy. If the consistency is too thick, add more oil to thin it out, if desired. Taste and season with salt and pepper if needed.

Transfer to a bowl. Cover and refrigerate to cool. Serve top with chopped parsley if desired. Serve within 2-3 days for the best flavor.
Notes
Nutrition facts are an estimate provided for those following a Ketogenic or low-carb diet.  See our full nutrition information disclosure here. 
Calories: 140kcal, Carbohydrates: 8g, Protein: 4g, Fat: 11g, Saturated Fat: 2g, Fiber: 3g