A tasty and filling sheet pan meal, this easy chicken and chorizo bake will have you going back to fill up your plate for a second helping! A healthy recipe with plenty of veggies, the smoky chorizo stands out and fills this dish with flavor. It will be a new go-to Whole30 and low-carb recipe!
So many flavors and textures
We crafted this recipe with ingredients that would make it stand out and not seem like another boring sheet pan meal. We love sheet pan meals because they are quick and easy, but sometimes they can be a little lacking in flavor. Not so with this chicken and chorizo bake! This recipe is:
Smoky & hearty
Versatile for leftovers
A little crunchy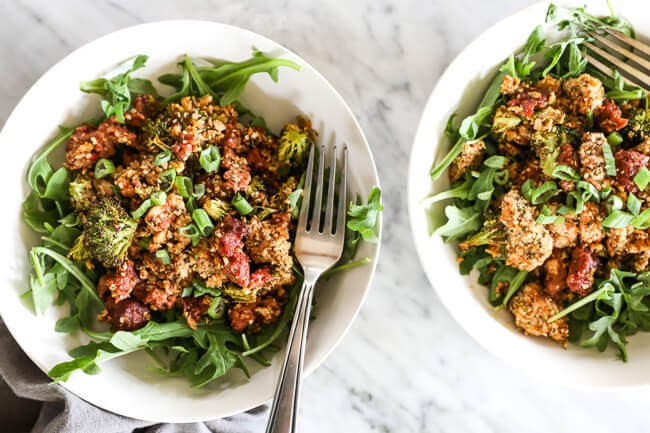 How do you add a crunchy texture?
Hemp seeds are the secret ingredient that adds a little bit of crunch to this chicken and chorizo. Hemp seeds (sometimes labeled as hemp seed hearts), add a mild nutty flavor and a slight crunch. They mix in well with the veggies, chicken and chorizo so you'll get a little bit of crunch in each and every bite!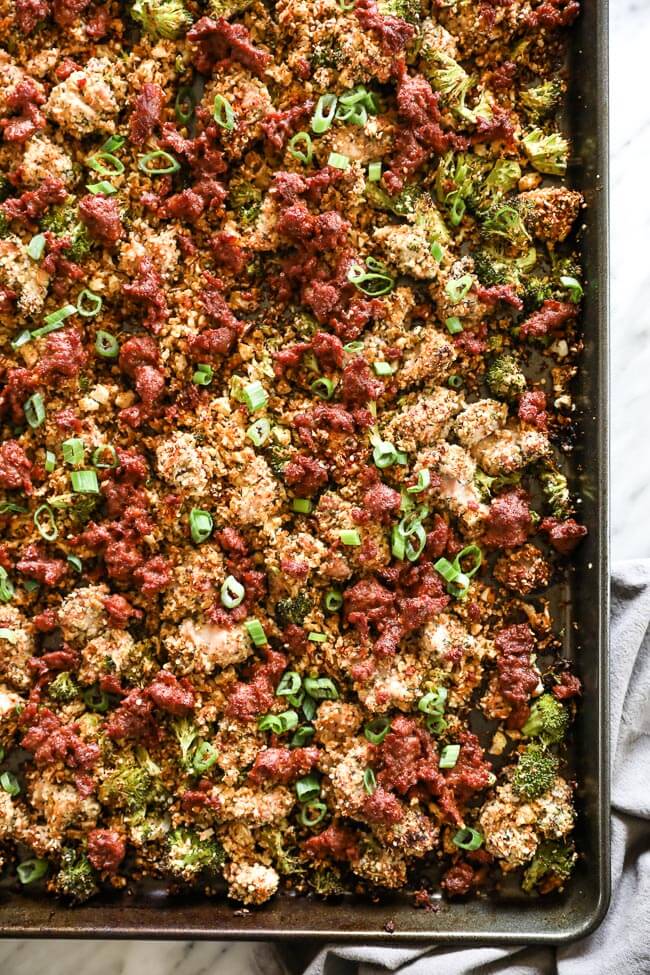 Where can I find Whole30 compliant chorizo?
We've found two Whole30 compliant chorizo options that we recommend:
If you can't find chorizo that fits your needs, you can substitute other kinds of sausage. Italian sausage or a spicy breakfast sausage would be good options.
Serving options for this easy chicken and chorizo bake
This recipe is versatile and can be served on it's own or easily paired with other ingredients to mix it up a little. Here are some options:
Served over a bed of greens
Topped with a fried egg or with scrambled eggs mixed in
Served with some avocado slices and hot sauce
Mix in a little chipotle lime mayo for a creamy texture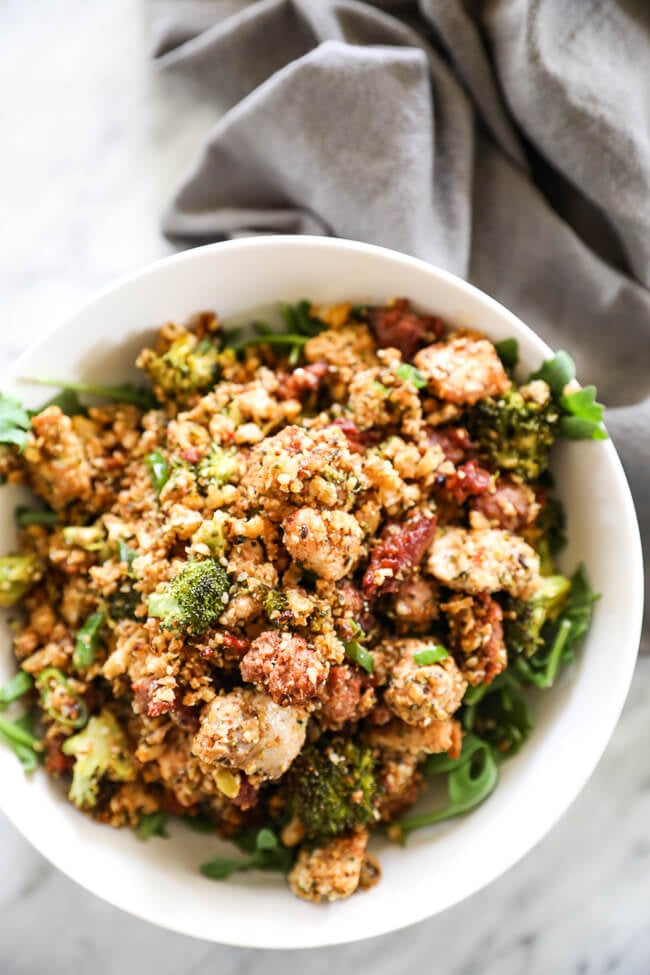 Some other easy sheet pan meals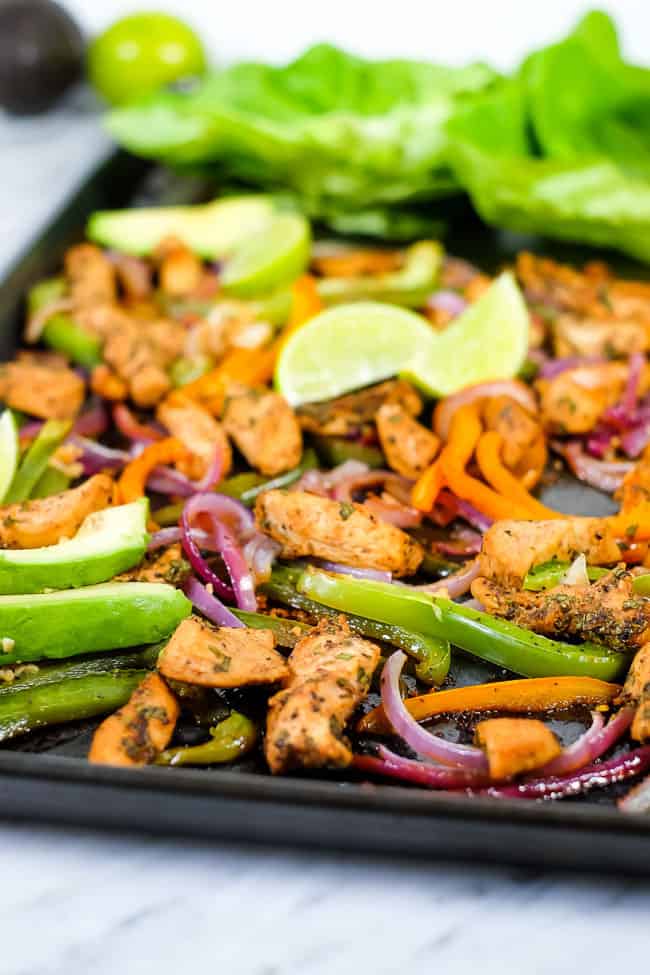 Your turn to try this easy chicken and chorizo bake
This easy sheet pan chicken and chorizo bake is a great quick and easy weeknight dinner. Plus, it's a fun new recipe with unique flavors and textures! Leave a comment below, and let us know how it goes. Also, take a pic to share on Instagram. Tag us @realsimplegood, and make sure to give us a follow if you don't already. Let's stay connected!
---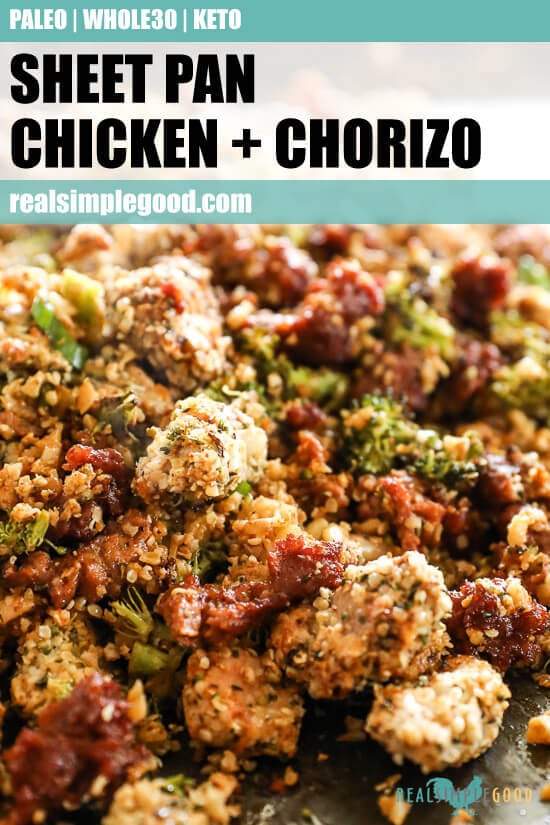 ---
Like this Recipe?
SHARE IT NOW OR PIN IT FOR LATER!
---
---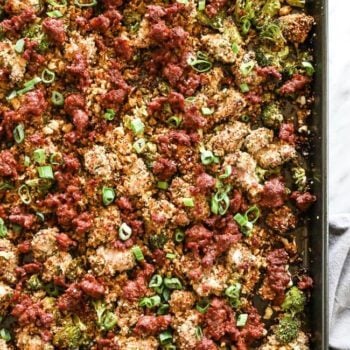 Get the Recipe:
Easy Chicken and Chorizo Bake (Paleo, Whole30 + Keto)
This easy sheet pan chicken and chorizo bake is a great quick and easy weeknight dinner. Plus, it's a healthy and flavorful Paleo, Keto + Whole30 recipe!
Ingredients
1 lb boneless chicken thighs, cut into cubes, (can sub breasts)
1 head cauliflower, riced, (about 6 cups)
2 cups broccoli florets, diced
1 cup hemp seed hearts
1 tbsp avocado oil
1/4 cup coconut aminos
1 lime, juice of
1 tbsp chili powder
2 tsp smoked paprika
1 tsp ground pepper
1 lb ground chorizo
chopped green onions, (optional topping)
Instructions
Preheat oven to 400° Fahrenheit. Prep chicken, cauliflower and broccoli as noted and place in a large sheet pan.

Add hemp seed hearts to the sheet pan and drizzle everything with avocado oil. Mix to coat.

Add coconut aminos, lime juice, chili powder, smoked paprika and pepper to the other ingredients. Stir and mix everything together. Spread everything out in an even, thin layer on the sheet pan.

Break the ground chorizo into small pieces and place them out on top of the cauliflower mixture. Make sure the chorizo pieces are small and spread them out evenly so they are across the entire pan and not touching.

Place the sheet pan in the oven and bake for 20-25 minutes. Watch the oven carefully at the end and remove if the cauliflower mixture starts to brown/burn too much around the edges.

After removing the pan, scrape up any bits from the bottom of the pan and mix everything well. Serve with chopped green onions if desired.
Notes
Nutrition facts are an estimate provided for those following a Ketogenic or low-carb diet.  See our full nutrition information disclosure here.
Calories: 585kcal, Carbohydrates: 13g, Protein: 41g, Fat: 40g, Saturated Fat: 9g, Fiber: 4g