This recipe is as easy as grilling gets! With a simple and flavorful seasoning rub, these easy grilled chicken drumsticks are sure to be a hit at your next BBQ. Fire up your grill and let's eat!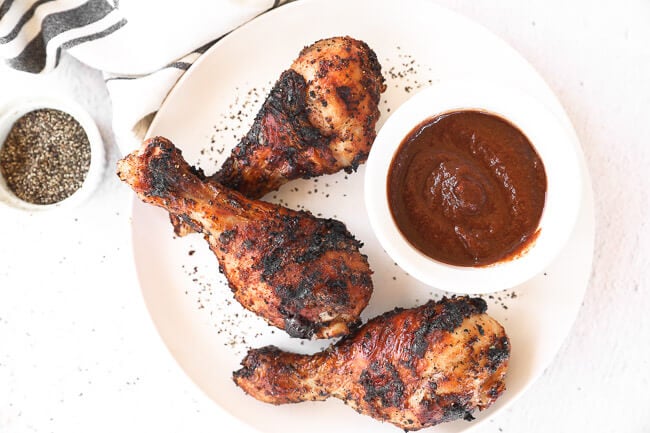 The best BBQ chicken drumsticks
When grilling, I like to keep it simple. You don't need fancy wood chips, sugary BBQ sauce or an expensive smoker grill. In fact, I love the basic Weber charcoal grill for the best smoky BBQ flavor.
For this recipe, here's all you need:
A hot grill
Some chicken drumsticks
A few simple seasonings
Looking for more? Check out this roundup of mouthwatering BBQ recipes!
That's it!
Ok, you'll probably also want to plan making a side dish to go with your chicken. Some of our favorite sides for grilling are:
Or, simply cut up and grill any veggies you have on hand! For these pictures we sliced up some heirloom tomatoes and grilled some green beans along with the chicken.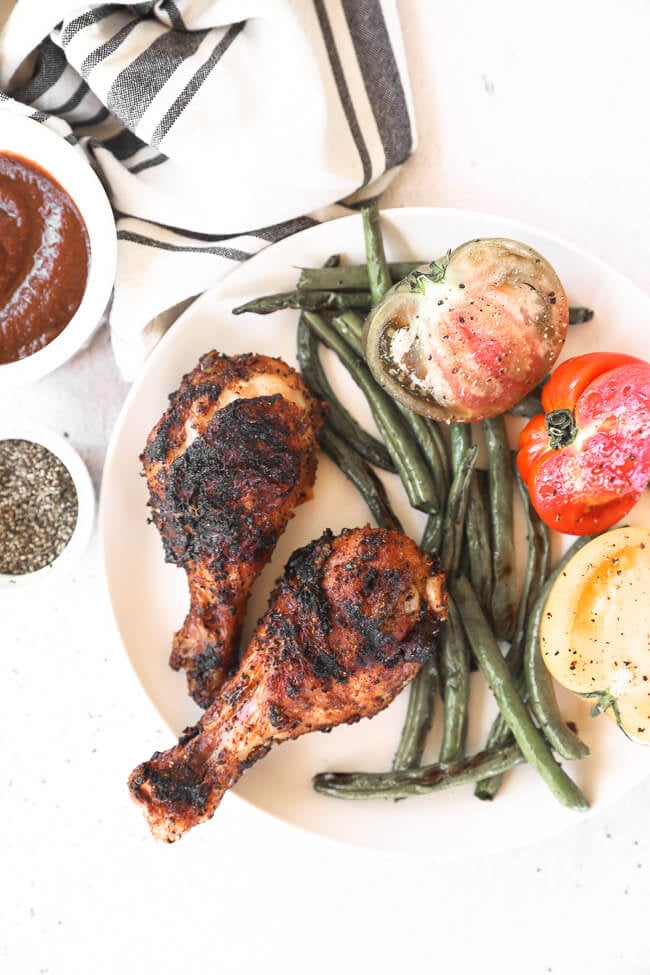 Healthy Keto chicken drumsticks
If you're following the Keto diet or trying to eat low carb with more healthy fats, these grilled chicken drumsticks are for you! Drumsticks are the perfect Keto protein, as the dark meat has more fat than other parts of the chicken.
In addition, the fat helps to keep the chicken from drying out on the grill. You get perfectly grilled and charred chicken skin with tender and juicy meat – grilling perfection!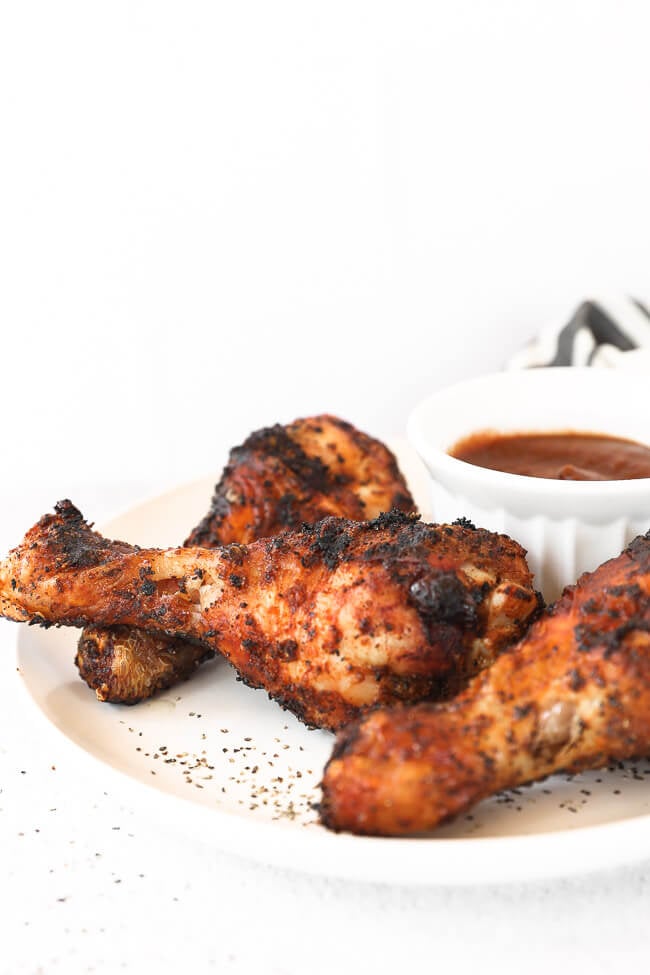 How to grill chicken legs
Here are some tips for getting the best results for these grilled chicken drumsticks.
Prepare your grill to about 400° fahrenheit. You don't want the grill too hot or you'll get burned skin and undercooked chicken inside.
Flip the chicken every 10 minutes or so. You want to get grill marks all over the drumsticks but avoid letting them cook on one side for too long.
Keep the lid closed on your grill. Opening the lid too often allows heat to escape and doesn't cook the chicken as evenly.
Watch for flare-ups. When fat drips on flame you'll get flare-ups. If this happens, move the chicken away from the direct flames and reduce the heat.
Use a meat thermometer to ensure the internal temperature is at least 165° Fahrenheit.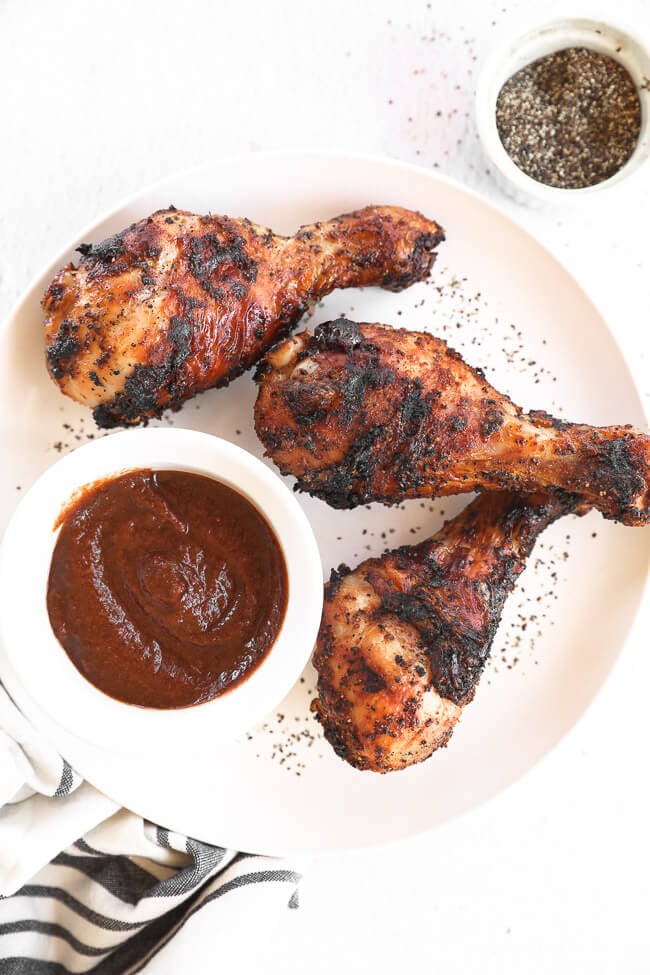 Your turn to try this healthy chicken drumstick recipe
It's time to fire up your grill and give this easy recipe a try! I know you'll love the salty, smoky and juicy flavor packed into these drumsticks. Leave a comment to let us know how it goes and take a pic to share on Instagram. Tag us @realsimplegood, we love to see what you're making!
---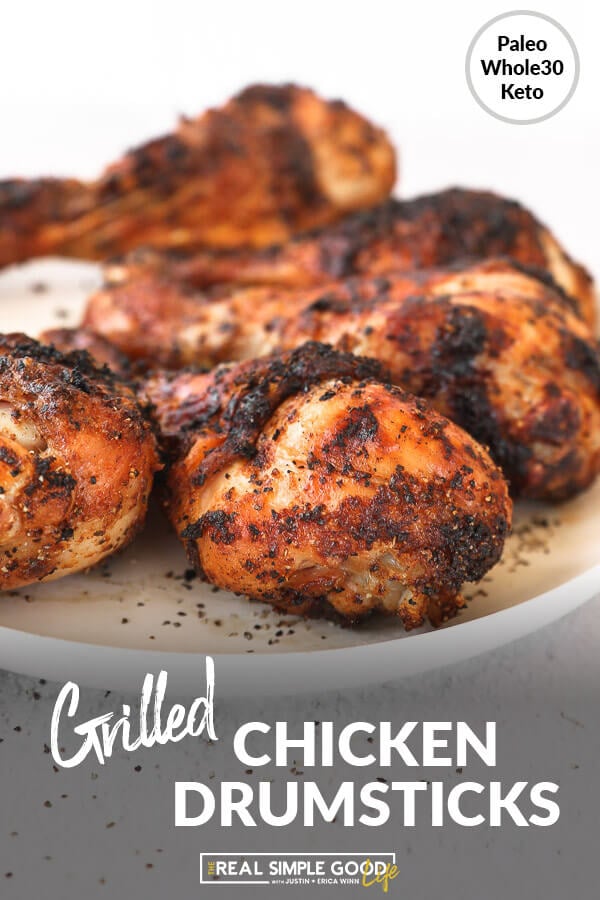 ---
Like this Recipe?
SHARE IT NOW OR PIN IT FOR LATER!
---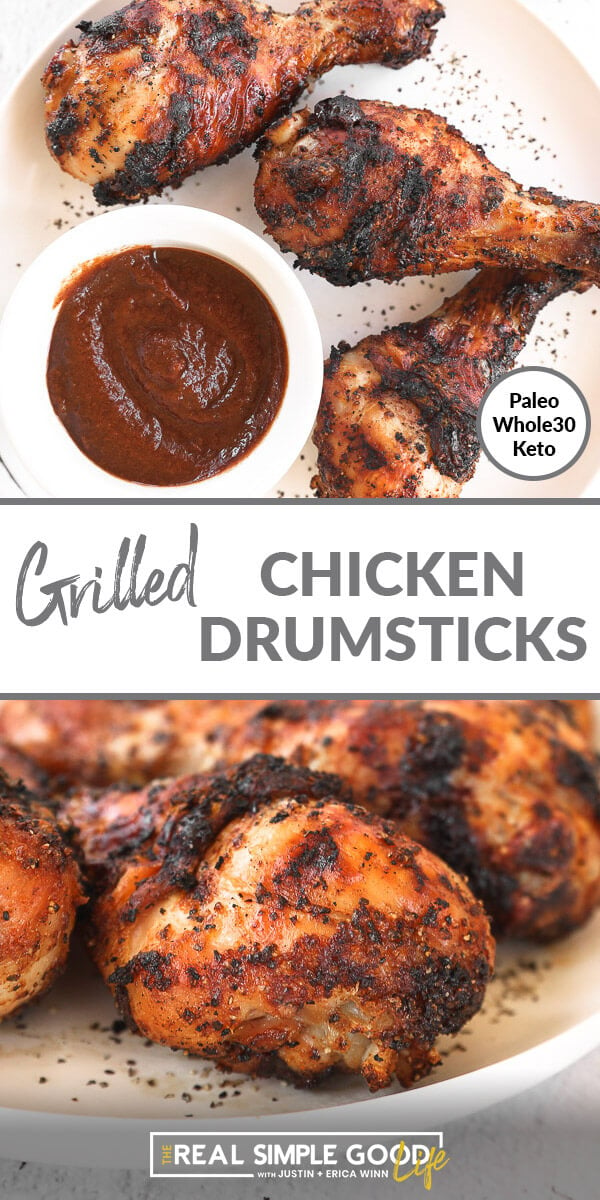 ---
Get the Recipe:
Easy, Crispy Grilled Chicken Drumsticks
With a simple and flavorful seasoning rub, these easy grilled chicken drumsticks are sure to be a hit at your next BBQ. Crispy skin on the outside with the best salty, smoky and juicy flavor!
Ingredients
2 lbs chicken drumsticks
2 tbsp avocado oil
1 tsp salt
1 tsp pepper
1 tsp garlic powder
1 tsp chili powder
1 tsp onion powder
Instructions
Prepare grill to medium-high heat. (See notes for the instructions for baking in the oven)

Mix the salt, pepper, chili powder, garlic powder and onion powder together in a small bowl.

Lightly coat the chicken drumsticks with oil. Rub the seasoning mix all over the chicken to coat.

Grill on direct heat for about 30 minutes, depending on the size of the drumsticks. Flip every 10 minutes or so. Cook until the internal temperature of the chicken reaches at least 165° Fahrenheit.

Remove from grill and allow the chicken to rest for at least five minutes. Serve and enjoy!
Notes
To bake drumsticks in the oven, preheat oven to 400° F. Follow instructions above and place drumsticks on a sheet pan or in a baking dish. Bake for 30-40 minutes, depending on the size of the drumsticks (until they reach an internal temperature of 165° F).
Nutrition facts are per serving (one drumstick for this recipe) and an estimate provided for those following a Ketogenic or low-carb diet. See our full nutrition information disclosure here.  
Calories: 208kcal, Carbohydrates: 1g, Protein: 18g, Fat: 14g, Saturated Fat: 3g, Fiber: 1g