Why you'll love this DIY triple sec recipe
Easy to make with only 3 ingredients (+ water), it delivers a citrusy-sweet orange flavor to any cocktail.
This version is non-alcoholic so you can use it to make mocktails and virgin drinks too!
The sweetness of this orange-flavored homemade triple sec is the secret ingredient in a classic virgin margarita.
Since it's basically an orange syrup, you can use it in any drink to add orange flavor or even add it as a topping for muffins, pancakes or waffles.
Related ->> Learn How to Make Honey Simple Syrup
How to make non-alcoholic triple sec (aka orange syrup)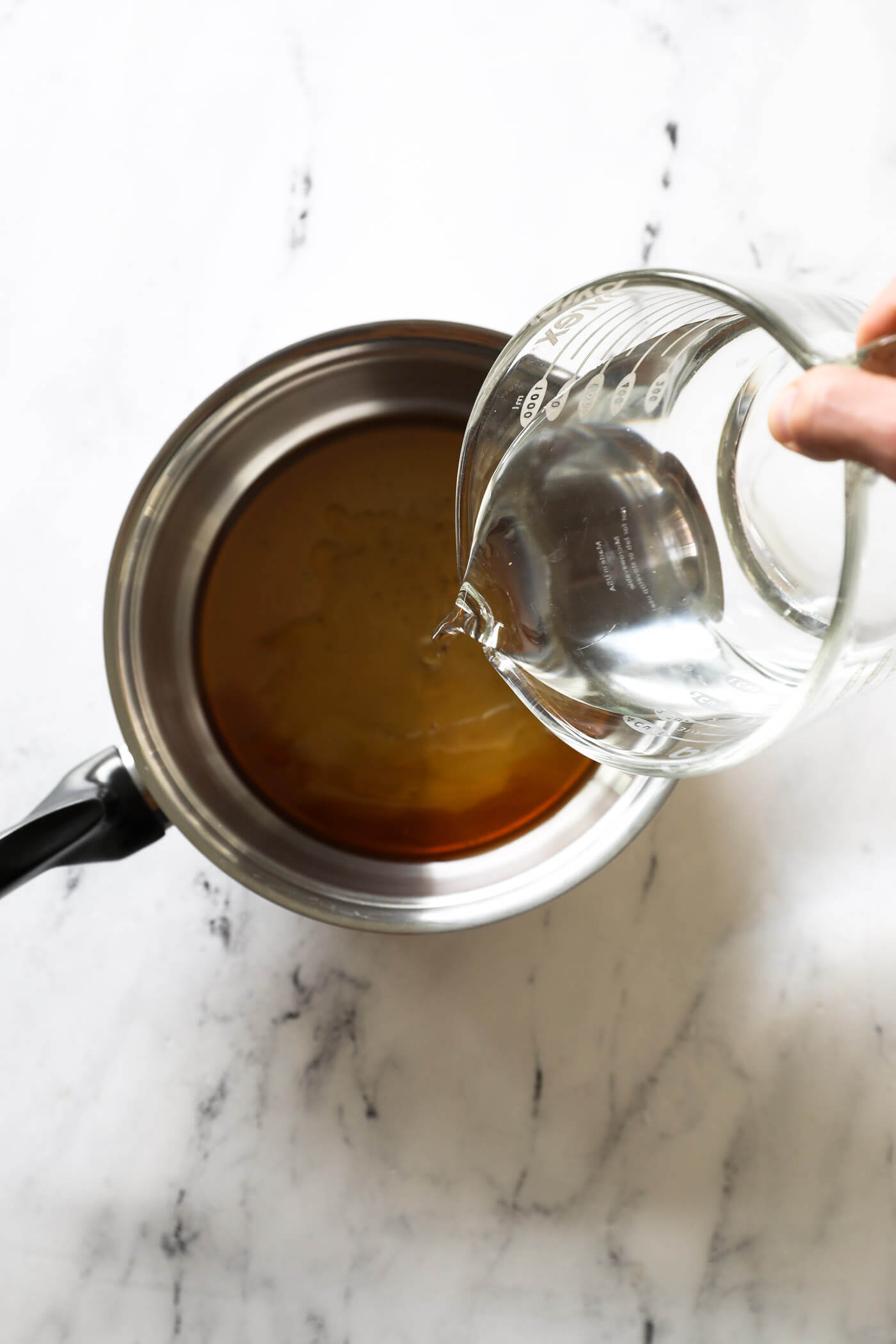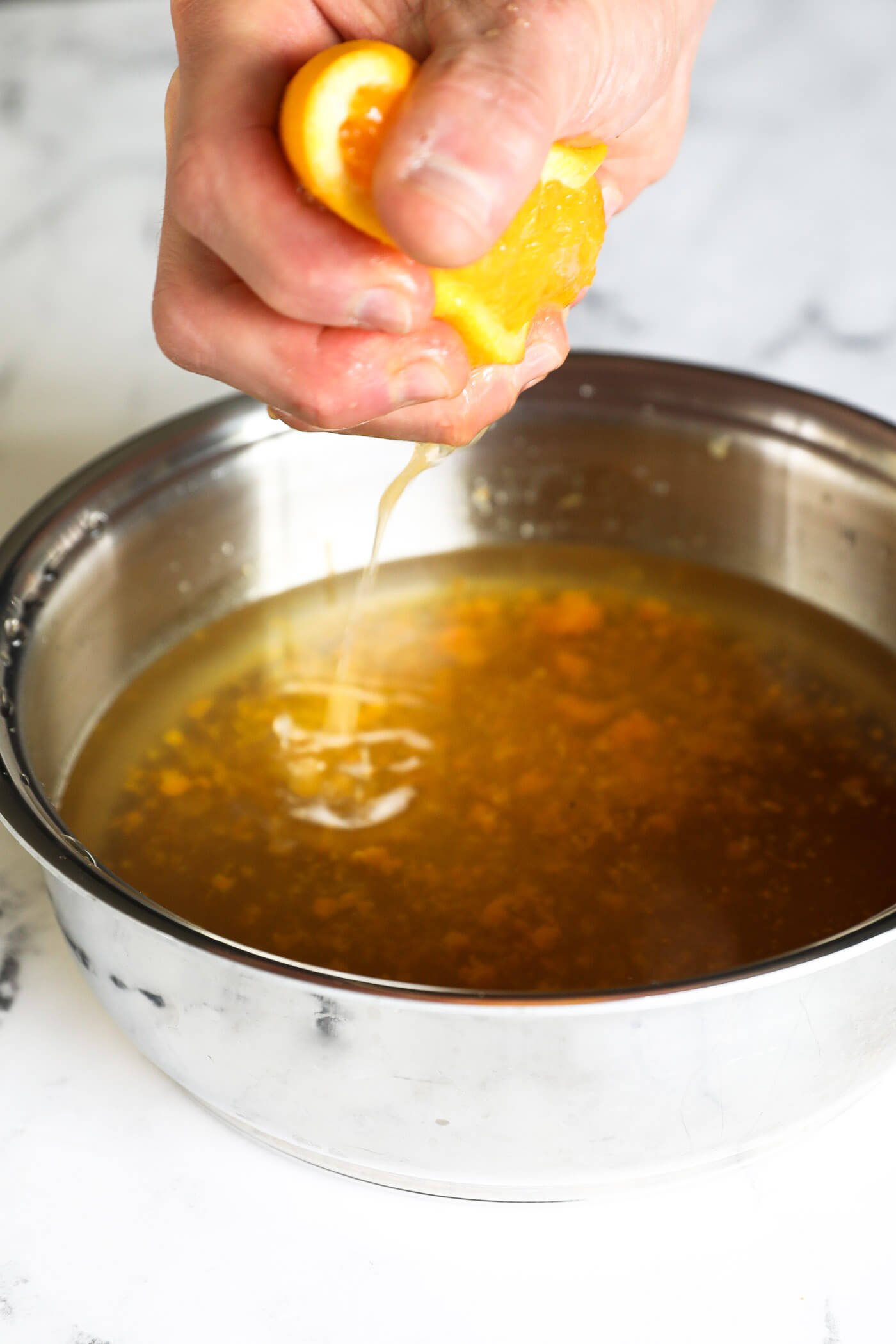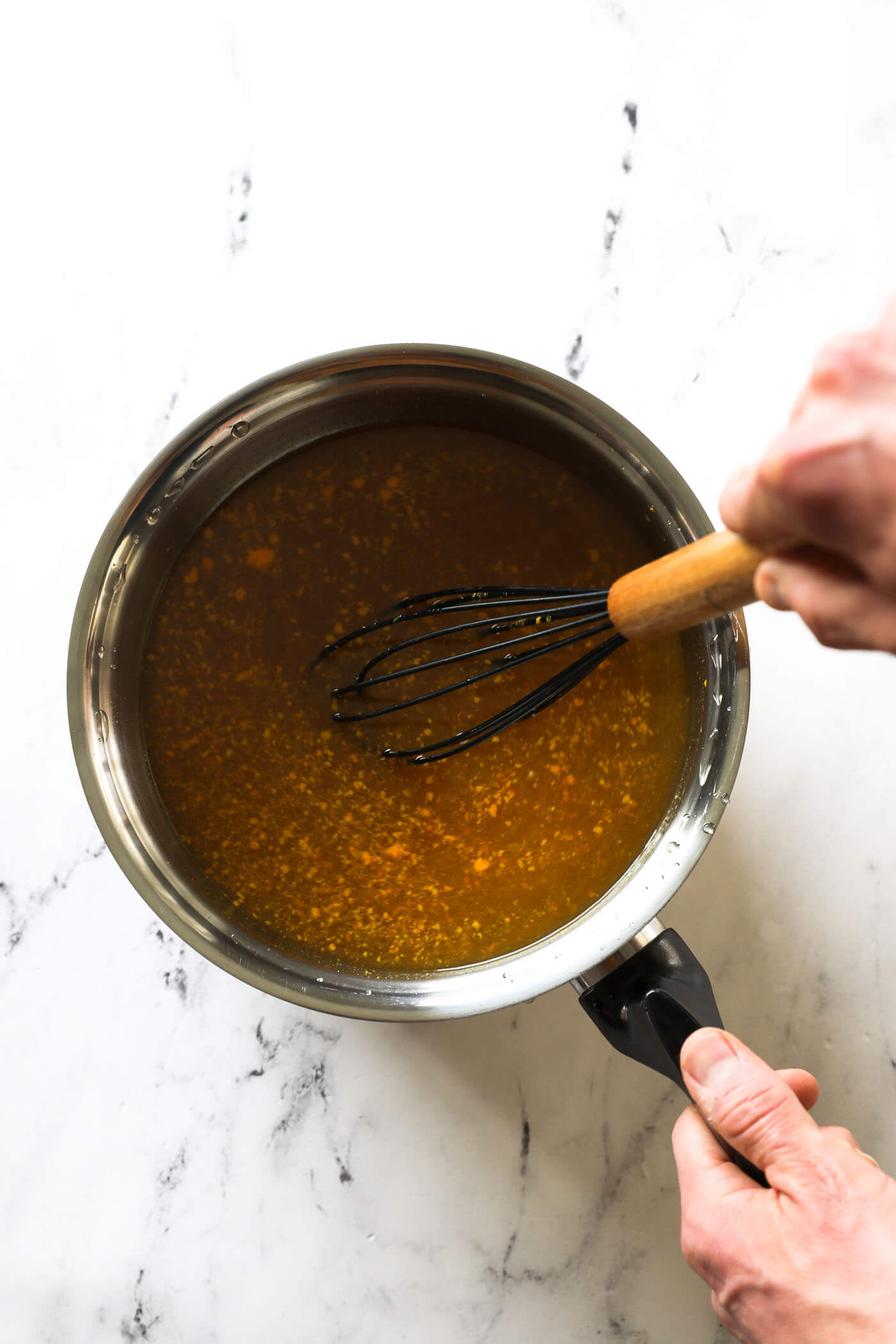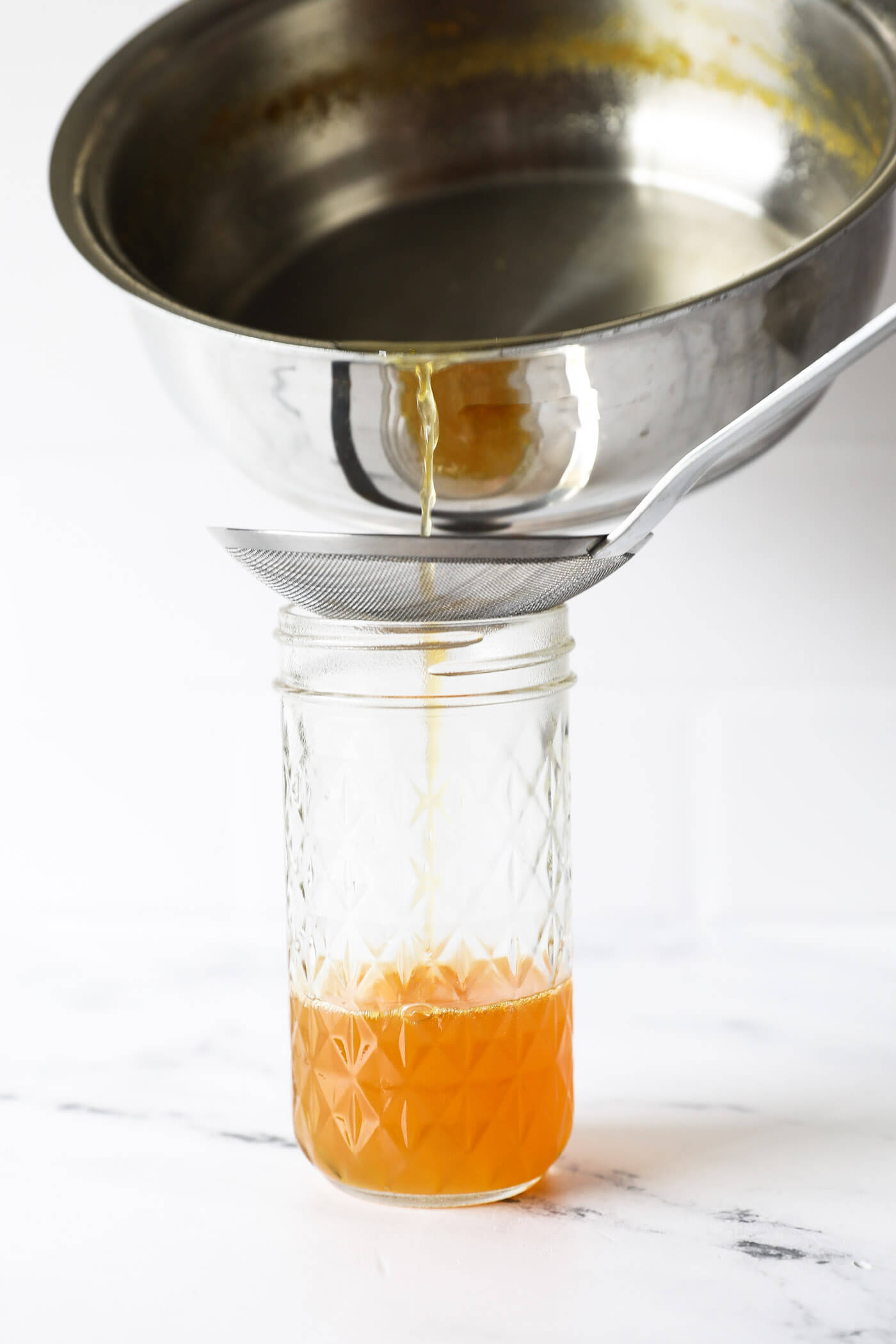 Notes and tips
Honey – I love the flavor profile honey adds, but you can substitute regular sugar, brown sugar or use maple syrup. The final color will look a little different with any of these.
Honey & heat – If you wish to preserve as much of the good bacteria and nutritional benefits of honey as possible, you can simply heat the water and honey over the lowest heat possible to dissolve the honey and stir the mixture until the honey dissolves. This will result in a more "watery" result.
Straining – Take your time to carefully strain the zest out of the liquid to get a pure syrup. If you don't have a fine mesh strainer, you can just slice up the orange peel into strips instead of zesting. Then you can simply remove the peel instead of straining.
Storing – You can store this in a jar or bottle in the refrigerator for about a month.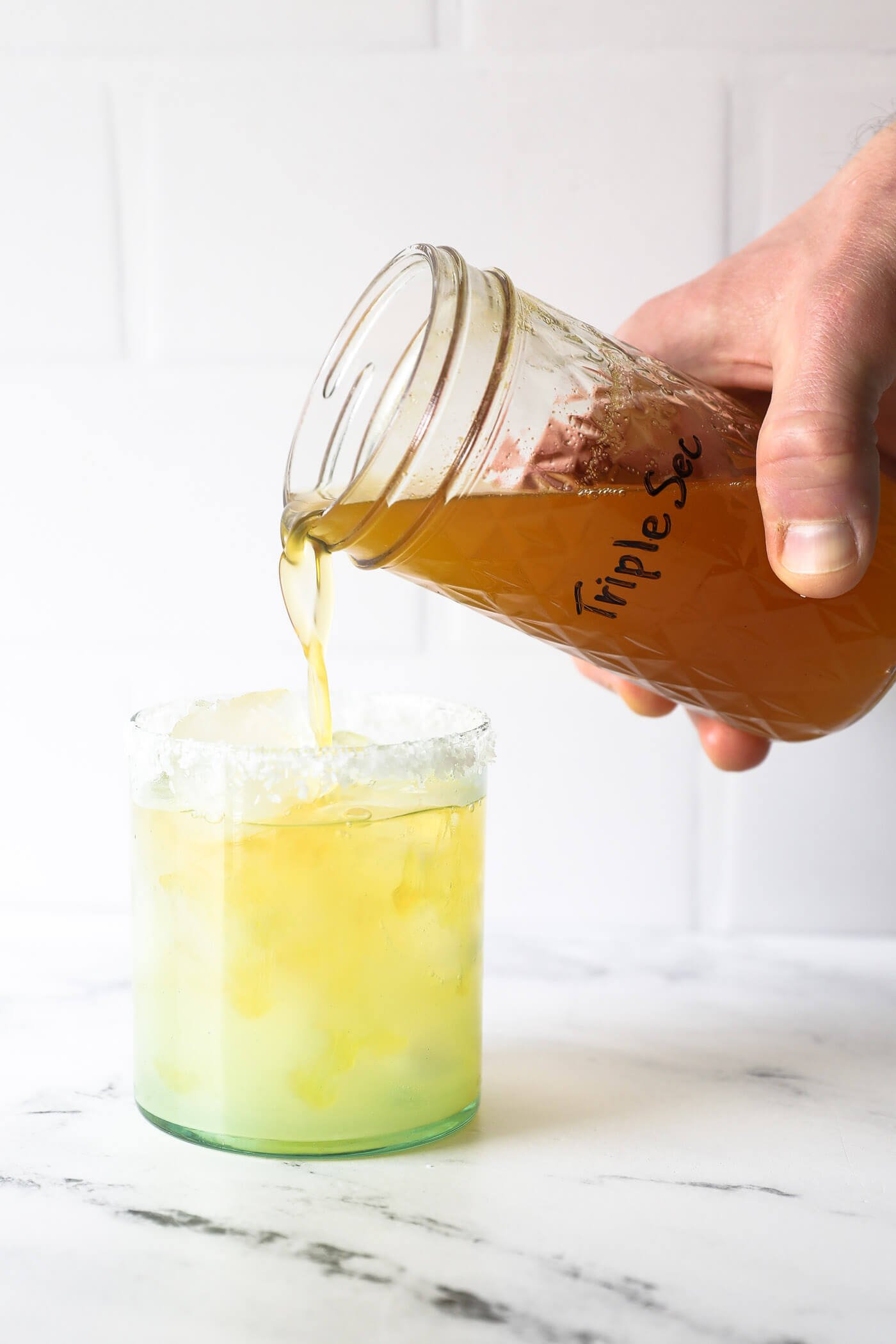 How this recipe is different than regular triple sec (with alcohol)
Triple sec with alcohol is a sweet, orange-flavored liqueur that's used in many traditional drinks.
It's typically made with a neutral alcohol that's steeped and flavored with orange peels. It's also sweetened and has an alcohol content around 20%
This homemade triple sec is different as it is:
Alcohol free
Made with real orange juice and zest (no artificial flavoring)
Contains more natural sweeteners (honey and maple syrup)
Perfect for mocktails and non-alcoholic drinks
We hope you love this recipe as much as we do!
Don't forget to leave a quick star rating and review below, we read every comment and truly appreciate your feedback. Also, be sure to browse the rest of our fun beverage recipes to find some other favorites too!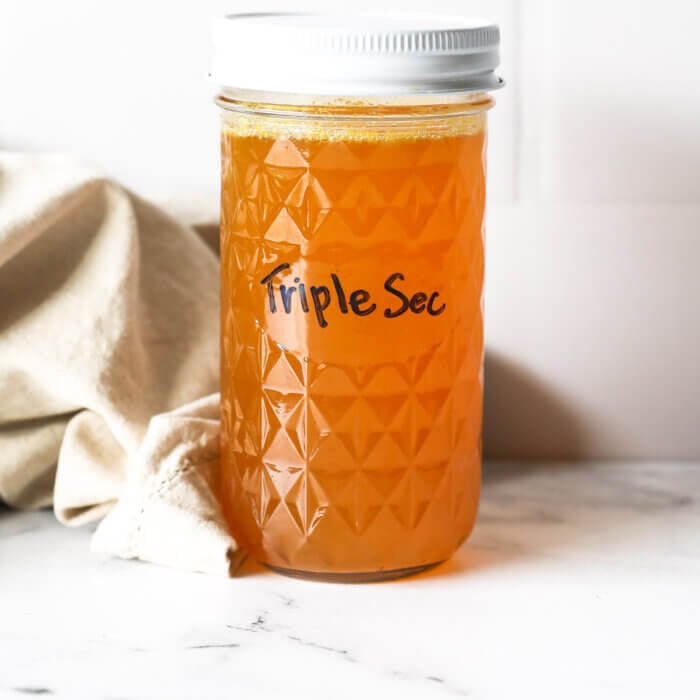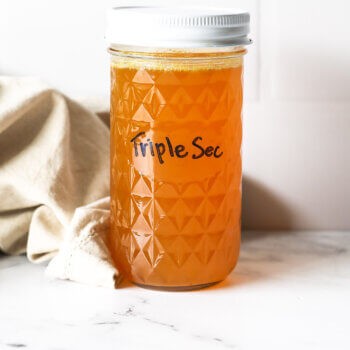 Get the Recipe:
Easy Homemade Triple Sec (Non-Alcoholic)
This homemade triple sec (aka orange liqueur) is made with real orange juice and zest and zero artificial flavorings. It's a non-alcoholic version of triple sec with amazing orange flavor. Use this orange syrup for any cocktail or mocktail.
Ingredients
2 cups water
1 cup honey, (or regular sugar)
2 tbsp maple syrup
1 orange, juice and zest
Instructions
Add the water, honey and maple syrup to a small pan. Zest the rind of the orange with a grater or microplane and add it to the pan. Then, cut the orange in half and squeeze the juice into the pan. Don't worry about any pulp, you can strain it out later.

Bring to a quick boil, stirring in the honey to mix with the water while the water heats. Once it reaches a boil, turn the heat down so the water is just simmering at a very low boil. Simmer for 15 minutes, stirring occasionally. The liquid will reduce and thicken slightly.

Remove from heat and allow the liquid to cool for a few minutes. Strain the liquid through a fine mesh strainer to remove any orange zest or pulp. Pour into a jar or other airtight container and store in the fridge for up to a month.