Since we started using CBD daily, I've been thinking of new ways to add a little here and there to promote calm in our life. These no bake CBD cookies use simple real food ingredients and only require 10 minutes of active prep time. Plus, we've got a special discount code for you, too!
Disclaimer: We partnered with Rosebud CBD to bring you this post. We only work with companies and brands we truly believe in and use ourselves. Therefore, all opinions and recipes are entirely our own. Thank you for supporting The Real Simple Good Life and our partners.
Ingredients to make CBD cookies
You just need some simple ingredients from your pantry and our favorite CBD oil! Here's what you'll need.
Unsweetened shredded coconut – I like to use very finely shredded
Chopped nuts – cashews are my favorite
Honey
Coconut oil
Cashew butter – or any nut butter
Sea salt
Dairy free chocolate chips
How to make no bake CBD cookies
I love how easy this recipe is! Just a handful of simple steps, and you'll be enjoying these no bake CBD cookies!
Add the dry ingredients to a mixing bowl.
Heat up the coconut oil and honey in the microwave.
Mix it all up.
Spoon the mixture onto a parchment lined baking sheet.
Drizzle with chocolate and sprinkle with sea salt.
Set in the freezer or fridge.
What CBD do you use?
I began using CBD before I got pregnant and knew I'd come back to it when I felt comfortable after our babe arrived. In hindsight, I wish I'd just kept using it throughout pregnancy and those early days after our little arrived.
I did a lot of research and tested several brands. That's how I found Rosebud CBD, and why I reached out to them to see if they would be interested in being our preferred CBD partner. I'm so glad they said yes!
Not all CBD is created equally, so it's important to find a brand that aligns with your standards for quality, purity and transparency. 
We've partnered with Rosebud to save you 15% off your purchase when you try them out! Use the code RSG15 at checkout for our exclusive discount!
Why put CBD in cookies?
We love using CBD for helping us to get better quality sleep and also to help with anxiety and stress.
While we primarily use CBD as part of our nighttime routines, I've been enjoying a smaller dose during the day to help promote a sense of calm.
These no bake CBD cookies are a tasty treat that helps me feel grounded and able to take on whatever challenges present themself during the day. They're like a little pick-me-up with the added bonus of feeling relaxed, too.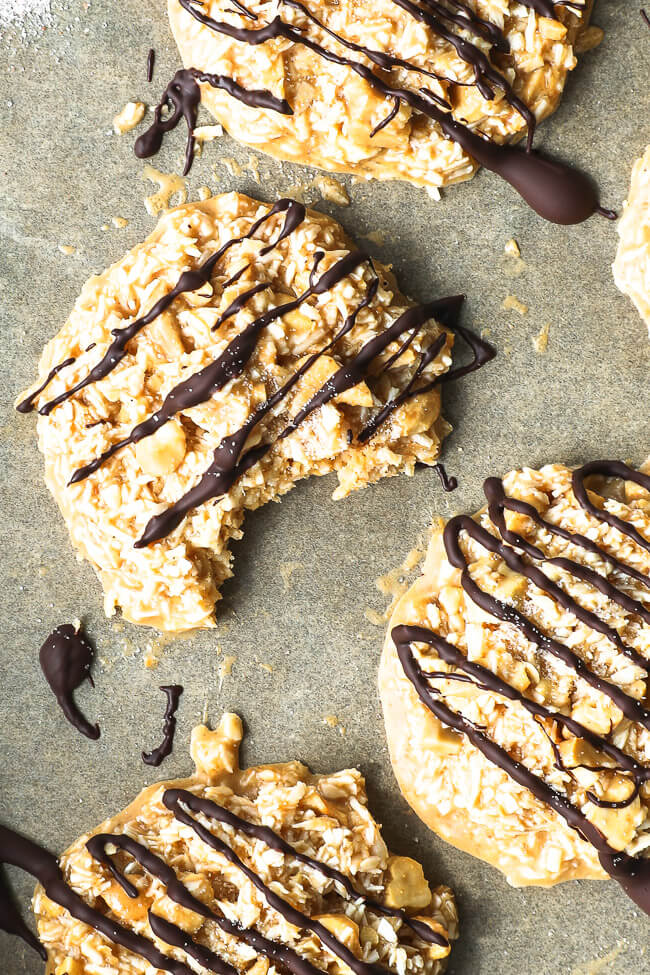 Other no bake treats you could add CBD to
Your turn to make a batch of these CBD cookies
Whether you want a little treat or just need a little help relaxing, make a batch of these CBD cookies! They're simple and quick to throw together.
Leave a star rating and comment below to let us know how it goes! And if you don't already follow along with us @realsimplegood on Instagram, give us a follow and tag us in your posts so we can check out what you're making!
---
---
Like this Recipe?
SHARE IT NOW OR PIN IT FOR LATER!
---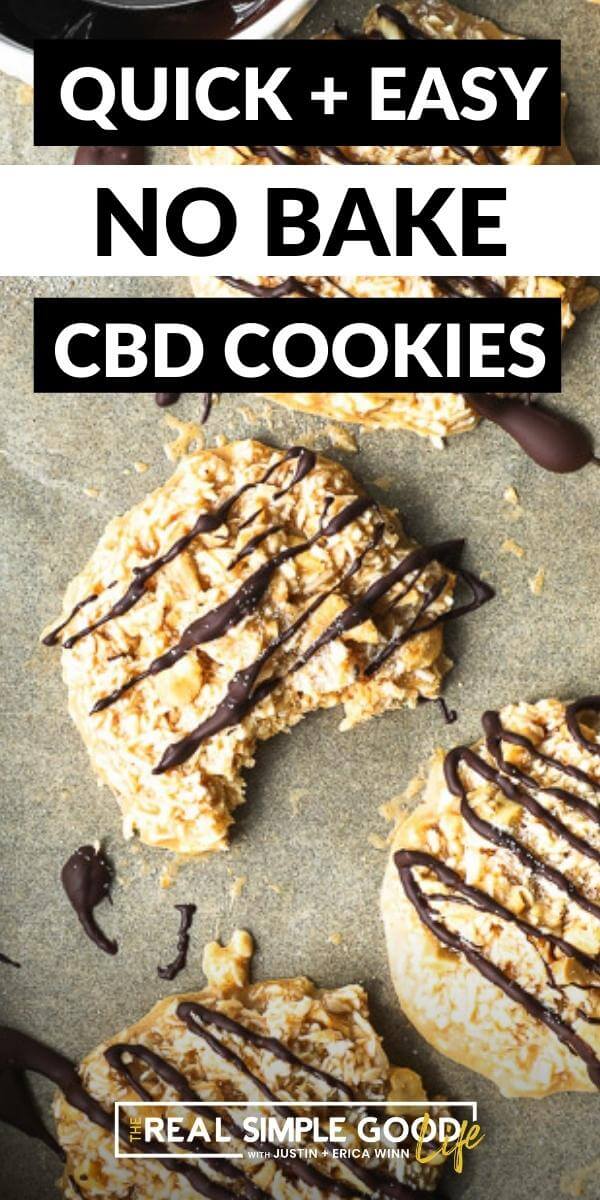 ---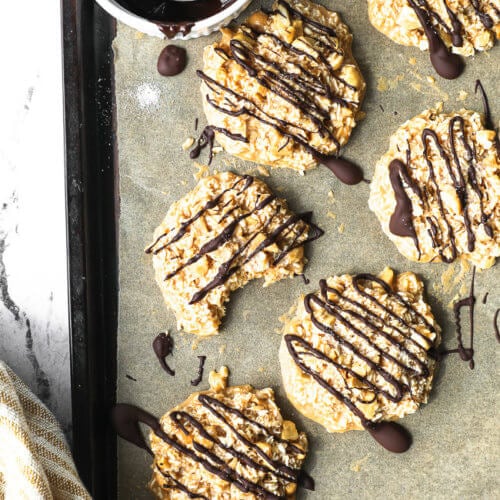 Get the Recipe:
Easy No Bake CBD Cookies
These no bake CBD cookies use simple real food ingredients and only require 10 minutes of active prep time!
Ingredients
1/4 cup + 2 tbsp unsweetened shredded coconut, (or gluten free oats if not worried about being grain free)
2 tbsp nuts, chopped, (we love to use cashews)
2 tbsp honey
1 tbsp coconut oil
2 tbsp cashew butter, (or any nut butter)
20 mg Rosebud CBD Oil, (use more or less to your preference)
sea salt, (to sprinkle on top)
1/4 cup dairy free chocolate chips, (optional to drizzle on top)
Instructions
Line a baking sheet with parchment paper and set aside.

Place shredded coconut, chopped nuts, nut butter and CBD oil in a small mixing bowl.

Add honey and coconut oil to a microwave safe bowl and heat for 30 seconds, or until melted.

Add honey mixture to mixing bowl and mix everything to combine.

Place chocolate chips in a small ramekin or microwave safe bowl and heat for 30 seconds at a time, stirring each time until chocolate is melted.

Scoop cookies out onto lined baking sheet, drizzle with chocolate sauce (if using) and sprinkle with a little sea salt on top.

Either place baking sheet in the freezer for about 10 minutes to set or in fridge for 30+ minutes. Once set, store in an airtight container in the fridge.