It's getting chilly here and we've been making soup every week for the last several weeks. This easy pumpkin soup is Paleo + Whole30 friendly, and you use a can of pumpkin puree, so it is truly really easy to make! It's a great meal prep recipe to have lunches to take to work or an easy weeknight dinner!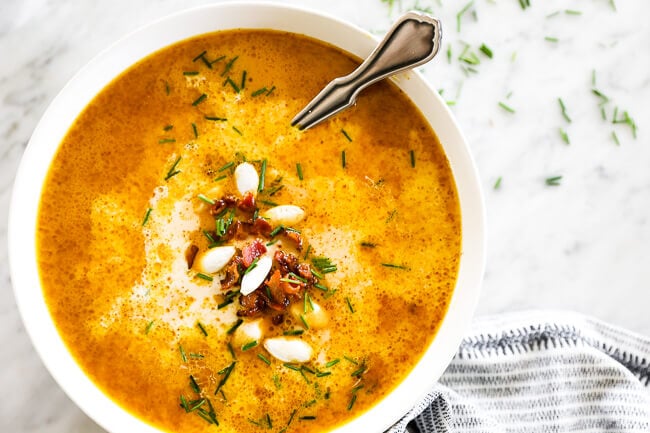 Canned pumpkin FTW
When I originally planned to create this recipe, I thought I'd make a roasted pumpkin soup and it sounded so yummy, but then the idea of having to cut a pumpkin and do the leg work to get to the roasting part had me re-think my idea. Yes, I can be a bit of a lazy cook sometimes. So, I opted for canned pumpkin, and figured you'd all appreciate the amount of time and effort it saves you!
Biggest tip for making this easy pumpkin soup really delicious
The main ingredient in this soup is really the broth. The recipe calls for 3 cups of it, so make sure you use a quality broth that is flavorful. Otherwise, you're going to feel like your soup is lacking a bit of flavor. Some recommendations for really great bone broth are:
Osso Good Bones
Homemade Bone Broth (this is really my favorite but it does take time and planning)
You can also check out this post for a review of our favorite bone broth brands and comparisons on price. Plus, we have a few discounts for you, too!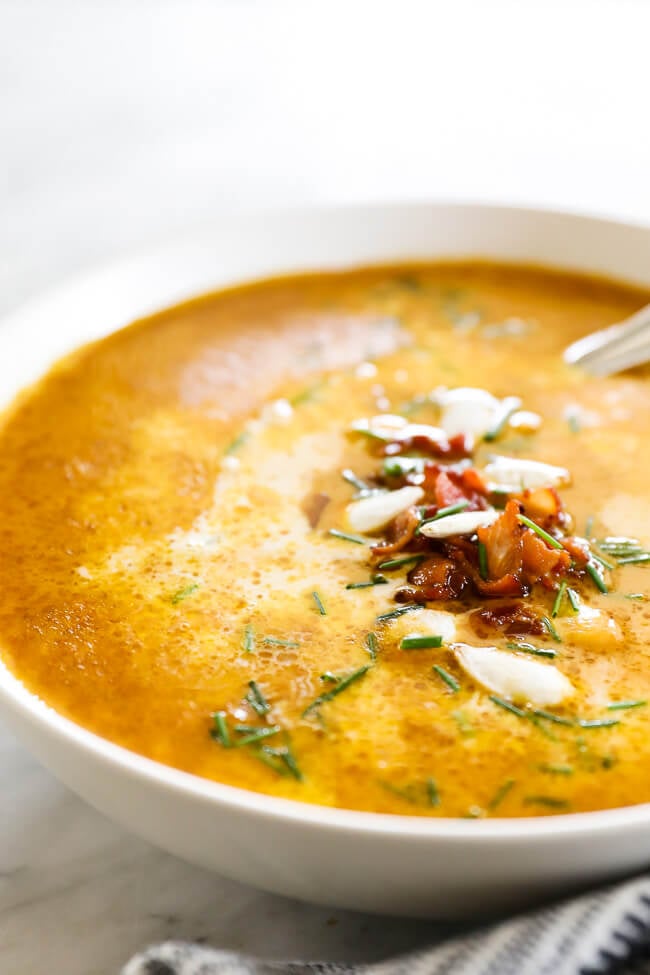 How to keep it Whole30
If you're doing a Whole30, make sure to omit the coconut sugar. You might consider adding more cinnamon as well. Start with the 1/2 teaspoon in the recipe, taste and add more to your own preferences. Similarly, if you aren't doing a Whole30, well start with 1 tablespoon of coconut sugar (or less if that's your preference), taste and add more as desired.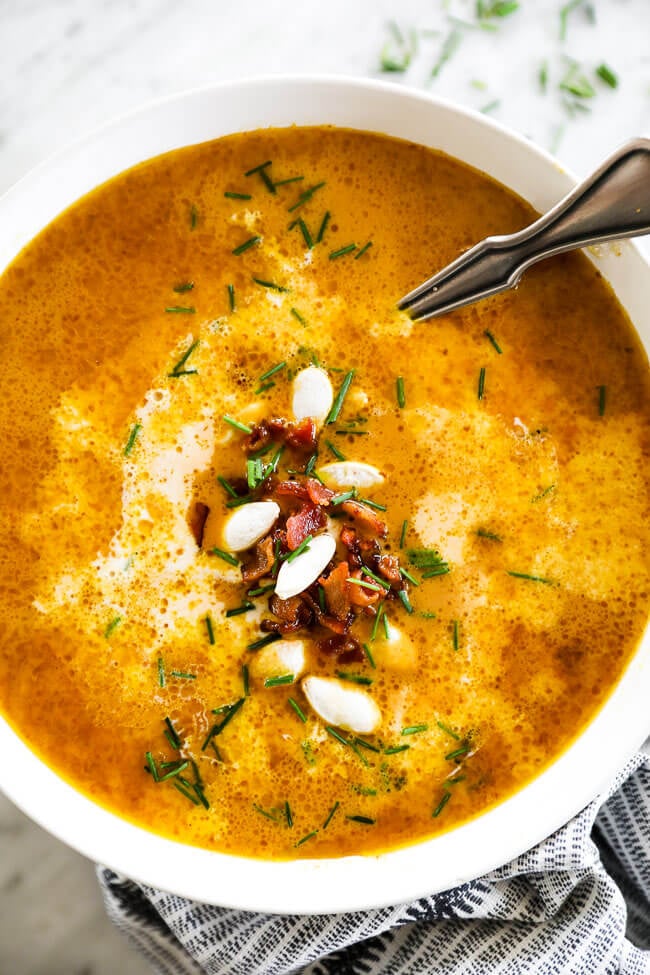 Some other soups to try
Your turn to try our easy pumpkin soup
If you're planning to meal prep or just need a quick and easy weeknight dinner, make this easy pumpkin soup. Tailor the sweetness to your liking and use a sippable broth to add the most body and flavor. Leave a comment below and let us know how it goes. Also, take a pic to share on Instagram. Tag us @realsimplegood, and make sure to give us a follow if you don't already. Let's stay connected!
---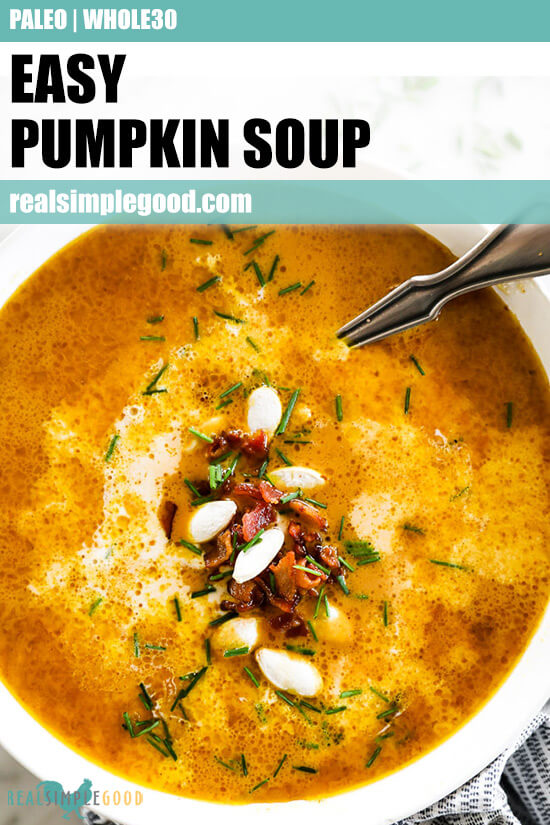 ---
Like this Recipe?
SHARE IT NOW OR PIN IT FOR LATER!
---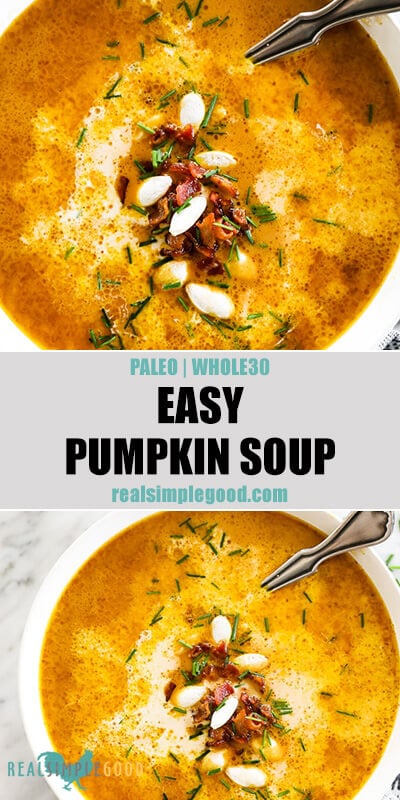 ---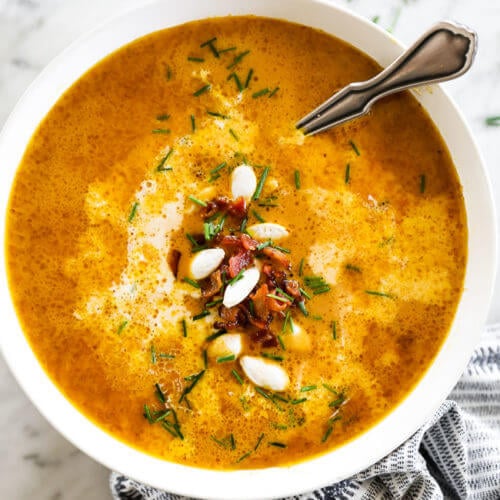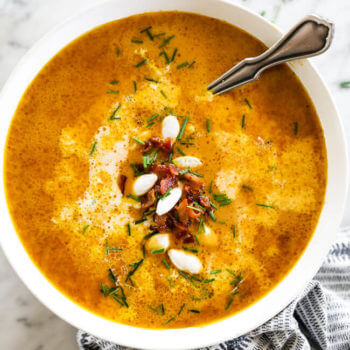 Get the Recipe:
Easy Pumpkin Soup (Paleo + Whole30)
This easy pumpkin soup is Paleo + Whole30 friendly, and you use a can of pumpkin puree, so it is truly really easy to make! Great meal prep or easy dinner!
Ingredients
5 pieces bacon, chopped
2 cloves garlic, minced, (or 1 tsp garlic oil)
2 tbsp fresh chives, chopped, (for garnish)
3 cups chicken broth
1 can pumpkin puree, (15 oz can, just pumpkin and no other ingredients)
1 cup coconut milk, (plus more for topping)
1 tbsp coconut sugar, (more or less to taste, omit for Whole30)
1/2 tsp cinnamon, (more or less to taste)
1/2 tsp sea salt
1/4 tsp ground pepper
pumpkin seeds, (optional topping)
Instructions
Prep bacon, garlic and chives as noted and set aside.

In a large dutch oven or stockpot, cook bacon over medium heat until it starts to get crispy. Carefully remove from pot and place on a paper towel lined plate, reserving the fat in the pot.

Add garlic to pot and cook, stirring constantly until fragrant, just about 1-2 minutes. Add broth, pumpkin puree, coconut milk, coconut sugar, cinnamon, sea salt and pepper.

Stir to combine everything and let simmer for 8-10 to marry all the flavors.

Serve in bowls and top with a drizzle of more coconut milk, bacon bits, chives and pumpkin seeds. Enjoy!